Monumental Decisions
The history behind Pittsburgh's Columbus statue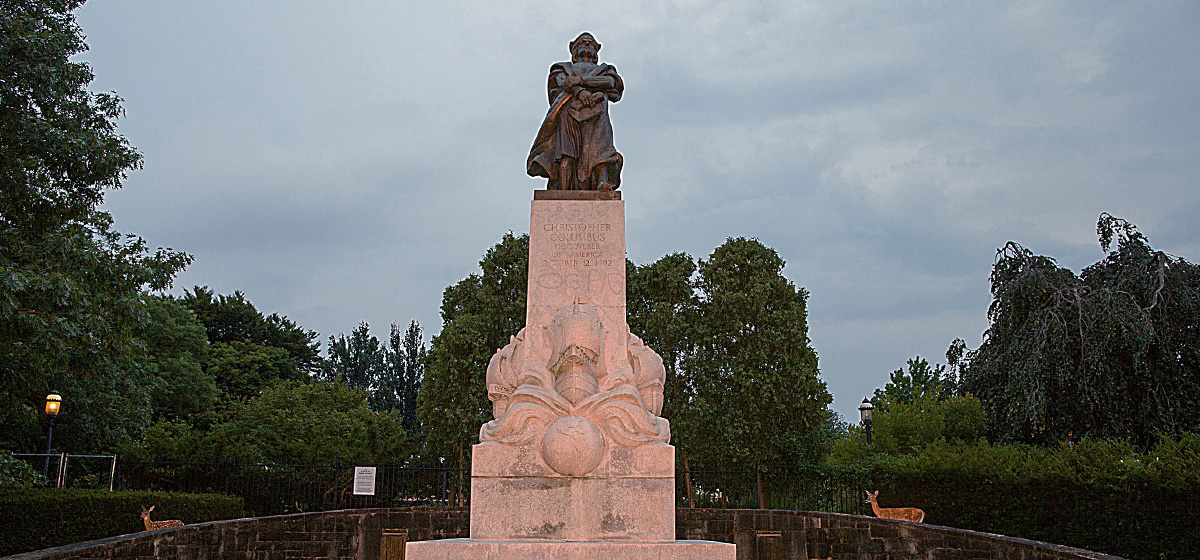 September 29, 2020
After 500 years in the grave, Christopher Columbus continues to be controversial. Statues and monuments are coming down across the country. And the latest may be the statue of Columbus in Schenley Park, if Mayor Peduto agrees with his Art Commission.

Five members of the 7-member Commission (two seats remain unfilled) decided the monument should be removed after an online petition complained about the disastrous effects the Columbus expedition had on native populations.
Monuments are easy targets because they are large, immobile and accessible. They are also works of art. The Columbus Monument in Schenley Park is under consideration for removal because of the explorer's role in the European conquest of the Americas. He is seen as both hero and villain, and the undisputed conduit between the old and new worlds.
Though remembered for discovering the New World, he denied having done it. When his three ships made landfall in the Bahamas, October 12, 1492, Columbus thought he was in Japan, writing in his journal that he had discovered a water route to Asia. He disavowed the existence of a New World until the time of his death in 1506.
Columbus was little thought of within the Americas until the newly formed United States promoted him as a heroic figure, marginalizing the significance of Great Britain. The first American monument to him appeared in Baltimore 1792, a gift from the French consul, commemorating the tri-centennial of Columbus first voyage of discovery. After George Washington, Columbus is the most memorialized figure in United States with 53 American cities and the nation's capital being named for him.
The word "monument" derives from Mnemosyne, the Greek goddess of memory (and mother of the nine muses). Monuments are large and impressive so that we will commit them to memory. When we commemorate we remember together.
Pittsburgh's Columbus monument was the creation of Italian-American sculptor Frank Vittor, one of the city's most prolific artists who lived and worked in Pittsburgh from 1920 until his death in 1968.
No one is sure what Christopher Columbus looked like because no first-hand paintings or drawings have ever been found. He was a hero to millions of Italians who immigrated to this country between 1880 and 1925, including Vittor who took his inspiration from the legend of the Italian mariner that grew from historic fact into heroic proportion and created a 50-foot monument, topped by a larger-than-life bronze-figure of Columbus standing alone. The bronze and granite piece was paid for with funds collected from many donors by the Sons of Columbus.
Frank Vittor was born in Mazzate, Italy in 1888. His family of artists named him Francesco Fabiano Vittori. By the age of nine Francesco was creating his own sculptures and as a teen enrolled in the Academy of Beres in Milan. Following his time at school Vittori moved to Paris to study with the sculptor August Rodin, at the time the most famous sculptor in the world, credited with creating the first modern sculpture in bronze.
In 1906, while working for Rodin, Vittori met the American architect Sanford White who offered him a job in New York City. Within a week of arriving in New York in 1908, White, Vittori's benefactor, was murdered by Henry Thaw, the jealous husband of actress Elizabeth Nesbit. Thaw shot the unarmed and unaware White who was dining at the rooftop-restaurant of Madison Square Garden II, a building that White had designed. Thaw was tried and acquitted in a sensational trial that splashed headlines across the globe while Vittori found himself in a new and foreign land, without command of the English language, without much money, with very few friends and no job.
Over next 12 years the sculptor, who also became known as Frank Vittor, found his considerable skills in demand, designing architectural ornamentation, assisting more established artists in their studios, teaching at Cooper Union and creating his own sculpture. Vittor also found love in New York and accompanied his future wife, Adda Mae Humphreys back to her hometown of Pittsburgh.
Vittor brought with him a collection of his pieces and staged a local exhibition where he sold several sculptures and met Pittsburgh astronomer John Brashear, who convinced Vittor to relocate to Pittsburgh where he opened a studio along Fifth Avenue in Soho.
Brashear and Vittor became friends and the relationship provided Vittor with entrance into prominent social circles and arts institutions. Vittor established himself as one of the nation's most successful sculptors, creating small statues, portrait busts, commemorative coins, architectural ornaments, fountains and large-scale monumental for nearly 50 years.
Vittor created sculptures of Brashear, Charles Lindberg, Guillermo Marconi and presidents George Washington, Abraham Lincoln, Theodore Roosevelt, Woodrow Wilson, and Calvin Coolidge.
Other local pieces of public art by Vittor include the columns at the Grant Street entrance to the Boulevard of the Allies, the Westinghouse Bridge with stone-relief carvings honoring local history through contributions to transportation, steel and electricity, the Honus Wagner Statue at PNC Park and the Eighth Ward War Memorial in Bloomfield.