Remembering 9/11: A Portrait of Shanksville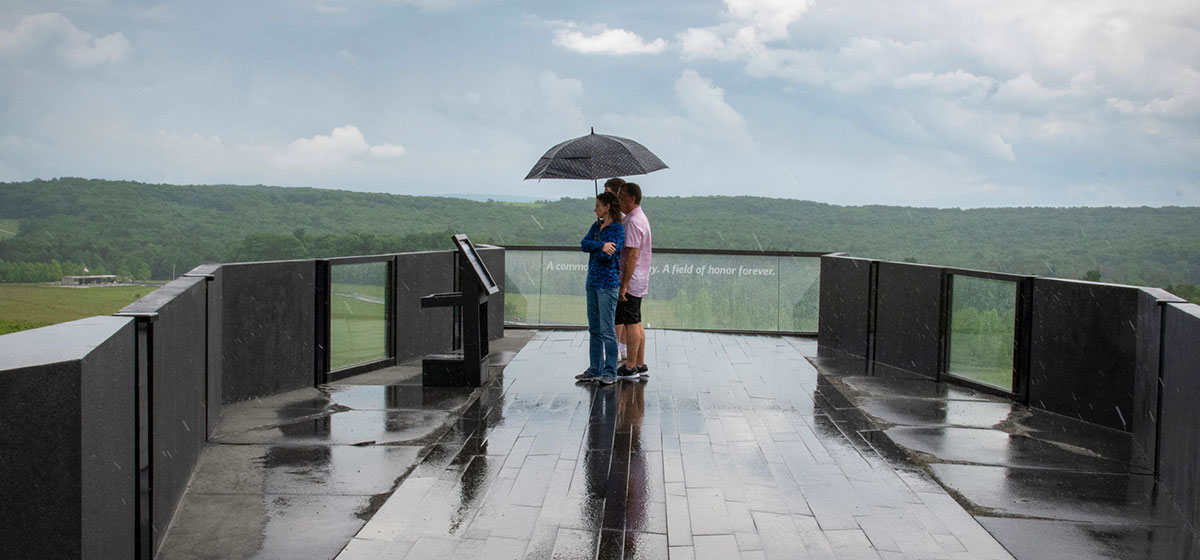 September 6, 2021
On Sept. 11, 2001, Judi Baeckel was working at the Shanksville Post Office and talking with a customer about news reports that hijackers had flown jetliners into the World Trade Center and the Pentagon.

"At least we know we're safe in Shanksville," Baeckel recalls the customer saying. Within minutes, the roof and windows of the red brick post office shook, and a plume of smoke rose in the distance. United Airlines Flight 93 had crashed in Stonycreek Township just two miles away. Terrorism had hit Shanksville.
Shanksville Borough is recognized around the world as the final resting place of 40 Americans who heroically prevented the hijacked plane from reaching its intended target in Washington, D.C. Two decades later, hundreds of thousands of tourists come each year to honor them at the Flight 93 National Memorial.
Before the September 11 attacks, it would have been easy for Shanksville's estimated 224 residents to believe the area was the least likely place to be touched by terrorism. Expansive family farms dot the countryside and Amish buggies occasionally slow traffic on Shanksville's Main Street.
The elementary school and high school share the same building. In June, Shanksville-Stonycreek High School graduated 18 seniors. Mayor Chris Baeckel, 35, Judi's son and Shanksville's current mayor was in high school on the fateful day 20 years ago.
Shanksville's commercial hub is Snida's Corner Store, where customers can buy everything from a freshly made ham salad sandwich, to pre-packaged catfish bait.
The Shanksville Community Picnic held each August is a highlight of the summer, and the parade that precedes the picnic features Cub Scouts, fire trucks, farm tractors and the Somerset County Dairy Princess. There are three churches in town, but if you need to go to a bank, buy gas, or get a hotel room, you'll have to drive closer to Somerset.
Shanksville borough has no employees, but mayor Chris Baeckel receives a $35 monthly stipend, paid quarterly. Baeckel, whose day job is working for a bank in Somerset, says he doesn't rely on the stipend, and he makes clear that he didn't spend a lot on his election campaign.
In 2017, there were no candidates for mayor of Shanksville, and Chris's wife Courtney was running for borough council. On the night before Election Day, Courtney made a post on Facebook suggesting that Shanksville residents should write in her husband, Chris, for mayor. Chris got "about 20 votes" and was elected. Courtney Baeckel was elected to council. "I'll find out in November if I get four more years," Chris said with a laugh.
While there's been a stream of tourists to the Flight 93 National Memorial, and smaller numbers of visitors to the Flight 93 Memorial Chapel and the new Patriot Park, Shanksville Borough hasn't seen growth. In fact, the town's population has decreased.
"Sidewalks and streets need fixed, but we don't have the tax dollars to do what needs done, so we have to try to get grant money every year so we get things fixed," Chris Baeckel said. If he gets the OK from an attorney, he hopes to start a GoFundMe to repair some crumbling sidewalks.
Chris says the region is a friendly, close-knit community that's been supportive of its role in history. He recalls volunteers and churches from the area rallying to support victim's families, first responders and investigators. Some still volunteer at the Flight 93 National Memorial.
Visitors no longer must travel through Shanksville to access the Flight 93 National Memorial. That was a welcome change for some residents like Robin Lambert, whose house became a popular place for tourists asking for directions.
"Traffic really died down since people don't come through Shanksville anymore to go to the site," Chris said. "We'll get a couple of people to go to the store or go to the school or something, but it's not nearly what it used to be."