Flight 93 National Memorial
The field, the flight and the Americans who fought back
Photo via Wikimedia Commons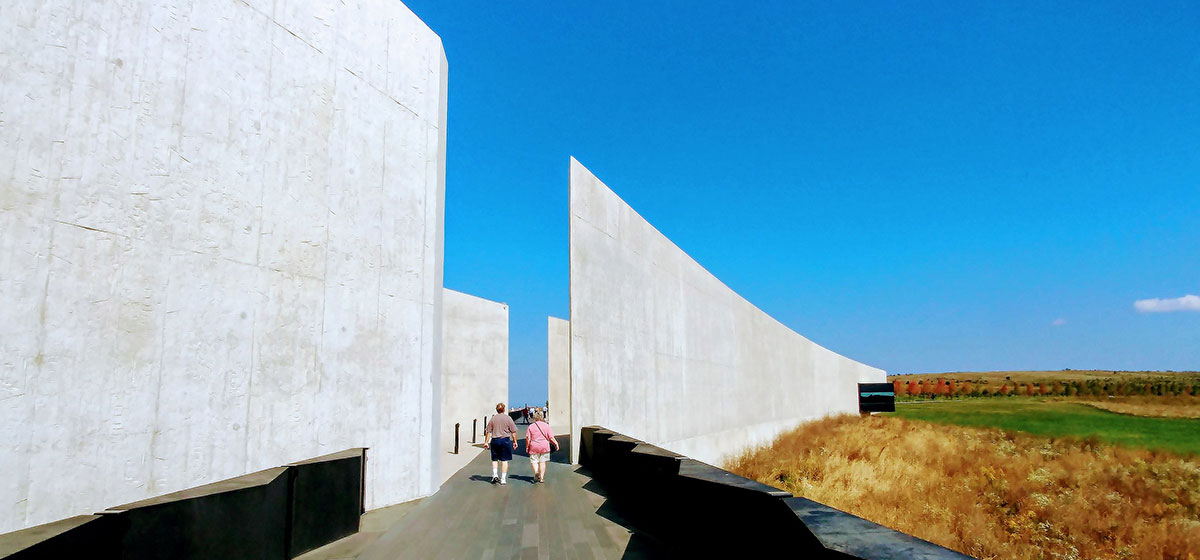 September 8, 2021
"Are you guys ready? Okay! Let's roll!"

This is what telephone operator Lisa Jefferson, who'd been on the phone with United Air Lines Flight 93 passenger Todd Beamer, says she heard at 9:55 a.m. on Tuesday, September 11, 2001. Four minutes later, as unarmed passengers and crew charged with a food cart and broke into the cockpit, sounds of hand-to-hand combat to take control of the hijacked plane at 5,000 feet can be heard as the cockpit voice recorder captured loud thumps, crashes, shouts and breaking plates and glass. In the exact minute that the World Trade Center's south tower collapsed, according to the government's bipartisan 9/11 Commission report, one of the insurgent voices on United 93 can be heard saying: "Let's get them!"
The Boeing 757 jet crashed into a western Pennsylvania field 11 seconds after 10:03 a.m., emitting black smoke which was first reported to the FAA by the same plane that had seen American Airlines Flight 77 crash into the Pentagon.
What lingers in that field 20 years later is an eerie, vast stillness. Visiting America's Flight 93 National Memorial recreates the revolt by that brave band of united Americans. The power of their choice to defend their lives echoes in the bare trees.
Flight 93's memorial, funded and run by the Department of the Interior's National Park Service and a private charity, is uniquely American. The 2,200-acre memorial to those who fought back against the four Islamic terrorist hijackers is expansive, allowing for a two-mile walk to contemplate the historic counterattack. A visitor's center contains exhibits retracing the terrorist attack's hijacking and the counterstrike. A learning center offers lectures such as oral histories. The path leads to a wall with names and the strip mine where the inverted jet was downed at 563 miles per hour. A tower with 40 distinctive aluminum wind chimes — one for each of the passengers and crew — was added in 2018.
The war memorial is exactly that. The place is designed, made and centered upon historical facts, not driven by the pictures, numbers and expressions of sorrow associated with what's commonly known as "nine eleven." There are no beams of light, candle displays and prayer vigils. Instead, there are names, transcripts and tales, with emphasis on auditory experiences such as the chimes that sound with wind, oral histories and recordings of phone calls to loved ones from passengers and crew during the flight. The focus is on those who fought to live. As the memorial's printed materials disclose: "It is a place to walk beside their final resting place and honor the extraordinary courage of those who fought back."
There were 29 minutes between the hijacking of the flight from Newark to San Francisco, during which a stewardess pleaded for her life and was murdered, and the moment the passengers and crew defied their captors. Their story has been chronicled in movies and books, including Pittsburgher Tom McMillan's 2014 book "Flight 93" with a foreword by Tom Ridge, who served as both Pennsylvania's governor and 9/11 commissioner. Gov. Ridge, who described the attack as "irrational, cowardly, despicable, unconscionable, and immoral," observed: "Visitors can come to this hallowed ground and learn of the people who fought the first battle against those who attacked our nation."
Located 80 miles south of Pittsburgh, two miles north of Shanksville in rural Somerset County's Stoystown, the memorial's GPS address is 6424 Lincoln Highway, Stoystown, Pa. 15563. Admission is free. Memorial grounds are open from sunrise to sunset, weather permitting, with the visitor center open to the public daily 9 a.m. – 5 p.m. It's closed on Thanksgiving, Christmas and New Year's. Visit the website, support the private charity or call (814) 893-6322 for details. For general and event information, write to the Flight 93 National Memorial PO Box 911, Shanksville, Pa. 15560.
Editor's note: A previous version of this story incorrectly stated that former Pa. Gov. Tom Ridge had died.