Thomas, Luke, Fragman, Huang, Tripathi, Woods, Gregerson
Professionals new to Pittsburgh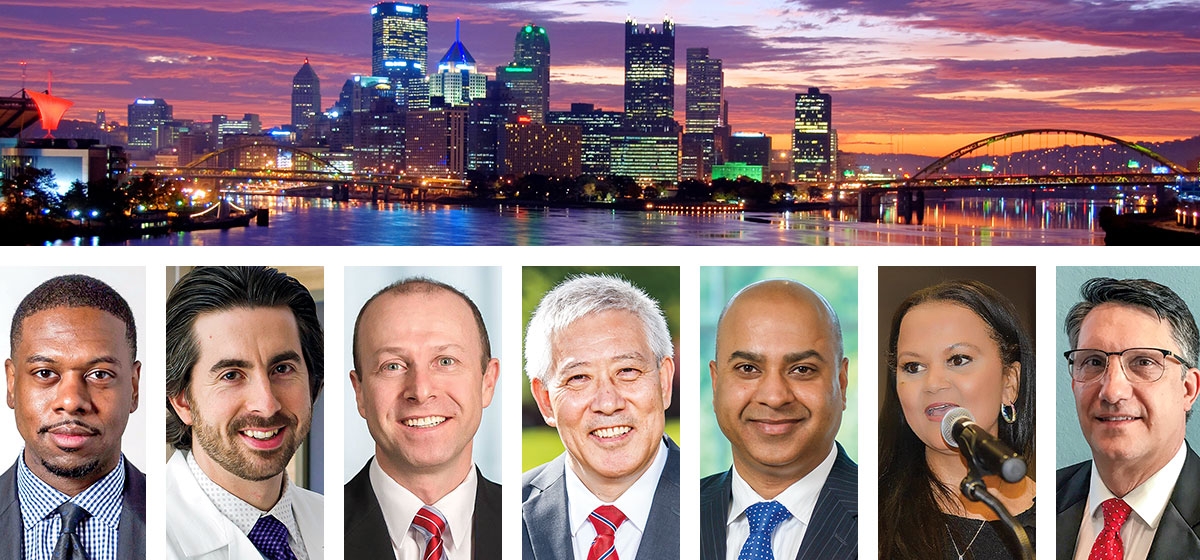 October 25, 2019
Mark Anthony Thomas is president of the Pittsburgh Regional Alliance, an affiliate of the Allegheny Conference on Community Development. He is responsible for creating, developing and executing the region's economic development strategy and advancing partnerships to drive job creation and business investment.

Thomas came to Pittsburgh from the New York City Economic Development Corporation, where, as senior vice president for partnerships, he played a key role in Amazon selecting New York for its second U.S. headquarters, and worked with a network of incubators, accelerators and training organizations to grow and diversify the tech startup community.
Jason Luke, M.D., is director of the recently established Cancer Immunotherapeutics Center at the UPMC Hillman Cancer Center and associate professor of medicine at the University of Pittsburgh School of Medicine. Dr. Luke specializes in early phase drug development for melanoma and solid tumors and has led investigations of several immunotherapies. He oversees early phase immunotherapy studies in collaboration with the UPMC Cancer Immunology and Immunotherapy Program. Dr. Luke came to Pittsburgh from Chicago, where he was assistant professor of medicine at the University of Chicago. He received his medical degree from Rosalind Franklin University of Medicine and Science/Chicago Medical School.
Patrick Fragman is the president and chief executive officer of the Westinghouse Electric Company, who brings 30 years of experience in global power and energy service to the Cranberry-based company, a leading supplier of nuclear plant products and technologies. He came from ABB Limited, headquartered in Zurich, Switzerland, where he was senior vice president of grid integration for the multinational technology company that serves utility, transportation, industry and infrastructure customers. Before ABB, Fragman spent 15 years at the French company Alstom, serving in senior roles in the U.S., France, Canada and China, leading its nuclear business and contributing to the growth of customer contracts.
Guiyou Huang is president of Edinboro University. He came to the region from Louisiana, where he was chancellor for Louisiana State University of Alexandria. There, he oversaw seven academic and administrative divisions, led the institution toward fiscal health and significantly improved student retention rates. His previous academic appointments include senior vice president for academic affairs and dean of faculty at Norwich University in Northfield, Vt., and tenured professor, director of the university honors program and chair of the English Department at Kutztown University. Huang earned a bachelor's degree in English from the Qufu Normal University in Shandong, China and a doctorate in English from Texas A&M University.
Saurabh Tripathi is executive vice president and chief financial officer of Highmark Health, the second largest integrated health care delivery and financing network in the nation based on revenue. Tripathi, who has 23 years of global management experience, moved from Boston, where he'd been senior vice president and chief financial officer of Fresenius Kidney Care, Fresenius Vascular Care, National Cardiovascular Partners, Fresenius Labs and Fresenius Physician Practices. At Highmark Health, he leads efforts to develop, plan and implement a finance strategy aligned to the company's strategic course and oversees the finance, real estate, tax and procurement divisions.
Janine Woods is CEO of the YWCA Greater Pittsburgh. A Kansas native, she began her careeer in corporate America before turning to the nonprofit world where she has held posts at a number of well-known agencies. Most recently, Woods served as CEO of Brown Family Health Center in Deep East Texas. She earned a Bachelor of Arts in Personnel Administration from the University of Kansas, a Master of Arts in Human Resources Development from Webster University in St. Louis, and a Certificate in Nonprofit Management from Duke University.
Robert G. Gregerson is president of the University of Pittsburgh at Greensburg, a four-year liberal arts college with about 1,500 full- and part-time students. He recently left Florida Gulf Coast University in Fort Myers, Fla., where he was dean of the College of Arts and Sciences and senior advisor to the provost. His research is focused on the biology, physiology, molecular biology and genetics of plants. His appointments include professor of biology and dean of the College of Science and Technology at Armstrong State University in Georgia. Gregerson earned his doctorate in molecular genetics from the University of Georgia.