The virtues of varietals
Take a taste of the perfect blend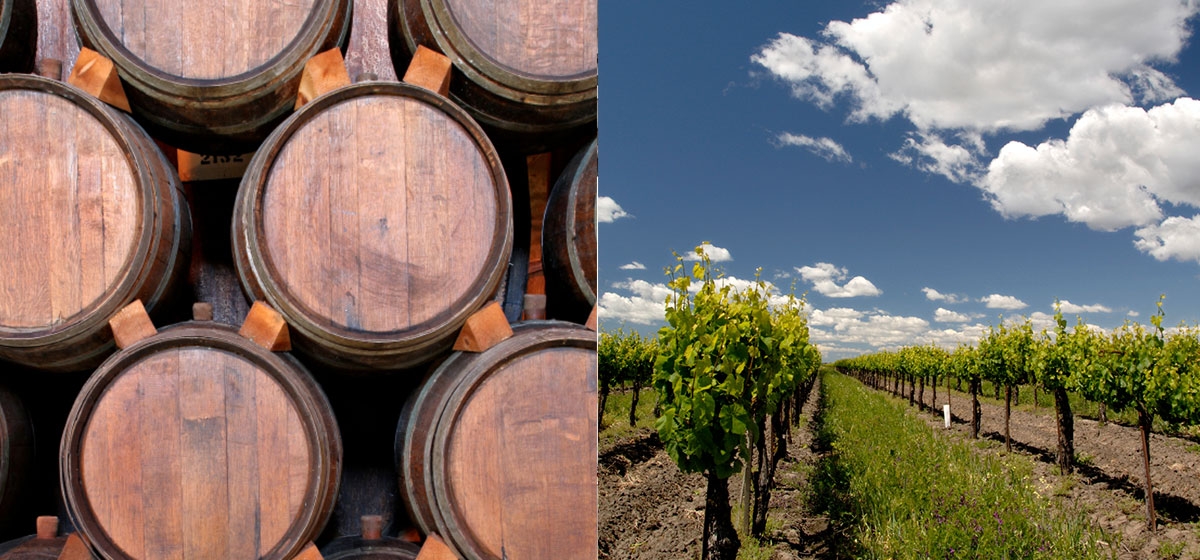 February 20, 2012
Good old Gallo hearty burgundy. Are you old enough to remember when that was the go-to wine for every dinner party? Lord knows what was in that jug, but it always tasted the same—red fruit, easy-drinking, probably sweeter than we're used to these days. It was a blend of numerous grapes (including, reportedly, zinfandel and petite sirah), tweaked as needed to ensure consistency and its appeal to the great wine-buying public.

"Burgundy" served as our generic red wine. It was all about achieving and maintaining a popular style, not showcasing particular grape varietals. It bore no relation, of course, to the actual red Burgundy we wine snobs know today: dry, complex pinot noir from France.
Now, with a wealth of wines from around the world available to us, we're all conditioned to seek out wines by varietal. We sip pinot grigio at the bar, and buy cabernet for dinner. Even the bargain critter wines, with the cute animals on their labels, are labeled shiraz, chardonnay, moscato, whatever. No more mystery blends for us!
The thing is, blends can be terrific. Those now-belittled jug wines do have something in common with many great wines of the world: consistency and popularity. What is famous Bordeaux but a red blend (typically of merlot, cabernet sauvignon and cabernet franc)? What is Côtes du Rhône but another mashup of varietals (grenache, syrah and mourvèdre)?
In France, in particular, winemakers have taken centuries to perfect the proportions of different grapes that go into traditional blends. And each year they must fine-tune the blend anew, depending on how weather and soil conditions affect the crops. This takes real skill—knowing what grapes will add needed flavor, body or bouquet—and a sophisticated palate, so the winemaker can taste and re-taste and know when the blend is right.
I tried it myself many years ago, with my late friend David Lett, founder of Oregon's Eyrie Vineyards. His blending setup—probably fairly crude by modern standards—featured as many beakers and graduated cylinders as a chemistry lab. I found the work tedious, and never really got the hang of it. I just loved the finished product.
So what will you love? I lean toward modern American blends based on traditional French ones. The Hahn winery, on California's Central Coast, does this well. Their Meritage (pronounce it like "heritage," no French accent required) is a full-bodied California take on the classic Bordeaux blend, using cabernet, merlot and three other grape varieties ($17.99 at select PA Wine & Spirits stores, or online at finewineandgoodspirits.com). Likewise, Hahn's GSM (special order in Pennsylvania) is their spicy, berry-scented version of Côtes du Rhône, made with grenache, syrah and mourvèdre.
The Prisoner, a red blend from Napa Valley's Orin Swift Cellars, doesn't mimic any classic wine, but stands on its own. Though it gets attention in my restaurant for its unusual name, diners are quick to love what's in the bottle: a rich, deep red blend of zinfandel, cabernet, syrah and more ($39.99 in select stores).
The Mount Veeder Winery labels one of my favorites, its reserve, as "Napa Valley Red Wine." Sounds like inexpensive table wine, but it's a skillful blend of oak-aged cabernet, merlot and malbec. Seek it out in restaurants, and you'll find it's well worth the price. (The table wine designation is common on blends because, in most of the U.S., a wine must contain at least 75 percent of one grape variety to bear the varietal label.)
Last, blends are a good way to sample grapes you might not think to try on their own. Tablas Creek Vineyards' Côte de Tablas Blanc ($26.99 in select stores) is made in the style of a white Côtes du Rhône, rich with flavors of fruits and minerals. You'd be unlikely to seek out a glass of viognier, roussanne, marsanne or white grenache, but in careful combination, these grapes are unbeatable. That's the beauty of a good blend, so much more than the sum of its parts. Enjoy.