The Unlikely Factors That Led to the Steelers Surge
NFL Week 10

Karl Roser / Pittsburgh Steelers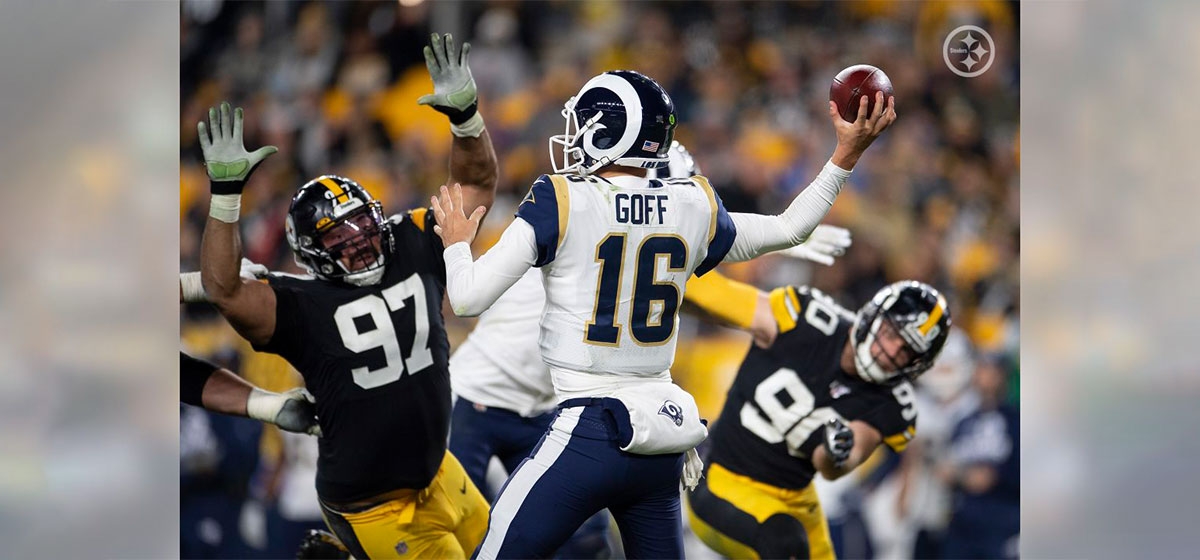 November 12, 2019
Six teams got the week off on a Sunday full of whacky results. NFL parity was in full effect in week 10, as three different teams got nipped by one-win bottom dwellers.

Baltimore embarrassed the hapless Bengals in Cincinnati to stay atop the AFC North. Over their bye week, the Bengals announced they would be benching their long-time starting quarterback Andy Dalton in favor of their fourth-round rookie, Ryan Finley. This can only be interpreted as their final white flag in preparation for a shot at the #1 pick next year. That they announced Dalton's benching on his 32nd birthday is the icing on disastrous cake that is the Queen City's 2019 season.
The Steelers had a taller task this week in their quest to keep the playoff dream alive and succeeded in an increasingly familiar fashion.
Steelers corner
Tell me if you've heard this one before: Minkah Fitzpatrick shines, young linebackers make big impacts, and the Steelers offense does enough to squeak by.
It's a formula that continues to produce surprising results, as Pittsburgh outlasted Los Angeles 17 – 12 for their fourth consecutive win. The Rams converted a single third down on 14 attempts on Sunday. It's additional fuel for the conversation of how elite this defense may truly be, which also turned the Rams over four times on the day. Folks, simply put: you do not want to face these guys right now. For context, the Steelers' 26 takeaways on the year:
pulls them to within one of the league-leading Patriots (27)
marks the third most for the team in the last decade (we're only through week 10!)
projects them for 46 total (now averaging 2.8 a game); would be the most in the NFL over the last decade
Included in the four turnovers was yet another Minkah Fitzpatrick touchdown on a scooped up fumble. Fitzpatrick becomes the first Steelers defensive player to score a touchdown in consecutive weeks since Sam Washington in 1984. Washington was traded the following season in 1985; something tells me Fitzpatrick probably won't be.
For much of the Tomlin era, his quarterback and a group of talented skill players has made this team formidable. For the first time in a long time, it's the defense that gives this team the advantage when they take the field. The stars are aligning in every dimension of this unit: defensive end Cam Heyward is playing arguably of the best football of his career in his age 30 season, and linebacker Bud Dupree is finally matching the first-round caliber the team drafted him to be.
Big-time plays from big-time players were aplenty, but cornerback Mike Hilton deserves strong consideration for player of the game. He accomplished what nobody else in the league has been able to through three seasons: hold star WR Cooper Kupp without a catch for a whole game. Kupp, coming off a seven-catch, 220 yard performance, leads the league in 100-yard games (5) and accounts almost half of all yards among a talented group of Rams receivers. It was a team win on Sunday all around, but Hilton's lockdown job on QB Jared Goff's safety blanket is going slightly overlooked.
Much of the fanfare of late has been accompanied by what-if daydreams: what if Ben Roethlisberger and Stephon Tuitt stayed healthy, what if Le'Veon Bell and Antonio Brown decided to "play nice" and stay. Sure, they'd be scoring more points and likely have won more games in September. Despite all that, keep your focus on the current circumstances. The Dolphins made an investment with the Steelers, and with it the assumption that the addition of Minkah Fitzpatrick would not be enough to overcome the loss of Roethlisberger. They thought Pittsburgh was destined for a lost year and a bottom of the barrel finish when they acquired the Steelers' 2020 first-round pick.
They thought wrong; not only have the Steelers just won games, they've won them because of Fitzpatrick's stellar play. If Dolphins' General Manager Chris Grier had known the winning would continue in Pittsburgh sans-Roethlisberger, it's hard to envision him ever pulling the trigger on this increasingly lopsided deal.
Similarly, remember when the sky was falling as General Manager Kevin Colbert traded his superstar wide receiver for pennies on the dollar? Eight months later, the Steelers stand as the lone beneficiary of the Antonio Brown saga. What's more: without the extra picks from Oakland at their disposal, the Steelers likely wouldn't have been able to trade up for Devin Bush.
Keep your glass half-full when evaluating all the what-ifs: with a healthy Ben Roethlisberger and Antonio Brown on the field in 2019, there's a possibility of no Minkah Fitzpatrick or Devin Bush, either.
Speaking of those picks from Oakland: it's fitting that the third-round pick acquired for Brown has blossomed into his potential successor. Wide receiver Diontae Johnson is looking better with each passing week, and is making a case as the team's #1. It may seem like Johnson's progression would come at JuJu Smith-Schuster's expense; eventually, it may be to his benefit if Johnson can start opening things up for him. It's important to exercise patience here; despite this being Smith-Schuster's third year in the league, he's still over a full year younger than the rookie Johnson.
While the offense still left much to be desired, there are signs of progress. Quarterback Mason Rudolph was on pace for his career-high passing yards if it wasn't for a handful of bad drops by his receivers. His pocket presence is gradually improving, and he's throwing the ball with more confidence. Despite all that, one of these days this offense is going to have to stick up for itself. To date, it hasn't had to.
In the meantime, the defense continues to will this team into playoff existence, a laughable notion not even a month ago. It's not that far-fetched anymore; of the seven remaining games, only two opponents have winning records.
One of those opponents, the Buffalo Bills, currently occupies the playoff wildcard spot the Steelers are suddenly gunning for. Up next: a matchup with Cleveland, who just took down their first win in over a month against… you guessed it, the Buffalo Bills.
Around the NFL
The concept of parity in the NFL suggests that, on any given Sunday, any team can win any of their games. Exhibit A: the gambling line predicted the 7 – 1 Saints to beat the 1 – 7 Falcons by 14 points or more. Naturally, the Saints got completely demolished, losing by 17 at home to a Falcons team with hardly anything left to play for.
The return of quarterback Patrick Mahomes wasn't enough for the Chiefs, who let Ryan Tannehill and the unpredictable Titans sneak up on them in the fourth quarter for another loss, 35 – 32. The Chiefs still lead the league in passing yards but continue to bleed points on defense; they've allowed an average of 30 per game over their last three. They haven't quite matched the hype coming into the year, and losing four of their last six has allowed Oakland to creep back into the divisional conversation. Still, they're a team few are worried about while their star quarterback gets re-acclimated after a multi-game absence.
A team to worry about in the meantime: Indianapolis. After a heartbreaker in Pittsburgh, the Colts had a perfect rebound game lined up when the lowly Dolphins came to town. Instead, they take their second consecutive loss, the first time that's happened since October of last year. This team needs QB Jacoby Brissett to get healthy, and quickly; backup Brian Hoyer tossed three interceptions and completed less than half his passes. With the Texans a game ahead and Titans in hot pursuit, Indy is in dire need of a win. They'll get Jacksonville this Sunday, who would overtake the Colts in the AFC South with a win of their own.
The NFC North had a nice rebound week, going 3 – 1 after a winless week nine. The Packers got it done in the snow in Lambeau, beating the Panthers 24 – 16. Green Bay is the most balanced they've been in quite some time. The run game has come alive to complement the air attack, and this may be the best defense Green Bay has had this decade. With a win over the Cowboys, the Vikings stay one game behind the Packers in the divisional pursuit. The Packers and Vikings will meet up the week of Christmas for a Monday Night bout with playoff implications on the line.
Fantasy forecasting
The sample size is considerably smaller this week with six teams off, but there are a handful of players worth discussing as we inch closer to fantasy playoffs.
Falcons running back Devonta Freeman left the game with a foot injury, and is undergoing MRIs. With reserve Ito Smith shelved for the year, it was Brian Hill who stepped in for 20 carries on the day. The assumption is Freeman will be back in time, but with an injury history in a lost season, it's not out of the realm of possibility Hill gets an extended look. He's bounced around the league a bit (this is his second stint in Atlanta), but having starting running backs of any caliber is important in fantasy. You never know when you'll need them!
Rookie Darius Slayton (10% owned) is officially on the fantasy radar, but proceed with caution. His 14 targets on the day were second only to Kansas City's Tyreek Hill, and he capitalized to the tune of 121 yards and two touchdowns. The numbers are gaudy and tempting, but keep a few of these factors in mind: he's useless this week on a week 11 bye, and draws the Bears and Packers the following weeks. If teammate Sterling Shepherd returns from a concussion during that time, it complicates the target share even further. However, if he continues to carve out a role for himself, Slayton gets tasty matchups with Philadelphia, Miami, and Washington during the fantasy playoff stretch. Keep an eye on him.
Miami's Devante Parker (49% owned) is going to get a lion's share of targets down the stretch. With rookie Preston Williams done for the year, Parker will be the primary guy on a team that will be throwing a ton. The floor is extremely low here, but the targets will be there—he's a desperation flex play if you need one.
The Texans' Will Fuller (51% owned) was dropped in a ton of leagues after his injury in week seven, but is worthy of a roster spot if available. He'd been seeing a healthy seven targets a game up to that point, including the behemoth 16-target game in the shootout against Atlanta. If you're struggling at wide receiver and could use a lottery ticket, he's your guy.