The Steelers, the Browns and the Uglies
NFL Week 11
Karl Roser / Pittsburgh Steelers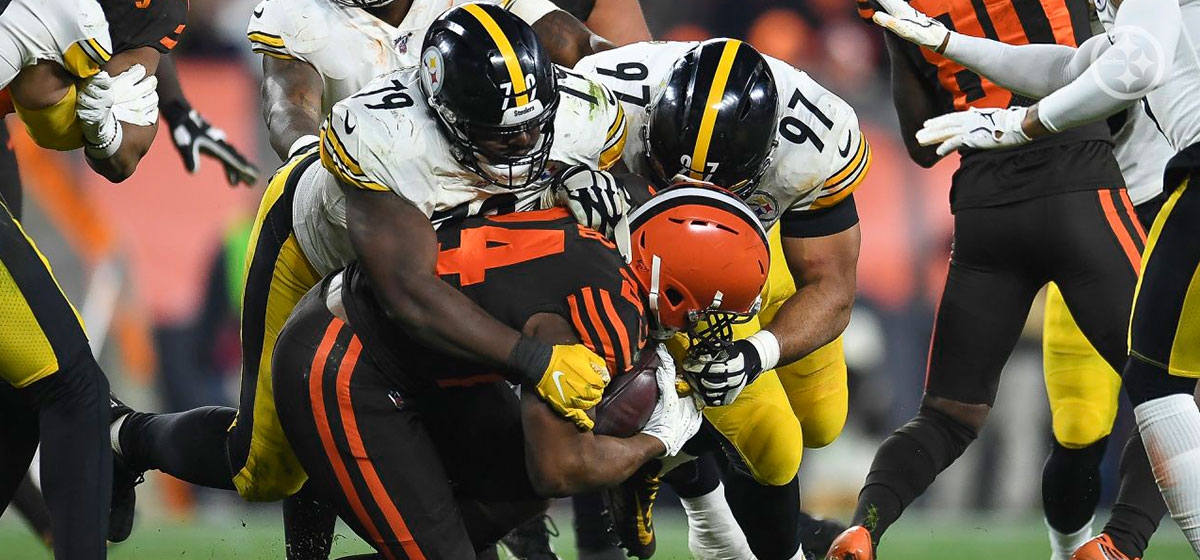 November 19, 2019
Yeah, that happened. Week 11 had its fair share of quality football, but all eyes were on the helmet swinging fiasco in Cleveland. The Browns took down the Steelers 21 – 7 on Thursday night. Ultimately, it's hard to see how anyone came away as winners.

Steelers Corner
By now, it's been discussed and dissected in national headlines, with varying flavors of opinions from all corners of sports media. In the waning seconds of the fourth quarter, Browns defensive end and former 2017 #1 overall pick Myles Garrett removed Steelers quarterback Mason Rudolph's helmet, swung it at him, and chaos ensued.
There is one underlying consensus opinion, however: there is no place in football for Myles Garrett's actions. He took a standard piece of safety equipment and weaponized it. The moment he did so was the moment he proved to be unfit to step onto a football field. While his suspension has been deemed indefinite, there is a concern about having to restrict its longevity based upon the terms of the league's Collective Bargaining Agreement. Based on that information, it remains to be seen whether his absence will linger into next season. It definitely should.
Next on the list of the suspended is Steelers center Maurkice Pouncey, who received a three-game ban for his role in the aftermath of Garrett's helmet swing. Much has been made, particularly among Pittsburgh media, of his punishment not fitting the crime. He's received a lot of support from his teammates, notably from linebacker Vince Williams on Twitter: "If @MaurkicePouncey jumps off a bridge I'm jumpin. I'll find out why on the way down." Some have even argued he shouldn't even be fined, much less suspended—he was defending a teammate in an unusually violent circumstance.
Looking at the series of events objectively, it's difficult to agree with this logic. Sure, Pouncey came to Rudolph's defense. He also repeatedly punched and kicked at Garrett after he had already been subdued; 316 pound David DeCastro (who was not suspended) had already taken Garrett to the ground and pinned him. Garrett wasn't fighting back, either. Moral of the story: do you want a guy like Pouncey to have your back when someone comes swinging at you? Definitely. Did his actions warrant a suspension? Absolutely. Without one, you set a precedent that punching and kicking someone in the head is acceptable; it should never be.
Finally, Browns defensive end Larry Ogunjobi has received a 1-game suspension for the added insult to injury when he pushed Rudolph down after he had already been assaulted. This one is fairly cut and dry; while you are only flagged for blocking somebody in the back while in the game, shoving somebody to the ground after a situation has already escalated out of control shouldn't be tolerated.
Steelers quarterback Mason Rudolph was fined, but not suspended. Whether or not he was deserving of one is not up to this writer to decide. What we do know: in the final seconds of the game, Rudolph was taken to the ground by Myles Garret. Garrett was not flagged, but Rudolph took issue with the takedown. That's all we have, folks. Subtract everything that happened thereafter, and you're left with a frustrated quarterback, who just endured the worst game of his professional career, prying at Garrett's helmet for a tackle that was not penalized. A suspension feels like it would have been a bit overkill, but it's hard to pretend as if Rudolph was completely undeserving of a fine.
The football in and of itself was mostly forgettable, which may have been a result of the injuries that piled up for the Steelers. Wide receiver JuJu Smith-Schuster went down with a concussion and knee injury on the same play, and his week 12 status is in doubt. Linebacker Olasunkanmi Adeniyi and wide receiver Diontae Johnson also left the game early with concussions. Johnson's was particularly gruesome—he was noticeably bleeding from his ear on the sideline. Running back James Conner did not finish the game after aggravating the shoulder injury that's been keeping him out of action.
While the injuries certainly played a role in Mason Rudolph's forgettable evening, it did little to quell the concerns of his recent play. For the third game in a row, Rudolph and company were only capable of manufacturing a single offensive touchdown. For the first time in as many games, the defense couldn't save them.
That Rudolph's four-interception game happened to coincide with the week Colin Kaepernick decided to hold an NFL workout has only added fuel to the fire. Signing a quarterback off the street who hasn't played in three years likely won't solve the point-scoring problem the Steelers have been trying to solve. Despite that, one thing remains clear: if Mason Rudolph has long-term starting quarterback potential, we have yet to see it.
While it's still a longshot that Pittsburgh would be the ones to roll the dice on Kaepernick, it's hard to see how a former Super Bowl quarterback could be significantly worse than what we have on the roster. The worst case scenario: the Steelers miss the playoffs, an increasing reality with every loss to a mediocre team like Cleveland. Then again, the media circus and drama that comes with a Kaepernick signing is exactly what the front office has been trying to rid themselves of the last two seasons. It's for that reason alone they, along with most teams, may pass all together.
Week 12 is a must-win in Cincinnati, and Pittsburgh will have to find a way to win while potentially shorthanded. The Bengals are 0 – 10, but just gave Oakland a bit of a scare last week. The Steelers get a revenge game against the Browns in Pittsburgh thereafter, and a trip to Arizona to face a spiraling Cardinals team on a four-game losing streak.
The Bills still occupy one of the two wildcard spots in the AFC, which is the Steelers' only shot at this juncture. Buffalo will visit Pittsburgh in week 15, but not without facing the 1st place Cowboys and Ravens prior to that.
In the meantime, the Steelers must find a way to take care of business and win these extremely winnable games.
Around the NFL
Quarterback Kirk Cousins and the Minnesota Vikings showed the league why they will be a serious threat down the stretch. Down 20 – 0 at halftime, the Vikings went on 27-point tear in the second half to shock the Broncos 27 – 23, with 21 of those points in the fourth quarter. Minnesota has seemed to play down to their opponents occasionally, but these offensive spurts are not uncommon. It also marked the first time in five full seasons that a team overcame a 20-point deficit after halftime.
Speaking of fourth quarter rallies, the San Francisco 49ers put together one of their own against the Cardinals. Down 16 – 10 at halftime, quarterback Jimmy Garoppolo caught fire in the second half with three touchdowns. The 49ers capped off a 19-point fourth quarter with a fumble recovery for a touchdown as time expired, and gets them to a one game advantage over Seattle who were off this week.
The much anticipated matchup between quarterbacks Deshaun Watson and Lamar Jackson wound up being quite lopsided. After a sloppy first quarter in which neither team scored, Baltimore took the reins for 34 consecutive points and dismantled the Texans, 41 – 7. Watson continues to take a beating in the backfield, as he was sacked a whopping six times on the afternoon. He's sandwiched between Daniel Jones and Andy Dalton among the most-sacked quarterbacks this year, and could eventually lead the league in that category for the second consecutive year if the Texans don't do something to protect their franchise quarterback.
Unlike the three aforementioned matchups, the Sunday night bout between the Bears and Rams featured a complete lack of scoring. L.A. was eventually the victor 17 – 10, but it was barely on account of the offense. Quarterback Jared Goff has simply not looked as polished this year, completing 11 passes on the night, and the once formidable Rams rushing attack has struggled to get going. Star running back Todd Gurley is still looking for his first 100-yard game, after racking up 14 over the prior two seasons. Things don't get much easier in week 12 when Baltimore comes to town. On the other side, Bears quarterback Mitch Trubisky has continued to play poor football. Whether it was injury related or not remains to be seen, but the late fourth quarter benching does not bode well for the storylines in Chicago this week.
Fantasy Forecasting
A lot of interesting situations are playing out in the fantasy home stretch, particularly in the backfield. With another four teams on bye this week, there were are still a handful of diamonds to be plucked from the waiver wire rough.
Colts running back Jonathan Williams (4% owned) stepped in for an injured Marlon Mack and dialed up 113 yards on 13 carries, as well as a 31 yard catch. Regular backup Jordan Wilkins (1% owned) was out for this one, so it's not easy to ascertain the long term value here on a short week (Indianapolis plays on Thursday). However, these are the kind of lightning in a bottle pickups that can win you a league if you get it right. Mack was diagnosed with a fractured hand on Monday and is expected to miss a few weeks at minimum. Williams is on his 4th professional team in four years, but the former 6th rounder out of Arkansas has flashed a high gear in the past. Whether or not this is the moment he finally cashes in on remains to be seen, but a tempting matchup against a Houston team allowing 140 yards of rushing a game is a good audition. If Jordan Wilkins can't go on Thursday, start Williams confidently in your lineup.
A lot of people have been holding onto the hope that free agent running back Jay Ajayi (22% owned) would eventually land in an advantageous situation. Unfortunately, signing with Philadelphia was one of the worst possible scenarios. Not only are RB Miles Sanders and Jordan Howard fully entrenched in front of him, 2nd year Boston Scott has also been soaking up a lot of touches of late. To make matters worse, head coach Doug Pederson has showed almost zero propensity to use his runners consistently; it's one of the least predictable backfields in the league.
Those desperate at tight end may think about giving Seattle's Jacob Hollister (30% owned) a look this week. The targets are what we're after here, and Hollister has been given a healthy 16 of them his last two games along with three touchdowns. A favorable matchup with the Eagles on Sunday should be a nice proving ground to see if this is a consistent thing moving forward.
Finally, a couple surprising names can be found atop the most highly targeted of week 11.
Bears wide receiver Taylor Gabriel (7% owned, 14 targets) can be safely avoided. He's one of the many unfortunate pass catchers on this Chicago offense that's been completely stymied by the poor play from quarterback Mitch Trubisky.
Tampa Bay tight end Cameron Brate (2% owned, 14 targets) may be useful in the interim. Head coach Bruce Arians has seen enough from tight end O.J. Howard. The 2017 1st round pick was benched in favor of Brate in the opening quarter after attempting to catch a bobbled pass behind his back, which was decisively intercepted. Brate's value will depend on whether or not Howard's benching is long term – if so, he's worth a look in a tough year for fantasy tight ends.