The Pittsburgh Flip
With the influx of young, affluent newcomers, renters now outnumber homeowners in the city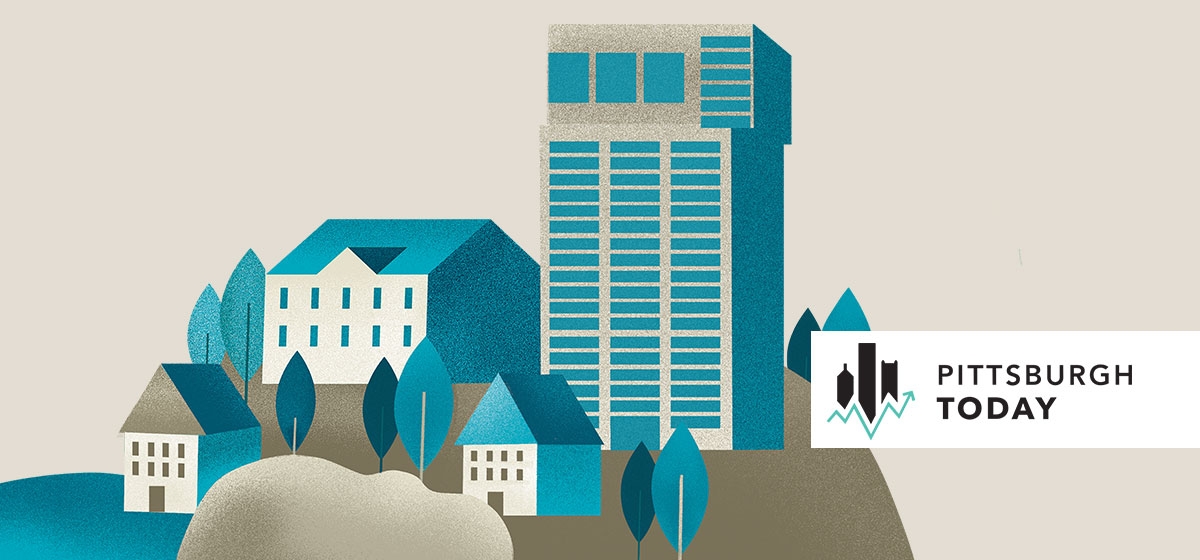 February 20, 2019
Tom Maiden has been renting in the city of Pittsburgh for decades. He has a well-paid job as manager of user services at the Pittsburgh Supercomputing Center, and while he's never shut the door on the idea of buying a home, the ease and convenience of renting is too compelling.

"While renting might be slightly more expensive, it allows me not to be concerned about any major thing," said the 46-year-old Bloomfield resident. "I don't have to worry if the roof goes, the walls fall in—that's all on the landlord. I'd much rather spend my time socializing or traveling. If your sewer line goes, that's three or four vacations."
He is not alone. Homeownership rates have slipped so much over the past decade that renters now outnumber homeowners in the City of Pittsburgh. In 2007, nearly 54 percent of city residents owned their homes. Today, less than 49 percent do, U.S. Census Bureau data show.
It's a trend that has played out in most major U.S. cities since the 2007–2008 financial crisis. More young people are being drawn to urban living. More highly educated people are choosing to rent and rent longer in urban markets. The change is transforming some neighborhoods, with an influx of newcomers and rising rents that some long-time residents struggle to afford.
The decline of urban homeowners
While homeownership in the City of Pittsburgh is no longer the norm, it remains high in the region. Nearly 70 percent of housing is owner-occupied in the seven-county Pittsburgh Metropolitan Statistical Area, according to 2017 Census Bureau data. But even the regional homeownership rate is lower than it was 10 years earlier, when nearly 77 percent of southwestern Pennsylvanians owned their home.
Homeownership is not a trivial matter for the fabric of communities, regardless of their size or setting. "It's really important in terms of building equity and accessing wealth," said Dave Breingan, executive director of community development group Lawrenceville United. "It's part and parcel with the American dream. Giving people access to homeownership can open up a variety of economic opportunities. And they're less at risk from the whims of landlords and protected against displacement."
Home ownership rates among young adults and black households nationally have fallen to near 30-year lows, according to a 2018 report by the Joint Center for Housing Studies of Harvard University. Slow income growth among low-to-moderate-income households and young adults has been a factor, Harvard researchers report. The median income of the quarter of the population with the lowest earnings rose only 3 percent between 1988 and 2016 and 25-to-34-year-olds saw only a 5 percent bump.
Who's renting
In Pittsburgh, African Americans are more likely to rent than white residents. In Allegheny County, they're more than twice as likely than whites to do so, according to the Pittsburgh Regional Quality of Life Survey conducted last year by Pittsburgh Today and the University of Pittsburgh's University Center for Social & Urban Research (UCSUR).
An increasing number of renters are better-educated and simply choosing to rent rather than buy.
More than 48 percent of city renters had at least a bachelor's degree in 2017. Ten years earlier, only 32 percent had a college degree.
And more are young adults. The city's 18-to-35-year-olds accounted for 54 percent of the population in 2017, up from 41 percent 10 years earlier.
"There is a bulge of millennials," said Sabina Deitrick, co-director of UCSUR's Urban and Regional Analysis program. "Young people have been increasing in numbers in the city since 2000 and younger people tend to go into a rental market first. An increase in the number of rental units, an increase in the number of people and a shift in preference for staying in the city all point to growth in city's rental market."
Harvard researchers suggest some young adults rent because they value its flexibility, others because they are paying down student loans that, even with a sizable paycheck, can leave them short of cash for a down payment on a house.
Whatever the reason, developers recognize a market when they see it. And the increase in multi-unit apartments in city of Pittsburgh neighborhoods is one way they've responded. High-end multi-unit apartments may still be a minority player in the city's rental stock, but they account for the bulk of new rental construction since 2014, Census data suggest.
"There are a lot more rental apartments since the Great Recession and most of new construction coming out of those years was rentals," Deitrick said. "That's where builders were building, that's where banks were lending and that's where demand is."
Walnut Capital's Bakery Square properties in the city's Larimer neighborhood were early entries in the city's high-end rental market when built in 2014. "We started seeing that it was possible to make new properties within the city," said Todd Reidbord, president of Walnut Capital. "In 2014, we saw this bubble of 50 years burst. It had been very difficult to build new apartments in the city because the cost to build them was in excess of the rent you could get. That shifted and we were able to build new apartments. And when we build them, they're for the new Pittsburghers, not the old Pittsburghers." At least 80 percent of tenants in Walnut Capital's new apartments are not from Pittsburgh.
For affluent residents, some of the shift to renting may be due to convenience and amenities. "In the past," Reidbord said, "you had a two-bedroom apartment in Squirrel Hill that was large and spacious. Now someone will pay just as much to live in a 600-square-foot studio apartment with a swimming pool, a weight room, a huge lobby, package delivery and free coffee. That's the changing market."
Such trends contribute to higher rents. The national median rent rose 20 percent faster than inflation from 1990 to 2016, according to the Harvard report. And new high-end units in Pittsburgh aren't cheap. A one-bedroom in Walnut Capital-owned Bakery Living Blue, for example, goes for $1,626 to $2,151 a month.
Pockets of change
The housing shift and its impact are not evenly experienced throughout the city. The shift is most apparent in neighborhoods experiencing a surge in popularity. And rent can vary widely from neighborhood to neighborhood—sometimes even from block to block—due to demand, quality and other factors. For example, a one-bedroom apartment on the South Side costs $1,124 a month; a few miles away in Brookline, a one-bedroom averages $748.
Greater apartment demand pushes up rents and reduces the number of units for those who can't afford to keep up with rising prices. The most vulnerable are extremely low-income households whose earnings are 30 percent or less of median income locally. For every 100 such households in the Pittsburgh MSA, there are only 45 affordable housing units available, according to a recent National Low Income Housing Coalition report. And for Pittsburghers earning half the median income or less, the city has 17,300 fewer units than it needs, according to the city's Affordable Housing Task Force.
"There is high demand in the rental market," said Gale Schwartz, program manager, Housing Alliance of Pennsylvania. "We need naturally occurring affordable housing and more subsidized housing. But what's being built is luxury."
Lawrenceville is one city neighborhood that has seen its popularity soar in recent years, which has led to business growth, widespread revitalization and a profound shift in its housing market. It's also led to a shortage of housing for long-time residents less affluent than the newcomers. In 2010, median rent for a one-bedroom apartment there was $913 a month, according to Census numbers. Today, it's $1,300, according to rentometer.com estimates.
"Over the course of the past 10 years, there have been pockets of high appreciation throughout the city," said Mekael Teshome, vice president and senior regional officer of the Pittsburgh Branch of the Federal Reserve Bank of Cleveland. "It's a feature of our housing market. We don't have a huge supply of housing. But we have pockets of appreciation that create demographic shifts within those neighborhoods."