The Peak of Its Powers
Behind the scenes during a Golden Era of the PSO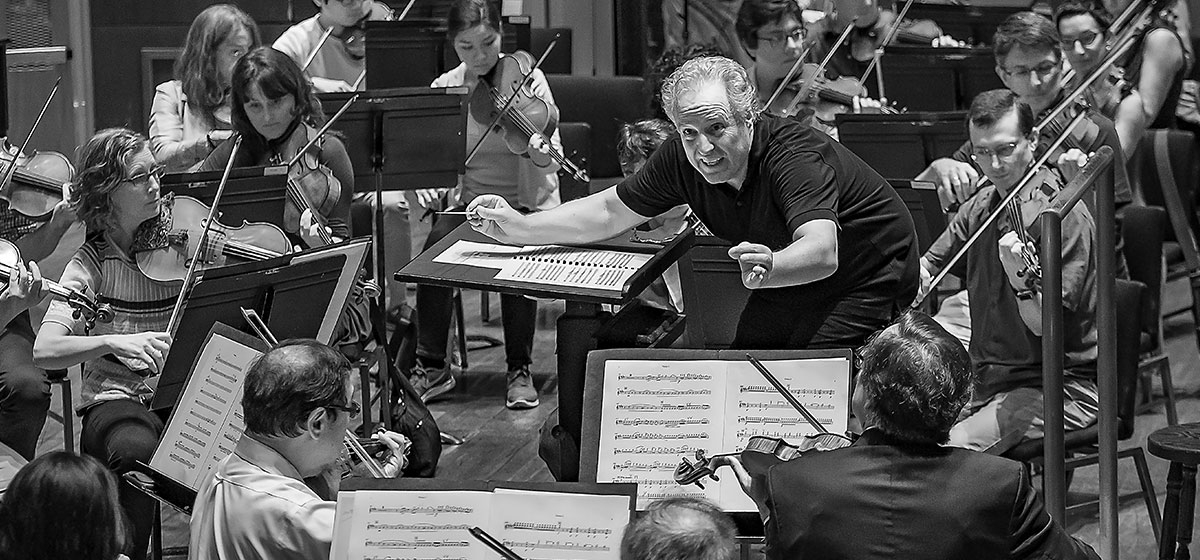 January 3, 2019
The No. 1 seat in the grand stage box is the best place to be at Heinz Hall. And that's exactly where I sit with my noiseless camera. All the other seats in the concert hall are empty. On stage, the musicians are tuning their instruments as conductor Manfred Honeck makes his entrance. I'll be getting a private concert.

---
---
Sort of. Most of the musicians dress as if they're still on vacation. Principal oboist Cynthia Koledo DeAlmeida—now here's a woman not afraid to stand out—wears a skirt with a larger-than-life face of Frida Kahlo printed on it. It's the first rehearsal of the PSO after the summer break, and I am here to photograph the event.
As Honeck, without much ado, leads the orchestra into Bernstein's Overture to "Candide," one musician will later, in confidence, describe the sound of the rehearsal to me as "a bit rough."
Contrary to what an outsider might think, the PSO doesn't vacation as a group, cruising the Caribbean or bussing through the city where Beethoven was born. In fact, most musicians don't have much of a vacation at all. They have their teaching jobs. They have concerts with other groups. And, above all, they have practice.
"We don't really have any time off," says Charlie Powers, a cellist with the PSO since the 2013-14 season. "We hold ourselves to the highest standard. When we come to Heinz Hall after a few weeks off, there can be no rust. We have to show up ready to perform."
During the non-vacation vacation, Powers practiced his scales and etudes every day and studied pieces for the upcoming season. "All the musicians do that," he said. He worked especially diligently on Brahms' second Symphony, a big favorite of cello players.
Honeck didn't have much of a vacation either. He just returned from Europe where he conducted the "Royal Concertgebouw Orchestra." The Amsterdam orchestra, considered by many the best in the world, needed a last-minute replacement for conductor Danielle Gatti who was fired after accusations of sexual harassment.
Indeed, the #MeToo movement has created several hard-to-fill shoes in classical music.
Marine with a bow
Charlie Powers, 41, doesn't have the look of a flamboyant cello player, or a "rebel with a bow," as cellists are sometimes described. With his well-shaped physique, boyish smile and a name fit for a Fifties superhero, he could easily pass for a mild-mannered Marine. And that's exactly what he is.
"Once a Marine, always a Marine," says Powers playfully. Before his successful audition for the PSO, he played over eight years in "The President's Own" U.S. Marine Chamber Orchestra in Washington, D.C. This is the chamber orchestra that plays at the White House whenever classical music, and maybe some pomp and circumstance, is required.
"It means a great deal to me, to have served my country in uniform as a Marine and as a musician," says Powers as he shows a picture of himself, in a red Marine uniform, standing in the White House next to President Obama and Michelle Obama. Can you beat that? Yes, Charlie can. In the next picture he plays beside Yo-Yo Ma.
The fact that he was a Marine doesn't mean Powers is just as comfortable with an M16 rifle as with his bow. "When you win the audition for the Marine Chamber Orchestra, they ask you to enlist in the Marine Corps, but you're not expected to do basic training or go into combat."
Cello without strings
During the first part of the rehearsal, Honeck seems to be the personification of "relaxation," but somewhere halfway through Ravel's "Alborada del Gracioso," it looks as if the Austrian conductor gets stung by a tiny bee. Perhaps it's the involuntary physical response a demanding maestro experiences when he hears something he doesn't like.
The music stops and Honeck, in a very polite tone but with a rather stern expression, asks the violins to his left whether it is possible to play this or that just a little different. Some musicians use this intermezzo to scribble frantically on their scores.
"Manfred works with us like colleagues," Powers says. "He's always very respectful to the orchestra. But what we love most about him is that he's demanding. We work hard because we are perfectionists, and we want our conductor to have the same high standard."
So, what does it take to become a perfectionist and join the PSO? It helps to start young.
Powers shows a photograph on his iPhone. He's a smiling 3-year-old holding a small cello. "That was a wooden cello my father and my teacher made for me." The instrument had no strings and Charlie played it with a plain old stick. Its only purpose was to teach him the right posture for holding the instrument.
At the ripe age of 4, Powers got a cello that actually made sound. He never looked back. Fourteen years later, he made his solo debut playing Saint-Saëns Concerto No. 1 in A minor. Was he nervous at his debut? "I didn't know enough to be nervous."
Whatever Powers has learned since holding his stringless cello, he now passes on to his students at Duquesne University's City Music Center. Here, he explains with great enthusiasm to 9-year-old Leonidad Vanaple that there's a long lineage of teachers behind every cello player going back all the way to the days of Beethoven.
Cynthia is no wallflower
After Ravel, it's time for Rossini's overture to "The Barber of Seville." Once again, to untrained ears, it sounds fantastic, but on a few occasions, that nasty little bee stings the maestro again, and certain passages have to be played over and over, and most of all differently.
Besides Honeck, there's one person who clearly makes her presence felt during the rehearsal and that's principal oboist Cynthia Koledo DeAlmeida. On a number of occasions, she asks questions. During the intermission, she has a lengthy face-to-face discussion with Honeck.
"As principal oboist you can't be a wallflower," says Koledo DeAlmeida a few days later at CMU's School of Fine Arts where she holds a teaching position. "I'd rather make a fool of myself at a rehearsal, than mess up in a concert." She had a lot of solos at the rehearsal which she wanted to ask Honeck about, but she also sees it as her job to ask questions and be a leader.
"People in the principal positions of the orchestra have to be leaders," says Koledo DeAlmeida, who has been with the PSO since 1991. "If everybody raised their hands for every question they had, we couldn't go on. I see it as my responsibility to ask questions, when others maybe feel they don't have a voice."
Passionate and intense describe her. Perhaps she needs it since the oboe is arguably the most demanding instrument in the orchestra. Why? Reeds.
"I get up at 5 a.m. to work on my reeds," she says. "I often end up working six or sometimes eight hours a day making reeds and then I still have to practice the music." She makes those tiny reeds from a special type of cane—Arundo donax—that mainly grows in the south of France.
Koledo DeAlmeida shows one of her students how to scrape the absolute tiniest slice of wood from a rough reed, a blank, in order to change the way it sounds. Even the smallest adjustments will change the pitch and tone color, and it takes years and years of practice for an oboe player to make the reed just so it fits her physiology.
Why doesn't she use reeds that are made by someone else? The question is met with a stare. Then, she settles the matter for once and all: "To be a great reed maker, you must be a great player."
After all the work that goes into making a reed, they don't last very long. "There's nothing like it in the world, " she says. "We have to create an instrument every day that wears out in two or three concerts." It's hard to imagine a more intimate relation between a person and a tiny piece of matter, than the one between the oboe player and the reed.
Grammies and scars
The rehearsal is over. The musicians all dress in their concert outfits to have the official PSO photo taken. As with most picture-taking, some like it and others seem utterly bored. Honeck is upbeat and joking around as he gets to hold the Grammy statue the PSO received in January 2018 for its recording of Shostakovich's Symphony No. 5 and Samuel Barber's Adagio.
This is what Fortune wrote in 2017 about this recording: "(Manfred Honeck) interprets—he even anthropomorphizes the music. It works! The music comes alive in uncanny ways. … Honeck's profound empathizing with the music … denotes a passionate, detail-happy, and deeply caring performance. Honeck lets the orchestra rip, cry, shriek—but he tends at least equally carefully, tenderly to the extensive piano and pianissimo passages."
For Charlie Powers, the Grammy is proof of the growth the orchestra has made under its current conductor. "Honeck has no fear of going too far. He loves extremes in dynamics and tempi. This is one of the things audiences love about us, that we take a lot of chances. Honeck pushes the limits of what the orchestra can do and that's why we've seen so much growth under him."
The cellist is also excited about the new season since he believes the orchestra is playing at the top of its game. "We're playing as high a level as ever before in the history of the PSO." Powers compares the PSO to Pittsburgh's best sports teams. "We're the city of champions, and that includes the PSO."
Koledo DeAlmeida agrees. "The orchestra was in a golden time under Lorin Maazel. That was an incredible sounding orchestra. With each single conductor we have gone through a metamorphosis." Koledo DeAlmeida believes that under Honeck the orchestra is going through another golden time. She describes Honeck as one of the most musical and humane people she's ever worked with.
However, this golden time comes with plenty of pain, Koledo DeAlmeida says. "The strike of 2016 has left many scars and damaged relationships among staff, administration and orchestra. Also among players. It's about things that were said and things that were done. I won't go into details but we're still licking our wounds."
Though she probably didn't need it, the 54-day strike ignited a new fire in Koledo DeAlmeida. "When we sit down to play now, no one is taking it for granted anymore, because we can go right back to that moment when we didn't have an orchestra to play with and we were out on the street."
During the strike, she picketed with a sandwich board that said, "I'd Rather Be Making Oboe Reeds." The strike created more camaraderie among the musicians, but there's also more insecurity. As she says, "It still feels like we're on thin ice."
At Heinz Hall the stage is empty. The rehearsal is over. The orchestra is gone. I pack up my photo bag and leave. Were the musicians a bit rusty? I couldn't tell you. Maybe my untrained ears didn't hear it, or maybe the orchestra is just too good.