Bold Action Needed: Richard V. Piacentini, Melia Tourangeau, J. Kevin McMahon, Bill Hunt
Regional leaders address population loss and Pittsburgh's future (Part IX)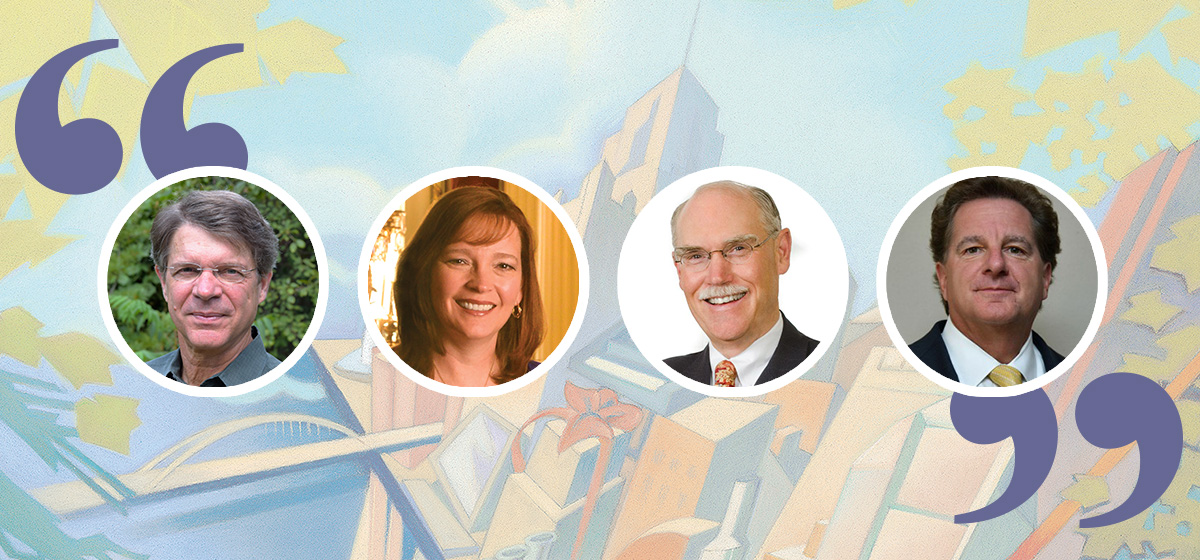 August 19, 2020
At a time when the Pittsburgh region is continuing to lose population and has been seeing regional job losses the past few months, we asked a group of regional leaders to respond, in 200 words or less, to this question: What action do we need to take to create the kind of growth, vitality and dynamism that will stem our population loss and catalyze a strong future?

Richard V. Piacentini—President and CEO, Phipps Botanical Gardens
Pittsburgh has so much to offer the world. Regularly shortlisted in national and international publications for its best-in-class amenities, cultural attractions, universities and overall livability, the sooty city of the late 19th century has evolved into a gem of an American metropolis with inimitable character, culture and potential.
To attract and retain young people, we need to recognize that many of them seek transportation methods that don't rely on cars. In that regard, Pittsburgh can be compared to a desert island. We are within 500 miles of half the population of the United States, but to get there, you have little viable choice beyond a car or plane. We desperately need efficient interconnections of high-speed rail to cities such as New York, Philadelphia, Cleveland, Columbus, Chicago, D.C., Detroit and others that could truly catalyze the growth and vitality of our region. Reliance on cumbersome, emissions-heavy air and car travel has isolated us from our neighbors and capped our potential. With rail travel, the Pittsburgh that so many of our neighbors read about would be within easy reach for more guests than ever before, bringing economic growth while adding incentive for residents to make our city a long-term home.
Melia Tourangeau—President and CEO, Pittsburgh Symphony Orchestra
I think the region needs to strategically leverage and position all that we are and stop worrying about what we aren't. Quality of life is a real driver for employees and employers, and Pittsburgh has it all for just about any interest. I often say that Pittsburgh is a "mini-me" of New York City—in all the best ways. We have exceptional cultural assets, walkability, exciting nightlife, fantastic restaurants and world-class entertainment (like the PSO!). But it's affordable, manageable, family-oriented and with friendly hospitality. The topography and natural assets of the rivers, bridges and hills create a uniquely beautiful place to live that appeals to the outdoor enthusiast as well as the urbanite. Some of the drivers that persuaded me to move here almost five years ago were the reputation and legacy of the Pittsburgh Symphony Orchestra as one of the best orchestras in the world, and its location in such a vibrant and active downtown. This is a sports city, and it is so much more, and as arts and cultural organizations, we want to help the region as it continues its strategy to sell itself to the world. We join you as part of the solution.
J. Kevin McMahon—President and CEO, Pittsburgh Cultural Trust
Thirty-five years ago, Pittsburgh faced a declining industry and shrinking population due to changes endured by many rust belt cities. H.J. "Jack" Heinz II and his band of dreamers founded the Pittsburgh Cultural Trust and thus proved that the arts can serve as a catalyst for economic, commercial and residential development, while enriching the quality of life for residents and visitors alike. Since the 1980s, the Cultural Trust has strengthened and grown Pittsburgh's Cultural District through mission-driven efforts to integrate the arts and culture into Downtown Pittsburgh's urban landscape.
Looking forward to the next 35 years in Pittsburgh, we need to not only maintain the transformation of our city but move forward through arts and culture—more performances, more public art and free events, more businesses occupying formerly empty storefronts, more residential units Downtown. This progress cannot happen without continuing big, bold steps in Pittsburgh's Cultural District. We need to improve and grow public green spaces, enhance our historic theaters and build new ones, and expand free and low-cost programming to bring new, diverse audiences into the city.
Today, it is the "quality of life" that is the prime determiner of where people choose to live and work. Pittsburgh has a great quality of life, but it must be sustained and supported and marketed so our city can continue to be recognized as one of the most livable cities.
Bill Hunt—President and CEO, Elmhurst Group; Chair, Carnegie Museums
I am not here to state our taxes are too high. I am, though, here to say that the format of our corporate income tax and local property tax actually discourages new companies and individuals from locating to our region. Our tax structure is a drawbridge that protects the region's existing residents, while discouraging new ones from moving here. This is no way to grow western Pennsylvania.
First, Pennsylvania's corporate income tax is one of the highest "perceived" tax rates in the country. I say "perceived" because many of our existing companies in the state pay at a much lower level due to special exemptions and other tax strategies. Perfectly legal, but it takes an approach that many new prospective companies to our region may not want to pursue, especially when our competitor states already offer lower corporate tax rates. The solution is to simplify the process by lowering our corporate tax rate while offsetting the lower revenue by reducing the existing exemptions.
Second, our local property tax structure has a similar bias against new companies and residents. Those new to our region pay taxes based on a higher assessed property value due to their recent purchase price. Existing residents have traditionally been able to pay less in taxes on similar properties because those properties have not been reassessed in many years. I recently heard a new resident tell me that, yes, our region's home prices were lower than their previous house in the Washington, D.C., area, but their monthly mortgage payments were nearly the same due to the inclusion of their higher property taxes here. The solution is for the state to require reappraisals of all properties throughout the commonwealth every three to five years, with the commitment from the local taxing bodies to decrease the millage to be commensurate with the increase in assessed values.
Restructuring both the state corporate income and local property taxes may not be politically popular, but to grow this region, the state must create new tax structures that no longer discriminate against those companies and people who are considering moving to western Pennsylvania.