The Curtain Rises, At Last
Live arts reemerge from a dark pandemic year
Photo by Randall Coleman, courtesy of the Pittsburgh Cultural Trust.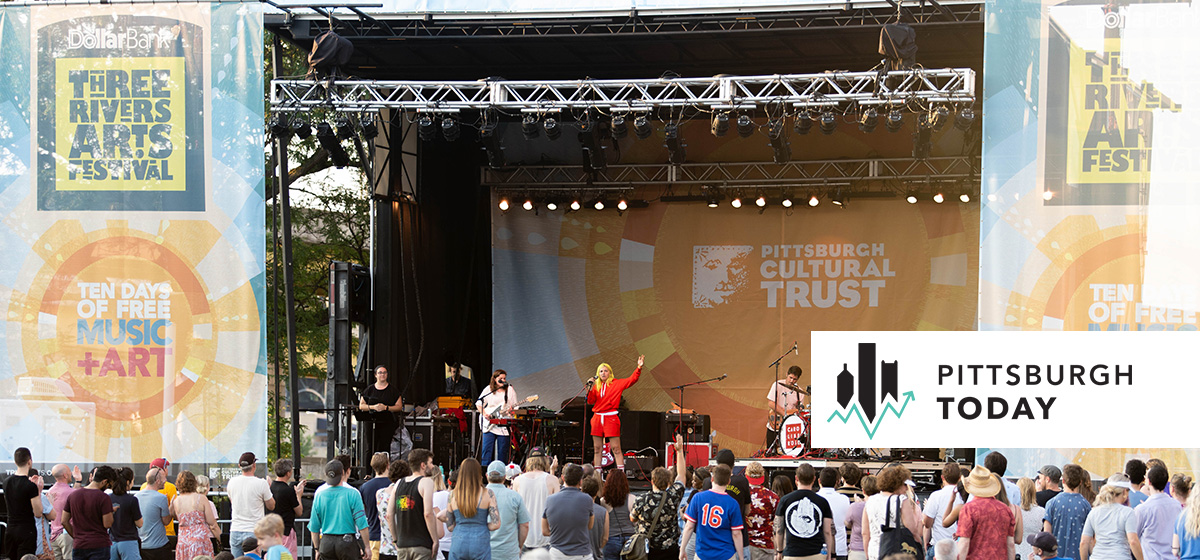 July 19, 2021
On an evening in early June, people lounged in camp chairs and blankets on the grass at Point State Park, lines formed at food booths on the edge of the lawn and people stood shoulder-to-shoulder, swaying to the sounds of blues rock and soul music performed by Celisse on the main stage.

It was more than a good time along the river that opening night of the Dollar Bank Three Rivers Arts Festival. Live music performed before a live audience had returned after more than a year of the COVID-19 pandemic, masking, social distancing and shuttered performance spaces that threatened the financial health of art organizations, cancelled hundreds of performances, laid off workers and forced arts groups to re-think everything from business models to how they approach their art.
"It's been bananas," said Sarah Aziz, director of the Dollar Bank Three Rivers Arts Festival. "It's been really important to stay flexible and go with the changes. We've always felt like the festival is the unofficial opening of summer and now we feel like it's the unofficial end of this pandemic. We felt like that we had to work as hard as we could."
The return of a sense of normalcy belies the challenges ahead, which include meeting accelerated time tables to schedule events, pressure to produce ticket sales, working with fewer staff and lingering uncertainty about the future course of the coronavirus pandemic. But local arts organizations and their audiences are eager for the show to go on.
By June, 67 percent of Pittsburghers were ready to attend an indoor event with health and safety measures in place. And 89 percent said they would attend an outdoor event — up from only 30 percent who were ready for a live in-person event of any kind in March, according to a report by the Greater Pittsburgh Arts Council (GPAC).
"People are ready to come back," said Andre Solomon, manager of programs at Greater Pittsburgh Arts Council. "There's that loyalty here."
Fade to black
In a typical year, the arts and culture sector is big business. In Allegheny County, it injects more than $1 billion in direct spending into the local economy each year from the wages and taxes it pays and the money patrons spend on everything from a meal at a nearby restaurant to parking, according to GPAC estimates. In 2019, more than 5 million people attended arts and cultural events in Pittsburgh, buying $151 million worth of tickets according to GPAC's Culture Counts report.
But the COVID-19 virus devastated an industry that relies on audience members sitting side-by-side, actors enunciating to the back row and the brass section bellowing to a large gathering.
The pandemic canceled all regularly scheduled programming and organizations revised their budgets. "It effectively shut us down," said Mitch Swain, CEO of GPAC.
In the United States, nonprofit arts and culture organizations have lost an estimated $17.8 billion since the pandemic began, according to a July 6 update to an ongoing survey by the nonprofit Americans for the Arts. It was largely a consequence of the cancellation of an estimated 553 million revenue-producing events. The loss in arts revenue, in turn, has cost local governments an estimated $6 billion in tax revenue and 1 million workers their jobs.
"The financial model doesn't work without tickets sales, people coming Downtown, the parking revenue, supporting local restaurants, local businesses," said Scott Shiller, vice president of artistic planning at Pittsburgh Cultural Trust. "The Trust is one of the largest property owners in Downtown Pittsburgh. Those property expenses, maintaining those historic theaters costs a tremendous amount of money, even if there aren't performances."
Arts, entertainment, and recreation organizations are among the most likely businesses to take longer than six months to recover from the pandemic, the U.S. Census Bureau's Small Business Pulse Survey suggests.
"Ultimately, 16 months of concerts, beginning in March of 2020, were cancelled, changed, postponed or reworked," said Melia Tourangeau, president and CEO of the Pittsburgh Symphony Orchestra. "Our music director, staff and musicians took pay cuts, and our overall budget was reduced by 30 percent. Unfortunately, we also had to furlough some staff. But we are beginning to welcome them back now."
It could've been worse. The Pittsburgh region's arts and cultural organizations, which employ about 15,000 people, got some relief from funders, such as the Allegheny County Regional Asset District (RAD), local philanthropic foundations, individual donors and loyal subscribers.
Nonprofits that are considered to be public assets, such as arts and cultural organization, share half of the 1 percent RAD sales tax in Allegheny County. Sales tax across the county plummeted in the early months of the pandemic, causing alarm. But sales tax rebounded and by the end of the year, RAD-funded organizations ended up receiving the money they had been allocated in the 2020 budget.
And federal pandemic aid helped many arts organizations, including two rounds of Payroll Protection Program funding, which helped businesses keep their workforce employed during the pandemic. Shuttered Venue Operators Grants were available to help theaters, event spaces and other venues weather the pandemic that forced them to close. In addition to federal dollars, the Pennsylvania Department of Community and Economic Development allocated $20 million in temporary support for cultural organizations last fall.
"It's helped keep the pilot light on," Swain said. "We're at a point now where everyone is optimistic, but guarded, about how to reopen."
'A Challenge of Creativity'
Not only was the pandemic a threat to the financial health of local performing arts organizations, it disrupted their approach to their art as well.
Quantum Theatre — known for staging experimental productions in unconventional spaces, such as a park or a warehouse — grappled with how continue to do so when COVID imposed stiff restrictions on live in-person performances. "It was a challenge of creativity," said Karla Boos, Quantum's founder and artistic director. "I didn't know what we could do if we couldn't do live theater."
Like many theater companies and performing arts groups in Pittsburgh, Quantum put on virtual productions of plays and short films for viewers to stream online. They also created "10 for 21," a series of recorded stories to listen on a walk through Frick Park.
"I think theater has been broadened for me, and that's always going to be good," Boos said. "I was able to break free from some of the boundaries. I'm still going to say I'm not inclined to watch somebody's show on Zoom, but it's great to rethink your artform."
The Pittsburgh Symphony Orchestra released two new CDs over the past year, including a recording of Beethoven's Ninth, in honor of the PSO's 125th anniversary. Evolving health and safety protocols during the pandemic even complicated the making of recordings. For examples, restrictions limited the participation of the wind and brass sections at times. "Our plans changed on a seemingly daily basis, but we refuse to let the changing circumstances get in the way of delivering great music," said Tourangeau.
"The digital space is not for everyone," said Marya Sea Kaminski, artistic director at Pittsburgh Public Theater. "But we have found there are some virtues in meeting that challenge. One is that, while it's not a terrific place for a fully produced play — you can't hear the actors breathe, you can't live inside the set digitally — it is a really wonderful tool for new work."
And the Public Theater's virtual performances, called PlayTime, broadened its audience. During the pandemic, the theater burned DVDs of their virtual plays and delivered them to UPMC Senior Communities, where on weekends they were played on closed circuit TV. "It's an innovation that would've taken us a long time to come to without the necessity of the isolation and quarantine," Kaminski said.
They also put their annual Shakespeare Monologue and Scene Contest for middle and high schoolers online — and gained new contestants from Ohio to Erie, who perform their favorite Shakespearean verse. "Now, we have a whole new challenge on our plates," Kaminski said. "How do we maintain that access when we have in-person performances again? How do we maintain that hybrid model so those students and communities can still be a part of it?"
Joseph Hall's brief tenure as executive director of Kelly Strayhorn Theater has been marked by the necessity to embrace change. His first day on the job was March 2, 2020. In addition to digital programming and performances, the theater hosted a virtual fundraising event called Hotline Ring last summer. Along with six other arts organizations led by Black, queer or non-white people, the event showcased an array of performances, held a champagne toast, concluded with a virtual dance party and raised $130,000. "It was a huge success," Hall said. "We had even more engagement online and it paved the way for a new type of fundraising in a moment where we really needed to come together with each other."
Lights up
On June 4, Quantum Theatre's staged an outdoor musical about Thomas Edison and George Westinghouse, "The Current War," in Westinghouse Park. It was first live theater production in Pittsburgh to be presented as a regular-season run since the pandemic began more than a year earlier. Planning and rehearsal were anything but routine.
Until they were fully vaccinated as a company, the cast and crew had to rehearse outdoors, sometimes in 40-degree temperatures. They were double-masked and shielded by plexiglass. And they weren't allowed to sing.
"We have successfully opened a show, negotiated a successful contract with the actors' union that would keep everyone safe and it is working," Boos said. "It is so emotional and so beautiful to see live performers, unmasked, in front of you, knowing that you're safe and they're safe and it's happening."
Members of Pittsburgh Symphony Orchestra took the stage before a crowd at the new Allegheny Overlook pop-up park in Downtown Pittsburgh during the Dollar Bank Three Rivers Arts Festival. The PSO continued live performances at Summer with the Symphony, a first-ever summer music series for the orchestra at Hartwood Acres, complete with classical and pops selections and food trucks.
As live performances return, revenue-starved arts organizations are under pressure to make up for lost ground, which tends to influence and complicate their near-term planning. "After a year of not selling any tickets, we have mandates to get people in the door and program things that will sell tickets and welcome people back — things that really ring the dinner bell," said Kaminski. "That was a really specific challenge this season. Then you had the safety precautions that we have to invest in and the continued uncertainty. We needed to plan a season that is economically viable and will bring people back into our seats and through our doors, but is flexible enough that if something happens, we can pivot again."
The Pittsburgh Public Theater's 2021–22 season will begin with a digital production of "Slow Food" followed by four shows performed live at the O'Reilly Theater, beginning in October starting with a new production of "The Chief," a play about Pittsburgh Steelers founder Art Rooney and ending with another popular offering, August Wilson's "Two Trains Running."
Kelly Strayhorn's Hotline Ring returned to the virtual stage in July for another party and round of fundraising. Meanwhile, Hall looks forward to the return of live performances this fall, starting with a Motown tribute concert. "Zoom flattens so much of what we do. We really need this three-dimensional space with each other. I'm most excited about being in-person, getting to know people over an arts experience. That is what is most exciting."