The NFL: Week One Report
Karl Roser for the Pittsburgh Steelers / steelers.com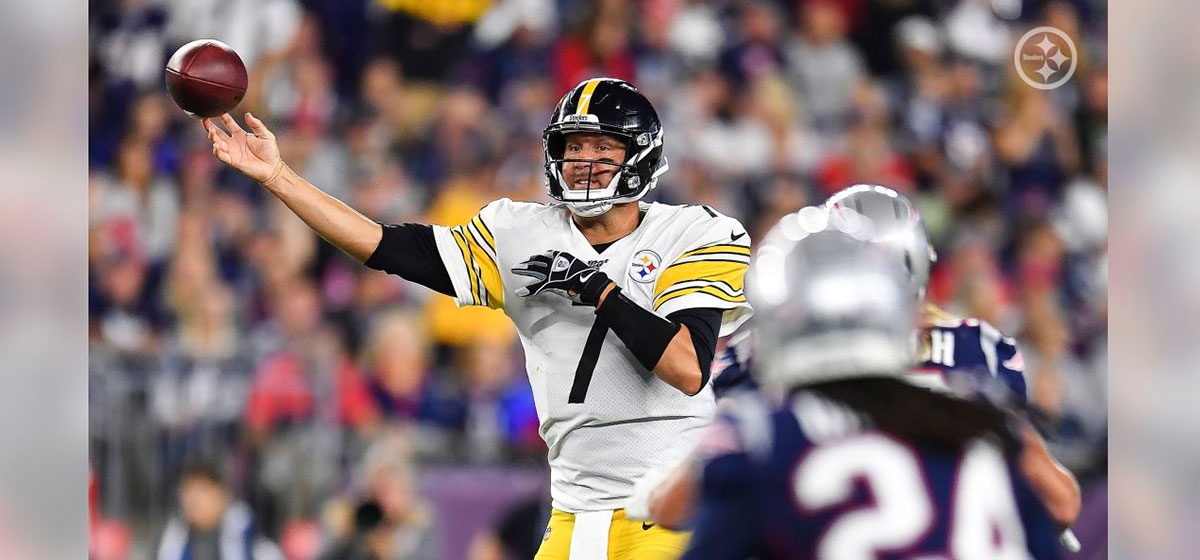 September 10, 2019
It's hard not to think of a horse race during NFL opening week. With all the analytics in the world at our disposal, there are still underdogs who come out of nowhere and overwhelming favorites who stumble right out of the gate.

And then there are the Patriots. A lot happened in week one of the league's 100th season—let's dive in.
Steelers Corner
It's not often you come away from a game without a single silver lining, as the Steelers were absolutely demoralized in this one. The Patriots have a way of making you feel like they're playing a completely different game; just when you think they're about to zig, they execute yet another flawless screen pass for 20-something yards.
Pittsburgh will undoubtedly rebound offensively, but this team must be feeling incredibly embarrassed coming away with 3 points on opening day. T.J. Watt was effectively schemed into non-existence by New England before his injury, while James Conner struggled to find any semblance of a running lane. To say that Ben Roethlisberger and the wide receivers were not on the same page would be a drastic understatement. They were even outmaneuvered in the one single area they thought they had complete control over: the acquisition of Antonio Brown.
It will be hard to shake "the sky is falling" sensation this week, but brighter days are ahead. While it would be ideal to come out of the gate in full stride, this team knows it's fully capable of winning. A victory against Seattle in week 2 won't come easy, but it's the first step to getting back on track.
AFC North
The wrath of NFL unpredictability was in full effect on Sunday, and you don't have to look much further than the AFC North for proof. The new-look Browns' offense, featuring newly acquired Odell Beckham Jr. and his $350k wristwatch, fell completely flat. QB Baker Mayfield was under pressure early and often, and the Browns were penalized a whopping 18 times in their loss to Tennessee. How fitting, then, that the Ravens steal the show entirely. Second-year QB Lamar Jackson was about as efficient as humanly possible, (17 of 20, 324 yards, 5 touchdowns), and the defense looked elite—albeit against a lifeless Miami team. Rookie 1st rounder WR Marquise Brown, nephew of Antonio Brown, looked as advertised—he could become a serious headache for this division.
While the Bengals didn't look like a real threat this year, they did show some signs of life in their close loss to the Seahawks. Under new coach Zac Taylor, QB Andy Dalton had the best game of his career, and former 1st round WR John Ross almost eclipsed his entire career total in receiving. This team will win some games, but will likely take a back seat before too long.
AFC South
The Texans (Monday night) remain the favorite to win the division after Andrew Luck's sudden retirement, but it certainly won't be without a fight. QB Marcus Mariota and the Titans looked like a well-oiled machine in their rout of Cleveland. Noteworthy: two of their top performers in TE Delanie Walker and DE Cameron Wake combine for 72 years in age—pretty remarkable.
Indianapolis took a tough loss in overtime to the Chargers, but there is too much talent on this roster for a sub-.500 season. QB Jacoby Brissett had a steady game, and the defense held Phillip Rivers and co. to 7 points in the 2nd half.
The Jaguars had a tall task with the Chiefs, and that was even before their newly minted $88-million-dollar man went down with a broken clavicle. With QB Nick Foles now out indefinitely, it's hard to envision this team outperforming their 5-11 record last year with rookie QB Gardner Minshew at the helm, even with a loaded defense.
AFC East
There was a lot of buzz about Buffalo and New York taking major steps forward in this division, but one thing remains abundantly clear: New England is still top dog.
The Bills played a sloppy game, but their defense kept them in it long enough to squeak one out against the Jets. 2nd year QBs Sam Darnold and Josh Allen were rusty, with the latter turning the ball over four times in the 1st half. There are playmakers on both offenses (Le'Veon Bell had a relatively quiet debut), while the defenses, particularly the Bills, will keep them in games this year.
If there's any team that appears in for an all-out tank job, it's the Miami Dolphins. They looked sloppy and unpolished, and the last semblance of established talent in OT Laremy Tunsil was traded away two weeks ago. New coach Brian Flores has no doubt been given a long leash this year, which he should be thankful for—multiple players have already requested to be traded after their embarrassing 59-10 loss to Baltimore.
AFC West
It does not seem like a ton has changed in this division, and that's a bad sign for the rest of the league—this Kansas City team looks scary. They score from virtually anywhere on the field, and seemingly at will. They'll be a fun team to watch, assuming the health of QB Patrick Mahomes—he was hobbled by an ankle sprain for much of the afternoon. Star WR Tyreek Hill was also injured his shoulder, and unfortunately looks to be out for a couple weeks. No problem—pro bowler Sammy Watkins stepped in and casually lead the league in receiving on the day.
The Chargers got off to a good start over the Colts in their bid to build on the momentum of their 12-win season. It will be incredibly tough to take down this division with Kansas City in their way, but crazier things have happened. Star RB Melvin Gordon looks to be steadfast in his quest for a new contract, and will hold out until mid-year. That may not be a bad thing—if they can stay competitive, Gordon will add an instant spark.
The Broncos and Raiders both have big question marks which remain to be answered Monday night. A lot will depend on how new Denver QB Joe Flacco will transition to a new offense, and how Oakland can recover from the fallout of the recent Antonio Brown saga.
NFC North
We may learn more about the Bears and the Packers during their next game than we can from their last one. It's difficult to ascertain if the Green Bay defense is that much improved, or the Bears offense has regressed. Perhaps the answer is a bit of both, but both teams seemed a bit out of practice in Green Bay's 10-3 victory.
Minnesota was able to put 28 points on the board in their win over Atlanta with less than 100 yards passing. RB Dalvin Cook had a lot to do with that, and so did Minnesota's defense and special teams. Holding the Matt Ryan-led Falcons to under 15 points is no small feat, something that happened only once all of last year.
The Lions are also a team on the rise—while they tied their opening match against Arizona, both sides of ball look physical and fast. QB Matt Stafford has weapons at every position, and you know a Matt Patricia coached team will be at least halfway competent defensively.
It will be interesting to see how this division shakes out. It's truly up for grabs this year.
NFC South
Yikes. Not inspiring from the rest of the division before New Orleans takes the field on Monday.
A lot was made about Atlanta's investment up front of the O-line; I'm not sure QB Matt Ryan noticed. The former NFL MVP was under siege all afternoon, as the Falcons were shut out in the first 3 quarters of their loss to the Vikings. One area of particular concern: their run game was even worse than last year.
The scores may make it seem closer than the games actually were for Tampa Bay and Carolina. The Buccaneers could hardly muster a drive until the 3rd quarter, while the only points in the 1st half came on an interception. This is not what people were expecting from a Bruce Arians offense, notably against a San Francisco team that gave up a boatload of points in 2018.
The same goes for Carolina in their loss to the LA Rams—they clawed back with some help from special teams, but looked very beatable for most of the day. QB Cam Newton, rumored to be fully healthy after an injury-riddled campaign, hardly took any shots downfield. RB Christian McCaffrey picked up right where he left off with a 200+ yard all-purpose performance, but that won't be enough if Newton can't get back to his MVP self.
NFC East
A healthy Carson Wentz is good for the NFL. The talented Philadelphia quarterback looked healthy and poised for the first time in two years in the Eagles' win over Washington. Down 17-0 in the 2nd quarter, Wentz delivered a 52-yard strike to WR Desean Jackson, and kept pouring it on from there.
Washington showed some indications they may be more competitive this year as well. QB Case Keenum has been criticized for most of his career, and has a 1st round rookie waiting in the wings behind him. He still looks fully capable of leading this extremely young offense, maybe with the exception of 35-year-old Vernon Davis and his early submission for play of the year.
The other side of the division looked more lopsided. While the Giants were relatively successful on paper offensively, it was the defense that couldn't find a way to stop the bleeding. Cowboys QB Dak Prescott looked like a man after a new contract, and appeared very much in control. Meanwhile, it seems to be a foregone conclusion this will be QB Eli Manning's last year in New York. The offense just seems hapless at times, even with arguably the best RB in the NFL in Saquon Barkley. The clock is officially ticking down to when we see 1st round QB Daniel Jones.
This division is looking like a two horse race between Dallas and Philadelphia, and it may simply come down to who's healthier come December.
NFC West
The defending NFC champions didn't exactly look Super Bowl caliber, but the LA Rams were able to pull it out in Carolina. The mysterious knee issue of star RB Todd Gurley wasn't exactly put to rest, although he was still efficient with his touches. QB Jared Goff received an upgrade at the WR position with the return of his favorite target Cooper Kupp, who looks fully recovered from his ACL injury.
The rest of this division seems a bit up in the air at the moment. The 49ers and Cardinals both had some pretty atrocious moments throughout the day, but also showed some flashes. New Cardinals head coach Kliff Kingsbury and his much anticipated offense didn't exactly come out guns blazing, but rookie Kyler Murray showed enough to be excited about the future of this organization. The 49ers are in the same boat with their win over Tampa Bay; they absolutely need to see better play from QB Jimmy Garoppolo if they're going to remain relevant this year.
The Seahawks are the wildcard. Russell Wilson will always keep this team in games, and the defense has started to turn a corner with the addition of DE Jadeveon Clowney. It wasn't always pretty against Cincinnati, but they will win games with Wilson's efficiency. The Rams are the team to beat in this division, but Seattle could surprise if they can string together some wins.