The Home Team Wins—Everywhere
NFL Week Nine

Karl Roser / Pittsburgh Steelers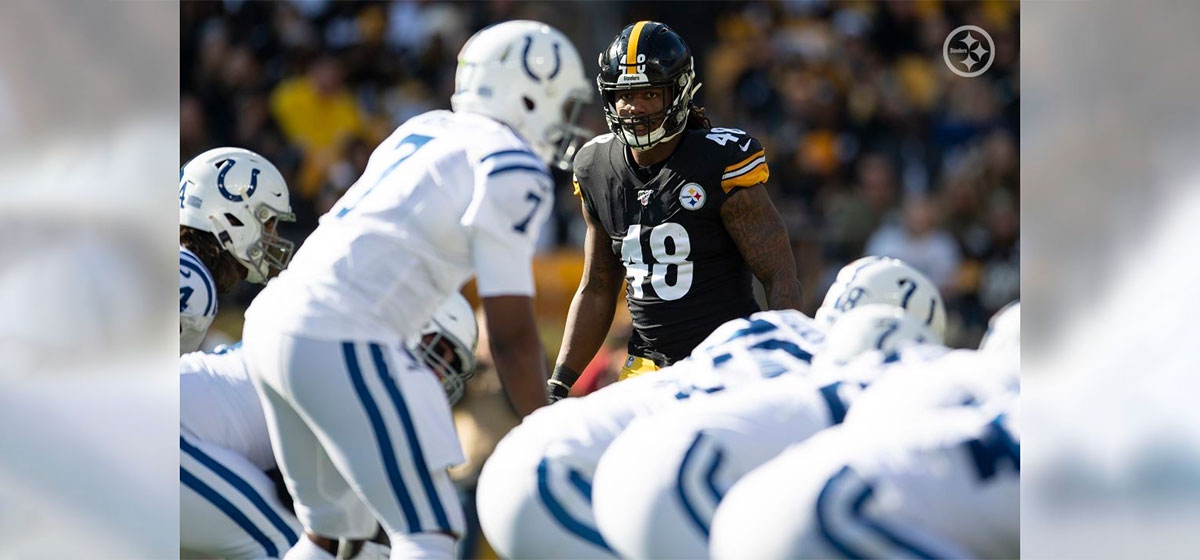 November 5, 2019
An undefeated was defeated, a winless got a win, and the Steelers kept the dream alive in week nine. Aside from the Chargers' stymying of Aaron Rodgers and the Packers, there weren't many surprises on a day in which every home team emerged victorious.

Despite a slow start to the game, the Steelers squeaked out a win off of the momentum of yet another game-changing play from their star safety. As they say, "a win is a win," but improvement is still needed if postseason aspirations are to stay alive another eight weeks.
Steelers Corner
While Baltimore's win over New England wasn't ideal divisionally, the Steelers did their job to remain on track in a suddenly revitalized 2019 campaign.
It's unlikely a bone-jarring concussion would be the reason, but QB Mason Rudolph has certainly looked more poised over his last two starts. He threw the ball with more purpose against the Colts and has been getting it out of his hands quicker. Rudolph's lone interception on the day was a good-not-great throw to Smith-Schuster that absolutely should have been caught. Instead, it was deflected into the awaiting hands of CB Kenny More.
This win was an important one. It gives them some much needed validation, instills additional confidence in a young quarterback, and paves the way for continued playoff hopes. That last point cannot be overstated: a third of the league has three wins or less, and will have to try to keep their chins up for another eight weeks.
At the same time, you can't help but pray Rudolph's development hits overdrive this week in preparation for the high octane Rams. Yes, the Colts had a 5 – 2 record coming into Pittsburgh, including a win over Kansas City. They're also a middle-of-the-road offense, without their star receiver, and no matter how you spin it, probably would have won if it weren't for a shanked field goal in the final minute.
While WRs James Washington and Dionte Johnson have been coming along of late, Smith-Schuster seems to be stuck in a rut. His 103 yard performance against Miami is his lone 100 yard game so far, after eight in 2018. He's on pace for just over half as many catches, and is averaging 2.4 yards of separation from defenders among qualifying receivers (tied for 94th in the league). While one would hope he isn't beating himself up too hard about his dropped pass-turned-interception, we must expect better from our Pro Bowl wideout. The statistical regression isn't entirely surprising without Roethlisberger running the show, but he's simply got to remedy these mistakes. The city is smitten with him, but the moans and groans around the stadium are increasing with every mental lapse. Emmanuel Sanders comes to mind with regards to immense talent impeded by compounding mistakes.
Perhaps kicker Chris Boswell can share with Smith-Schuster some of whatever elixir he's concocted to remedy his 2018 season. He's almost perfect on the year, his lone miss on a 54-yarder in the third quarter of the Dolphins game. What an incredible turnaround for the fifth-year kicker. Remember: this is a guy who endured the Steelers holding an open tryout at his position last December.
Safety Minkah Fitzpatrick had another incredible game—we're running out of accolades for him. However, the kind words are certainly new for one of the other playmakers this year: what has gotten into fifth-year linebacker Bud Dupree? After four years full of mostly untapped potential, it seems to all be coming together after another high-effort performance. One must always be cautious with breakout campaigns in the final year of a contract, but it will be hard to let him go this offseason should this level of play continue.
Hats off to the eldest of the Edmunds siblings. Trey filled in admirably this week at running back, including a 45-yard run that got the stadium roaring. Jaylen Samuels had most of the cracks on early downs, but it was Edmunds who did more with his opportunities on the ground. Samuels was no slouch either; he hauled in an eye-popping 13 catches and operated as Rudolph's safety valve for most of the afternoon.
The Rams have been up and down this year, but the defending NFC champs are fresh off a bye and in serious need of some wins. Even sitting at 5 – 3, they're third in their division and a full three games behind the undefeated 49ers. The Steelers defense is capable of rattling QB Jared Goff's cage; the former 1st overall pick is in the midst of his worst season as a starter. They acquired star cornerback Jalen Ramsey at the trade deadline, and have only allowed an average 13 points over their last three games (albeit to the Bengals and Falcons).
Goff will come out firing in week 10, but this Steelers defense is battle tested. The offense must be ready to step up this week, and Randy Fichtner is going to have to take the training wheels off Rudolph if they're to keep pace with a higher scoring Rams offense. Pittsburgh sits at 27th in the league in passing yards per game—this is a number that must improve if they're to keep the playoff hopes alive.
Around the NFL
Tough week if your team resides in the NFC North; the division went 0 – 4 on Sunday. It was headlined by the surprising domination of the Packers—the Chargers were up 26 – 3 at one point in the fourth quarter.
Green Bay fans are not panicking, but Bears fans might be. Coming off of an outstanding 12-win campaign in 2018, the Bears have severely regressed a year later. Third-year QB Mitch Trubisky currently maintains a wholly underwhelming quarterback rating (80.1), and the recent gossip out of Chicago talks of a potential benching.
Things aren't much better in Motor City; the Lions let yet another winnable game slip away in their 31 – 24 loss to the Raiders. They're a team on the rise, but their luck has swung in the opposite direction of late. After winning their first two games by three points, three of their four subsequent losses have been by one score or less. They've got a favorable schedule to close the year, but have some catching up to do. Minnesota has distanced itself, winning four of their last five, but has a tougher remaining schedule.
The Dolphins finally tacked one in the win column, downing the Jets 26 – 18. They're kind of a funny team in terms of unpredictability. We discussed last week their surprising 14-point first quarter assault on the Steelers, having come out in a similar fashion against Buffalo the week prior. It was more of the same against New York—after QB Sam Darnold led an 11-play, 69-yard drive to open the game, the Dolphins appeared to play possum for rest of the first quarter. The second quarter winds down, and New York has suddenly been victimized for three consecutive touchdowns by QB Ryan Fitzpatrick, a lead that would not be relinquished.
Sunday had a number of close finishes and exciting plays, but the talk of the town was the marquee evening matchup. Much like the rest of the league, Bill Belichek and the Patriots couldn't solve QB Lamar Jackson in the Ravens 37 – 20 victory. New England had its opportunities; just as it seemed like Baltimore may run away in the first half, they turned the ball over on a Mark Ingram run and botched Cyrus Jones punt return. The Baltimore defense was having none of it, and turned New England over twice via their two most reliable players. Tom Brady was intercepted in Baltimore territory to start the fourth quarter, while the normally sure-handed Julian Edelman fumbled for a Raven touchdown in the third.
It's a sigh of relief throughout the league: the Patriots are, in fact, mortal. It's also a wakeup call in the AFC. With a formidable offense and surging defense that got better at the trade deadline, the Ravens have officially announced their arrival among the 2019 playoff contenders. The health of their QB is of the upmost importance; the entire offense revolves around the threat of Jackson's running prowess. The cherry on top: Jackson is currently 61 yards ahead of Michael Vick's 2006 record-setting rushing pace, and one of the main reasons Cleveland, Cincinnati, and Pittsburgh are in the bottom of the league in rushing yards allowed to quarterbacks.
Fantasy Forecasting
If you can believe it, a Bengals wide receiver does not appear in the top 10 most targeted list. To be fair, they were on a bye, but glass half full: they went a week without losing!
They're no longer winless, but Miami may be even more desolate in terms of fantasy value. One player who had been starting to stake his claim to the WR1 role is rookie Preston Williams (15% owned). Only once this year had he fallen under six targets, and he had strung together an impressive 196 yards and two touchdowns over his last three. Unfortunately, Williams suffered a knee injury on Sunday and did not return. Unless a more positive prognosis comes out this week, he's not worth a look despite the great production.
For the fourth time this year, Eagles Nelson Agholor (15%) saw a healthy dose of targets. Yet again, he did not do enough with his opportunities for QB Carson Wentz to continue to look his way. He only caught three catches on eight targets, playing on a theme that's beginning to define his once promising career. With veteran Desean Jackson likely lost for the year, Agholor should still see a steady dose, but has proven to be wholly unreliable.
He wasn't a target magnet on Sunday, but WR Zach Pascal (20% owned) looks like the top option in Indy. Pascal led the Colts with 76 yards on five catches, including a couple acrobatic toe-tappers on the perimeter. Rookie Parris Campbell has been starting to establish more of a role, but Pascal is clearly the WR1 in T.Y. Hilton's absence. You'd like to see more than six targets, but there's room to grow—Hilton had seen double-digit looks twice on the season prior to injury. With Campbell also getting banged up against Pittsburgh, Pascal may have the offense all to himself for a few weeks.