The Golden Triangle Shines
Downtown Pittsburgh enjoys a new resurgence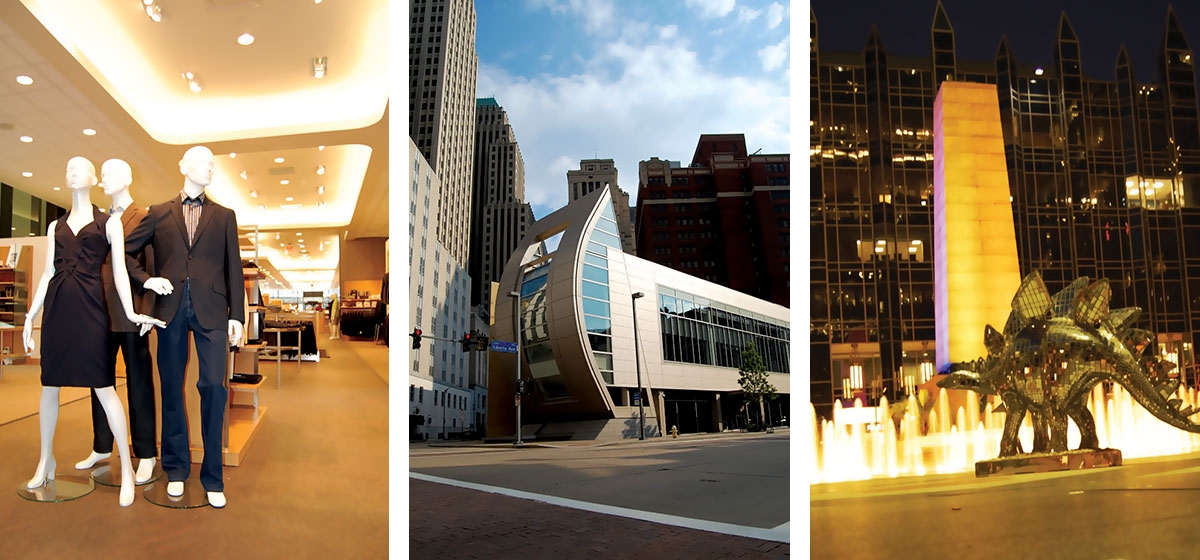 August 20, 2010
Ten years ago, the death knell tolled for a much-vaunted plan to re-energize Downtown Pittsburgh through an explosion of eminent domain and new retail. The ambitious plan, led by Mayor Tom Murphy, succeeded in creating a gleaming new building that housed a Lazarus department store, as well as an unfortunate remodeling of the former Mellon Bank headquarters for a Lord & Taylor store.

Fortunately, in retrospect, the plan's biggest piece failed to happen. It involved demolishing buildings lining Fifth and Forbes avenues and handing the land to a Chicago developer to create a kind of urban retail streetscape. The Fifth and Forbes Project died in the face of opposition, the dot-com market crash and recession. And in its aftermath, the heart of Downtown settled into a decade-long malaise. Both Lazarus and Lord & Taylor closed, and storefronts along Fifth and Forbes remained empty long after proprietors fled the specter of eminent domain and years of construction that never came to be.
Now, despite another, much deeper recession, a strange thing is happening. Downtown Pittsburgh is exploding with projects and vitality. And the cranes and energy come not as the result of central planning, but rather a disparate but determined effort from the private sector, government, foundations and nonprofits alike.
Pittsburgh Quarterly dispatched a team of reporters to chronicle what's emerging, quietly and largely without fanfare, and to describe a mosaic of progress that amounts to a dramatic chapter of progress for the heart of Pittsburgh.
Market Square
If there is a centerpiece to the current efforts, it would have to be the renovation of Market Square. Created in 1764, it was the site of the first Allegheny County Courthouse and Pittsburgh's first newspaper, the Post-Gazette. In the early 20th century, it became home to the Diamond Market, the city's largest market. Since that was demolished in the 1960s, Market Square has had several facelifts and remained a central gathering spot, hosting concerts and political rallies. However, its status as a desirable meeting place waned through a combination of bus traffic, vagrants and empty storefronts.
In 2006, Mayor Bob O'Connor initiated plans to rejuvenate Market Square, with an eye toward making it a pedestrian-friendly gathering spot. Millcraft Industries proposed major projects, including turning the empty G.C. Murphy building at the eastern corner of the square into retail and residential units. O'Connor's plans were continued by Mayor Luke Ravenstahl, and Ravenstahl, along with the Urban Redevelopment Authority and Pittsburgh Downtown Partnership (PDP), joined to redesign and reconstruct the square. "We all believe that if you fix Market Square, you can fix a lot Downtown," said Michael Edwards, president and CEO of PDP. "Market Square was becoming more and more of a problem area. It was not particularly well maintained, and we were having issues of keeping it clean. That was beginning to negatively impact investment."
Funded largely by the R.K. Mellon Foundation, The Heinz Endowments, the Hillman Foundation and the Colcom Foundation, the $5 million project involves redirecting bus routes around the square's perimeter so that the center approximates a European piazza, doubling the width of sidewalks to encourage outdoor dining, replanting trees to make the square greener, and adding ambient low music to give the hum of an animated space.
After nine months of construction, part of the square reopened in early June, with a farmer's market and a series of noontime concerts. The project is expected to be completed this fall.
"It is about creating that public space that people come to to experience an urban environment," Edwards said. "It's no longer a place to pass through, but a place to stay."
The "staying power" of Market Square is most evident in Market Square Place, the 60,000-square-foot former G.C. Murphy building at Fifth Avenue and Market Street. Millcraft purchased it and is developing a mix of first-class retail on ground level beneath 50 loft-style apartments. Lucas Piatt, executive vice president of real estate for Millcraft, sees the ground level as a mix of high-end restaurants and fast-casual restaurants and retail. Leases are still out on these spaces. The apartments, however, are completely occupied, with some 50 people on the waiting list.
"We've witnessed an amazing response in this building," Piatt said. "There are finally opportunities and choices for people who want to buy and rent, and everyone loves it. Market Square is in excellent shape now. The mix of living, dining and shopping—it's an exciting time for the city. I think finally the vision has become reality, and it's only going to get better."
Fifth Avenue
Adjacent to Market Square, the lower portion of Fifth Avenue has undergone a stunning transformation. Driving the change was PNC Financial Services Group, which led construction of the $200 million Three PNC Plaza, which also received $48 million in public subsidies. The 23-story building is one of the nation's largest environmentally friendly mixed-use buildings, designed to meet Leadership in Energy and Environmental Design (LEED) standards established by the U.S. Green Building Council.
It's home to offices of PNC and Reed Smith and includes the new Fairmont Hotel, 28 condominiums, restaurants and an underground parking garage. "When the opportunity came to look at Pittsburgh, and the developer was looking for a luxury brand, our response was very simple," said Len Czarnecki, general manager of the Fairmont Hotel. "Fairmont is world-class hotels and world- class cities." At Reed Smith, Dave Egan said the law firm's move from Sixth Avenue has given everyone a psychological lift, "The area itself is great. No one knew what they were missing until we got here."
The project also has spurred a complete revitalization of the lower portion of Fifth Avenue. Larrimor's has moved into a former PNC Bank branch next door, and across the street from Three PNC Plaza is the new PNC YMCA, a 43,000-square-foot green facility which opened in April. "While our former building was bigger, the new facility is much more efficiently built and designed, so we actually have more usable space," said Eric Mann, president and CEO of the YMCA of Greater Pittsburgh. "We've been Downtown for 156 years, and we've placed a lot of our future on this location. It really is the center of the business district and the residential district, and it's exciting to be part of the revitalization of Downtown Pittsburgh."
Point Park University
Towards the Monongahela River, Point Park University is in the midst of a 10-year, $244 million plan to rejuvenate Wood Street on both sides of the Boulevard of the Allies. The so-called Academic Village initiative is midway through the first of two phases.
The first phase, in Point Park's central campus, includes two new residence halls in architecturally significant buildings on the boulevard and a new urban park at the corner of the boulevard and Wood Street. Construction on the park began in July, and it is designed to be "a green living room for the neighborhood," said Mariann Geyer, vice president for advancement at Point Park. The park also will include a restaurant that is part of the park design, and Point Park expects it to become a lunchtime gathering spot, as well as a dinner venue with liquor license. Additionally, Point Park is transforming the former Pittsburgh YMCA into a new Student and Convocation Center.
The project's second phase involves moving the Pittsburgh Playhouse from Oakland to Forbes Avenue between Wood and Smithfield streets. Three theaters and possibly new residential space are part of phase two, and Geyer said that, while phase two is a couple years away, Point Park will likely speed up its timetable to take advantage of the new Market Square. Overall, economic consultants say the Academic Village project will spur an additional $15 million in unrelated Downtown development.
Point Park is also embarking on what it calls the Smart Transportation Project along the Wood Street corridor. Funded by a $4 million PennDOT grant, the 18-month project began in July and includes milling and repaving Wood from Fort Pitt Boulevard to Third Avenue. It also includes all-new sidewalks with granite curbing, historic-style lighting, and replacement of all traffic signals and signs to help traffic flow and improve pedestrian safety in crossing the Boulevard of the Allies.
Retail
In April, Portuguese native Cidalia Duarte opened her women's clothing and accessories store, Boutique la Passerelle, on Wood Street, saying she "just had a feeling" about Downtown. She's not alone.
Last year, after 25 years at Station Square, men's clothier Heinz Healey's moved its wares to Fifth Avenue, adjacent to the Fairmont Hotel. In February, after 70 years in the Union Trust Building, Larrimor's moved to its 13,000-square-foot "glass house" in PNC Plaza. Larrimor's President Tom Michael said the move has resulted in increased traffic and sales. And last September, The Nettleton Shop, long at Oxford Centre, celebrated 80 years of business by moving its stock of shoes and specialty leather goods to Market Square.
Nettleton owner Scott Kresge said the move gives Nettleton more visibility. Beyond visibility, however, Downtown is developing into a hub of men's and women's retailers, including Macy's, Joseph Orlando Gentlemen's Clothier, Brooks Brothers, Kountz & Rider, Joseph A. Bank Clothiers, Saks, Emphatics and Tom James Co. If you also consider Smithfield Street's Carl Hermann Furs and Canadian Furs, what is emerging is a critical mass of high-end stores that retailers believe will take advantage of the 140,000 Downtown workers, new residents and visitors alike. As the Downtown Partnership's Edwards said, "Moving any business to the center of all the bustle just makes sense."
August Wilson Center
With its grand opening a year ago, the August Wilson Center for African American Culture is the latest improvement to Pittsburgh's Cultural District. The 65,000-square-foot center houses a 486-seat theater, multiple exhibition galleries, a dance studio, an education center and spaces for community events. The dramatic structure on Liberty Avenue honors the work of its Pulitzer Prize- and Tony Award-winning namesake, Pittsburgh's greatest playwright. André Kimo Stone Guess, president and CEO of the center, called it "a hybrid institution with an ability to celebrate art across disciplines—visual arts, dance, music and theater. There is nothing like it that celebrates African American culture that I've seen. And I've traveled all over the world."
Mellon Square Park
Built between Smithfield Street and William Penn Place during Pittsburgh's first Renaissance in the 1950s, and redeveloped during its second in the 1980s, Mellon Square Park is being restored to its original status as an urban oasis and masterpiece of modernist design. The Pittsburgh Parks Conservancy is overseeing the project, currently in its design phase.
The project will include restoring the park's connection to Smithfield, repairing the stairs and again extending the water cascade to the street, providing an inviting entrance to the park from below. Above, a usable terrace will replace the planting area, creating an intimate space for people to relax, enjoy lunch or gather for events. Dead and dying trees will be removed, and other planting spaces will be renovated, offering a green space among the neighboring skyscrapers.
"Pittsburgh has such a small Downtown that there is nowhere to hide deterioration," said Meg Cheever, president and CEO of the conservancy. "We are hoping that the revitalization of Mellon Square Park is one more component of having all of Downtown in excellent condition."
Subway extension & Hilton Pittsburgh
A block away from Market Square, the Gateway subway station is undergoing a major reconstruction, as the region's "T" system prepares a 1.2-mile extension from Gateway to the North Shore.
The $528.8 million North Shore Connector project has involved boring two tunnels 22 feet underneath the Allegheny River bed. The German boring machine started in January 2008, making 35 feet of headway per day until finishing the job in January 2009. The result is twin tunnels of 22 feet in diameter that will lead to two new stops: the North Shore Station at General Robinson Street and Tony Dorsett Drive by PNC Park, and the Allegheny Station at Reedsdale Street and Allegheny Avenue, west of Heinz Field.
The Gateway Station has been closed since October 2008 for the reconfiguration of tracks and the removal of the no-longer-needed loop that allowed subway cars to turn around for the trip back toward Grant Street. The 780 pieces of Romare Bearden's mural, "Pittsburgh Recollections," have been removed for restoration and reinstallation. Led by the Port Authority of Allegheny County, the project is expected to employ 4,000 people by the time it's completed in March 2012.
Down Liberty Avenue from the Gateway T station, Hilton Pittsburgh has finished a $30 million complete renovation of each of its 24 floors and 712 rooms. With new management firm Crescent Resorts and Hotels, which took over in March, the Hilton will soon resume construction on the final phase of its renovation, the building's exterior and the installation of a grand staircase connecting the lobby to the second-floor ballroom.
Consol Energy Center
On the edge of Downtown, in the Uptown section, the new Consol Energy Center opened Aug. 18, with a Paul McCartney concert as its first event. The $321 million facility has 18,087 seats (1,000 more than the Mellon Arena), 66 suites, concessions on each concourse, a high definition scoreboard and a glass exterior that showcases a spectacular view of the Pittsburgh cityscape.
It's expected to host 150 events a year, of which roughly 45 will be Pittsburgh Penguin hockey games. "I don't know that there's ever going to be a more dramatic change for people to see—from one facility or stadium to the next," said Penguins spokesman Tom McMillan. "The old arena was designed during the Eisenhower administration, and the new technology is just going to blow people away."
McMillan also expects the other side of Fifth Avenue to look very different in a few years, as the Consol Center lifts property values and increases investment. "It doesn't happen overnight, but that property is going to become very prime. In three years, the area's going to look dramatically different."
Riverlife
Surrounding all of the projects, like a wishbone around the Golden Triangle, Riverlife is building a continuous system of riverfront trails. The Golden Triangle portion is part of Riverlife's 13-mile trail system stretching from the Hot Metal Bridge on the South Side to the West End Bridge on the Ohio and up the Allegheny to the 31st Street Bridge. The project is 70 percent complete, but one major portion still to come is what Riverlife calls The Convention Center Riverfront Park. The $7.6 million project broke ground in March and is expected to open this fall. It involves connecting trails from the Cultural District into the Strip District and building a park with a dock along the edge of the Allegheny.
Along with the state Department of Conservation and Natural Resources, Riverlife also is working on a renovation and complete makeover of Point State Park. Repairing the fountain will cost $9 million, with the total park renovation costing $42 million. Improvements include: installing solar-powered LED lighting along river walkways; covering sidewalks with recycled Belgian stone; re-introducing indigenous plants in designated green areas; updating bathrooms; building a switchback trail system along the river's edge that will enable handicapped users to get to the rivers; refurbishing cracked concrete bleachers; and engraving the names of contributors on bulkheads surrounding the foundation. The Point Park renovation is expected to be finished by 2012. As Riverlife Director of Communications Stephen Bontrager said, the projects "raise the quality of life for everyone in the region."