Quality Close to Home
Embracing regional wines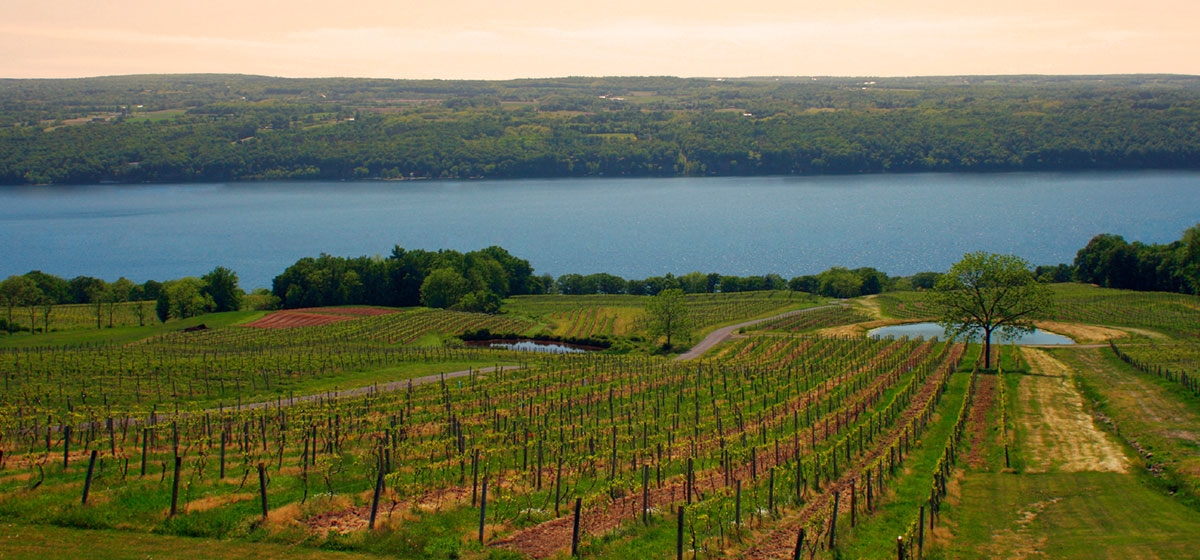 February 16, 2011
I enjoy being a wine contrarian—advocating for delicious white wines when people are conditioned to order red, and pouring domestic for customers who wouldn't dream of drinking anything but an import.

On the question of wines from the eastern United States, however, I went along with the conventional wisdom for a long time. Wines from New York, Pennsylvania, and elsewhere in our region were dismissed as overly sweet, amateurish, made from cloying native grapes. With some exceptions, the reputation was deserved. Winemakers attempting to use their old-world, homestyle techniques in commercial production got mixed results.
Now the wine world has changed for the better. In recent years, a younger generation of educated, tech-friendly winemakers has studied state-of-the-art agriculture at our state universities or abroad. Priced out of West Coast real estate, or relegated to grunt work at the big California wineries, they've taken up the cause of fine wine in the eastern United States. Just one example: try the wines of Mazza Vineyards, where after studying winemaking in Australia, Mario Mazza helped raise the bar at his family's very successful Erie winery.
Don't bother looking for New York syrah or Virginia zinfandel—with our harsh winters and short growing season, we'll never produce the hearty reds of warmer climes. But varietals native to Northern Europe thrive in our weather. And the northern winemaking style works for those of us who want to taste the fruit in wine, not the overpowering oak that typically accompanies big reds.
Here are some delicious wines from our part of the world. Though they are in limited production, most are available at Premium Collection PA Wine & Spirits Stores, or online at finewineandgoodspirits.com. Of course, the wines are always for sale at the wineries—and the good news is, they're not that far away.
Dr. Konstantin Frank Riesling, or, from his secondary label, Salmon Run Riesling (price varies by wine and vintage). These are among the country's most decorated wines, and rightfully so. Frank was the first to plant native European varieties—notably riesling, but also gewürztraminer, pinot noir and others—on the shores of New York's Finger Lakes, leading the revolution in eastern U.S. winemaking away from our native Niagara and Concord grapes.
Millbrook Winery, in New York's Hudson Valley, is starting to get some great press. Millbrook winemaker John Graziano, a Cornell grad, produces a lovely Tocai Friulano, a crisp, mild white in the Northern Italian style. Look for 2009, the most recent vintage available ($16.99).
In Virginia, where it's a few ticks warmer, Barboursville Vineyard produces some decent red European varietals, such as cabernet and sangiovese. I wouldn't discourage a trip to their beautiful winery in the foothills of the Blue Ridge Mountains to try them. Barboursville pinot grigio ($14.99) and chardonnay ($16.99) are available in select Pennsylvania stores.
Don't overlook Chaddsford, the groundbreaking Chester County winery. Each year around this time I relish opening a bottle of their spring wine ($10.99), typically a refreshing, flowery blend of the hybrid white grapes vignoles, vidal blanc and seyval blanc. Winemaker Eric Miller works with a wide range of varietals, including chambourcin, the native American red grape that can come closest to the fullness and body of California cabs or pinots, but Chaddsford's lighter wines are the best reflection of this local winemaker's art.
Doug Morehead, one of the founders of Presque Isle Wine Cellars, heads the most progressive winemaking family business in Pennsylvania. Like Konstantin Frank, he was an early adopter of European varietals, planting them alongside of Lake Erie. Like Dr. Frank, Presque Isle produces a splendid riesling. Presque Isle's is semi-dry ($11.99).
Subarashii Kudamono doesn't sound like a wine from northeastern Pennsylvania, does it? Yet they make wonderful wines from Asian pears grown in our own Lehigh Valley. The juice is actually turned into wine by some very talented winemakers in Michigan, but the results—a unique soft and off-dry table wine in the riesling style ($13.99), and a honey-rich fortified dessert wine ($24.99)—are so wonderful, I'm going to claim them for my home state.