Prepping for Summer
Design an outdoor oasis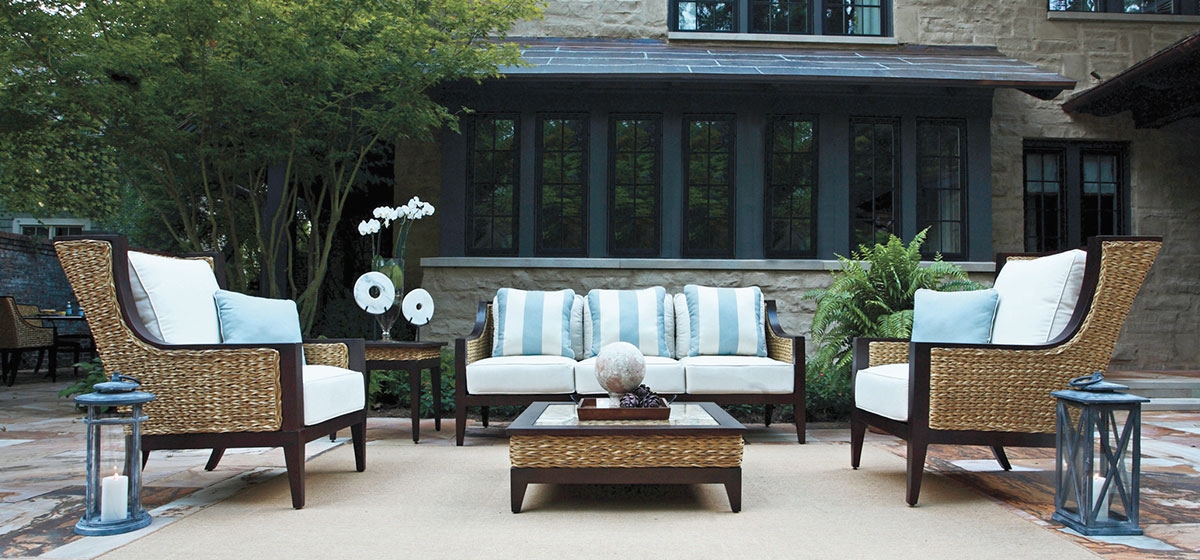 February 21, 2011
Crocuses are peeking through the soil and the snow has melted, meaning just one thing—it's finally spring! Those who love the outside might have spent the winter poring over seed catalogs and making big plans for their gardens. But for many, reemerging to the outdoors can be challenging.

You can use the best landscape architects, designers, and contractors and end up with a stunning outdoor room. However, this room, typically the largest living space you have, is often the hardest to decorate. While it might have beautiful hardscape features such as flagstone patios, stone walls and water features, it has no traditional walls.
Our region abounds with interior designers and decorators, but when it comes to outdoor spaces, there are few options for help once the bones of the space have been designed and installed. Just as you wouldn't decorate Versailles with furnishings from Ikea, beautiful outdoor rooms deserve more than a five-piece patio set from a big box store. There are two wonderful local stores that can help provide stunning results, whether you have a roof-top garden or an expansive yard in the country.
Gardener's Eye, tucked behind Hartwood Towne Center in Indiana Township, is a store like none other in Pittsburgh. Owner Denise Lindberg has amassed an amazing collection of exquisite furnishings for outdoor living spaces from all over the world. Through her on-site design services, she works with clients to customize a plan that incorporates their lifestyles, personal styles and expected use for the space. Then the fun begins. Gardener's Eye carries everything from high quality furniture and fume-free, freestanding, ethanol-burning fireplaces, to pots, urns and statuary for the garden. As with decorating an indoor room, once these anchor items have been selected, you can move on to the other accessories that will tie the look together.
The emphasis at Gardener's Eye is on distinctive items you won't likely find elsewhere in the area, such as Bolivian FSC (Forest Stewardship Council)-certified ipe wood furniture by Jensen Leisure. Made from the incredibly rot- and disease-resistant ipewood, these investment pieces are built to last. Gardener's Eye also carries a variety of furniture made of other materials, such as cast aluminum. Whether your style is contemporary, traditional or eclectic, you can't go wrong with their selection and guidance.
Once the large pieces are selected, the decorating fun continues with a staggering variety of accessories. There are beautiful gemstone and petrified wood accent tables, Vietnamese glazed urns, fountains, fire pots, and unique cast-leaf garden artwork. Local artisans craft many of the items. (412) 487-7802. Gardeners-eye.com
The other outstanding option for outdoor decorating is Outside Inspirations at the Pine Tree Shoppes in Wexford. Siblings Barbara and Tim Hollihan have a wonderful collection of outdoor furniture, including Century Leisure, Summer Classics and Lane Venture WeatherMaster, as well as decorative accessories. They, too, provide design services for outdoor living that will turn your boring patio into your new favorite "room."
Outside Inspirations is the exclusive area dealer for Ancient Mosaics, and also has a selection of Italian pottery and cast- concrete tables, fountains and urns. In addition to products designed for outside the home, they sell items for inside that are inspired by the outdoors. These include Mariposa giftware, Spartina handbags, Trapp candles and Four Seasons jewelry by Michael Michaud. The Hollihans redo the store twice a year, so it's never stagnant and always has something new.
Campo de' Fiori naturally-aged and mossed terra cotta planters, Woodstock wind chimes and Napa Firelights fire pots are some of their lines. Outside Inspirations also has mail-order items available on its Web site. (724) 933-8850. Outside-inspirations.com.
Both stores provide design services, outdoor furniture, decorative accessories and giftware with a focus on quality and unique selections, but they are also very different from each other. With the special services and wide variety of items available, it's no wonder discerning clients from all over the region are beating a path to these two special stores. Their long-time customers will tell you—it's worth the drive!