The Curtain Rises on a New Reality
And arts and cultural groups scramble to adapt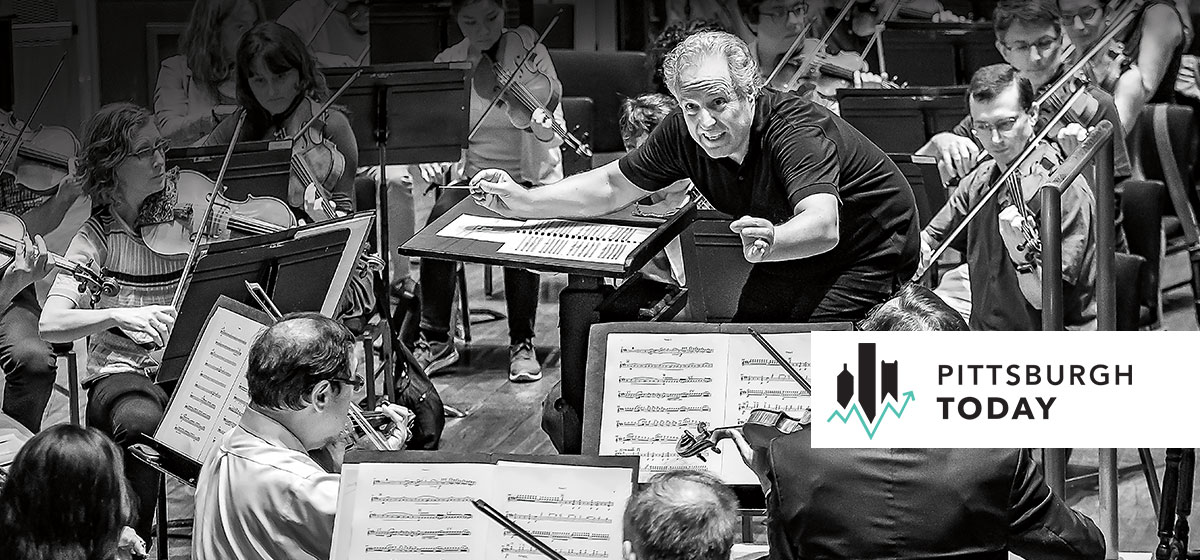 May 25, 2020
The music of Chopin isn't soaring through Heinz Hall. "Jersey Boys" won't dance in sync on the Benedum stage. And a mid-June Friday night at Point State Park won't be packed with concert-goers in lawn chairs.

Instead, the Pittsburgh region's arts and cultural organizations—which employ 15,000 and add roughly $1 billion in direct spending into the local economy—are in a fight for their lives.
Largely shutdown since late March, they're suffering from canceled events, lost gate admissions and severe cuts in expected revenue from Allegheny County's Regional Asset District (RAD). One half of the one percent RAD sales tax in Allegheny County supports nonprofits deemed to be regional assets, and in March, sales tax revenues declined 20 percent—$1.8 million— from projected levels with greater losses in April and May to follow.
The drop in March sales tax alone led the RAD board on May 21 to cut operating grants for all RAD-funded organizations by 20 percent.
This year, RAD had expected to disburse $109.5 million to 106 organizations, ranging from arts to museums, parks, the zoo and aviary. But the state government-mandated economic shutdown from March 19 to May 15 is expected to significantly erode annual sales tax revenue. RAD director Richard Hudic isn't certain how much more of a hit RAD will absorb. It has a $6 million reserve fund, which will help.
"We're bracing ourselves," Hudic said. "There are so many unknowns. It's scary. It's a bad situation all the way around for everyone."
The Carnegie Library of Pittsburgh was due to receive $22.7 million in RAD money this year, which would have covered about two-thirds of its budget, said library president Mary Frances Cooper.
"We're very dependent on public money," she said. "The regional asset district is our major funder. The state is another major funder. We rely on funds from table games at the casino and the casino has been closed. The financial picture is as much of a concern as when or how we could be open for service."
The Pittsburgh Cultural Trust is the largest arts organization funded by RAD. But dozens of small to medium-sized groups also rely on RAD resources. For example, in the 2020 RAD budget, the August Wilson African American Cultural Center was set to receive $500,000 and another $345,000 in capital funding if it could raise matching funds. City Theater was due to receive $120,000 along with $75,000 more in capital funds for roof repairs.
"RAD funding is a big concern, there's no question about it," said Cultural Trust president and CEO Kevin McMahon. "Most of our programming, with the exception of huge Broadway shows, require very significant subsidy, even when they sell out."
Nationwide, arts organizations have lost an estimated $5 billion, according to a May 4 update to an ongoing survey by the nonprofit Americans for the Arts. Such losses dwarf the $200 million in federal stimulus allocated in March to the National Endowment for the Arts, the National Endowment for the Humanities and the Institute of Museum and Library Services. The losses include an estimated 208 million admissions due to cancelled events. That, in turn, has drained $6.6 billion in audience spending from the national economy, according to the Americans for the Arts survey, which estimates the pandemic has cost 62 percent of artists, staff and others their jobs.
In the Pittsburgh regional economy, arts and culture play a critical role, particularly in the city and Allegheny County, where most are based. The sector pumps more than $1 billion in direct spending a year into the local economy in wages, taxes generated and money patrons spend on everything from a meal at a restaurant to souvenirs and parking, according to estimates from the Greater Pittsburgh Arts Council (GPAC). Last year, more than 5 million people attended arts and cultural events in Pittsburgh, buying $151 million worth of tickets, according to GPAC's Culture Counts report. That's a bigger audience than the combined attendance of Steelers, Penguins and Pirates games.
"We were the first to shut down and we will likely be the last to reopen," said McMahon, "We're not in the spotlight and it's a little out of sight and out of mind. The government is giving the airlines $25 billion. I appreciate that. But organizations like the [Pittsburgh] Cultural Trust and arts groups are absolutely devastated."
In a typical year, the Trust needs to secure around $12 million to $13 million in grants and contributions to subsidize programming. "It's not just RAD funding that's in question," McMahon said. "Pennsylvania Council for the Arts grants are now in jeopardy. It will have a very direct impact on the amount of programming that we will be able to do in the near term."
Steven Knapp, president and CEO of the Carnegie Museums of Pittsburgh, took office in February. Within a few months, he was forced to close the museums, furlough employees, order pay cuts and plan for an uncertain future. The Carnegie Museums of Pittsburgh's 2020 budget includes about $3.5 million in RAD funding, about seven percent of the total operating budget.
Like many organizations, the Carnegie Museums are digging for a silver lining online to keep their audiences and members engaged—including Carnegie Museums at Home, which includes sample lessons parents can use with their children. "That can be a permanent change," Knapp said. "You may see in the future museums doing a lot more of a combination of online and in-person programming."
The Carnegie Library has pivoted to online services during this time. They continue to offer ebooks, films, audiobooks and music that can be downloaded with a library card. But the Library's significance to the region goes beyond books.
"One of the things that people rely on us for is access to computers and the internet," Cooper. said "There are an awful lot of people in our community that don't have that access at home. We get calls from people who are trying to apply for benefits and other things and they are really struggling."
Cooper scouts the pandemic responses of libraries across the nation. Some, for example, offer curbside service, which is seen as an option in Pittsburgh. "It's the seniors and the children that I worry the most about. I would love to figure out how to get books to kids because I do worry about these kids that are home and they don't have books to read, or they don't have that many and they've read them all."
General fundraising has held up remarkably well at the Cultural Trust, McMahon said. Philanthropic and individual contributions remain steady. And the commitment of foundations to continue to support the arts has not wavered. "People are very sympathetic and understanding.
We've had, in general, a very good response to a bad situation. Some individuals offer to donate their tickets when a show is canceled. It's helpful to organizations. People want and value these forms of social contact and connections."
Knapp said people have continued to purchase memberships to the museums even when they're currently closed. Cooper said the Carnegie Library had a healthy response from donors on their annual day of giving in April. "That's a very helpful and hopeful sign. We have our supporters and they want us around. We're 125 years old. We want to be around for another 125 years and we will be."
But the uncertainty surrounding the coronavirus pandemic makes it difficult for many arts organizations to get a sense of what the future will hold. "We will be here in the future, but getting there will be harrowing," McMahon said. "The most important thing we're concerned about is the reaction to the reaction. When we do get the green light to open up in some way, how will people feel about that? That's the biggest unknown. Will the audiences be prepared to come back?"
Pittsburgh Today Editor Jeffery Fraser contributed to this article.