95th Cinderella Ball Presents Ten Debutantes, Celebrates Service
June 26, 2021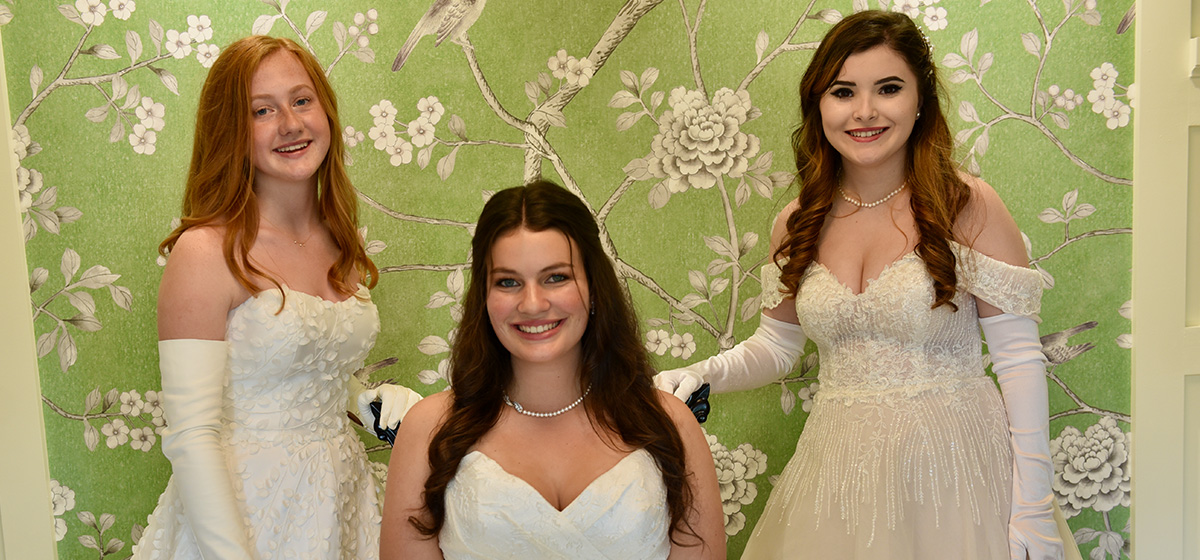 June 28, 2021
The 95th Presentation of Cinderella Ball was held on Saturday, June 26, 2021 in Sewickley, Pa. chaired by Cinderella Women's Committee members Mrs. Laura Kronk and Mrs. Lisa Keefer. For an event that has been held nearly every year since 1924, this celebration was especially poignant as much of the volunteering and events were held virtually throughout the past year.
The event represented the culmination of the debutantes' completion of the Leadership Forum for Young Women. Formally launched in 2020, the forum provides experiences that inspire young women through volunteerism and personal development, including service to the chosen primary beneficiary and other non-profits, networking events with guest speakers and professional development trainings.
As the summer sun began to set, ten young women clad in white ball gowns were presented by their fathers to a group of family and friends in an outdoor ceremony overlooking the golf course at Allegheny Country Club. The girls and their presenters made their way through a vibrant floral arch designed by Pete Donati & Sons and waltzed around the dance floor.
Miss Catherine Morgan Penrod, a graduate of Avonworth High School, was awarded the CWC Scholarship for her dedication to service; she volunteered 33 hours with this year's primary beneficiary, The Pittsburgh Cultural Trust.
Shortly after the scholarship was awarded, Prince Charming, Mr. Chester Scheetz Todd, a University of Richmond student, was introduced to the crowd. Per tradition, he was tasked with randomly drawing the name of the Cinderella. As her name was announced, Miss Cealy Kate Fryncko stepped forward to join Prince Charming for a dance.
Guests enjoyed a four-course dinner at tables decorated with towering arrangements of pink and blush roses, peonies and hydrangeas.
As guests headed to the outdoor dance floor, they were met with a surprise fireworks show: a fairytale ending for a long-awaited event.
The debutantes of the 95th Cinderella Ball:
Miss Catharine King Mellon Cathey, daughter of Mr. and Mrs. John Murray Cathey
Miss Helen Freyvogel Engel, daughter of Mr. and Mrs. Frederick August Engel
Miss Cealy Kate Fryncko, daughter of Mr. and Mrs. Kenneth James Fryncko Jr.
Miss Claire Monroe Gallagher, daughter of Mr. and Mrs. Thomas Richard Gallagher
Miss Meredith Addison Kelley, daughter of Dr. and Mrs. Michael Patrick Kelley
Miss Audrey Madeline Lyda, Daughter of Mr. and Mrs. TH Lyda
Miss Anne-Christian Louise McCrady, Daughter of Dr. Christine Sekula Crocker and Mr. Thomas Jamison McCrady Sr.
Miss Jacqueline Grace Molyneaux, daughter of Dr. John Thomas Molyneaux and Mrs. Kathleen Joan Molyneaux
Miss Jennifer Jean Molyneaux, daughter of Dr. John Thomas Molyneaux and Mrs. Kathleen Joan Molyneaux
Miss Catherine Morgan Penrod, daughter of Mr. and Mrs. William Albert Penrod Jr.
The 96th Cinderella Ball will be held next summer at Allegheny Country Club and will benefit the Pittsburgh Zoo.