Taylor, Ocampo, Pearson, Bennett, Hansen, Hissrich, Schörnich, Block
Professionals new to Pittsburgh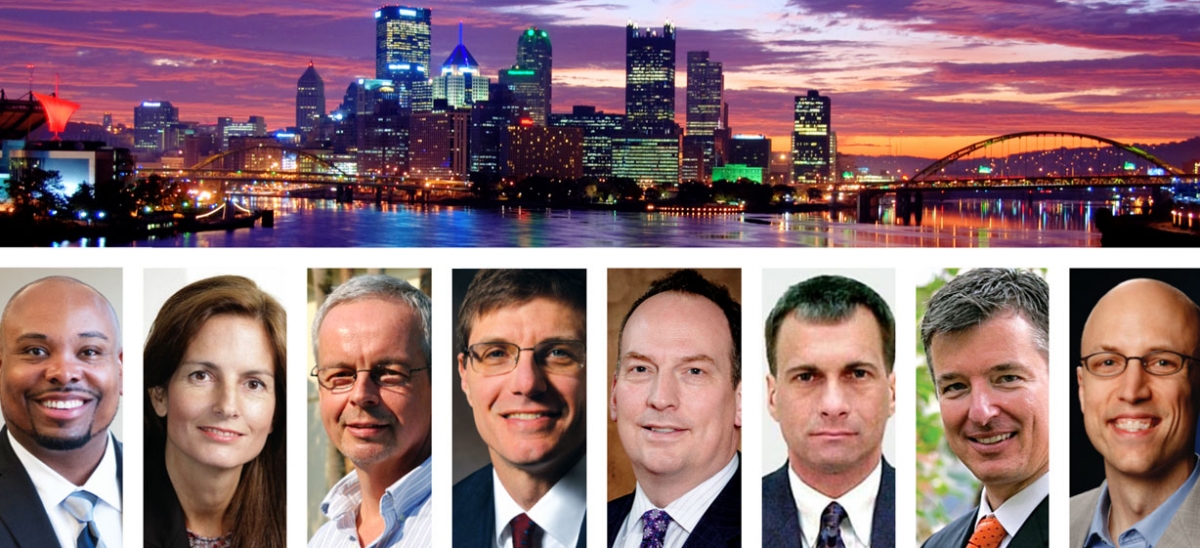 February 20, 2016
In March, James Taylor will become the chief diversity and inclusion officer at UPMC. A native of Rochester, N.Y., he comes to Pittsburgh from Charlotte, N.C., where he previously was the chief learning and diversity officer of Carolinas HealthCare System. He received his undergraduate degree in applied psychology from Ithaca College in Ithaca, NY and a master's and Ph.D. in organizational psychology at the California School of Professional Psychology at Alliant International University in San Francisco. Taylor will live downtown until he finds a permanent residence.

Angelica Ocampo is president and chief executive officer of the World Affairs Council of Pittsburgh. A native of Argentina, she comes to Pittsburgh from New York, where she was executive director of Worldfund, which supports teacher development in Mexico and Brazil. Previously, she was head of public affairs at HSBC Argentina, co-founder of Grupo Sophia, an Argentine public policy think tank, and vice president of Fundación Impulsar, the Argentine branch of Youth Business International. Ocampo is a Fulbright Scholar who earned a B.A. in political science from Universidad Católica Argentina and a master's in public affairs from Columbia University. She is living in Regent Square.
In June,John H. Pearson will become provost of Point Park University. He comes to Pittsburgh from DeLand, Fla., where he was associate vice president of academic affairs at Stetson University, where he created a number of programs including general studies, during his tenure there. Pearson started his career as an English professor at Stetson. A native of Boston, Pearson has a master's and Ph.D. in English from Boston University. He has not yet chosen a neighborhood in Pittsburgh; his spouse, David Ho, works in Washington, D.C.
Michael Bennett is executive vice president and chief strategy & transformation officer of Highmark Health, a new position designed to oversee strategy, corporate development and investments, analytics and innovation. A Cleveland native, Bennett comes to Pittsburgh from the Cleveland Clinic, where he was executive director. Previously, he was a principal in McKinsey & Company's Payor/Provider practice in Cleveland. Bennett has an undergraduate degree in International Affairs and Public Policy from Princeton University and an MBA from The Wharton School at the University of Pennsylvania. He and his wife, Donna, have three sons.
Monte Hansen is managing director of Nemacolin Woodlands Resort. A native of Hartford, Conn., he comes to Pittsburgh from Keswick, Va., where he was general manager of Keswick Hall and Golf Club. Previously he has served as general manager at The Royal Sonesta Hotel in Houston, Texas, The Peabody Hotel in Little Rock, Ark., and The Greenbrier in White Sulphur Springs, W. Va. A graduate of the University of Memphis, he will live in Farmington, Fayette County.
Wendell Hissrich is the public safety director of the City of Pittsburgh, overseeing the Office of Emergency Management and the police, fire, emergency medical services, and animal control bureaus. A Forest Hills native and former Pittsburgh paramedic, he returns to the city from Alexandria, Va., where he had a 25-year career with the FBI, most recently serving as chief of the Weapons of Mass Destruction Directorate Operations Response Unit. A graduate of Duquesne University, Hissrich is living in Squirrel Hill.
Christian Schörnich is chief operating officer of the Pittsburgh Symphony Orchestra. A native of Düsseldorf, Germany, his previous position was in New York City, where he had multiple roles including, most recently, senior consultant in the Department of Economic and Social Affairs. Previously, he was a project consultant for the Center for Applied Research in Boston and senior manager at the Munich International Airport. Schörnich has a master's in public administration from the University of Konstanz and a master's in law and diplomacy from Tufts University. He lives in Mt. Lebanon with his wife, Pittsburgh Symphony Orchestra violinist Eva Burmeister, and their two sons.
Joe Block is the Pittsburgh Pirates radio play-by-play announcer, replacing Tim Neverett. A native of Roseville, Mich., he comes to Pittsburgh from Milwaukee where he has been the radio play-by-play man for the Milwaukee Brewers during the past four seasons. Previously, he hosted the radio postgame show for the Los Angeles Dodgers and called minor league games. A graduate of Michigan State University, Block and his wife, Bethany, a native of South Park, will move to the region with their young daughter.