Take a Turn…
Into the North Side's bicycle heaven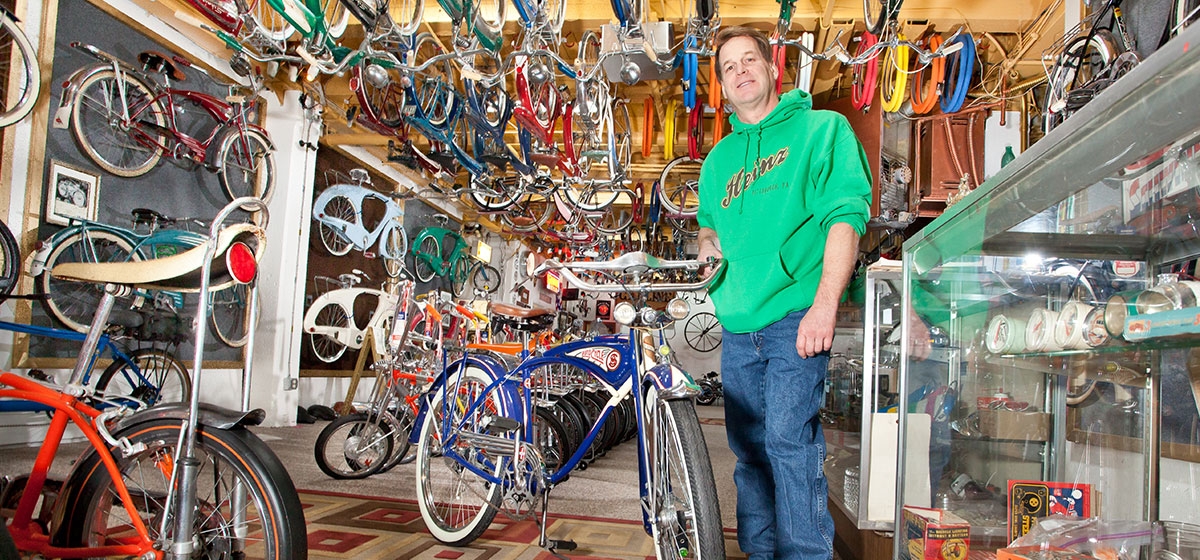 February 20, 2012
Does the end of gray winter days remind you how it felt to get your bike back out of the garage and cruise the streets with your friends after school? With a visit to Bicycle Heaven, you can rekindle that excitement on a trip down memory lane.

After overexposure to paint fumes forced Craig Morrow to abandon his auto body work, he began repairing bicycles in his back alley in Bellevue. Over 25 years, he acquired a sizable collection of bikes. Last July, he opened Bicycle Heaven in a warehouse in the R.J. Casey Industrial Park on the North Side. The thousands of square feet brim with some 2,000 bicycles—twice the number on display at the Bicycle Museum of America in New Bremen, Ohio.
Morrow's collection isn't a museum in the traditional sense. There's little signage; bikes and parts are lined up in what look like rainbows of color, and visitors roam the two floors exploring room after room with little human contact. It's not glitzy or high-tech, but it is an expedition through history.
There are many classic pieces, such as an 1860s' high-wheeled "bone-shaker," an 1890s' bike with vintage headlight illuminated by candlelight or oil lamp, an 1890s' tricycle with a coal miner-style carbine headlight, and a 1930s' Elgin with a skirt guard. The meat of the collection, however, hails from the 1960s and 1970s.
With more than 200, Morrow has what may be the world's largest collection of Schwinn Stingray Krates. These muscle bikes were designed to mimic racing stock cars. They feature front suspension, banana seats, drum brakes, sissy bars and raised lettering on the smooth tires. Add-ons included windshields, streamers, checkerboard mirrors, speedometers, tool bags, mechanical turn signals, and baseball bat and tennis racquet holders. When a typical bicycle at Sears would have cost around $20, these could be a cool $100. They came in a variety of colors and were appropriately named Orange Krate, Apple Krate (red), Pea Picker (green), Lemon Peeler (yellow), Grey Ghost, Cotton Picker (white) and the 1999 Grape Krate in purple, of which only 1,999 were made. Today, Krates in good condition are valued at $600–$3,000 with a new model in the original box fetching $10,000.
There are rows of Schwinn Stingray Choppers designed to look like motorcycles, flowery "girl" bikes and English racers. Don't miss the specialty bikes such as the custom John Wayne (complete with holsters and cap guns), Elvis-themed bike, or shiny gold low rider. Of particular interest are the four space-age, fiberglass 1960 Bowden Spacelanders. Morrow owns 12 of the original 520 produced, and is restoring eight.
Walls that aren't covered with bikes and parts have framed posters and bike ads, and glass cases are filled with bike head badges (nameplates), lights, and memorabilia.
If you feel inspired, Bicycle Heaven rents bikes for use on the bike trail, which passes by the rear of the building. If you have your own bike, they can repair it. They also have rented vintage bikes for movie props. The bicycle that Russell Crowe rode in "A Beautiful Mind," and another from "Super 8," are on display.
Whether you are feeling nostalgic for the simpler time of your youth, or simply want to visit a museum off the beaten (or ridden) path, Bicycle Heaven is definitely worth the drive.
Bicycle Heaven, R.J. Casey Industrial Park, 1800 Preble Ave., North Side. (412) 716-4956. Open daily 10 a.m.–7 p.m., free admission.