Steelers Start Your Engines
A look at the offense as training camp opens

Karl Roser // steelers.com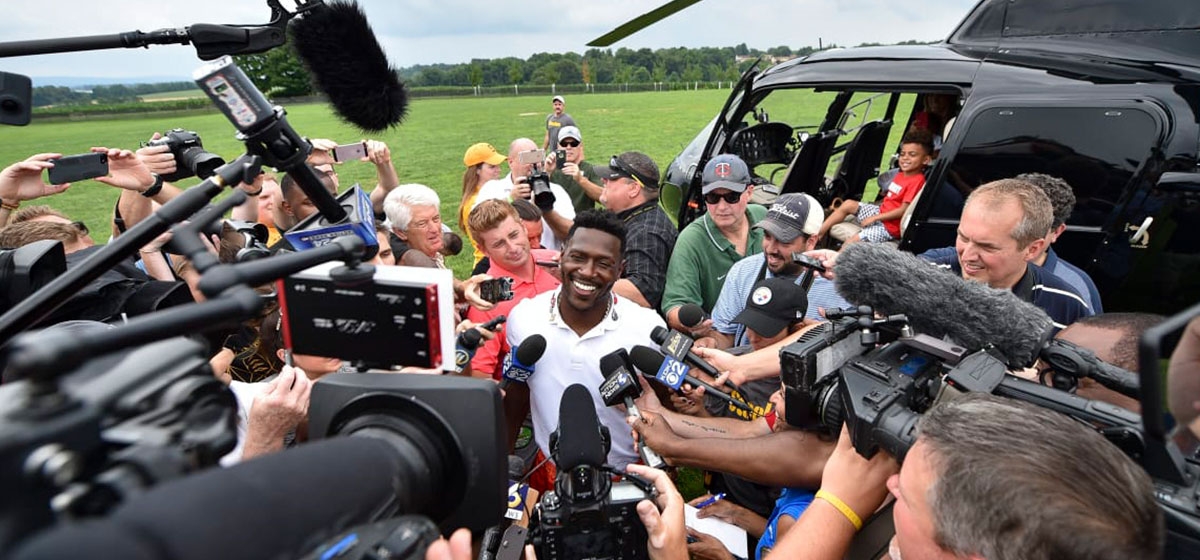 July 26, 2018
As summer moves along, the big NFL machine quietly starts its engine. Training camps kick off across the league this week, with the Steelers setting up shop for their 53rd season at St. Vincent College in Latrobe. Most starting positions on the offense are set, but there are a few intriguing competitions worth monitoring.

Planning for the future at quarterback
Same old, same old at the top; Ben Roethlisberger enters camp as the unquestioned starter in his 15th season. Only Patriots quarterback Tom Brady and Ravens linebacker Terrell Suggs have longer tenures with their teams.
Landry Jones is the presumed backup. He is, after all, the only other quarterback on the roster with any semblance of experience. Behind him, there's a competition which seems fated before it begins.
With Roethlisberger lofting retirement comments in consecutive off-seasons, the front office is planning ahead. 3rd round pick Mason Rudolph will be of high interest in the coming weeks. He's a lock to make the roster on draft investment alone, which leaves 2017 4th rounder Joshua Dobbs the odd man out. He must put on a show and demonstrate drastic improvement to stick around.
There's a world where Landry is shown the door should they opt for Dobb's upside over experience. I wouldn't count on it.
Who will step up on the line?
While the familiar faces return to anchor this formidable starting unit, the quality depth behind them isn't quite there. Sam Hubbard, who filled in admirably for an injured Marcus Gilbert, cashed in with the Browns. After some promising moments in his 2nd season, tackle Jerald Hawkins suffered a season ending quadriceps tear this spring.
While Marcus Gilbert is back and healthy (for now), it is razor thin behind him. Coaches will be putting some serious time in with rookie Chuks Okorafor. He's got talent, but isn't close to being ready for prime time. B.J. Finney, on the other hand, is looking to build on the momentum of a productive 2017 campaign—I suspect we'll be hearing about him a lot this camp. Matt Feiler will also be getting plenty of work, as he's added center to his positional repertoire this offseason.
Outside of the starting front line (Villanueva, Foster, Pouncey, DeCastro, Gilbert), things are relatively fluid. Parker Collins is still a relative unknown in the league, but has a year under his belt. Bryce Harris has been around the block—this is his 7th team in 4 years. Of the other rookies, Patrick Morris looks the most promising.
Youth abounds at wide receiver
This time last year, Steeler fans were drooling over the pairing of a returning Martavis Bryant with Antonio Brown. With Bryant traded mid-draft to Oakland, this year's starting two should be easy enough. Brown and former rookie sensation JuJu Smith-Schuster will likely both split out wide. Behind them, things get a bit murky.
Darrius Heyward-Bey and Justin Hunter seem like shoe-ins on paper, but nothing's guaranteed after combining for 6 catches last year. Much of that can be attributed to the durability of the starters, but there's new competition in town. 2nd round rookie James Washington will be turning heads in camp. It could be a fairly quick ascension for him, and 30-year-old Brown will likely find himself lining up alongside a 21-year-old Smith-Schuster and 22-year-old Washington.
There are some interesting names rounding out the group. Marcus Tucker was one of last summer's standouts. He'll have a leg up on Eli Rogers for backup slot duty, who returns on a 1 year deal and is recovering from January ACL surgery. Converted college quarterback Justin Thomas is also back for another go. Trey Griffey, son of Hall of Fame MLB slugger Ken Griffey Jr., already has some buzz on notoriety alone. Rookie Quadree Henderson gives Pitt fans someone to cheer for, as he'll look to carve out a role on special teams. 
2019 audition at tailback?
What if we told you the Steelers quietly signed their Pro Bowl running back to a long-term deal in February? Well, we wouldn't be lying—fullback Roosevelt Nix is back for another 4 years.
The incumbent tailback, however, will once again remain absent from preseason activities. Whether or not he's asking for too much compensation is a story for another day. The offense is a different animal when Le'Veon Bell is a part of it, and he'll get as much work as he can handle this year.
Fan favorite James Conner is reportedly looking fast, ripped, and fully recovered from season-ending knee surgery. Outside of him, there's not a single guy on the roster who could start next year. While fans are excited to see 5th round rookie Jaylen Samuels, he profiles more as a plug-and-play weapon than a true 3-down back.
Some of the dark horse stories will be fun to monitor (James Summers, Jarvion Franklin), but aren't realistic options for every down work. If Bell moves on next year and Conner doesn't at least flash long-term potential, we'll be looking at a significantly revamped backfield.
Stevan Ridley and Fitzgerald Toussaint are back on 1-year deals, and your guess is as good as mine as to which makes the final cut. Ridley has more natural talent, but has been plagued by injuries following a promising start to his career. Toussaint has a longer tenure, but seems somewhat redundant given the skillset of Jaylen Samuels.
Playing time distribution at tight end
A lot has been made of the showdown between homegrown Jesse James and veteran Vance McDonald. I don't see it as a particularly close competition.
McDonald's pass catching prowess gives the offense an added dimension they have not had since Health Miller. 2017 was Jesse James's opportunity to run away with it—it just wasn't to be. He out-snapped McDonald for majority of the year, half due to familiarity with the offense and half due to injury. However, if the Jaguars playoff loss is any indication, the momentum is with McDonald—he was targeted a whopping 16 times by Roethlisberger.
McDonald's only obstacle is himself—propensity for injury and inconsistent hands is what led San Francisco to trade him. James will still get plenty of run, but may have to carve out playing time with Xavier Grimble who, like James, will be trying to impress in a contract year. While I expect more of the same from James, I'm looking for Grimble to take a step forward.
Outside of these guys, it will be a tough rotation to crack. Tight end is a notoriously difficult position to develop, and rookie free agent signing Pharoah McKever seems destined for the practice squad given his lack of experience at the position. Those looking for last year's buzzworthy Jake McGee in camp may look no further— a torn Achilles will keep him on the shelf this year. Ryan Malleck has bounced around a bit since his last stint in Pittsburgh, but it's difficult to project him making any sort of impact.