Steelers Rundown: Progress Report After Two Preseason Games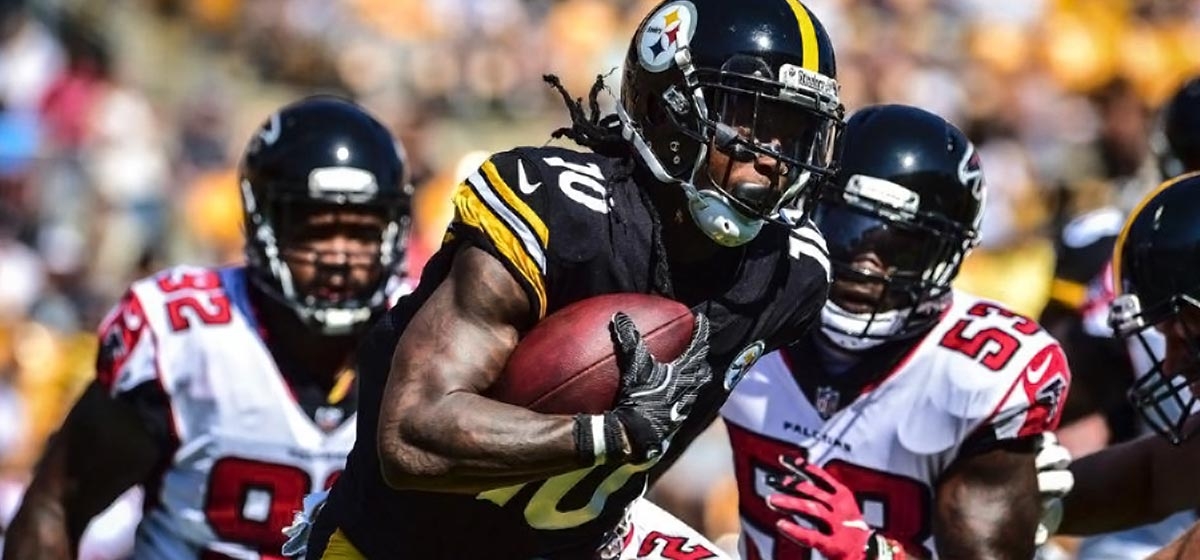 August 22, 2017
The Steelers are halfway through the preseason, and all signs are pointing to another electric season on both sides of the ball. Here are a few notes from Pittsburgh's victories over the Atlanta Falcons and New York Giants, as well as some training camp observations from Latrobe.

Watt Strong through two games
It didn't take long for the Steelers top pick T.J. Watt to make a good impression, racking up two sacks early in the first quarter against the Giants. The first was a bit of a "gimme," but the second showed off the instincts and the closing speed that scouts were raving about coming into the draft. Against Atlanta, it was less pressure on the QB and more disruption of the run game, repeatedly getting leverage behind the line and blowing up the ball carrier. It's great to see him so active (and healthy) so early and bodes well for getting him onto the field this year.
Run stopping superb
Watt hasn't been the only run-stopper. If there's one takeaway from the first two games, I'd venture to say that there will be weeks where Pittsburgh absolutely dominates up front against the run. Tuitt and Hargrave (before the concussion Sunday) have looked particularly ready for action this year, and both have had their names called more than a couple times. After keeping Giants starting RBs Orleans Darkwa and Paul Perkins mostly in check, Pittsburgh proceeded to completely stuff the Atlanta run game (albeit without Devonta Freeman). 3rd string back Terron Ward gained a few chunk plays in the first half, but Tevin Coleman and rookie Brian Hill were completely contained. I'm looking for some spectacular run defense numbers from Steeltown this year.
Who will back up Bell?
After taking a sampling of handoffs 2 weeks ago, Knile Davis was relegated to return duty against the Falcons. 3rd year Terrell Watson, who has quietly had a strong camp and scored on a well-blocked 15 yard TD last week, also did not receive a carry in the 2nd game. Atop the depth chart behind bell sits Fitzgerald Toussaint, who has continued to look relatively average in the run game but shows off nice hands. With James Conner (more on him in a second) on the sideline with a shoulder injury in game 1, it remains to be seen how the depth chart plays out at the RB position. The word on the street is Le'Veon should sign his tag sometime after this week's preseason matchup against the Colts, but the reserve role is far from certain at this juncture. With Deangelo Williams out of the picture, it will be interesting to see who comes out on top.
Conner makes his debut
An AC joint sprain kept Conner out against New York, so I was surprised to hear the comment last week that Conner would get "as much as he could handle" against the Falcons. Well, that AC joint must be good to go, as Conner partook in 54 of 60 offensive snaps Sunday. His first career run looked to get the crowd going for an instant as he started to bounce outside, but was promptly tripped up by the outstretched leg of Falcons DT Ra'shede Hageman. There was some good mixed in with some bad, and it's hard to judge against the Atlanta reserves. He picked up some nice yardage on more than a couple occasions, and was tackled in the backfield a couple times where not many other RBs in the league could have escaped. Aside from an egregious drop in the 2nd with acres in front of him had he caught it, it was a strong showing overall. You can't help but feel like giving 20 handoffs to a 3rd round rookie was a shot across the bow of sorts to the Bell camp, though I'm sure they were unaffected. After reports surfaced this week that Bell shot down a more than reasonable deal his agent agreed to at the deadline, it appears his eyes are locked in on the money. Whether he gets that money here or elsewhere is another story.
Burns and Brown continue 1-on-1 camp battles
By all accounts, Antonio Brown has had little trouble getting around the Steeler cornerbacks in camp this offseason. However, after sitting out against New York, Artie Burns made his presence known to the 29-year-old Pro Bowler during 1-on-1 drills on the Sunday thereafter. It has been an exciting matchup to watch, and both have gotten the best of each other in different moments. In particular, after an absolutely ferocious jam by Burns at the line, Brown recovered to get some separation for a nice catch and run. On another, Burns stayed tight down the sideline and read the pass perfectly for an interception. Not to be outdone, Brown ran a route up field with a sharp cut toward the ball, and ended with a sprint through Burns' fingertips into the endzone. They'll be a fun pairing to watch throughout the rest of camp.
Injuries in the secondary
Although injuries have given some reserve players more exposure, I cannot help but wonder if they might turn into opportunities considering the shakiness of Ross Cockrell through 2 games. Atlanta in particular really exposed him, and frankly he should have had a worse day than he did. Much of the chunk yardage Atlanta was able to produce was against him in coverage, and Atlanta should have scored on their 2nd drive had Marvin Hall not dropped an easy ball on a slant in the end zone, Cockrell trailing behind. Considering some of the speed in this division, it's not hard to envision plays like Falcons WR Reggie Davis accomplished in the 2nd quarter, burning Cockrell down the sideline for a long gain. Cockrell continues to grade well on Pro Football Focus, but I just don't see it. I hope I'm wrong.
Although Artie was a welcome sight on Sunday, there are certainly a lot of question marks behind him in the position. You hate to use the "bust" label on a guy who has barely seen the field, but it's looking like a more and more likely conclusion for 2015 second rounder Senquez Golson—the opportunity is there, but injuries have kept him shelved. One person who has not had any trouble taking advantage of the injury bug at corner has been 2nd year undrafted free agent Mike Hilton. His athleticism was apparent on multiple occasions in Latrobe, and the Steelers are giving him every chance to prove that he should stick around. Jordan Dangerfield had himself a night against Atlanta, with two interceptions and a great tackle on special teams.
Tough decisions at Wide Receiver; Bryant rusty but ready for action
Stepping onto the practice field for the first time last Sunday, Martavis Bryant showed right away what has made him so dangerous. His speed was on full display, and he made a few nice connections throughout the day. Against Atlanta, there were some more forgettable moments, notably the quick screen on which he got blown up and fumbled out of bounds. But there was a nice back shoulder connection, and the quality of looks will only be so good with Dobbs on the field right now. He just needs some reps, but he's looking like the Bryant of Old.
Eli Rogers has been quiet through the first two games, but continues to make his case for the slot role and has been very active at camp; his feet are absolute lightning. 2nd round pick JuJu Smith-Schuster had a few touches early before leaving with a concussion following a tackle off a Dobbs interception in New York, and was subsequently inactive against Atlanta. He has been, however, up and running routes on the side-field with Hines Ward close by. His roster spot, obviously, should be safe.
Here's where things get tricky: assuming those 4 (Brown, Bryant, Rogers, Smith-Schuster) are locks, there are only 2 or 3 spots up for grabs. No matter how you slice this one, we're going to let some good talent go which is a shame.
Cobi Hamilton was getting open and making plays. It's hard to envision him getting the ax considering how often he randomly shows up when we need him.
You'd like to think Sammie Coates flashed enough last year to stick around, and he finally got some field time in against Atlanta. He's looking healthy and should get some more important reps against Indy this weekend.
There's no way around it: Darrius Heyward-Bey has not looked great so far. His skills get a play or two minimum almost every game, but it's hard to see a world where we keep him and let go some of the upside talent discussed below. Maybe it's enough to keep him around, but my gut says no. Should they decide to move on, his pedestrian $266k dead money value against the cap is very tempting.
You hate to see opportunity stripped by injury, but it's looking like the end of the line for 2nd year Demarcus Ayers. You'd like to think he'd be a solid practice squad candidate, but it's not hard to come up with scenarios where some of these WR-needy teams pick him off (Buffalo is a prime candidate).
Being able to observe Justin Hunter in camp and on the field has really given a glimpse into the frustration of his career. Just watching him, you can tell how athletically gifted he is. He accelerates out of his breaks so fast, and just has a smooth speed that looks scary at times. And yet, something seems to be missing, that "it" factor. He was solid against Atlanta and had a nice TD, and has had positive reports out of camp. Still only 26 years old, has the former 2nd rd. pick shown enough to unseat Heyward-Bey?
If there's one guy of the group I'll be sad to see go, it's Marcus Tucker, who comes into camp again looking like he's been preparing. He made some really nice adjustments to over the shoulder balls in practice and has been running strong routes during his limited playing time, but it's such a deep position this year. I think he'll make it with another team and catch a few balls this year.
After a brutal drop of what would have surely been a long touchdown against New York, the writing was on the wall for 2nd year Canaan Severin, who was released last Monday.
Ben-less offense is scary
Much like last season, the Steelers offense is its own worst enemy when led by anyone not named Ben Roethlisberger. Both games were no exception with Landry Jones on the shelf: during a couple preseason weeks where many rookie quarterbacks shined, Dobbs has not done much to calm Steeler fans' nerves. He's looked every bit a rookie, throwing a couple awful interceptions and making some very rookie-like reads. His shovel pass turned interception was cringe-worthy. Bart Houston has not faired much better, and both struggled through the camp drills I observed with some errant throws and interceptions. There's still plenty of talent on this team, but it's not nearly as well-oiled without Roethlisberger orchestrating the offense. Not many games will be won without him out there.
Can Jesse James make the 3rd-year leap? 
James unsuspectingly ended the season with 13 targets during the final two playoff games and seemed to be building chemistry with Ben—will that translate this year? One of the recurring themes among writers this offseason has been the Ben-Jesse red zone connection, and it was on display Sunday with two targets in goal line drills. James caught one touchdown on a deflected pass, tiptoeing in the corner of the end zone. On another, he drew double coverage and Ben tried to force it to him resulting in an incompletion. He's still extremely young for his NFL experience (he just turned 23 in August), and this year is a ripe opportunity for him to capitalize on a long-term role with Ladarius Green out of the picture.