Steelers Declaw Bengals; League Taking Stance on Safety
NFL Week Four
Karl Roser / Pittsburgh Steelers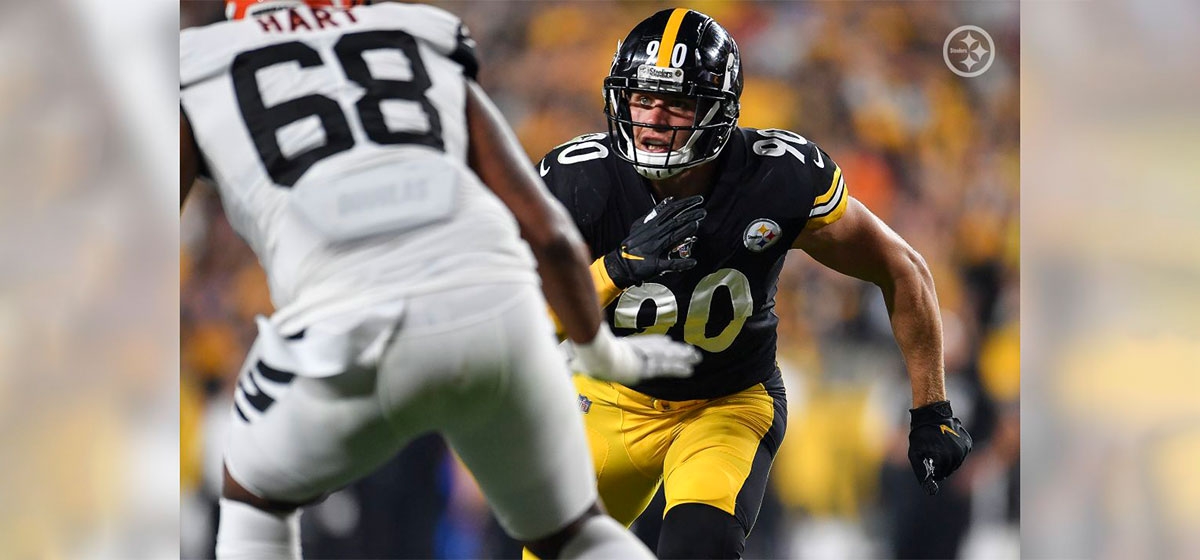 October 3, 2019
The league's stance on safety was made loud and clear this week: recklessness will absolutely not be tolerated.

While the Eagles await the fine sure to be levied against DE Derek Barnett for an unnecessary, violent hit on Packers RB Jamaal Williams, the Raiders have already been informed of their own. Less than 24 hours after the game was decided, so was the fate of LB Vontaze Burfict. He has been suspended for the remainder of the season for his helmet to helmet hit on defenseless TE Jack Doyle.
Much has been made already of the ticky-tackiness of the new pass interference review rules, but the NFL is at least getting it right in other areas. There is no place in football for defenseless shots to the head, and Burfict's track record speaks for itself. It's a dangerous enough game as it without the violent intention. While Jamaal Williams exited the field via stretcher from Barnett's hit, safety Avonte Maddox was also stretchered off from a hit by his own teammate in the same game.
Football is a strange place right now. It's gotten tangled up in political stances, national headlines for player misconduct, and undergoes rule changes at a rate no other professional sports league endures. Change isn't always comfortable, but the swiftness by which the league has tackled the issue of violent hits to the head has been commendable. It's not always intentional; things happen at warp speed on the field. But if this sport is to continue in a world where science and our understanding of the human brain is beginning to say it shouldn't, the stance on player safety is one every NFL fan should embrace.
Steelers corner
Before piling on the defensive accolades, credit where credit's due: hats off to offensive coordinator Randy Ficthner. Monday's blowout win over Cincinnati had perhaps equal parts to do with what they did and didn't do. The game plan revolved around the strengths of Mason Rudolph, not his predecessor—this was not an airshow and nor will it be. Death by a 1,000 check-down passes will be the name of the game. Rudolph was efficient, confident, and his pocket presence and footwork was as good as it gets.
Even still, the stadium started to groan a bit early on—this is not a crowd accustomed to grinding out first downs one five-yard play after another. The usage of RB Jaylen Samuels in this contest was notable; he provides a much needed change of pace from the tough nosed Conner. After not touching the ball once in San Francisco, Samuels flashed the jack-of-all-trades skills that got him drafted last year. He lined up at running back, tight end, fullback, slot, and even took multiple direct snaps with Rudolph out at wide receiver. Throw in the 17 snaps on special teams, and we're talking about a true do-it-all guy. Let's hope his usage stays as steady and creative.
WR Diontae Johnson continues to stay hot on the heels of James Washington. Despite an early fumble, Johnson has clearly secured the trust of Rudolph. He hasn't overtaken Washington outright in play time (yet), but the target distribution is beginning to widen. Rudolph went Johnson's way six times on Monday, five more times than Washington and even two more than Smith-Schuster. This may be going a bit under the radar—this is an inordinate amount of the faith the coaches have placed in a third round rookie. And yet, he's the perfect guy for the job: he's given Rudolph a confidence in someone who will get open quickly. This is a trend that is likely to continue.
Now, let's get to the fun part.
This defense is looking special, folks. This young unit has done virtually everything in its power to keep this team in ballgames. Yes, it was against a Bengals team on its way to a fourth-consecutive losing season, but the consistency has been there all along. Subtract the massacre in Boston, and the Steelers are only allowing a tidy four points in the first half over the last three games—that's good for third in the league behind the revamped Patriots and stingy Bears.
The speed of this core is a lot of fun to watch. LB Devin Bush was flying around and continues his string of high output games. LB T.J. Watt looks like a man amongst boys, as he punished the Cincinnati front line nearly all night. DE Cam Heyward racked up 2.5 sacks, despite an ankle injury that took him to the locker room in the first half. Even LB Mark Barron got in on the action with an interception, although the return of Vince Williams will be a breath of fresh air.
Now is not the time to get comfortable, though. Baltimore's coming to town, and may feeling more feisty than usual after getting embarrassed at home by Cleveland. The Steelers have established a game plan that works; it's time to stick with it. Keep it simple for Rudolph and get the ball in the hands of our playmakers. It's not realistic to expect another eight-sack performance, but perhaps that shouldn't be the goal this week. QB Lamar Jackson is in the midst of a sensational sophomore campaign, and he's doing it more than just through the air. Contain, contain, contain—Jackson alone has racked up more yards on the ground than all Steelers RBs combined thus far.
We've got a 'W' in the win column—this one won't come quite as easy. This is it, folks: A victory gives this team the validation it needs against a legitimate opponent. A loss sinks them to 1-4. Mathematically speaking, the season isn't on the line quite yet. Realistically, this is their watershed moment; a win puts them firmly back in the conversation in the AFC North.
Chaos in the AFC, NFC still wide open
Half of the AFC currently sits at 2-2. While that's good for the Steelers who can potentially take on a share of first place, the rest of the conference is in catchup mode. Title contenders Kansas City and New England both got scares on the road, but sit comfortably at 4-0.
The AFC South, on the other hand, is an absolute cluster with 4 teams at 2-2. Tennessee's defense has been a pleasant surprise, and the legend of Jaguars QB Garnder Minshew continues to grow with a game winning drive in Denver. The resurgence of former top-10 pick RB Leonard Fournette was a welcome sight for Jacksonville fans, who tallied a whopping 225 rushing yards on the day. The Jalen Ramsey saga, however, continues on: The star safety continues to sit out as he awaits his requested trade. Steelers fans know how much of a distractions that can be; hopefully Minshew and company can continue to overcome it.
The NFC is still sorting through its own contenders. The revitalized Packers were just a couple yards shy of 4-0 before giving away the win in the final minute against the Eagles. While the loss keeps Green Bay on pace with Chicago, the win for the Eagles was much more significant. Coming off of back-to-back losses, Philadelphia needed to correct course if it's to pace the steady Cowboys.
The NFC South is a fascinating study so far. The Saints are doing all the little things right as demonstrated in the low scoring affair against Dallas. It's not high octane, but much like Mason Rudolph, head coach Sean Peyton continues to play to Teddy Bridgewater's strengths. The Falcons, on the other hand, look absolutely broken. This does not look like a team two years removed from a Super Bowl. With the Bruce Arians show beginning to lift off in Tampa and the unheralded QB Kyle Allen stringing together two wins in Carolina, it's now or never for Atlanta.
Out West, a set of three-win teams is still vying for top dog. The Rams have looked sloppy at times but seem due to steady the ship before long. It goes without saying: a return to the Super Bowl isn't likely if they're going to allow 59 points as they did on Sunday. A repeat division title will be difficult with QB Russell Wilson in the midst of a bounce back season in Seattle and a fully healthy Jimmy Garoppolo in San Francisco.
Fantasy Forecasting
Buy
Make an offer for RB Saquon Barkley. Originally projected to be out six weeks, the phenom playmaker has already been spotted jogging at practice. He may be back much earlier than anticipated.
The window has officially closed on Melvin Gordon—the Chargers RB returned in week four and will debut in week five. It seems people are starting to jump ship on his understudy, Austin Ekeler; you can capitalize on that. Ekeler has already proven to be a fully serviceable option even while Gordon has played. The volume won't be there, but he's talented enough to get you double digit fantasy points in limited duty.
Another guy to keep an eye on: Second-year WR Antonio Callaway. He's served his four-game suspension and now steps back into a role injured Rishard Higgins has been unable to lock down in his absence. Callaway flashed some serious chemistry with QB Baker Mayfield last season. With defenses honing in on Odell Beckham and Jarvis Landry in concussion protocol, Callaway could see action sooner than later.
Finally, the Will Dissly train may have already left the station, but it's not too late to get on board in over 35% of leagues. The second-year tight end has been heavily targeted by QB Russell Wilson and has shown some serious red zone utilization.
Sell
60% of leagues still have an owner holding onto the hope that WR Antonio Brown will make a return this year. If you're one of them, it's time to cut bait. The upside is tantalizing, but isn't worth the hassle with bye weeks approaching full throttle. Antonio Brown is on his own indefinite bye-year. If rumors start to swirl, you'll hear them and can act accordingly. In the meantime, AB has yet to even meet with Commissioner Roger Goodell amidst his open investigation, and teams don't want to bring on a midseason media circus. It's time to let go.
Hold
He didn't play last week, is questionable to play now, and draws an unfavorable matchup against New England on Sunday. Despite this, hold the line on rookie WR Terry McLaurin. He's not an ideal start this week, but has favorable matchups down the stretch. The upside is there, especially after becoming the first player in league history to record a touchdown and five catches in each of his first three NFL games. What's more, his college quarterback, first-round selection Dwayne Haskins, is now taking over in Washington. It won't always be consistent, but "Scary Terry" has already shown enough to hang tight.