Song of Weirton
Tri-state living
Photos by David Aschkenas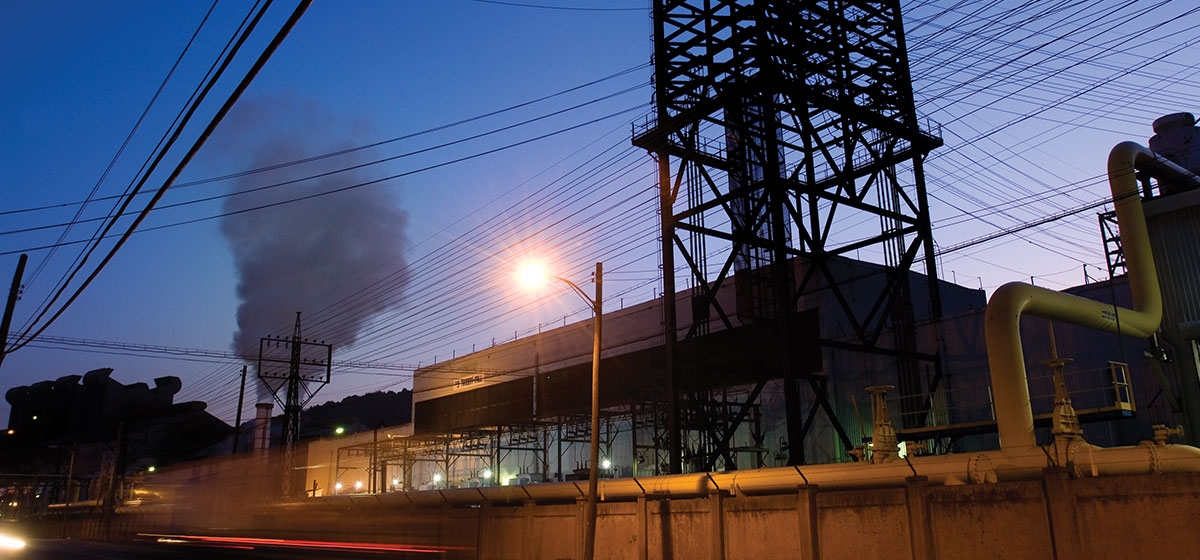 November 20, 2006
We talk about living in the Tri-State Area, figuratively. The "we" in Weirton live in it literally. My waitress at Mario's Italian Restaurant on Main Street is a fine example: She's wearing a black-and-gold, No. 7 Roethlisberger jersey as she serves up the boss's home-and-handmade spaghetti, while a poster behind her proudly announces Dean Martin Day in Steubenville.

---
---
This historic mill town is not just psychologically but physically in touch with Pennsylvania on the east and Ohio on its western city limits, nestling in the hills of West Virginia's panhandle at a point that's narrower than Scarlett O'Hara's waist.
Well, OK—it's five miles wide. In any case, Weirton has the quaint geographical distinction of being the only city in the United States that is located in one state but whose borders touch two others. Quaint, however, is not the word for the powerful industrial scene that unfolds there.
Weirton is a 35-minute drive west on U.S. Route 22 from its industrial big-sister Pittsburgh. On a crisp, clear day in late October, the fall foliage makes that trip a colorful delight of red and yellow leaves, drifting and swirling to earth like oversized confetti in slow motion.
But Mother Nature pretty much parks her pretty car at the Pa.-W.Va. border, where the town of Weirton—and its colossal steel facilities—begin. Looming ahead and all around, it seems, is the seventh-largest integrated steel producer in the nation: formerly the Weirton Steel Co., now Mittal USA Weirton.
What is thought to be the longest continuous-contiguous plant complex in West Virginia stretches for nearly a mile along Main Street (State Route 2) right smack through the center of the town. Its dark network of towering furnaces and electrical power grids dwarfs all humans, homes and businesses beneath. "Think Safety Everywhere — All the Time" reads a huge sign on a bridge that connects buildings on one side of the thoroughfare to the other, allowing vehicular traffic to pass as if through a tunnel.
Those who remember the extinct J&L Plant along Pittsburgh's Parkway East (nostalgically or otherwise) and who thought of it as huge will be amazed to see something twice as big, twice as imposing, twice as "beautifully ugly"—in terms of raw industrial art—as any surviving manufacturing complex of its kind and era.
It's a powerful sight, and there's a powerful story behind how it got there.
"But the fact that half of it is idle takes away from the power," says Independent Steelworker Union spokesman Dave Gossett.
The upper Ohio River Valley Indians who greeted the first white arrivals-—not too cheerfully—in the mid-1700s were Delaware, Mingo and Shawnee. They would give the newcomers trouble for the rest of the century but were doomed to give way to them by 1776, when John Holliday built his first cabin and pioneer settlement in a fertile valley—"Holliday's Cove," now downtown Weirton—on Harmon's Creek, which empties into the Ohio River, one of the country's greatest navigable waterways.
After years of negotiation, the boundary dispute between Pennsylvania and Virginia was finally settled in 1785, establishing the northwestern panhandle of what was then Virginia and fixing Pittsburgh in Pennsylvania. A decade later, the first iron-smelting furnace west of the Appalachians was built there—in what would become Weirton—and produced the cannonballs used to win the Battle of Lake Erie in the War of 1812. That area was stripped away from Virginia in 1863 and became a part of West Virginia—the newly created 35th state in the Union—during the Civil War.
Iron furnace aside, it was basically a sleepy, rural farm community until the 20th-century arrival of a self-made man named Ernest T. Weir. With an eighth-grade education, he rose through the ranks of Andrew Carnegie's U.S. Steel Corp., starting as an office boy. By age 28, he was general manager of the Monessen tin plate mill near Pittsburgh and then bought the Phillips Sheet and Tin Plate Co. in Clarksburg, W.Va.
Unable to expand there, Weir in 1909 purchased 105 acres of apple orchard near Holliday's Cove, a site that provided the abundant water supply and market-access necessary for steel production. He was soon the second largest tin-plate producer in the world, adding the capacity to produce hot and cold-rolled sheets, with 10 mills operating in "Weirton," company houses dotting the hillsides and immigrants arriving from all over Europe in search of employment.
The boomtown community grew along with the (renamed) Weirton Steel Company through World War I. Lois Alete Fundis, reference librarian of the city's Mary H. Weir Public Library, picks up the story from there in her excellent "History of the Weirton Area":
"Like many other steel mills and industries in the U.S., Weirton suffered from strikes [in 1919], and anti-Communist sentiment ran high around the country (the 'Red Scare'). With Weirton Steel's production less than 50 percent of capacity, 186 alleged radicals [were] arrested with half a ton of 'Red' literature and driven out of town. By October 15th, Weirton was back to 100 percent production while most other mills were still out."
Noted for excellent management and high profits, Weir's company merged in November 1929, just after the stock market crash, with two other companies to form the National Steel Corp. Weirton Steel got 50 percent of National's stock, Weir became chairman and CEO and National quickly took its place among the nation's largest steel producers.
In 1947, the areas of Holliday's Cove (downtown) and the hilltop-ridge communities of Marland Heights and Weirton Heights were incorporated to form the City of Weirton, while the steel company expanded its operations through the '50s, setting production records and pioneering technical advances in the industry.
By 1960, when young Sen. John F. Kennedy campaigned there in the crucial West Virginia primary, its population peaked at 28,200. Weirton Steel added a basic oxygen plant, its "Mill of the Future," in 1967, plus a continuous caster that put the company on the cutting edge of steel technology.
But the tale goes downhill from there.
In the 1970s and '80s, the American steel industry faced ferocious competition from overseas. Weirton lost its market dominance as aluminum supplanted tin in the soft-drink industry. In 1982, National Steel made a devastating decision not to invest more capital in its Weirton division, and the company was no longer competitive. With 2,300 employees laid off and production at 60 percent, a shutdown seemed inevitable until a radical plan evolved to sell Weirton Steel to its workers through an Employee Stock Ownership Plan (ESOP). Never had so large a company attempted to operate under employee ownership but, with huge community support and national attention, Weirton Steel union employees voted overwhelmingly to approve the ESOP and took over from National on Jan. 11, 1984, becoming the nation's largest employee-owned company.
Worker-owned Weirton Steel had 21 profitable quarters and was ranked 268 on the Fortune 500 list of U.S. industrial corporations by 1989, but a recession and an inability to invest in capital improvements soon led to losses. Debt reduction and plant modernization in the '90s helped, but the negative effects of the nationwide steel import crisis reduced the company's output and financial performance.
In 2004, International Steel Group —which had purchased the company — announced it would restart a second blast furnace at Weirton Steel "in response to strong customer demand for its value-added coated steel products" and pressed ahead to improve the plant's efficiency and capacity. The seamless transition of Weirton into ISG was attributed to the "enthusiasm and hard work of employees and the cooperation of Independent Steelworkers Union," which agreed to a new contract that reduced job classifications and cut union employment from 3,000 to 2,100.
But by June 2005, after Weirton had been absorbed by Mittal (the world's largest steel company, with 330,000 employees in 60 countries), more layoffs for Weirton were announced. The shutdown of No. 1 furnace (No. 4 furnace had been idled earlier) forced the closure of the basic oxygen plant, which converts blast-furnace iron to steel, and the continuous caster, which makes molten steel into slabs.
Weirton's population was now down from 28,000 to 20,000. The union came up with a plan for $93 million in cost cuts to reopen the hot end, but demand for steel had plunged and Mittal was determined to work off the inventory by cutting production. Ranking its five integrated mills (Burns Harbor, Indiana Harbor, Cleveland, Sparrows Point and Weirton) according to raw material input, manufacturing costs and product profit margins, Mittal put Weirton at the bottom of the list—the "swing" plant facility that failed to generate "enough money to please the steelmasters in London," according to reporter Mark Reutter, who wrote that "Weirton was hobbled by higher raw material costs, especially for coke, than the other mills."
In November 2005, it was announced that another 800 union jobs with the state's largest employer would be terminated as part of the "hot end" shutdown. Weirton would continue as a tinplate finishing operation.
Mittal offered ISU workers a "voluntary termination" buyout, with a choice of lump-sum payout or extended health care and jobless benefits. Those with 20 or more years of service could take a $60,000 payment and $13,500 bonus or jobless benefits and 30 months of health-care coverage. Mittal also requested an immediate $600,000 reduction in property taxes and $500,000 in future cuts for the company that was once the largest taxpayer in the state. Local school Superintendent Dan Kaiser called the effects of lost revenue on public education in Weirton "devastating."
Weirton is down but not out—a community that is consistently rated as one of the safest in America and that, despite its reduced population, still offers the warmth of a small town along with regional charm and the benefits of a metropolitan area.
Hollywood recognized it as such in selecting Weirton as one of several Ohio Valley towns for primary location shooting of "The Deer Hunter," the Oscar-winning best film of 1978, starring Robert DeNiro and Meryl Streep, and more recently for "Reckless," starring Daryl Hannah.
Lesser mortals such as you and I can go there anytime we wish to enjoy Weirton's variety of quality recreation facilities, including the Millsop Community Center (with indoor swimming pool, five racquetball courts, indoor basketball courts, exercise and meeting rooms) and its two outdoor swim venues, Starvaggi on Weirton Heights and Margaret Manson Weir Pool on Marland Heights. Adjacent to both are shelter houses, playgrounds, tennis and volleyball courts, and—that endangered species—horseshoe pits. An organization called Renaissance Weirton was founded in 2002 to serve as a catalyst to revitalize the city and draw people to live, shop and work there. Its first and main project has been to raise funds for capital improvements to maintain the Millsop Community Center's present and future projects.
Mountaineer Racetrack and Gaming Resort, featuring horse-racing, poker and Keno machines, is just 30 minutes north of Weirton—about the same as Wheeling's Oglebay offerings. Commuters and business travelers are reminded that the opening of the Findlay Connector (I-576) decreases the Weirton-Pittsburgh International Airport distance to about 20 miles.
While we're issuing reminders, Pittsburghers in search of a weekend getaway should keep in mind that Weirton is just across the Ohio River from Steubenville, Ohio, connected to it by one of the most gorgeous new bridges in America. The graceful tall "teepee" Steuben Bridge is a work of architectural art in itself that will take you to "the fort that opened the Northwest Territory" and everything else Ohio has to offer.
Meanwhile, on the way home, I pass All Saints Greek Orthodox Church (with its fabulous steel towers) and "Second Amendment Road" just outside of Weirton, a reminder of the hunter culture that thrives there.
It is a fascinating place to visit and experience, despite the fact that foreign steel dumping and other grim economic factors have forced Weirton's steel industry into an ongoing recovery process. Once employing 12,000 people, Weirton currently employs only about 1,300 workers in its tin-finishing and strip mills.
But there is hope for reviving the hot-end blast furnaces that have been idle since last year.
Weirton may be sold to people interested in the entire operation and its great capacity for becoming a fully integrated steel mill again. Weirton, along with other domestic companies, has led the charge for the U.S. government to enforce federal trade laws banning dumped and subsidized foreign steel and impose tariffs to help the industry recover from its devastation by imports.
Weirton has a history of survival, from the early 20th century to the landmark ESOP plan of the 1980s. It has been a leader in the "Stand Up for Steel" campaign in America.
"The people of Weirton are dedicated workers who want to make steel," says ISU's Gossett, "and hopefully we can get back into the full steelmaking process again."