Song of Washington, Pa.
Home of the rebels
Photos by David Aschkenas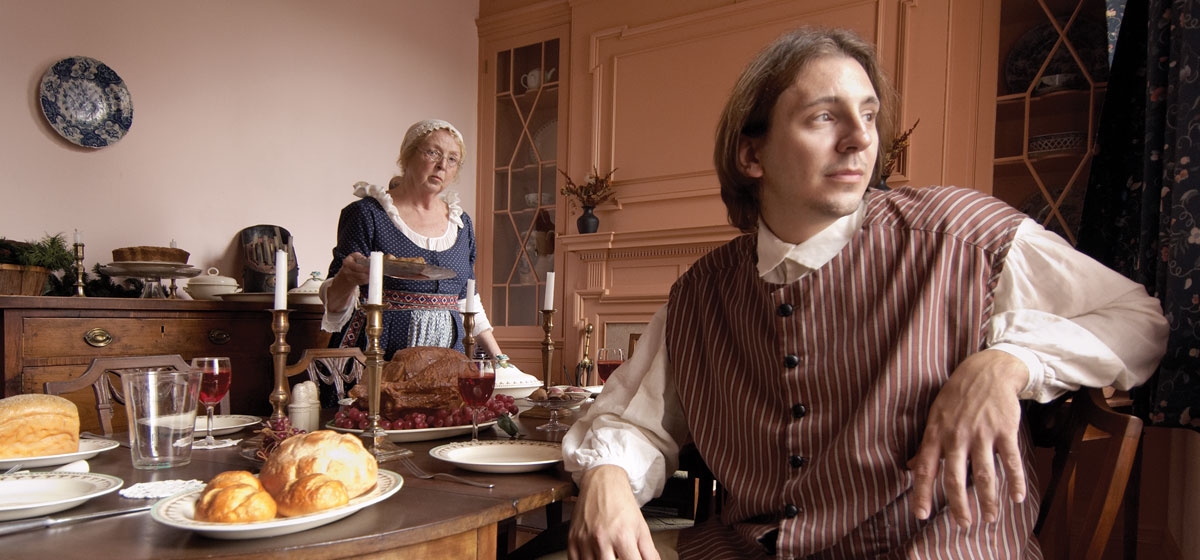 May 19, 2008
The mother of all Washingtons occupies the federal District of Columbia, yet smaller ones abound. The Father of His Country sired no children but, by way of surrogate progeny, he begat towns bearing his surname in no fewer than 27 states.

---
---
Only one of those little Washingtons was seriously naughty enough to provoke George himself to take disciplinary action. We speak of Washington, Pa., of course — just a 24-mile stone's throw due south from Pittsburgh.
Southwestern Pennsylvanians have always loved their liquor, and whiskey was the source of their mischief (as Carrie Nation could've told you). Perhaps that unruly tradition is why the town's favorite red-hot team is called the Washington Wild Things — but more on booze and baseball later.
These days, "Little Washington," the seat of Washington County, is a burgeoning burg of 16,000, situated at the busy crossroads of Interstates 70 and 79, thriving with activity not only at Consol Park and the nearby Meadows Racetrack and Casino but at its giant new Tanger Factory Outlet Center, as well.
The Delaware Indians who once inhabited the area wouldn't recognize the place now (though their Native American descendants in the gambling biz might). The original aborigines — vassals of the powerful Iroquois — were led during the mid-18th century by Chief Tangooqua, better known as "Catfish," who had a camp on a branch of the Chartiers Creek in what is now part of the city.With the ouster of the French and Indians, the area was part of colonial Virginia, largely settled by immigrants from Scotland and Ireland.
In 1781, Pennsylvania's General Assembly passed an act establishing the County of Washington — first in the U.S. to be named in honor of not-yet-President George — and designating Catfish Camp as the site of its first election.Local pioneer David Hoge laid out a plan for "Bassett, alias Dandridge Town," but before it was recorded, lines were drawn through that dubious name and "Washington" substituted above it. Hoge presented Lots 43 and 102 of the plan to "His Excellency Gen. Washington and Mrs. Washington."
His Excellency and the missus, preoccupied with the Revolution, didn't take up residence there, but lots of frontier farmers did. Grain was the chief crop in what was arguably the nation's breadbasket then — the four southwestern Pennsylvania counties of Washington, Allegheny, Westmoreland and Fayette — but much of that grain wasn't destined for bread. During and after the Revolutionary War, foreign rum and molasses could not be imported, while demand for distilled spirits by the army and general populace alike much increased. Its manufacture became so profitable that not only most of the rye but much of the wheat crop was consumed by distillation.
The government feared an alarming shortage of bread for the troops, while the clergy feared an alarming decline of morals among the youth. To curb the problem, national excise taxes on whiskey and its distillers were imposed — measures regarded as peculiarly obnoxious and discriminatory to the people and chief industry of southwest Pennsylvania.
It wasn't the first time. As early as 1694, and again in 1744 and 1756, the Virginia Assembly had passed similar measures but did not much enforce them in what was then the Virginia boondocks but was now — with redrawn boundaries of the 1780s— the "sovereign" Commonwealth of Pennsylvania.
Thus was "Little Washington" poised to become the radical center of the Whiskey Rebellion of 1791–1794, the first armed revolt against the authority of the fledgling federal government.The initial act of violence actually came in 1785, when an excise officer named Graham was seized in Washington County.According to a contemporary account: "They cut off one-half of his hair, cued [braided] the other half on one side of his Head, cut off the Cock of his Hat, and made him wear it in a form to render his Cue the most Conspicuous; with this and many other marks of Ignominy, they marched him amidst a Crowd from the frontiers of this county to Westmoreland County, calling at all the Still Houses in their way, where they were treated Gratis, and expos'd him to every Insult and mockery that their Invention could contrive."
Graham made no further effort to enforce collections, or indeed to remain in Washington County. His successor, similarly, resigned after being tarred and feathered (naked). Charges of riot against 12 men were dismissed, one of them being later elected to Congress four times.
That dirty dozen belonged to the Republican or Anti-Federalist faction, the first of a long line of states-rights partisans who bedeviled every president from George Washington through Harry Truman. They were harder to ignore or suppress by virtue of the fact that most of them were patriot-veterans of the Revolutionary War and Indian campaigns. Their petitions were refreshingly honest, as demonstrated by this one:
"[The whiskey tax] is the only law passed since our Revolution that has been treated with universal abhorrence and detestation….We do not deny that we are as much addicted to the use of spirituous liquors as our brethren in the eastern part of the state. But we find the moderate use of spirits is essential in several branches of our agriculture… Laborers are exceedingly scarce [and] liquor proves a necessary means of engaging their service and securing their continuance… In every circle of 20 or 30 neighbors, one of these stills is generally erected… The proprietor receives grain (rye only), returns the stipulated quantity of liquor [for] the toll agreed upon — the same conditions [by which] the mills furnish us with flour… Why we should be made subject to a duty for drinking our grain more than eating it seems a matter of astonishment to every reflecting mind."
In 1791, President Washington cajoled his friend Gen. John Neville of Pittsburgh into accepting the risky post of chief excise inspector for the region. Soon after, "Little Washingtonians" such as the wonderfully named Bazil Bowel called for formation of a rebel militia, and Neville's Bower Hill manse was attacked and torched by an angry mob of 5,000 who marched up from Washington County, exercising their not-so-well-regulated right to bear arms.
"Little Washington" was attacking little Pittsburgh! It was too much for Big Washington, the president. He issued a cease-and-desist proclamation to his namesake city's rebels and, in 1794, ordered 12,000 troops to be raised and quell the insurrection under fabled Gen. Henry "Lighthorse Harry" Lee, the daddy of Robert E., which put a quick damper on the insurgents'enthusiasm as well as their rebellion.
Bottom line: Father (of his Country) Knows Best.
Cut to another rebellion, half a century later, and the stately home of Dr. F. Julius LeMoyne (1798–1879) at 49 E. Maiden Street in downtown Washington, Pa., one of only six National Historic Landmark sites marking the Underground Railroad. A courageous reformer and three-time Abolition Party candidate for Pennsylvania governor in the 1840s, LeMoyne risked his own life and fortune to take a stand against slavery, opening his home and properties as safe havens for runaway slaves heading north on their dangerous trek to Canada and freedom. He did soin collaboration with (unsung) local Negro barber Ermin Cain, who, when interrogated by fugitive-slave bounty hunters, famously replied: "If I knowed where your slaves are, all the money in the South wouldn't git me to tell."
The father of five daughters as wellas three sons, LeMoyne was a seminal promoter of women's education, co-founding the Washington Female Seminary in addition to Washington's first Citizens' Library. And thanks to LeMoyne — an innovative medical detective as well as practicing physician — Washington, Pa.,is also the location of America's first crematory.
Huh?
It goes like this: Folks there kept getting sick and dying from the same symptoms. LeMoyne deduced the cause to be buried, decomposing bodies polluting local streams. Cremation, he believed, would prevent disease-ridden contaminants from leeching into the water supply, and he approached the trustees of Washington's public cemetery, offering to donate money for a crematory. The trustees, more horrified than edified, ran screaming from the idea. Undeterred, LeMoyne built it in 1876 on his own land and designed the oven so that flames would never actually touch the bodies being consumed.
The first cremation took place in 1876, the last in 1901. LeMoyne himself was the third person cremated there, his ashes resting in an urn under a simple stone monument. A century and a quarter later, the 30- by 20-foot brick building on South Main Street is in remarkable shape and — like the LeMoyne House museum — open for guided tours. Call (724) 225-6740 or e-mail info@wchspa.org.
Little Washingtonians have an approach-avoidance relationship with Big Neighbor Pittsburgh, whose PNC Park is one place they feel no great need to approach. Why? Because they have their own piratical boys of summer — the Wild Things.
Washington's illustrious minor-league baseball team, part of the Independent Frontier League and unaffiliated with any Major League team, has made the playoffs in each of its first six seasons in town.Originally the Canton Crocodiles (1997-2001), the franchise was brought to Washington to play at the new ballpark being constructed, just off I-70, in 2002.Under operations director (and ex-Pirates relief ace) Kent Tekulve, they ended their first season as Eastern Division champs but lost their playoffs to the Richmond Roosters. The Wild Things advanced to post season play again in '03 and '04.
In '05, they made the playoffs for the fourth straight year — and made Frontier League history, setting a new league record for 63 games won in a season and for selling out their ballpark for 35 consecutive games. In '06, theWild Things took their East Division Crown for the fourth time, while their star centerfielder Chris Sidick (arguably the best outfielder in the minors) broke the Frontier League record for triples with 16.
In 2007, naming rights to the six-year-old, 5,000-seat stadium were sold, and it became CONSOL Energy Park. That same year, the Wild Things became the winningest team ever in Frontier League history. John Massarelli got his 500th managerial victory, while his team got its fifth East Division Title in six years and set new attendance records, selling out 34 games and attracting 177,495 fans over the season.
Washington is also the birthplace of PONY Baseball and Softball (for 13-14-year-old players), whose international headquarters and museum are located next to CONSOL Energy Park. The PONY League World Series is held each year at historic Lew Hays Field in Washington Park.
How sports crazy is this town? On January 27, 2006, to honor the Pittsburgh Steelers appearance in Super Bowl XL, Washington's city council voted to symbolically rename the city "Steelers, Pa." — but just for a week!
Like all of western Pennsylvania in recent decades, Washington has had its share of economic difficulties. Some 20 percent of its population lives below the poverty line.
"But no matter how much or how little money you come from, when you come into the LeMoyne Center, everyone's on the same level," says Joyce Ellis.
Ellis owned and operated a Washington dance school for 33 years before leading a citizen effort to repair and reopen the LeMoyne Multicultural Community Center in Washington, which had been closed for three years due to a fire. New youth programs including tutoring and high-school equivalency exams were established there last year.
The city itself and the private sector have also been working to reinvigorate the community. There's a $14 million municipal streetscape improvement project to upgrade the infrastructure of downtown. Millcraft Industries has announced a $100 million revitalization project for the downtown area, as well. A key part of that is Land America's new six-story corporate headquarters building at the corner of Beau and Franklin streets, to employ 800-1,000 people upon completion. Other aspects of the "Crossroads Project" involve new street-level retail, residential lofts, an 80-room hotel and an outdoor park and amphitheatre. Carl Walker Construction Co. is constructing a $12 million, 850-space parking garage between Chestnut and Beau streets to accommodate the new Land America building.
But plunk your magic Tanger, Froggy! Remember the old Smilin' Ed kiddie program on Saturday morning TV? Okay, I'm showing my age. What I'm getting at is Washington's truly huge new commercial news: The Tanger Factory Outlet Center— set for its grand opening this spring —is a $75 million project in suburban Washington's South Strabane Township, just off I-79 across from the new Meadows Racetrack and Casino. This 308,000 square-foot giant is intended to anchor the Victory Centre development with 75 brand-name and designer outlet stores and restaurants, adorned with landscaped courtyards, covered walkways and skylights to provide year-round access and natural light.
It took Greensboro, N.C. developer Steve Tanger five years to settle on the 122-acre site — a choice that has both pleased and worried Washington County residents.The anticipated explosion of economic activity would be a godsend. The major new stress on roads, public services andresidential neighbors would not, and opponents such as the Citizens AgainstTax Increment Financing have been vocal about it.
Like it or not (and merchants like it a lot), the Tanger Outlet Center is expected to draw 4.5 million visitors a year, according to Richard Bonds, executive director of Pennsylvania's tourism marketing office: "It will make Washington County a world-class destination forshopping and entertainment," and will generate about $1.2 million in local property tax revenues annually.
Potential icing on the cake: Bass Pro Shops is scoping out a 210-acre spot next to the outlet center for a 225,000-square-foot outdoor store and lodge.
Meanwhile, the aforementioned Meadows has been "busting at the seams with people," says Mike Graninger, general manager. Some 16,000 showed up at the casino's grand opening last year to try their luck at the 1,738 slot machines, producing relatively few traffic or neighborhood nightmares. The Meadows' ancient 44-year-old grandstand has been razed to make way for the $155 million casino and hotel, scheduled to open in 2009, complete with multi-use theater, multiple bars and a lounge with racetrack view, covered grandstand, a 425-seat restaurant and food court.The slots will swell to 3,000. The 200-room hotel will be competitive with Wheeling Island Racetrack's 150-room guest accommodations, and casino execs expect it and the new permanent casino to employ more than 1,400.
Memo to tourists: don't forget the old in your rush to the new. The fine, stately George Washington Hotel, downtown at 60 S. Main Street, is an elegant 10-story, white stone and red brick corner structure definitely worth visiting for its oval-shaped Grand Ballroom, domed ceiling and restaurant. The nearby Union Grill is an even finer place for dining. And lovers of Italian shouldn't miss Angelo's Restaurant on W. Chestnut Street — proudly serving the best pasta in town since 1939.
We told you there are 27 cities named Washington in the U.S. Did we mention there are 19 American colleges with George's name?
Among the best and oldest of them is Washington and Jefferson College, a small, co-ed private liberal arts college founded in 1781, whose main campus is located in downtown Washington. These days, some 1,500 students matriculate there. W&J's 60-acre suburban campus boasts 40 academic, recreational and residential buildings and a 54-acre biological fieldstation. Overall, it is widely regarded as an excellent institution for pre-med and pre-law, making the U.S. News and World Report "America's Best Colleges" list of top 100 liberal arts schools in the U.S.
So, let's see, do you have all the Washington numbers you need? No, wait, there's one more. I remember it from watching the 1960 Democratic Convention balloting on TV as a kid. When his time finally came late in alphabetical order, the head of the 42nd state's delegation grabbed the microphone to announce its votes were going to Jack Kennedy — but not before booming out a long, florid prelude that began:
"Madame Chairman, ladies and gentlemen! The great state of Washington, the only state in the Union named for our first President… "
What would we do with two?