Song of the South Side Slopes
How steep is Yard Way?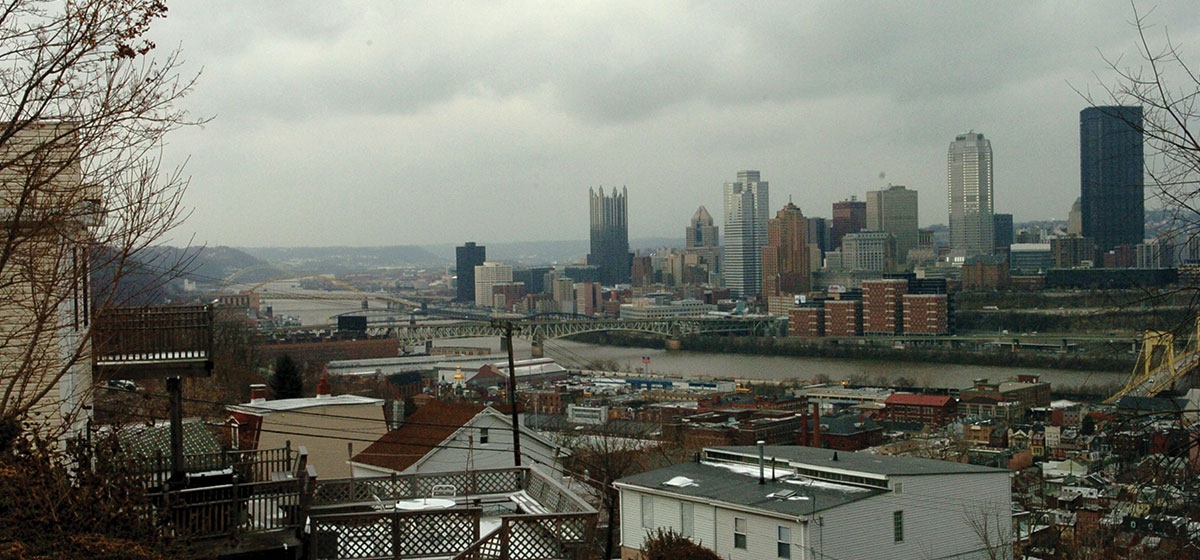 November 20, 2005
If you went any higher, you'd need a harp. Yard Way on Pittsburgh's South Side Slopes is only about half a dozen blocks long, one would say. One would say that if it were in another city. In Pittsburgh, one would be more apt to say it's half a dozen blocks high, considering the breathtaking panoramic city views from the top of it.

Yard Way is an official municipal street, maintained by the City of Pittsburgh and salted like any other during the icy winter. But I wouldn't advise driving it, even in the summer. That's because, except at the very top, it consists entirely of steps — hundreds and hundreds of them, climbing up the daunting mount next to Mount Washington.
Yard Way is one of Pittsburgh's 300 legendary "step streets" — the longest of them — that are, in fact, staircases instead of roadways: No cars, curbs or cabs need apply. The South Slopes boasts 68 such anomalies throughout its area, which many observers have dubbed the most astonishing urban hillside terrain in the country.

East Side, West Side? Fuhgeddaboudit. Go South, young man and woman, to where life is a step up—or a few thousand steps up—from everybody else. The "Slopes" form a picturesque neighborhood on the south side of the Monongahela River, rising up above the "Flats" of Carson Street between 12th and 21st in an area connected to Downtown by four uniquely beautiful bridges — the Smithfield, the Tenth Street, the Birmingham and the (thankfully restored, fabulously named) Hot Metal Bridge.
Some 11 percent of Pittsburgh's 57 square miles consist of steep hills settled by stubborn immigrants whose small houses still cling to those hillsides. In the late 19th and early 20th centuries, they came to work in the mills of the South Side, where the patterns of their homesteads defined the character of their community as much as the three famous rivers and once-famous steel industry.
This particular stairway to heaven—Yard Way—is not for the faint of heart or foot. It climbs up to St. Paul of the Cross Monastery and Church, whose 1853 origins coincide with the Passionist Order's arrival in Pittsburgh during the Franklin Pierce administration. Inside that mini-cathedral, side chapels and altars are lit day and night by hundreds of votive candles, while a wondrous collection of holy relics lies in the eerie crypt below.
Outside the church, the tangled topography produces an only-in-Pittsburgh phenomenon: the corner of Monastery and Monastery. Actually, Monastery Street and Monastery Avenue — and a block away, you'll find the intersection of Monastery Street and Monastery Place!
The saints come marching in the street names up here: In addition to all the Monastery monikers, you have Pius, Gregory, Magdalena, St. Paul, St. Thomas, St. Leo, St. Patrick and Mission streets. You've also got the much-acclaimed Veronica's Veil Players, a community theater group on Pius Street, now in its 87th year of producing an Oberammergau-type passion play each Lent — said to be the longest-running show in American theater.
(I can attest to its potency at least back to 1953, when my mother left early with me and my sister howling in terror from the realistic crucifixion scene.)
In those days, church was what life revolved around for Slopes folks of largely East European ethnicities, each of whom built their own houses of Catholic or Orthodox (rarely Protestant) worship. In most American neighborhoods, people couldn't care less about (or tell the difference between) Slavs, Slovaks and Slovenes — let alone understand a service in Old Church Slavonic. But they did on the South Slopes, and the older ones still do.
It's about Angels and Angles here. Think vertical, as well as evangelical, especially at the top of Yard Way on Billy Buck Hill—so named not for some rodeo star but for the wild goats and deer who shared the hill with the original Native American inhabitants. The Indians, from this perch, watched pale-male Europeans fight below over the river-confluence fort to determine whether it would be Duke or Pitt.
Goats and Indians alike disappeared when naming rights went to Pitt. Only the deer remained to see the pristine river banks become slowly dotted with mills and the hillsides become slowly populated with the industrial growth of 19th century.
But who'd really wanna live up in a place so hard to get to?
It's not an irrelevant question, then and now. The answer is — me, for one. But I kept thinking about the question, with a certain horror, after I committed to moving: On tiny Huron Street, near the Monastery, you feel lucky that a single car can squeeze through. Forget TWO cars, particularly if one of them is my ancient old '88 Lincoln ("Abe")—not a candidate for the step streets.
On his second trip up the 18th Street paved road to Huron, Abe's transmission and brakes made an unconditional-surrender request to be sent to the Smithsonian. On the first of two moving days, the van knocked down a low-strung electrical wire. On the second day, a cable TV line met the same fate.
My new neighbors did not descend with casseroles. The Welcome Wagon representatives evidently got lost. For 20-odd years (emphasis on the "odd") I had a Shadyside lair affectionately known as Wuthering Depths. The narrow, new place way up on tiny Huron Street is called Dithering Heights. Over the 12 decades since it was built, it has—well, "settled" isn't exactly the word. Let's just say that a marble dropped straight down on the west side of the kitchen reaches the east wall in 6 seconds. Each room has a slightly different angle—it's a little like living in Noah's Ark at Kennywood.
And now I can't imagine ever living anywhere else. From a little deck off the (world's skinniest) study, the panorama unfolds: I spy on Flats people below whenever I want, watch the twinkling lights of Carson Street at night, follow the plodding progress of tugs and barges up the Monongahela and sweep the deep-background skyscrapers with my glance. I've become a two-penny meteorologist (not much less competent than the local Accu- Weatherpersons on TV), scoping out wind and weather changes from here on high, beating the heat lightning of summer, sneak-previewing the snow squalls of winter.
How high are we talking'?
High enough to see the underbellies of birds huffing and puffing upward to get over trees that are below me. Sometimes they scare the hell out of my cats by flying straight across (not above) our porch, or suddenly popping up from down under like Jaws. Our soundtrack consists of the soothing rumble and whistle of freight trains and the holy dissonance of church bells clanging in different timbres at never-quite-the-same-time.
Such sights and sounds make for the South Slopes' magic in miniature, frantic with movement like the Christmastime train towns at Buhl Planetarium of yore.
But "views OF the hillsides are more important than the views FROM the hillsides," City Councilman Bill Peduto reminds. Much crucial preservation and restoration work is being done but much more needs to be done in order to keep the hillside charms and values intact—not least, the real-estate values. So varying are structural conditions of the slivery domiciles that a $19,000 house can sit next to a $99,000 one of the exact same size and shape (often so close that you can't slip a pancake- flipper in between them) in these parts.
It's much different from the trendier South Side Flats below, where "tattoo parlors, sushi bars and rock clubs flank the elaborate old pharmacies and beauty parlors on Carson Street," wrote Christine O'Toole in a fine Washington Post travel-section piece last year. Residents there sport "both kinds of blue hair," she said — both the grandma kind and the punk-Goth-slacker variety.
The commercial boom on the Flats has been manifested — and magnified — by the recent addition of a huge new development called SouthSide Works, whose multiscreen movie theater complex, Cheese Factory franchise, posh fashion outlets, coffee houses, book and gift stores large and small have brought increased numbers of tri-state shoppers and Downtown professional partiers into the area.
Slopes folks, though, tend to prefer watching from a less lucrative but literally loftier position—steeped in tradition on their stupendously steep steps.
Historian Bob Regan calculated there are 712 sets of public stairways throughout our locale, meticulously described and photographed in his "The Steps of Pittsburgh: Portrait of a City"— highly recommended reading. Forget San Francisco, he says. Pittsburgh has by far the greatest quantity and quality of municipal steps in the nation.
You don't have to buy a house or move to the Slopes to experience and enjoy them. You can step right up and just wander around on your own (drive or take the frequent-running 51 bus from Carson & 18th). Or get in halfway decent shape and take part in the South Side Slopes Neighborhood Organization's annual StepTrek guided (or self-guided) tour of the area, complete with entertainment and related events. [For more information: (412) 488-0486, www.steptrek.org.]
Be brave. Step right up.
Your reward?
It's much easier to step back down.