Song of Kittanning
Uncovering ghosts "at the Great River"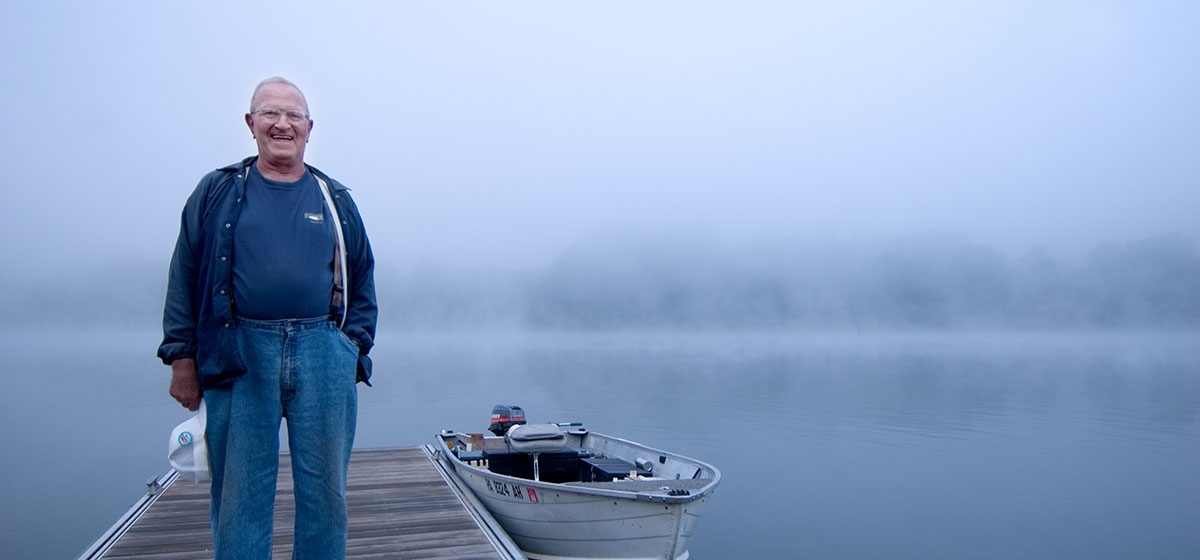 August 20, 2006
The tranquil beauty of the Allegheny River at its idyllic venue in Kittanning conceals restless ghosts and a violent history. Safe to say, the 18th-century Native Americans who lived there never imagined it couldn't be defended from a few hundred white invaders, or that the fate of two great Old World empires across an ocean hinged on a battle in their pristine green New World.

---
---
Situated on the Allegheny's eastern bank just 42 curvaceous miles north of Pittsburgh, picturesque Kittanning—the Europeans' spelling of "Kit-Han-Ne"—was an Indian village whose name meant "at the Great River" and whose hunting grounds were rich, then and now. Since 1800, it has been the seat of Armstrong County (originally part of elephantine Westmoreland County's 47,000 square miles).
The Department of Homeland Security doesn't exactly consider it of crucial military importance nowadays. Not so in the mid-1700s, when Kittanning marked the northwestern extreme of white settlement and expansion and served as the Delaware Indians' stronghold during the French and Indian War. It's a beautiful place to visit, and I'll tell you why and how to get there below. But let me tell you how and why the French and British got there first.
The Native American residents whom the Euros disturbed were Lenape ("len-AH-pay") Indians, a Delaware branch belonging to the Algonquin linguistic group. The Lenape—meaning "Original People" or "Grandfathers"—were highly respected as the oldest Algonquin-speaking tribe, with authority to settle disputes between rival tribes in the big Algonquin multi-tribal councils. They were among the first natives to come in contact with Dutch and English colonizers, doing so as early as 1600.
Those peaceful Lenape considered themselves far more civilized than the scruffy, white traders then penetrating Pennsylvania. Lenape homes were aesthetically appealing, bark-covered wigwams (either round with a domed roof or rectangular with a gabled top), with benches around the inside perimeter that were covered with furs to serve as seats and beds. They also lived in longhouses that could accommodate up to 12 families of a clan that could trace its lineage to a common female ancestor. Two or more clans banded together were called phantries. Kids belonged to Mom's—not Dad's—phantry.
Early immigrant settlers and soldiers of fortune relied on Lenape guides and suppliers along the westward trails from the Susquehanna valley through the mountains to the less forbidding open prairie land of what's now Ohio. The Indians were blessedly friendly for decades. But they were also fierce warriors with a temper that—when provoked—could explode in violence.
There were provocations aplenty. As the white influx increased, so did the friction between French and English rivals pushing for territory. Constantly and increasingly, the Lenape were forced to quit their lands and relocate westward through Pennsylvania, Ohio and the future Indiana. The struggle for control of the upper Ohio River valley was particularly intense after 1748, when English-speaking Virginians from the south and French-speaking Canadians from the north converged in ever-larger numbers toward a pivotal fort on a stunning triangular piece of river real estate.
The French called it Duquesne, the British named it Pitt. Neither side was interested in the view or its re-sale value. They were interested in the fact that whoever controlled it—and nearby Kittanning—would control the whole region and access to points west. Indian involvement in the decade-plus duration of the French and Indian Wars (officially 1754-1763) was assured by the manipulations of the French and the treaty violations of the British: The Indians would be used by the former as a highly effective ally against the latter.
Braddock's defeat on July 9, 1755 forced King George's viceroys in Pennsylvania to take more substantial military action. Gov. Robert Morris had previously concentrated his (modest) provincial forces in the Cumberland Valley between Carlisle and the Maryland border. Now, Delaware and Shawnee frontier raids incited by the French were stepping up under Indian leaders Shingas and "Captain Jacobs," based at Kittanning. The catalytic event occurred July 30, 1756, when an Indian force led by Captain Jacobs sieged and then torched Fort Granville, killing commanding officer Edward Armstrong, forcing the garrison to surrender and marching off the prisoners to Kittanning.
It cried out for revenge, and Gov. Morris had a highly motivated man for the job. Plans to attack the Indians were assigned to Lt. Col. John Armstrong—brother of the fallen Edward. With 307 men of the Pennsylvania Provincial Forces, Armstrong set forth on a grueling, five-day unbroken march from Fort Shirley (in Huntingdon County) to the Indian village of Kit-han-ne on the Allegheny.
They arrived on Sept. 7, 1756, "at moonset," wrote Pennsylvania historian William A. Hunter and launched a surprise attack on the town at daybreak. Many of the Indians took refuge in one of the big longhouses, said to be that of Captain Jacobs, containing large stores of gunpowder for a forthcoming offensive against the British. But in the ensuing six-hour battle, Armstrong's musket fire ignited it, blowing up the house and other ammunition dumps near it in a chain reaction. The combined explosions were so loud they could be heard 30 miles south at Fort Duquesne—soon to become Fort Pitt.
Captain Jacobs died in that blast, and his scalp was presented as souvenir to Armstrong. The English had evidently adopted the most notorious, although not the most charming, of Indian customs. Back at his encampment, Armstrong discovered his rear forces had been attacked and dozens of soldiers had deserted. So hasty was the retreat they left their bedding behind, resulting in that area's name to this day—"Blanket Hill."
British losses were put at 17 killed, 19 missing and 13 wounded. Nine Indian bodies were counted, but the total number of their dead and wounded had to have been much higher. The total destruction of a once-great Indian stronghold was achieved.
"ARMSTRONG destroyed an Indian Town and its Inhabitants within 25 Miles of Fort Du Quesne," one tiny 18th-century headline announced, while the Pennsylvania Gazette of Sept. 30, 1756, celebrated with an heroic nine-stanza "Ode to the Inhabitants of Pennsylvania" (of which this two-stanza appetizer should suffice):
But chief let PENNSYLVANIA wake,
And on the Foes her Terrors shake,
Their gloomy Troops defy;
For lo! Her smoaking Farms and Plains,
Her Captive Youths and murder'd Swains,
For Vengeance louder cry.
Rouse, rouse at once, and boldly chase
From their deep Haunts the savage Race,
Till they confess you Men.
Let other ARMSTRONGS grace the Field;
Let other Slaves before them yield,
And tremble round DUQUESNE.
Armstrong's victory— a strike back at the Native Americans in retaliation for their frontier raids and alliance with France—was the only offensive move taken by the Pennsylvania Provincial Government during the French and Indian War. But Armstrong himself would soon be back in the saddle, commanding Pennsylvania Troops in the successful 1758 British attack on Fort Duquesne.
The native settlement's destruction and defeat at Kittanning was the first instance of carrying the war into the Indian Country. It severed their alliance with the French, largely ended their raids and secured the valley for a British Colony still two decades away from the Revolutionary War. When it came time for that, the indefatigable John Armstrong was ready again, becoming a brigadier general in the Continental Army (1776) and three-time member of the Continental Congress (1778-80).
Epilogue: The Indians were driven from Kittanning, back to the protection of French forts and less exposed towns on the Beaver River and further west. A small contingent of Delaware later fled to Canada, and remnants of them now occupy two small reserves in Ontario (Moraviantown and Munsee). Some 556 acres of the land they left behind were awarded to victorious Gen. Armstrong by the Province of Pennsylvania. When the town of Kittanning was officially incorporated and laid out in 1803, its 248 lots—once dotted with wigwams—sold for about $11.50 apiece. Sic transit gloria —and Kittanning realty.
Kittanning is not really an all-war-all-the-time kinda place, but if it's military history that draws you there, you shouldn't miss visiting the Armstrong County Memorial Wall while you're in town. This powerful war monument depicts the evolution of armaments and fighting styles from the War of 1812 to the recent Persian Gulf struggles.
Designed by Charles Hanna of Freeport and installed outside the Courthouse Annex at the top of Market Street, the memorial tribute in bronze lists all Armstrong County patriots who lost their lives in America's battles, beginning with 40 casualties of the French and Indian conflict (the wonderfully named "Holdcraft Stinger" and "Theophilus Thompson" among them). A terrible, disproportionate total of 480 men from the Kittanning region died in the Civil War, and reading each of their names is a deeply moving experience.
After that, you'll want and deserve some lighter "fun" activity. Perennial favorites are the full range of Allegheny River boating and canoeing opportunities, hiking trails (especially the Armstrong Trail along Cowanshannock Creek), fishing, birding and hunting on thousands of acres of excellent state game lands, where deer as well as bruins are plentiful (and nobody has the Right to Arm Bears).
Kittanning is an easy hour's drive north from Pittsburgh on Route 28, past towns with quaint names such as Iron Bridge, Slate Lick and Sistersville, or south from New Bethlehem on combined 28/66 through such villages as Climax, Distant, Mahoning Furnace and Slabtown.
All sorts of smaller, more picturesque roads crisscross the surrounding lush Pennsylvania countryside, ripe for side trips and exploring. Armstrong County's northwest corner features gorgeous Brady's Bend and Miller's Eddy, many of whose old farmhouses are equipped with river views and four porches—one facing each direction — for whiling away evenings with a lazy Monopoly game or just watching the Allegheny drift by. The lock-and-dam system makes Kittanning accessible by water during the late spring, summer and fall.
Kittanning Township's first census recorded 309 citizens in 1810. By 1880, it held 1,681 souls—most of them farmers, plus exactly 31 laborers, four blacksmiths, three carpenters, two stonemasons and one painter. You wouldn't use "leaps and bounds" to describe its subsequent population growth: The count was 2,325 in 2003.
Architectural highlights of downtown Kittanning are by and large godly: Grace Presbyterian Church on Jefferson Street was built in a 1910 Romanesque style with stained-glass windows by Tiffany of New York. The Old Library at the corner of Jefferson and Arch Street, erected in 1860, is in the Italianate style popular during the town's peak railroading years. First United Methodist Church on Jefferson is an impressive 1909 structure in the Late Gothic Revival style, boasting a square battlement tower and unusual polygonal roof.
Most imposing (in its strangely eclectic trio of architectural styles) is the Armstrong County Courthouse on Market Street, built in 1856 during the Franklin Pierce Administration. It features an elegant portico, stone columns and ornamented dome, attached smack up against a Gothic-style jail. (Behind it nowadays is one designated parking space apiece labeled "Detective," "Court Reporter" and "District Attorney.")
The D.A. and the Detective got no business from this summer's Third Annual "Waves of Thunder" Motorcycle Show. That three-day extravaganza, sponsored by local Hose, Hook & Ladder Co. #1, drew colorful hundreds of fearsome-looking but peaceful-acting bikers and their kids to Kittanning Riverfront Park for the food and musical offerings in and around the lovely 1,000-seat Murtha Amphitheatre.
I was there, as my once-svelte but subsequently expanded waistline could attest. Folks were checking out the Army Corps of Engineers' schedule of butterfly migrations and wildflower bloom-weeks in June. The fireflies are out then, the first hay is being cut, the champion bullfrogs are calling, and the locals actually say hi to visitors from their porch, where—chances are—they're watching the lights reflect off the river.
What else can we say?
Perhaps our Song of Kittanning should conclude with the musical clacking of a Daugherty Visible Typewriter—invented there by James Denny Daugherty, a lawyer and court stenographer fascinated by fonts. He owned a Sholes-Glidden and a Remington but was annoyed by their primitive inefficiencies.
In 1881, full of American can-do determination, he created the first working model of his Daugherty Visible. It had 40 keys arranged in four rows, plus a shift mechanism enabling it to type 80 characters in all. Daugherty patented it in 1889 and his Daugherty Typewriter Co. produced some 2,000 machines. The company and its large brick factory in Kittanning were later sold and renamed The Pittsburg Visible Typewriter.
The implication that other inferior typing machines were invisible is not the least—or least cryptic—example of Kittaning charm.