Song of Greensburg
Home of the Palace Theatre
Photos by David Aschkenas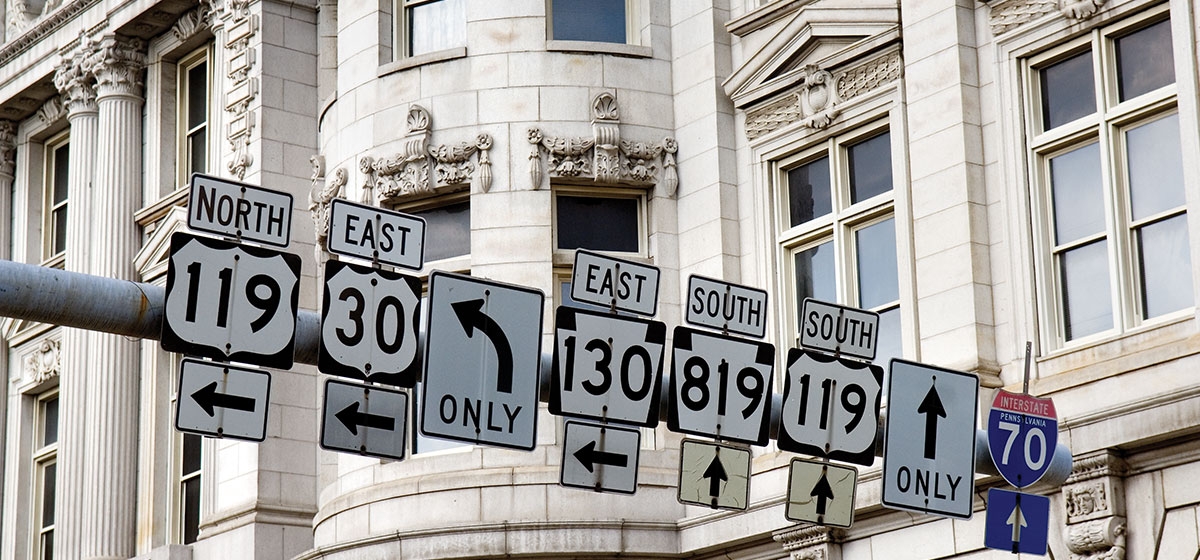 August 20, 2007
A thousand feet up the foothills of the Appalachian Mountains in the beautiful Laurel Highlands lies the city of Greensburg, an hour southeast of downtown Pittsburgh. A major business and cultural center, its 16,000 population doubles during work hours, giving it one of highest daytime-growth rates in the country.

You, like Ed McMahon, did not know that? Perhaps you also didn't know that the town's namesake is Nathanael Greene (1742-1786), a major general of the Continental Army and one of the truly great heroes of the Revolutionary War.
So who left out the "e" in the middle of Greensburg? Don't ask, don't tell, don't know. Suffice to say, Greene was a trusted friend and gifted comrade-in-arms of George Washington, sharing with him the distinction of being the only Continental generals who served throughout the entire War of Independence.
Raised in a Quaker family that excommunicated him because of his military activities, Greene was a lowly private in the Rhode Island militia when the Continental Congress catapulted him to brigadier general in 1775.He distinguished himself in the battles of Trenton, Princeton, Brandywine and Germantown and was Quartermaster General until resigning in a bitter struggle with Congress over how to supply the Army.
Washington sent him south in 1780 to command the Continentals there, when the British still controlled Charleston and Savannah. Greene's greatest contribution to the war came as commander of the strategic American retreat across North Carolina —considered one of the most masterful military achievements of all time. He waged a successful war of attrition against the British thereafter, dividing, eluding and tiring them with the aid of such able subordinates as Poland's Tadeusz Kosciuszko and the brilliant cavalry officer Henry "Light-Horse Harry" Lee.
Greene's heroics were fresh in the mind of settlers who built an inn toward the end of the wagon trail stretching from Philadelphia to Fort Pitt, in what is now Westmoreland County.Court there was held at the estate of Robert Hanna, but on July 13, 1782, a raiding party of Seneca Indians and their Canadian-English allies burned "Hannastown" to the ground.
The smoldering local judges picked up and removed a few miles away to Newtown (now Greensburg), and a log courthouse was built in 1787 on the same location where the glorious Beaux Arts four-story Westmoreland County Courthouse stands today.
Greensburg grew slowly through the mid-1800s until the discovery of large soft coal deposits nearby made it the center of profitable new mining industries. That boom, stemming from the convergence of coal and metal manufacturing, spurred the Pennsylvania Railroad to build Greensburg's 1906 landmark French Renaissance-style train station — complete with gargoyles and Jacobean clock tower — designed by architect William Cookman (listed in the National Register of Historic Places).
The station was a busy place until the rise of automobiles and the fall of the steel industry heralded Greensburg's — and Pittsburgh's — economic decline after World War II.In 1965, Greengate Mall, part of the nation's first wave of indoor shopping malls, marked a new era for retail shopping in the area but injured businesses in the city's downtown corridor. By the late 1970s, many locally owned establishments, including Troutman's, the major department store, shut down.
Downtown Greensburg, since then, has slowly come back to life as the town has become home to new service industries, professional offices and banks. Today, '50s-style shops and restaurants signal the revival downtown, while huge Westmoreland Mall has become the county's largest shopping complex. Construction of the seven-story State Office Building on North Main Street, a four-story addition to the Courthouse Square Extension and the new multimillion-dollar Performing Arts Center of Seton Hill University are expected to fuel future growth of the downtown corridor, adding new jobs and attracting more visitors to the area.
Speaking of visitors, Greensburg has hosted its share of prominent political ones over the years, including appearances by President Bill Clinton in 1994 and candidates John Kerry and John Edwards in 2004.Some local historians say it was the site of the 1854 National Republican Party convention (the GOP's first), despite Pittsburgh's similar claims. Undisputed is the fact that Greensburg is the home of the conservative (and Clinton-impeachment spearhead) Richard Mellon Scaife, owner of the Tribune-Review in Greensburg and Pittsburgh Tribune-Review.
Seton Hill University — formerly St. Joseph's Academy — became a four-year women's institution in 1918. Its St. Joseph Chapel on Seton Hill Drive is a historic must-see for visitors. Designed by Adolphus Druiding (1896) in the Romanesque style, its highlights include 23 unique stained-glass windows and the first pipe organ ever gifted by Andrew Carnegie. Two big rose windows reflect varying shades of amber and blue, depending on the time of day.
Seton Hill's Performance Arts Center in the Cultural District, now under development as noted above, will add to Greensburg's status as a major cultural center in Western Pennsylvania.The literary scene has been enriched by mystery writer K.C. Constantine, who used elements of Greensburg as a basis for the fictional town Rocksburg in his novels.
Far richer, though, is the musical scene, thanks to the legendary Palace Theatre.Located across from the county courthouse at Pennsylvania Avenue and West Otterman Street in the heart of the downtown cultural district, the Palace has been the gem in the diadem of Greensburg cultural life for generations. Opened in 1926 as the Manos Theatre, this beautifully renovated 1,320-seat house is now the home of the Westmoreland Symphony Orchestra and hosts a wide variety of other live entertainment. Most of its original features are intact, including its candlelight chandelier and gold Grecian marble in the lobby, black-and-white floor tiles and classic ticket booth at the entrance. Opera boxes have been replicated and two original murals refurbished. (A third is still hiding behind layers of paint on the ceiling above the orchestra pit!)
A regional venue for the River City Brass Band, Laurel Ballet, Greensburg Civic Theatre and Westmoreland Choral Society, the Palace (owned since 1990 by the Westmoreland Cultural Trust) brings in such pop acts as Joan Baez, Connie Francis, The Oak Ridge Boys and Penn & Teller. It also sponsors touring musicals and headliners from Kenny Rogers and Wayne Newton to Lily Tomlin and Bill Cosby.Harry Belafonte and George Carlin have been there. Vicki Lawrence and Glen Campbell are coming up (Oct. 10 to 11 and Nov. 30, respectively).
But no cultural institution is more important or has done more for Greensburg than the Westmoreland Museum of American Art, specializing in American art c. 1750-1950. Centrally located in downtown Greensburg at 221 N. Main St., it houses a distinguished collection of American (especially southwestern Pennsylvania) paintings, sculpture and furniture, focusing largely on portraiture and landscapes.
The museum was established in 1949 by Mary Marchand Woods, a visionary who bequeathed her entire estate to assemble a collection of significant American works, concentrating on the mid-18th through mid-20th centuries. Its important pieces include Mary Cassatt's compositionally related Jeanette and her Mother seated on a Sofa (etching) and Mother and Two Children (circular oil), John Singer Sargent's Doorway of a Venetian Palace (watercolor) and Winslow Homer's strangely atypical Sunset Fires (watercolor). The museum is also a pioneer of regional acquisitions, such as Otto Kuhler's stunning View of Eliza Furnaces, Pittsburgh (c. 1925) and Aaron Gorson's tiny, hellish Isabella Furnace, Etna, Pa. (1926).
Over the years, the museum has organized such important exhibitions as "All That is Glorious Around Us: Paintings from the Hudson River School" (1997) and "Spirit of a Community: The Photographs of Charles Teenie Harris" (2001), which brought that brilliant African-American street photographer's pictures to a wide public for the first time and gained national media attention. Both exhibitions are still traveling.
Its current exhibition, through Oct. 14, is "Made in Pennsylvania: A Folk Art Tradition," bringing together 400 superb examples of fraktur, salt-glazed stoneware, tanware, textiles and painted furniture originating in western Pennsylvania from 1788-1870.Textiles include outstanding Civil War quilts and samplers. Among the 18 exceptional examples of painted furniture are Soap Hollow pieces from the region.
If you do visit the museum, you should also jog over to nearby North Main Street and take a closer look at that magnificent Westmoreland County Courthouse. One of just two courthouses designed by renowned architect William Kauffman, its massive 175-foot-high central dome can be seen from far and wide, flanked by two smaller domes originally covered with ornamental gold and ivory terra cotta. The front sculptures include three female figures representing Justice, the Law, and the People (hopefully in reverse order of importance).
The main interior feature is the 85-foot cupola of Romanesque design. The center rotunda extends up through four floors, reflecting light from large windows at the base of the dome. Italian marble decorates walls and rotunda alike, while corridor floors and ceilings are laid with marble mosaics. Two original courtrooms on the upper floors boast coved ceilings and Edwardian chandeliers.
Cue in the eerie Twilight Zone music. Time for The Kecksburg UFO Incident! It goes like this: On Dec. 9, 1965, a large, brilliant fireball was seen by thousands in at least six states and Canada. It dropped metal debris over Michigan and Ohio and caused sonic booms in western Pennsylvania.
It was generally reported by the press to be a meteor. But eyewitnesses in the village of Kecksburg — about 10 miles southeast of Greensburg — insisted something crashed in the woods.A boy said he saw it land.His mother saw blue smoke rising from the woods and alerted authorities. Other Kecksburgers, including local volunteer fire department members, reported finding an acorn-shaped object as big as a VW Beetle with writing resembling Egyptian hieroglyphics around the base of it. The military ordered civilians out and removed the object on a flatbed truck.
"Unidentified Flying Object Falls near Kecksburg, Army Ropes off Area" read the next day's Tribune-Review headline. The FAA had received 23 reported sightings by aircraft pilots. A seismograph near Detroit recorded simultaneous shock waves created by the widely seen fireball passing through the atmosphere.
Official explanation: mid-sized meteor. But any meteorite or other large object striking the ground would have left behind a large crater and extensive damage. NASA contradicted the 1965 Air Force story in 2005, saying it had examined metallic fragments from the object and determined them to be from a Russian satellite that reentered the atmosphere and disintegrated. Speculation continues: Alien craft? Remains of a Soviet Kosmos-96 atmospheric probe destined for Venus?
Similarities abound between the Roswell, N.M., UFO incident and this — "Pennsylvania's Roswell." But Kecksburg, unlike Roswell, hasn't fully exploited the tourist possibilities. The sole monument to the incident is a large, bell-shaped, metallic object fabricated by TV's "Unsolved Mysteries" as a model for their episode concerning it. After airing, the show donated the model to Kecksburg, where — placed on a pedestal at the fire department — it now sits beneath a spotlight.
Sic transit flying saucers.
Of more tried-and-tourist interest: Greensburg is within striking distance of not one but two Frank Lloyd Wright gems: Fallingwater (28 miles away) in Mill Run and Kentuck Knob (47 miles away) in the Chalk Hill mountains south of Fallingwater.The region's only 5-diamond resort, Nemacolin isn't far either.For that matter, the somber new 9/11 monument at Shanksville is only about 40 miles away.Picturesque places such as Hunker, Sutersville, Donegal, Ligonier, Loyalhanna, Mt. Pleasant, Crabtree and Slickville would dot the way of your explorations.
Me, I was driving back to the 'Burgh after a delicious Italian meal at Valozzi's Restaurant, off Route 30 near Westmoreland Mall, ruminating about the equally delicious Americana of Westmoreland, its history, its art museum, its palatial theater — when I suddenly noticed a big smile across my own face in the rearview mirror.
What put it there was the memory of meeting Arlo Guthrie backstage after his show at the Palace in July 1979.You could get anything you want at Alice's Restaurant, but you couldn't get a straight answer out of Arlo unless he felt like it.
That night his performance was terrific, and he felt like it. While my pregnant wife bonded with his (expecting their fifth), I asked how he'd compare his own folk-song writing to that of his immortal dad Woody ("This Land Is Your Land," "Oklahoma Hills," "Bound for Glory").After a long pause, he said:
"I'm not near as prolific. I guess I've written several hundred, but that's nowhere near my old man — he was into the thousands. The difference is how many of the tunes passin' through your mind you write down. I was satisfied to let a lot of 'em just go through my mind. Woody never did."
This Greensburg land, then as now, was made for you and me.