Smilin' Charlie Schwab
Life on a large canvas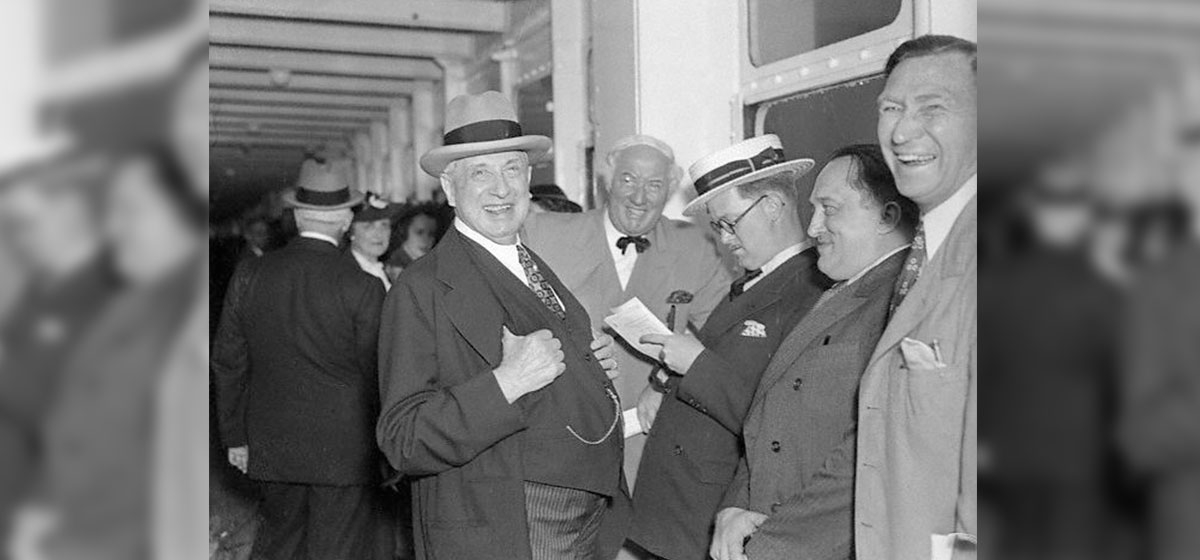 February 21, 2010
The Christmas season was in full flush Dec. 12 1900 at the University Club in New York, where the city's financial and industrial elite gathered to honor Charles Michael Schwab, the president of Carnegie Steel.

A youthful 38, Schwab already had held the position for three years. Attendees included railroaders William Vanderbilt, Chauncey Depew and E.H. Harriman; bankers James Stillman, August Belmont and Jacob Schiff; along with H.H. Rogers, president of Standard Oil. And to the right of Schwab, in the seat of honor, his bulbous red nose rivaling that of a famous reindeer, sat the imperious J.P. Morgan. Andrew Carnegie organized the dinner, attended the reception and then moved on to another engagement. Schwab spoke for a half-hour. The man on his right, fingering an unlit Havana, didn't miss a word.
Schwab's talk might have been titled "The Future of the Steel Industry." Its theme was the virtues of industry consolidation. He envisioned an industrial behemoth, with enough volume to concentrate huge plants upon a single product; what Harvard Business School Professor Wickham Skinner would later term "the focused factory." After the speech, Morgan guided Schwab to the privacy of a window seat, where the two carried on an animated conversation for another half-hour. Morgan concluded by asking Schwab to visit his office. In that brief conversation, the world's first billion-dollar corporation, United States Steel, was conceived. With a rapidly accelerated gestation period, the birth of the elephantine infant was announced March 3, 1901.
Charles Michael Schwab was born in 1862 in Williamsburg, Pa. 15 miles east of Altoona. When Schwab was 12, his father, Joseph, moved the family to Loretto, 15 miles due west of Altoona, where his livery business provided a modest living.
Charlie Schwab started school at age 5 in a school with just a three-month term. After grade school he attended St. Francis College in Loretto—the equivalent of a high-school curriculum. The schooling was sound but heavily laden with moral precepts of the Franciscan founders, notably poverty, chastity and obedience. The education took, but the moralizing didn't. In later life Charlie diligently and successfully avoided all three admonitions. He was first in his class, not through unalloyed intellectual capacity, but rather through a good mind and dogged determination. One of his teachers later reflected: "In all things Charlie was a boy who never said 'I don't know.' He went on the principle of pretend that you know, and if you don't, find out mighty quick." Supporting a good mind and innate ambition was a phenomenal memory—names, dates, facts, figures—today we'd call it photographic.
A notable fillip to his future success might fall under the heading of Music and the Performing Arts. At age 4 he began to sing in his grandfather's choir. When he was 8 his mother bought a small parlor organ and paid for Charlie's lessons. In grade school and high school plays or recitations he was always the star. He loved to play the showman and even the clown. He began working for his father hauling passengers from the railhead at nearby Cresson; during the trip he would regale them with wit and song, earning the moniker of the "singing cabbie."
At 17 his head was almost turned from a career in industry and commerce when he fell in love with a young actress; she convinced him a brilliant stage career awaited. Had he been a little less smart and a little less ambitious he might have given it a try. But his parents soon intervened and sent him to Pittsburgh.
As a rich and famous man years later, Schwab recalled the steel industry's siren call: "Often I lay on a hillside watching those tongues of flame shoot up in a pall around Johnstown. A boy had before him a place of vague forms, great labors and dancing fires." There was a slight problem with this story. Johnstown lay 18 miles to the west of Loretto, separated by several high hills. He couldn't have seen a thing, but the truth here is beside the point. Charlie Schwab imagined the red flames and the vast world beyond and that was truth enough.
When he arrived in Pittsburgh in 1879, he landed a clerk's job through a family connection at McDevitt's store in Braddock, near the entrance to Andrew Carnegie's bustling Edgar Thomson Works. Clerking and bookkeeping offered little challenge to Schwab's supple mind. McDevitt was about to show him the door when fortune intervened in the form of Captain Bill Jones, the foremost steel operator in America.
Apprenticed at 10 as a foundry molder, Jones enlisted in the Union army and rose to command a company, hence the "Captain." Alexander Holley, the designer of the Edgar Thomson Works, hired Jones to supervise construction. After watching Jones work, Carnegie hired him to run E.T., one of the best personnel decisions the canny Scotsman ever made. The charismatic, hard-driving Jones made E.T. the most productive rail mill in the world. Captain Bill Jones was the king of Braddock.
It turned out that the king bought his cigars at McDevitt's store. The commercial transaction was invariably accompanied by spirited conversation with the quick-witted Schwab, who threw in a few quips and an occasional joke. Jones liked what he saw and offered Schwab a job as a surveyor in the E.T. engineering corps. Their friendship was further cemented when it turned out that Jones shared Schwab's love of music. He would later perform at Jones' house and teach music to his children.
Schwab determined to become indispensable. Though his modest education left him generally unqualified for every new assignment he received, he read books and created a small lab in his home to master metallurgy. Occasionally he stumbled, but his more experienced associates and superiors were always willing to give a little boost to smiling Charlie; they couldn't help liking the guy.
In addition to promotions at E.T., Jones rewarded Schwab by making him his messenger to Andrew Carnegie. Once when Carnegie was delayed, Schwab played Carnegie's parlor piano. When Carnegie came in, he stopped, but Carnegie urged him on. Carnegie loved music, particularly Scottish tunes and ballads, and asked if Schwab could play his favorites at a party three days hence. Schwab had no Scottish repertoire, but rehearsed the selected numbers and performed to Carnegie's delight. On the slippery climb up the corporate pole, you have to perform, but your performance has to be visible. Charlie Schwab was now under the eyes of the big guy.
In 1880, Schwab met his future wife, Emma Eurania "Rana" Dinkey. The Dinkeys were originally from Alsace-Lorraine, and Schwab lived at their Braddock boarding house. Following a three-year courtship, they married in 1883. Rana was two years older than Schwab, and throughout their 55 years of marriage, they referred to each other as "old lady and lad." The marriage was childless.
Schwab's rise at E.T. was meteoric. By 1886, the 24-year-old was Bill Jones' right-hand man. He was ready for a greater challenge. On Jones' recommendation, Carnegie named Schwab general superintendent of the Carnegie Phipps Homestead Works. Homestead was a failed rail competitor to E.T. Carnegie had bought it for a song and retooled it to make structural steel, serving the burgeoning market for steel frame structures. Schwab made $10,000 a year ($200,000 in today's money), a nice step up from his salary of $20 a month six years earlier.
Schwab turned the lagging Homestead plant around. Carnegie was thrilled to have the two most capable steel men in America running the two major units of his empire. But this felicitous state of affairs came to an abrupt halt in September 1889, when Jones was killed in an explosion at E.T. He received the equivalent of a state funeral; 10,000 Carnegie employees and their families lined Braddock's streets to view the procession. Soon after, Schwab petitioned Carnegie for Jones' job. Carnegie was reluctant to have Schwab leave Homestead but even more reluctant to turn him down: "If you want to have the honor of succeeding to Captain Jones' position I will oblige you." At 27, Schwab became general superintendent of the largest steel works in America. His future appeared limitless.
July 1, 1892 marked the onset of the most famous strike in U.S. history. Homestead wasn't so much a strike as a lockout. Carnegie and Henry Clay Frick were determined to break the Amalgamated Union they inherited with the purchase of Homestead, and break it they did. At Carnegie's insistence, Schwab was sent back over to Homestead as general superintendent in October. He lived in the plant, visiting every nook and cranny many times on a 24-hour-a-day basis. He not only brought the men around, but totally reorganized production. By 1900, he had made Homestead the largest steel plant in the world, surpassing E.T. as Carnegie's crown jewel.
But not all was an upward trajectory. His career almost ran on the rocks over the great armor plate scandal. Some Homestead employees (today's whistle blowers) reported (for a share of the fine) named a figure: $400 million. Morgan accepted. Days later, Carnegie had second thoughts and told Schwab he didn't want to do it. The younger man looked his slippery master in the eye and told him he couldn't renege; Carnegie grumbled and then backed down. U.S. Steel was born.
With the deal done, two of the three parties heaved a sigh of relief: Morgan, because he had the unpredictable and potentially destructive Carnegie off the playing field, and Schwab, because he was out from under the eye and command of his longtime benefactor. Schwab didn't smoke and drank sparingly, but he did like to gamble. His favorite pastime was a Saturday night poker game, and on every trip to Europe since 1886 he managed to hit the tables at Monte Carlo. All this was hidden from Carnegie. A far more serious Schwab transgression was an affair with a beautiful redheaded nurse who was attending to Schwab's sister-in-law at their home. The young lady gave birth to an illegitimate daughter—Schwab's only child. Schwab provided handsomely for her upkeep and saw her faithfully once or twice a year. Until he reached the safe zone of U.S. Steel, Schwab lived in mortal fear of Carnegie's unearthing his secret; Carnegie would have fired him in an instant. His wife did find out and forgave him, but he continued to have a roving eye.
Schwab's three years as the president of U.S. Steel were not happy ones. The root cause was the organization of that sprawling giant (with 213 mills and 78 blast furnaces) into a holding company. As president of Carnegie Steel, Schwab ran the company with only occasional interference from Carnegie. At U.S. Steel, the board impinged significantly on Schwab's prerogatives.
Also restricting Schwab's freedom was the corporation's philosophy. Unlike Carnegie Steel, which was a growing enterprise that wielded its cost advantage to increase market share, U.S. Steel at its inception controlled roughly half the American steel market and was run for stable profits, not growth. Embodying this policy was Judge Elbert H. Gary, former president of the Federal Steel Company, the second largest of the merged entities creating U.S. Steel. Gary didn't drink, smoke, gamble or tell off-color jokes. Sober as a judge, he was the anti-Schwab. As chairman of the board's executive committee, he steadily reduced the content of Schwab's job until it was patently subordinate to his own.
If all this were not enough, Schwab hastened the day of his departure by conduct unbecoming the president of the world's first billion-dollar corporation. As president of Carnegie Steel, Schwab was relatively anonymous. As U.S. Steel president, the public hung on his every word. Schwab basked in the public eye but didn't choose his words wisely. In today's par-lance, he was politically incorrect. He said college was not necessary for success in business and unions were inimical to economic growth. In the outspoken, colorful, smiling Schwab, the press found an easy target, and they never let up. The coup de grace came with their lurid reports of his 1902 visit to Monte Carlo. A New York Sun headline blared "Schwab Breaks the Bank." Carnegie was livid, and this hurt Schwab to the quick. Morgan defended him, but the die was cast and, after a lengthy leave of absence, Schwab resigned the presidency in August 1903.
With his Carnegie wealth finally unlocked, Schwab set about spending it. His mansion, Riverside, at 72nd and the Hudson River was the last and largest of New York's block-long mansions—costing over $5 million ($100 million in today's dollars) and dwarfing those of Frick and Carnegie. It had 90 rooms, six elevators and its own power plant which burned 10 tons of coal a day. Smiling Charlie's carbon footprint was not small.
Joseph Boyer, a gifted Canadian inventor/machinist, approached Schwab for venture backing for two inventions: a pneumatic hammer and an adding machine. Schwab backed the hammer (more industrial) and turned down the adding machine. His $100,000 investment reaped a solid return as the Chicago Pneumatic Tool Company. Unfortunately he let the big one get away. The adding machine was backed by Detroit businessman William S. Burroughs. As a manufacturer of computers, the Burroughs Corporation at its peak had a market capitalization well in excess of U.S. Steel.
Some eight weeks after resigning the presidency of U.S. Steel, Schwab bought Bethlehem Steel Company as a personal investment. He was actively involved in the mergers that created American Steel Foundries and the International Nickel Company.
For once his plate seemed a little full. He sold Bethlehem back to the Morgan interests. A year later he bought it back and immediately sold it for a handsome profit to the jerry-built U.S. Shipbuilding Company. In doing so he bought himself a bellyful of trouble. U.S. Shipbuilding went into a very messy and well publicized receivership. Schwab lost money on the U.S. Shipbuilding transaction but remained in control of Bethlehem Steel, along with several ship yards. He was not guilty of fraud but that cut no ice with the press, which nailed his hide to the barn door in bleeding strips with headlines such as "Schwab Guilty of Big Fraud," "Schwab a Wrecker" and "Death Grip of Schwab."
F. Scott Fitzgerald famously proclaimed, "There are no second acts in American lives." With his transformation of Bethlehem Steel, Schwab was to prove him wrong. Bethlehem traced its origins to the Sauconia Iron Company established in 1857. In 1873, under the name Bethlehem Iron Company, it began the production of Bessemer rails. In 1885, it shifted its mix to concentrate on plates and heavy forgings for guns and engine shafts, becoming the principal supplier to the expanding Blue Water Fleet of the U.S. Navy. When Schwab took over active command of Bethlehem in 1904, it was a relatively small but well run and profitable enterprise.
In typical style, Schwab began his reign with a ringing proclamation: "I intend to make Bethlehem the prize steel works, not only in the United States but in the entire world." He moved quickly to diversify the customer base away from the U.S. government. He reduced shipbuilding facilities from seven to three and began producing special steel alloys, large machined pumps, hydraulic presses and, most notably, open- hearth steel rails. Convinced he could not run the company from New York, Schwab closed his mansion and moved to a comparatively modest 15-room home in Bethlehem.
Frederic W. Taylor, the father of industrial engineering and so-called scientific management put his initial "time and motion studies" into practice at Bethlehem 5 years before Schwab's arrival. As one might imagine, scientific management with lots of charts and figures gave Smiling Charlie a headache. "Slide rule men," as he called them, were soon gone. Rather Schwab gave the departmental superintendents unbridled authority to hit the numbers any way they chose. Industrial engineering would eventually slip into Bethlehem by the back door, but Schwab's inspired leadership got the job done early.
How did tiny Bethlehem Steel grow to become, at the time of Schwab's death in 1939, the nation's second largest steel company with 60 percent of the capacity of industry leader U. S. Steel? The answer is simple. It was Schwab's discovery and elevation of Eugene Gifford Grace to be CEO. While the Grace name has gradually been lost in the fog of time, it belongs in the quintet of American steel luminaries, along with Carnegie, Frick, Schwab and Ken Iverson, Nucor CEO and father of the mini-mill. Fourteen years younger than Schwab, Grace graduated from Lehigh University in 1899. He nearly became a professional baseball player, but instead joined Bethlehem. In 1906, Schwab sent him to Cuba to straighten out the Juragua Iron Mines, Bethlehem's principal iron ore source. He succeeded admirably and returned as general superintendent of the Bethlehem plant. He was named president in 1913 at the age of 37. Grace was effectively the CEO and remained in that position until a series of strokes forced his retirement in 1957. In a 44-year run, Grace, for better and worse, stamped his character on Bethlehem Steel. It was role reversal for Schwab. With Carnegie, he ran the company while Carnegie owned it. With Bethlehem, he owned it (at least early on) while Grace ran it.
Schwab always had a quick eye for the main chance. A rare opportunity presented itself in the form of Englishman Henry Grey, the inventor of a new structural beam. Familiar with structural steel products since his time in Homestead, Schwab boldly introduced the product at Bethlehem as part of his effort to wean the company off government contracts. In cross section, a structural beam looked like the letter "I"—hence "I beams." Until the advent of the Grey beam, structural sections were fabricated by riveting three plates together. Grey's breakthrough was to produce the I section from a single steel billet by means of a series of complex, shaped rolls. The resulting Grey beam eliminated all the fabricating labor and manufacturing. Furthermore, it provided greater carrying capacity per ton of steel.
But before this revolutionary advance could be marketed, it had to be produced, and this required a huge capital outlay of $4.5 million. In 1905, Schwab set out to raise the money. Buffeted by the financial panic of 1907, it was a daunting task. As was his wont, Schwab attacked on all fronts. He sought and received vendor financing. He personally guaranteed several loans and even received money from Andrew Carnegie, signaling a healing in their previous breach. Carnegie paid tribute to Schwab in congressional testimony: "There is not a girder made in America that does not charge the customer for 15 percent of the steel in the beam which is useless…Mr. Schwab is a genius. I have never met his equal." The Grey beam was a thumping success and fabricated girders soon went the way of the buggy whip.
While U.S. Steel was born in a multiplicity of mergers like a cosmic big bang, Bethlehem became the industry's number two producer by a series of acquisitions from 1916 to 1922, including the Pennsylvania Steel Company, the Lackawanna Steel Company and Midvale-Cambria Steel Company.
Shortly after the guns of August 1914 signaled the outbreak of World War I, the British government called Schwab to London. He huddled with the triumvirate of British warlords: Secretary of War Herbert Kitchener, First Sea Lord John "Jackie" Fisher and First Lord of the Admiralty Winston Churchill. He left with an order valued at $135 million for a variety of guns, along with a shell order calling for 50,000 units a day. Soon came an order for 20 submarines for the Bethlehem shipyards. Bethlehem's armaments capacity was so valuable that the Germans, and later the British, tried to buy the company. In 1916, Bethlehem's $61 million profit exceeded its total sales from 1904–1912. In 1918, the war's final year, President Woodrow Wilson appointed Schwab director general of the Emergency Fleet Corporation and put him in charge of the entire U.S. shipbuilding effort.
He was a relatively young 56 and would live another 21 years, but 1918 was the apogee of his career and personal wealth. From there, it was all downhill—not a black diamond, but a gradual and often pleasant green slope.
During the war, Schwab began to accumulate land near his boyhood home in Loretto. On his 1,000-acre plot he built an estate, Immergrun ("evergreen" in German), comprising 18 buildings with a 40-room main house. Here even the chickens lived in the lap of luxury with replicas of French cottages replacing traditional chicken coops. He built a nine-hole golf course with every hole a dogleg right. Smiling Charlie had a problem with his slice, and if you had his dough, why struggle to adjust your swing to the course when you could fit the course to your swing? Immergrun was completed in 1919, just weeks before Carnegie's death. As legend had it, the old man asked his secretary to bring him a photograph of Schwab. He looked at it and then closed his eyes for the last time. A true story? Don't bet against it.
During the '20s and '30s, Schwab was a roving ambassador for Bethlehem Steel. He gave a lot of speeches, and they often began like this: "Now boys, here is a speech written for me by Ivy Lee and Gene Grace filled with the things 'they' think I ought to say. Here is what I think of that idea." He would tear the speech into little bits and toss it at the audience like confetti. And here was the scam: With his photographic memory, Schwab glanced at the speech for a few minutes beforehand and then gave it almost word for word.
In 1927, he succeeded Judge Gary as the head of the American Iron and Steel Institute and served until 1934. He remained chairman of Bethlehem Steel at a munificent salary of $250,000 per annum until his death in 1939. He needed the money. It was by no means payment for services rendered, but rather a reward for labors long past.
Schwab died bankrupt in 1939. Rana predeceased him by nine months. No details are available, but we can glimpse the outlines of his financial fall. Charlie was always a big spender. And even in the Depression-bitten '30s, he economized only moderately. He loved to gamble but he no more had a gambling problem than he had a drinking problem. The inimical effect of his gambling proclivities showed up in his business practices. He always played the market; he even had a stock ticker installed at Loretto. Doubtless, the biggest part of his fortune went with the deluge of 1929. But even in the '30s he took many flyers on unwise private investments.
As the stories of Carnegie, Frick and Schwab are closely interwoven in the history of Carnegie Steel and the birth of U.S. Steel, some comparisons of the three might be illustrative. Intelligence: Carnegie wins in a walk-away, then Frick and Schwab. Entrepreneurial skills: again, first Carnegie, Schwab second, then Frick. Business acumen:, Carnegie and Frick head-to-head with Schwab way back. Managerial competence: Frick by a nose, then Schwab, Carnegie last. Personality and salesmanship: here it's Schwab hands down, Carnegie a respectable second and Frick last. In this win, place and show, there is nothing wrong with third place. In golf it would be like comparing Tiger Woods, Jack Nicklaus and Ben Hogan—all world-class. In 1889, Carnegie set forth his philanthropic ideas in a North American Review article titled "Wealth" and later "The Gospel of Wealth." In a nutshell, Carnegie said to give it away. "He who dies rich dies disgraced." Charlie Schwab had a little different take on things: "I disagreed with Carnegie's idea on the best way to distribute his wealth. I spent mine. Spending creates more wealth for everybody." We have no reason to doubt this was said with a straight face and childlike innocence.
The author gratefully acknowledges the following works in the research of this story: "Steel Titan: The Life of Charles M. Schwab" by Robert Hessen and "Industrial Genius: The Working Life of Charles Michael Schwab" by Kenneth Warren.