Nick Has Bikes and Jennie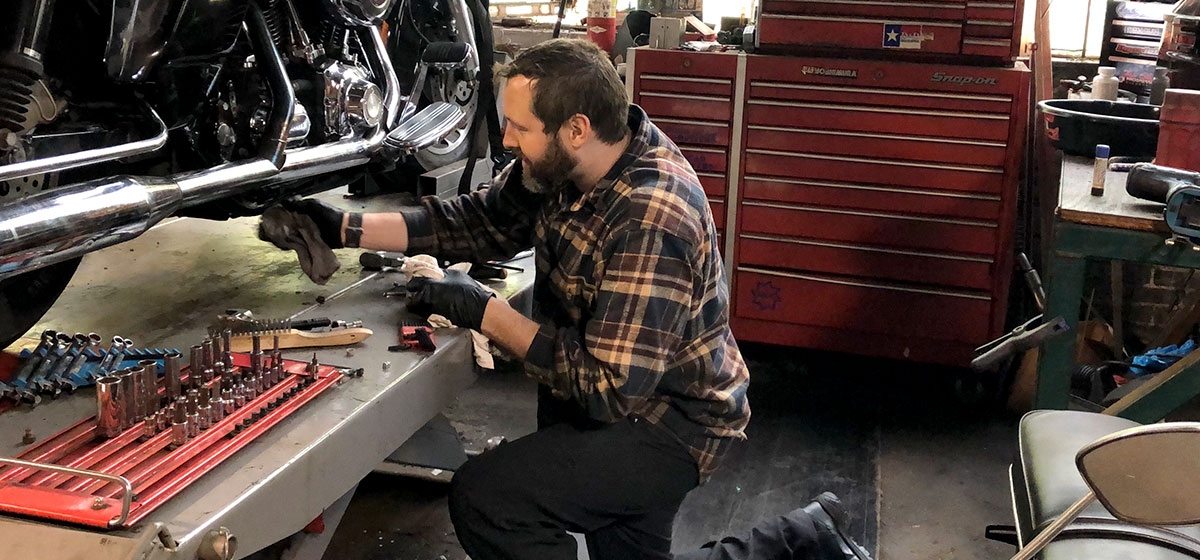 June 20, 2019
The sidecar finally arrived from Canada. It was supposed to be here yesterday, then at 9 a.m. this morning. Then, there was something about it being stuck in customs in Cleveland, but the customer service rep up in Quebec promised that wasn't true, although no one was sure because the French accent was thick.

---
---
But the delivery truck finally showed up at Norm's Cycle Center on Forest Avenue in Homestead around three o'clock, ready to unload a massive, wooden crate made from plywood and 2'x3's and held together by about 100 nails. The sidecar is inside. It is very long and very sleek and very shiny, even under a thin layer of dust.
"Oh man, that sidecar is so gorgeous," says Nick. "Look, it matches the paint job on the bike perfectly. It's like, totally perfect."
The paint job on the sidecar is two tone: black on the bottom and a merlot-ish, mahogany-ish metal flake on top, depending on how the sun catches it. It will take three days to mount it to the Harley it was made for.
"It's so crazy, how they were able to match the paint so perfectly," he says, turning his attention to a gasket that needs changed on another Harley that's sitting on a nearby lift. "Transmission gaskets are as simple as they could be to change," he says, a pair of black disposable gloves covering his hands as he maneuvers an Allen wrench in between chrome guts. "Well, hopefully."
Nick's been wrenching on bikes since 2001. His dad, Norm, opened the shop in 1968. When Nick graduated from high school, his dad said, "Well, boy, you're either going to go to college or work down here."
So, Nick went to college. Was three years into his engineering degree and a few credits shy of getting his diploma when his dad said, "Want to take over the family business?"
"My mom and dad were finally getting divorced," Nick says. "Maybe one day I'll go back and get my degree. But I enjoy bein' here, so…"
The shop is very large and very cold and there are motorcycles everywhere. In the front, motorcycles. In the back, motorcycles. Behind a set of slightly sagging, nine-feet-tall sliding doors, motorcycles. Honda's and Kawasakis and Suzukis and Harleys, an orange Buddy 125 scooter with a top speed of 80 and a white Polaris quad with a Steelers sticker on the hood. There are bikes that run and bikes that don't and bikes that are dismembered and just used for parts. There are rows of metal shelving filled with brake pads, tires, and spark plugs; accessories like ElectroPods lighting kits, metal and rubber handgrips, bottles of Castrol and Mobil1, stacks of service manuals and tubs of RED "N" TACKY #2 GREASE. "We're doing a lot of maintenance right now. Getting carburetors cleaned and fixing electrical problems. But basically, it's tires, brakes, oil changes, inspections. Stuff like that."
"The pizza's here," Jennie says.
"Oh, man," Nick groans. "Why did you order that pizza?"
Jennie is Nick's girlfriend. Well, fiancée. "I gave her a ring. She took it. And then she said, 'This is enough for me.' She doesn't want to get married. I'd totally marry her, but she says a piece of paper will change everything. And I get that."
"I hate weddings. I hate having my picture taken. And I hate kids," Jennie says.
"Technically," he says, paying the pizza guy for a pizza that they both will agree is terrible, "we are married. Although officially we are not."
Jennie is usually at the front, on the computer, helping customers, or wiring things. When she's at home, she's fixing and restoring old pinball machines. "The electrical components and everything," Nick says. "She started out with a manual and just taught herself. She's my little electrical genius. I think it's awesome. But nope, she won't marry me. Although everyone still always wants to know when we're having kids."
"Everyone always asks about kids," Jennie says.
"That's our kid," Nick says, pointing to a very compact Pomeranian who is waiting impatiently at Jennie's feet for some pizza. "Fink's our kid."
"He's filthy," Jennie says. "He needs his oil changed."
Fink was out of commission for a while with a cyst on his back, which bummed everyone out who came into the shop. Aw, where's Finky?
"He's doing much better," she says. "But he needs a bath."
"I swear he was a muddy little piglet in another life," Nick says.
Lately, Nick's been here almost every day, changing oil and putting new inspection stickers on and pulling sidecars out of wooden crates, while Jennie deals with people who walk in the door and need two new Pirelli's put on by tomorrow, please.
"Everyone has spring fever," he says. "I'm coming in seven days a week just to get caught up and it just never happens. But it's a good problem to have. I'll take that problem any day. Way back, I once said to my dad, 'Can I have a day off?' and he said 'Yeah, you can have a day off. Off your ass and on your feet.' My dad was great. He was one of the greatest guys out there. I'd never change the name of this place. It's my dad's legacy. I'm just carrying it on for him… hopefully."