Sinkholes, Congestion and Amazon
Region mulls new approaches for managing transportation
Right: Photo by Darrell Sapp, courtesy of the Pittsburgh Post-Gazette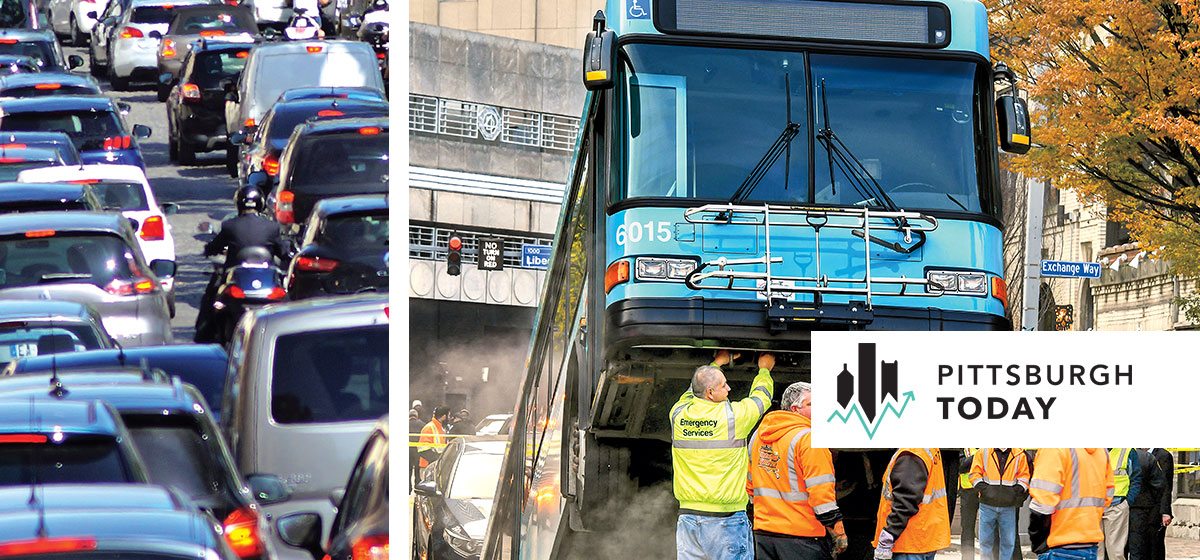 February 20, 2020
On the morning of Monday, Oct. 28, a massive sinkhole, roughly 20 feet in diameter, suddenly opened on 10th Street in Downtown Pittsburgh, swallowing the back half of a Port Authority bus.

There were no serious injuries, and the cartoonish photos shared from the scene were generally met with delight on social media across the country. But for local traffic experts, the meme was a grim reminder of the region's chronic and compounding transportation issues, and the pressing need for new policy.
As southwestern Pennsylvania struggles with deteriorating infrastructure coupled with rising demands on roads, researchers in Pittsburgh are charting new approaches for the ways metro areas can manage and finance their roadways.
"We want to improve quality of life. We want to improve air quality and reduce the wear and tear on our infrastructure," said Karen Lightman, executive director of Metro21: Smart Cities Institute at Carnegie Mellon University. "We've got to find ways to make vehicles that use the infrastructure and use the road pay for them in a more equitable way."
Deteriorating roads
If roads are the arteries of an economy, then Pittsburgh's economy has heart disease.
Deteriorating infrastructure has been a regional issue for decades, and new studies suggest the consequences are becoming increasingly dire.
"Pennsylvania's transportation system has fallen into an alarming state of disrepair," states a Pennsylvania House of Representatives Infrastructure Task Force report released in November. "Our review of the state of our system revealed crumbling roads, failing bridges, [and] aging railcars and buses."
Federal Highway Administration data suggest 30 percent of Pennsylvania roads are in poor condition and 18 percent of bridges are structurally deficient, according to a September study based on 2017 data that was published by Lending Tree, an online loan marketplace. Those metrics and an annual repair cost of $610 per motorist give Pennsylvania the fifth worst road infrastructure in the nation. Only Mississippi, West Virginia, Oklahoma and Rhode Island are worse.
Both reports find that the problem stems from a perennial lack of investment.
"Money for transportation and infrastructure is insufficient. What's coming down from Washington is insufficient. What's coming from the state is insufficient," said Karina Ricks, director of the City of Pittsburgh Department of Mobility and Infrastructure. "The source of funding from both of those is generally the gas tax. As vehicles get more efficient, as we electrify the fleet, that's a diminishing resource."
According to the Congressional Budget Office, The Highway Trust Fund, the main federal source of highway and public transit funding, will be insolvent by 2021 and rack up $164 billion in debt by 2029 due to projected declines in revenue from fuel taxes.
The Pennsylvania Transportation Advisory Committee warned last year that the state Motor License Fund, which receives 75 percent of its revenue from the state's liquid fuels tax and provides the majority of state transport funding, could be reduced by $4.9 billion by 2029.
"We're going to need to look to other ways to replace that, because I think we all agree that we need to continue to invest in a state of good repair for our infrastructure," Ricks said.
The troubling projections of funding shortfalls come as southwestern Pennsylvania faces new and daunting strains on local roadways.
New challenges
Recent data suggest that the roads of southwestern Pennsylvania have grown more crowded and more vulnerable to damage from extreme weather in the last several years. Annual traffic delays in the Pittsburgh Metropolitan Statistical Area increased by 18 percent to 46 hours in 2017, according to the most recent national Urban Mobility Report from Texas A&M University.
Vehicle miles traveled and congestion have been increasing across the nation since 2014. The Pittsburgh MSA is no exception. Daily vehicle miles traveled in the region rose from 33,977,000 in 2017 to 35,691,000 in 2018, an increase of 6 percent, Federal Highway Administration data suggest.
While longer-term trends, such as a growing economy and rising rates of urbanization, are contributing to increasing traffic levels, experts said the more recent rise of ride-hailing services, such as Uber and Lyft, and e-commerce delivery services are also playing a significant role.
Direct-to home delivery, for example, has increased by roughly 12 percent annually for the last 25 years and is accelerating with the growth of Amazon's shipping networks. "The amount of real-time freight delivery is having a big impact on the region's traffic, and we expect that to grow," said Stan Caldwell, executive director of the Traffic21 research institute at CMU.
Meanwhile, environmental trends are also exacting a heavy toll.
The wettest years on record in the region were recorded in 2018 and 2019. Record-setting rainfalls have caused landslides and flooding that have shut down vital transit corridors and left massive holes in the budgets of both the state and local governments.
In 2018, Pennsylvania Department of Transportation exceeded its landslide budget by nearly $100 million. The City of Pittsburgh estimates it will cost more than $12 million to repair damage from last year's landslides, $4 million more than the city can afford to spend this year.
A sense of urgency
Such trends underscore the urgency of policy approaches. In Pittsburgh, the city government is working with Carnegie Mellon University to study managing roads with pricing policies based around local traffic levels.
"Congestion charging is something I think Pittsburgh will have to think seriously about," Ricks said. "That is perhaps not the most politically desirable concept, but we have very tight streets, and they are in a triangle. There's only so much operating efficiency that we can eke out of that network."
In congestion pricing schemes, vehicles must pay a premium to access certain areas of a city or region. The tolls are assessed at driving speeds by electronic toll-collection technology, similar to what is found at certain toll-collection points along the Pennsylvania Turnpike. Such systems have been found to thin congestion by discouraging discretionary travel or shifting it to other modes of transportation during peak hours. And they generate revenue to help pay transportation costs.
Singapore has charged fees to enter its central business district since the 1970s. London and Stockholm each adopted their own congestion pricing programs more than a decade ago.
In Central London, the pricing scheme reduced congestion by 30 percent within one year. Over the first decade of the program, gross revenue reached $3.9 billion, all of which, by law, was reinvested in local infrastructure. In Stockholm, traffic to and from the inner city was reduced by 20 percent, and the pricing system generates USD $155 million per year in revenue. In Singapore, traffic levels have been reduced by 24 percent since 1998, and the $100 million annual net revenue has funded extensive improvements in public transportation, resulting in greater bus and train ridership.
New York is expected to become the first American city to roll out a congestion pricing plan in 2021. Washington, D.C., and Seattle are studying the feasibility of congestion pricing as well.
Traditional congestion pricing schemes are based on flat fees depending on the area or time of day. Today's technology, however, makes it possible to track vehicle and infrastructure usage at a much more granular level and more equitably spread the cost.
In Singapore, tolls on certain roadways have been fluctuating based on real time congestion data since 1998, and experts say such smart urban infrastructure will be key to managing the region's roads.
"In the future we'll have connected vehicles. Not necessarily autonomous, but connected vehicles with connected infrastructure," Lightman said. "It could be mandated that if you are a delivery vehicle, you have to have the sensor that measures how much time you're idling, how much time you're sitting at a curb, how many miles you're traveling and charge accordingly."
Metro21 and the city's Department of Mobility and Infrastructure recently joined forces to study a smart pricing system for the Pittsburgh's curb space. "Right now, the way that we price the curb is really on an hourly basis, or it's a day or an annual," Ricks said. "But that's not how curbs really exist, especially as you're getting into commercial deliveries or pickup and drop-off kinds of activities. People are only using the curb for minutes or even less."
Under the proposed smart curb system, real time fluctuations in price based on road conditions could incentivize Uber drivers or Amazon delivery trucks to avoid certain streets and intersections depending on the time of day, reducing congestion and easing traffic flow. CMU researchers are currently working with the city to identify candidate spaces across the city.
While the motion sensors, Wi-Fi and other smart traffic management technologies are relatively simple, the politics around them are complex.
Former CMU Provost Mark Kamlet, now a professor of economics and public policy, pointed out that a such a system would require standardized technology across all classes of vehicles as well as some kind of regulating authority to set rates. And regulators would have to contend with private companies, such as Amazon, that will be loath to share proprietary data on their operations. "The stumbling blocks are going to be these policy, logistics and legal aspects more than they're going to be technology."
But, Ricks said, greater data sharing among the government and major transport-based companies and new funding sources are inevitable as our roads become more strained.
"If your business model is dependent on efficient delivery, you are also dependent on us being able to efficiently manage the roadway space so that you can get to where you're going."