Shopping in WashPa
Visit the shoppes at Quail Acres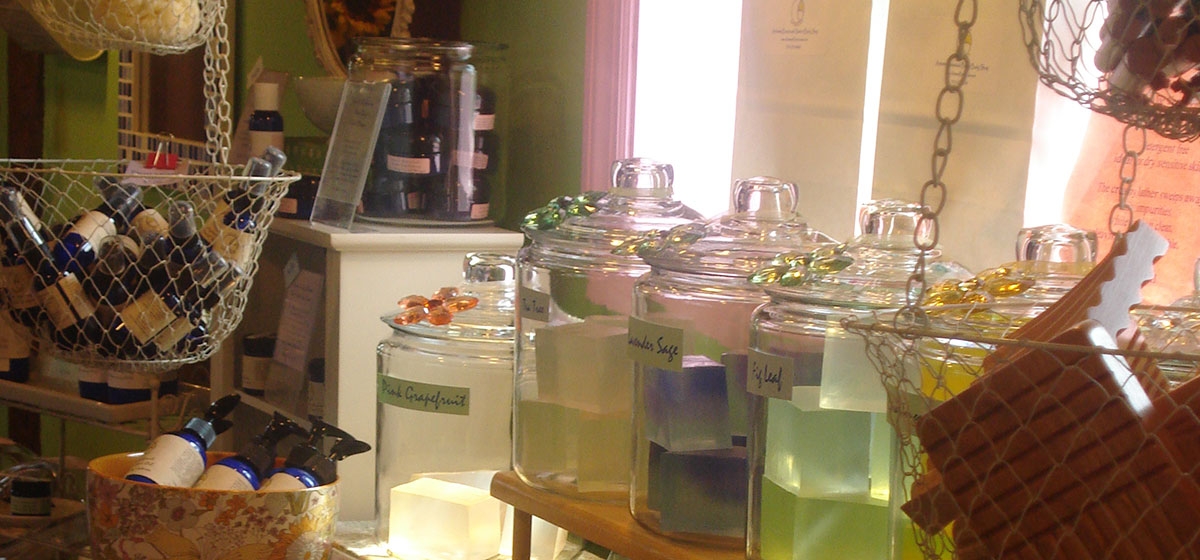 November 20, 2011
With the holidays' approach, a visit to The Shoppes at Quail Acres in Washington, Pa. will help you get presents, hostess gifts and decorations under control.

Half a mile from The Meadows Casino & Racetrack and the Tanger Outlets, The Shoppes are on the grounds of the former Quail Acres estate, featuring the beautifully restored 1837 colonial-style Quail House and outbuildings.
Plan a late-morning arrival and homemade pastry and freshly brewed coffee or tea of the day at Country Angels Tea & Coffee. The selection of 100 types of coffee beans, 85 loose teas, jams, curds, honeys and gift baskets is amazing. A great first stop for gifts is Artemis Botanicals Natural Organic Bath Shop. The fresh-cut glycerin soaps come in a wide variety of seasonally changing natural scents and look great paired with a glass soap dish created by a local artist. Handcrafted by owner Terri Neil, they're all natural, paraben, mineral oil and detergent-free. Keep a couple of gift baskets on hand for emergency gifting.
French Quarter (Chandelle Chaleur/Ooh La La Boutique) has items from around the block and the world. Want to "buy American?" Stock-up on Root (Ohio) or Woodwick (Va.) candles or flameless Habersham Wax Vessels (Ga.). Don't miss the hand-blown friendship balls, the Pittsburgh-based Little Earth license plate, Penguin- and Steeler-themed purses, or jewelry and scarves from 15 local female artisans. Want an international flair? Try Scottish and Irish jewelry, Italian glassware, Persian and Indian textiles and one-of-a-kind Canadian Miss Mac handbags.
Accents at The Quail brims with gifts and accent pieces for the home, including Ozark artist Linda Lindquist Baldwin's Belsnickle Santas and personalized picture frames. Shopping for a new baby? There are darling outfits, cuddly toys and American-made baby jewelry. Travelers will love the packable clothing blending form and function. For fashionistas, see the sterling silver jewelry created by 31 families in Taxco, Mexico—sales support their mining town.
Andrea's Floral Loft has fresh and silk arrangements, "no-calorie" cakes made of flowers, and delicious fruit baskets and nut tins. Their selection of spices, homemade aprons, throws and placemats are wonderful hostess gifts.
Dogs Rule Grooming Salon and Shoppe features pet-related items from store-made, natural gourmet treats with human-grade ingredients to clothing, ornaments, gift baskets, collars and leashes. They perform grooming and have a fenced-in play area for restless pets.
Indulge yourself, too, with an appointment for a massage, mani-pedi or shampoo and updo at Bella Coloré Salon & Spa. Then, perfect your holiday look with natural and organic make- up from Glam Earth. Owner and Emmy-Award-winning makeup artist Marianne Skiba carries products such as Ecco Bella, 100% Pure and Obsessed, and can show you tricks of the trade.
After shopping, stroll to Tavern 1837. Its antique marble bar complements the outstanding classic cocktails featuring fresh juices and chef-made simple syrups. They make their own fruit-infused vodkas, and no evening is complete without a Vanilla & Rye—a 1920s-style whiskey sour topped with freshly frothed egg white. Beer drinkers will appreciate the 40+ bottled and draft German, Belgian and UK beers.
After drinks, migrate to the Palazzo 1837 Ristorante, with original architectural features, cozy rooms, and their own twist on Northern and Southern Italian cuisine. Special touches include house-churned sweet cream and rosemary butter. The sheep's-milk fettuccine Alfredo and French-cut, bone-in rib eye are popular choices, along with the wild salmon arrabiatta. Thursday nights feature a 24-ounce smoked beef rib with a sweet whiskey glaze. For dessert, don't miss the Nuttella mousse pie or Lindeman's framboise float. With your mission accomplished, have your porter collect your purchases and drive you home, ready to enjoy the holidays. The Shoppes at Quail Acres, Washington Rd., Washington, PA 15301. Visit quailacres.com for additional information, directions and hours.