Close Getaway: Sharon, Pa.
Get away to Mercer County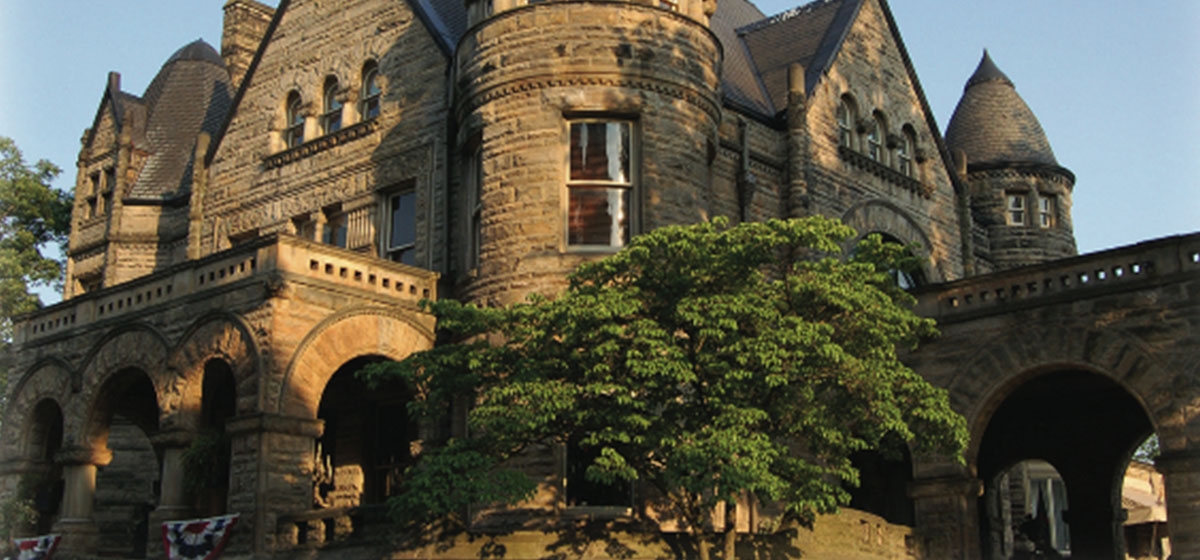 May 20, 2009
Sharon, Pa is a "winner" of a place. Instead of being devastated by the demise of its primary industry (in this case, steel), Sharon thrives, largely due to Jim and Donna Winner. Winner invented the auto anti-theft device, The Club, and the couple has made major investments in their native Mercer County.

Among them are two inns: Tara, a Country Inn and the Buhl Mansion Guesthouse and Spa. Both have rich history, unique decor and impeccable service. Guests are welcomed to their rooms with champagne, fruit, nuts and cheese, ice in the bucket and a roaring fire in season. Beds are double-sheeted. Bathrooms have jetted tubs, fluffy bath towels, luxurious bathrobes, talcum powder and exquisite soaps. Love breakfast in bed? Hang your order on the door, and a delicious breakfast including warm baked goods arrives in the morning. Morning coffee, afternoon tea, and evening punch and hors d'oeuvres are available at both establishments.
Built in 1854 overlooking Shenango Lake, Tara has 27 guest rooms, indoor and outdoor pools and acres of gardens. The Winners expanded and reopened the Clark, Pa. inn in 1986, along the theme of "Gone with the Wind," but the concept isn't overdone or too schmaltzy. (Don't miss one of the world's largest collections of Civil War weapons.) There are two main dining options: casual Stonewall's Tavern and Ashley's Gourmet Dining Room featuring a seven-course prix fixe dinner served by white-gloved butlers.
A short drive away is the former home of steel baron Frank H. Buhl. When he fell in love with a Sharon native who refused to leave, his mother told him to build her a "castle." The resulting Richardsonian Romanesque Buhl Mansion took six years and $60,000 to build. It was completed in 1896 as Frank's wedding gift to his bride, Julia Forker.
After their deaths, the home housed several failed businesses, was stripped of much architectural detail, and faced the wrecking ball. Donna Winner saw its potential and restored it to its original splendor. It now has 10 guest rooms and a full-service spa. The rooms are a bit more lavish here, but, like Tara, each has its own personality. From the moment an attendant parks your car, you slip into the life of a turn-of-the-century captain of industry. While you may tour other historic homes such as Clayton and Fallingwater, at the Buhl you can sit on the elegant furniture, sleep in the bedrooms and have the run of the house. Voted one of the Top 10 Romantic Inns in America, the Buhl offers a variety of getaway packages, including elopements. For their efforts, the Winners were named Innkeepers of the Year in 2007.
In Downtown Sharon, Donna's store, The Winner, bills itself as the largest off-price dress shop in America. The explosion of tulle and color during prom and homecoming seasons can overwhelm, but the store also carries career clothes, cruisewear, evening dresses and bridal gowns. (Men can retreat to a private lounge for beer, popcorn and TV.) Nearby Reyer's Shoe Store also claims to be "the biggest," carrying a huge selection, with hard-to-find sizes. Both stores offer service that's a mere memory for most of us.
For a quick bite, try the chili dog at Coney Island Niko Lou's. For something spicier, the original Quaker Steak and Lube has wings that somehow seem better than at their other locations. Feed your sweet tooth with locally-made chocolates from Daffin's or Philadelphia Chocolates. You can also boat on Shenango Lake and golf at several courses, including Buhl Farm Golf Course, the only free public course in America, donated by Frank Buhl.
For a winning getaway, Sharon is worth the drive.
Details at winnerhospitality.com and visitmercercountypa.com