Setting the Steelers Standards
Noll comes up a winner in bio "His Life's Work"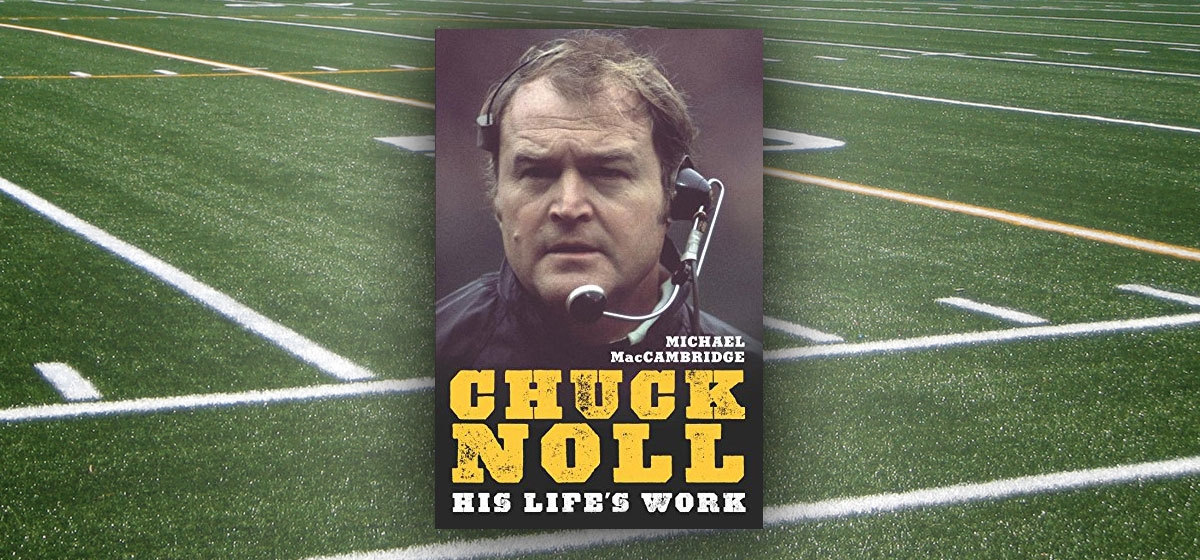 January 4, 2017
Growing up in a local mill town in the late 1970's, Steelers' Super Bowl victories seemed like a birthright. For my generation, it takes little to rattle-off the roster from the '79 season, the last of that era's championship teams. And while the exploits of future Hall-of-Famers Lynn Swann and Jack Lambert live on in NFL films, it was Head Coach Chuck Noll, the stoic "Emperor," who stands as the biggest reason for their success.

Author Michael MacCambridge's 466-page biography "Chuck Noll: His Life's Work" (University of Pittsburgh Press) came about after Steelers chairman Dan Rooney approached him to take up the project. MacCambridge's previous book, "America's Game: The Epic Story of How Pro Football Captured a Nation" won the Nelson Ross Award and gained acclaim from the Washington Post in 2004. "His Life's Work" is eminently readable, insightful and well-researched.
While many biographies trade in scandal, MacCambridge paints Noll, a Cleveland-native and Dayton-grad, as a tireless worker who shied from drama and spotlight, a teacher at heart. In the prologue he writes, "Noll was 'Square' in every respect of the word. Physically, he possessed a resolute formidable blockiness… socially, he was a straight arrow, a regular communicant who never experimented with drugs…scrupulously faithful to his wife during their fifty-seven years of marriage. In sensibilities, he was square: he preferred nonfiction over fiction, facts over interpretation…finally, he was square in a behavioral sense—strict, honest…a demeanor that remained calm in the face of adversity." The author's poignant characterizations of Noll, the Rooneys, coaches, players, family and friends will resonate with readers, allowing this fairly dense tome to become a page-turner.
Many would consider Noll to be boring, but MacCambridge digs deeper. He unveils Noll, the German-American, Catholic grandson of immigrants as an audiophile, oenophile and pilot, among other thoughtful hobbies. This intellectual diversity flies in the face of today's NFL coaches, when a coach like Jon Gruden "was famous for setting his alarm for 3:17 in the morning, so as to be awake and working before his competition." Instead, Noll is revealed as a quintessential family man who kept regular hours, yet remained both successful and influential, his coaching progeny including Hall of Famer Tony Dungy, among others.
This focus on family is perhaps what makes "His Life's Work" such an important read, fleshing out a decent man who did his best to help extended family in ways not publicly known. It's a book that also would've remained unwritten without the access granted by his loving widow Marianne. Their marriage is best summed up by son Chris, who, as a young adult, once-claimed, "I'm never going to get married. I'm never going to have a relationship like you have." By all accounts, the Noll's bond was one of devotion that remained strong even as Chuck began to descend into the depths of Alzheimer's, at one point promising Marianne that he'd never forget her name.
Noll died in 2014 at age 82, but his legacy of championships remains. It wasn't always that way, though. As MacCambridge points out, the team was a laughingstock for almost 40 years. Anecdotes concerning previous coaches and poor player drafts are eye-opening for fans too young to remember when the team was known as the "Same Old Steelers" and when "The Chief," founder Art Rooney, said of his bumbling squad, "the only thing different is the uniforms." If anything, Noll taught the team how to win, a standard that remains for today's team.
While some may bemoan the attention society pays to the athletic sphere, the influence Chuck Noll had on hundreds of players and coaches, as well as the impact the "Super" Steelers had on the region during tough times is hard to underestimate. While the book doesn't delve too deeply into socioeconomics, heartfelt stories from former players and assistants get generously spread throughout, with only Terry Bradshaw abstaining from commenting on their relationship. MacCambridge's due diligence has created an engaging "His Life's Work" that brings Charles Henry Noll into focus—not just as a world-class coach but ultimately as the educator he strived to be.