Rogers, Hundorfean, da Silva, Finegold, Clouser, Dermody, Bartlett
Professionals new to Pittsburgh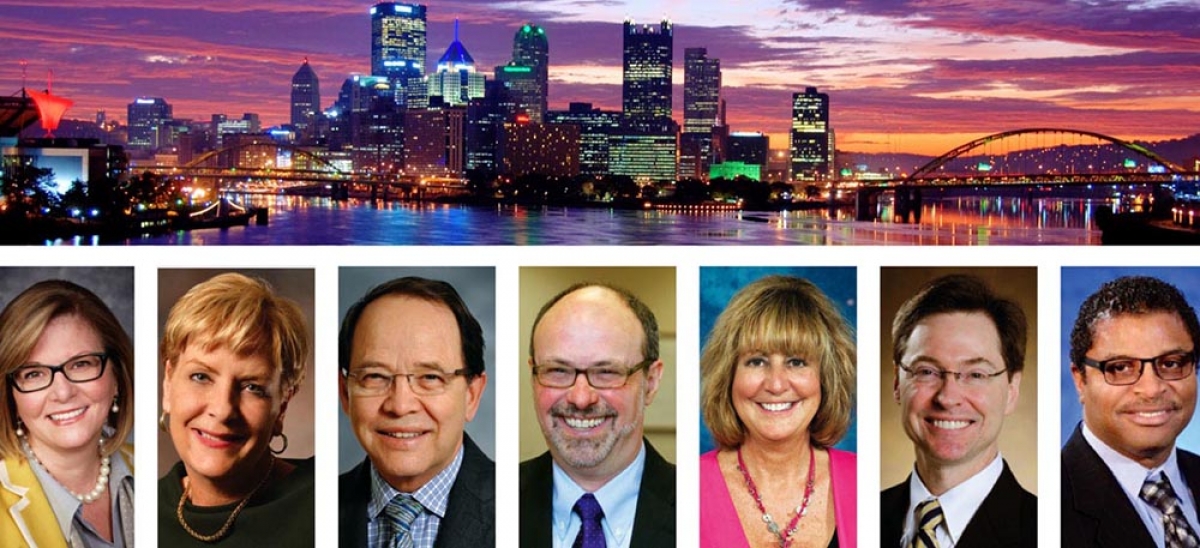 May 21, 2016
Susan Rogers is vice chancellor for communications at the University of Pittsburgh. She comes to Pittsburgh from
Dallas, where she was vice president for university advancement at The University of Texas at Dallas. Previously, she was associate vice chancellor for university relations in the office of advancement at the University of Arkansas and director of marketing and communications
in the Office of Development at Stanford University. She has been a reporter and editor at The Dallas Morning News, the Miami Herald, the Chicago Sun-Times, and the Associated Press. She has a bachelor's degree in journalism from The University of Texas at Austin. A native of
Fort Worth, she and her husband, Doug Swanson, will live in Oakland.

Cynthia Hundorfeanis the president and chief executive officer of Allegheny Health Network. A native of Kansas, she comes to Pittsburgh from Cleveland, where she worked for the Cleveland Clinic for 30 years, most recently as the chief administrative officer.
There, she oversaw the clinical operations of a network that included 16 family health centers and eight regional hospitals. She has a bachelor of science degree in healthcare management from Robert Meyers College and an executive MBA from Case Western Reserve University. She is a member of the American Hospital Association and Medical Group Management Association. She is living Downtown.
Dr. Jose Pedro da Silva is the founding surgical director of the Center for Valve Therapy at Children's Hospital. He comes to Pittsburgh from Hospital Beneficência Portuguesa de São Paulo, Brazil. Dr. da Silva has developed a technique to repair defective heart valves that is now the standard of care around the world. Known as the cone procedure, it reconstructs the tricuspid valve and the right ventricle. He completed his residency training in general surgery and thoracic and cardiovascular surgery at Instituto de Assistência Médica ao Servidor Público Estadual, São Paulo. He also completed a fellowship in cardiovascular surgery at the Cleveland Clinic Foundation. A native of Pirajui, São Paulo, Brazil, Dr. da Silva is living in Squirrel Hill with his wife, Luciana, and their son.
On July 1,Dr. David L. Finegold will become the 19th president of Chatham University. He comes to Pittsburgh from Washington, D.C., where he has been chief academic officer of American Honors, which improves the quality and affordability of undergraduate education by building honors programs in U.S. community colleges. He has taught at the University of Southern California and at the Keck Graduate Institute in California's Claremont Colleges. He was dean at the school of management and labor relations at Rutgers. Dr. Finegold graduated summa cum laude from Harvard University and was a Rhodes Scholar at Oxford University, where he received his Ph.D. in politics. A New York City native, Dr. Finegold and his wife, Susan, who have two adult children, will live on the Chatham campus.
Dr. Barbara Clouser is the medical director of West Penn Hospital's Neonatal Intensive Care Unit. A native of McCandless, she returns to Pittsburgh from Akron Children's Hospital–Mahoning Valley, where she was director of the NICU. She began her career as a neonatologist at the then-Mercy Hospital of Pittsburgh, and was director of the NICU at Allegheny General Hospital before it merged with West Penn's NICU in 2008. Dr. Clouser is a graduate of the University of Notre Dame and the University of Pittsburgh School of
Medicine. She completed a pediatric internship and residency at the University of California at San Diego and a neonatology fellowship at the University of Pittsburgh School of Medicine, Magee Womens Hospital. She and her husband will live in Wexford.
Dr. Terence S. Dermodyis the chair of the Department of Pediatrics at the University of Pittsburgh School of
Medicine and physician-in-chief and scientific director at Children's Hospital of Pittsburgh of UPMC. He comes to Pittsburgh from Nashville, Tenn., where he was a professor of pediatrics, director of the division of pediatric infectious diseases, and director of the medical scientist training program at Vanderbilt University School of Medicine. Dr. Dermody is a virologist with interests in viral pathogenesis and vaccine development. He has a bachelor's degree from Cornell University and a medical degree from Columbia University. He completed an internal medicine residency at Presbyterian Hospital in New York. He is currently looking for a house.
Scott Bartlett is the director of supply chain for PPG architectural coatings in the U.S. & Canada. He comes to Pittsburgh from Chicago, where he was vice president of frozen platform manufacturing at ConAgra Foods. Previously, Bartlett was vice president of supply chain, North America, for McCain Foods. He has a bachelor's degree in mechanical engineering from West Virginia University and an MBA in operations management from Webster University. A native of Parkersburg, W.Va., he and his wife, Joan, will be living in Wexford with their three children.