On a Pedestal: Festival of Books, Contemporary Craft, Pitt's Homewood Project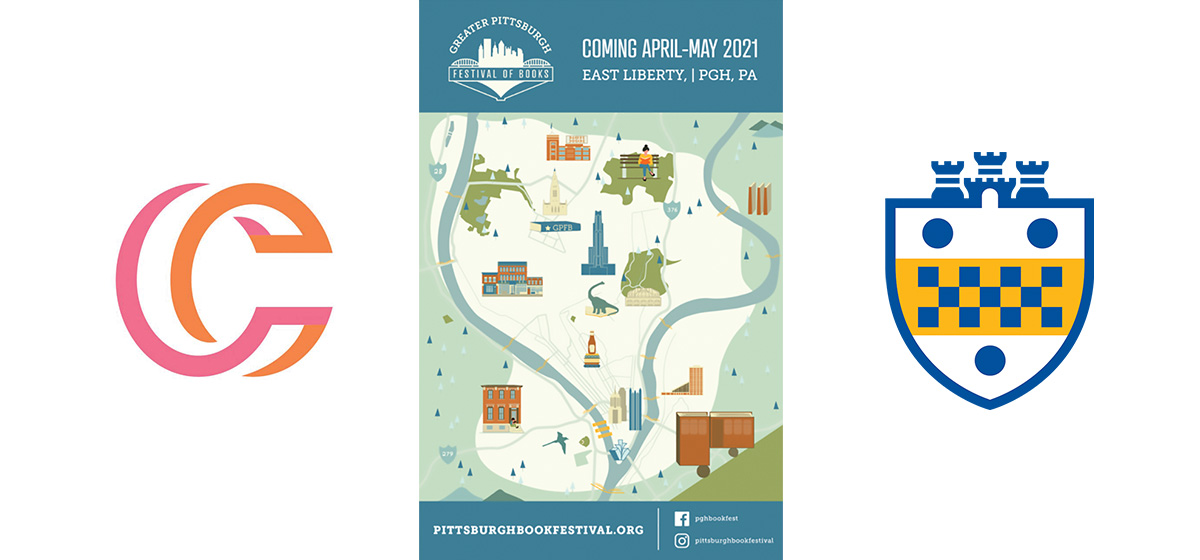 March 22, 2021
For the past couple of years, pandemic or not, Marshall Cohen has been meeting people and gathering support for his idea: the creation of a Greater Pittsburgh Festival of Books. A literate city with the history of erudition that Pittsburgh has should have such an event, he reasoned. And after gaining some key support—from sponsors Google, Duolingo, Bakery Square, the University of Pittsburgh Library System, Buchanan Ingersoll & Rooney, New Sun Rising and author Richard Snodgrass—the event is now scheduled to be held in the fall of 2021 in East Liberty.

"Their support is taking our efforts to new heights, enabling us to intensify our planning, marketing and efforts to secure the participation of both Pittsburgh-based and national authors," Cohen said. "The support of our sponsors helps our mission to keep this festival free for everyone." The free event will feature local and national author readings and signings, panel discussions, Pittsburgh's independent bookstores, literary organizations and others interested in participating. Kate's Kid Book Bash, a children's book festival launched last year, will be part of the GPFB's children's area along with Reading is Fundamental Pittsburgh and Riverstone Bookstore. A variety of other literary genres, such as poetry, mystery, history, general fiction and others, also will be featured.
An exemplary career in arts leadership
With the exception of a three-year interlude, Janet McCall has guided the Society for Contemporary Craft since 1995. When she retires in June, her leadership will have spanned half of the society's 50-year history. She leaves the society on solid financial footing at a time when few can say the same. In 2013, she initiated the creation of an Arts Finance Cohort for Contemporary Craft and three other arts organizations to hire a shared CFO. The cohort members have worked collaboratively since then on strengthening strategic financial management and long-term sustainability for each organization. Artistically, McCall launched the international Raphael Prize, an exhibition series and prize recognizing excellence in contemporary craft. The organization received the national American Craft Council's Award of Distinction in 2018. McCall also spearheaded Contemporary Craft's commitment to exhibitions that address social issues. Since 2013 the organization has curated "Enough Violence: Artists Speak Out," "Mindful: Exploring Mental Health through Art," and "Shelter: Crafting a Safe Home," as well as "Food Justice: Growing a Healthier Community through Art," which opens in September 2021. Each of these exhibitions has traveled to museums and galleries around the country, taking Contemporary Craft's creative excellence and social conscience to audiences in other cities. Her signature accomplishment, however, was the successful move from the organization's location in the Strip District to a new, fully funded, permanent home in Upper Lawrenceville. The unexpected relocation was necessitated because of the sale and redevelopment of the historic Produce Terminal, where Contemporary Craft was located for 34 years.
Pitt wins for Homewood project
The University of Pittsburgh has won a prestigious Innovation & Economic Prosperity University Award from the Association of Public & Land-Grant Universities for its programs in the city's Homewood neighborhood. The multifaceted effort spans numerous faculty and schools and includes talent cultivation, promoting innovation and creating an environment that fosters economic prosperity. Examples include Pitt's School of Social Work partnering with community organizations and the three neighborhood schools to provide holistic support to students and their families; Pitt's Institute for Entrepreneurial Excellence offering a six-month counseling and training program that has graduated 50 entrepreneurs in Homewood and provided consulting services to 21 area businesses since 2017; and the School of Education's Justice Scholars Program, which has enrolled more than 40 high school students into college classes, qualitative research experiences, and service-learning opportunities all focused on social justice. The effort has also brought a bioshelter to Homewood, offering a DC microgrid and hydroponic food growing initiative and a manufacturing career training center that trains 80 individuals to become machinists each year with a 95 percent job placement rate.