The Road to Sustainability
Signs of progress reported, but steep challenges lie ahead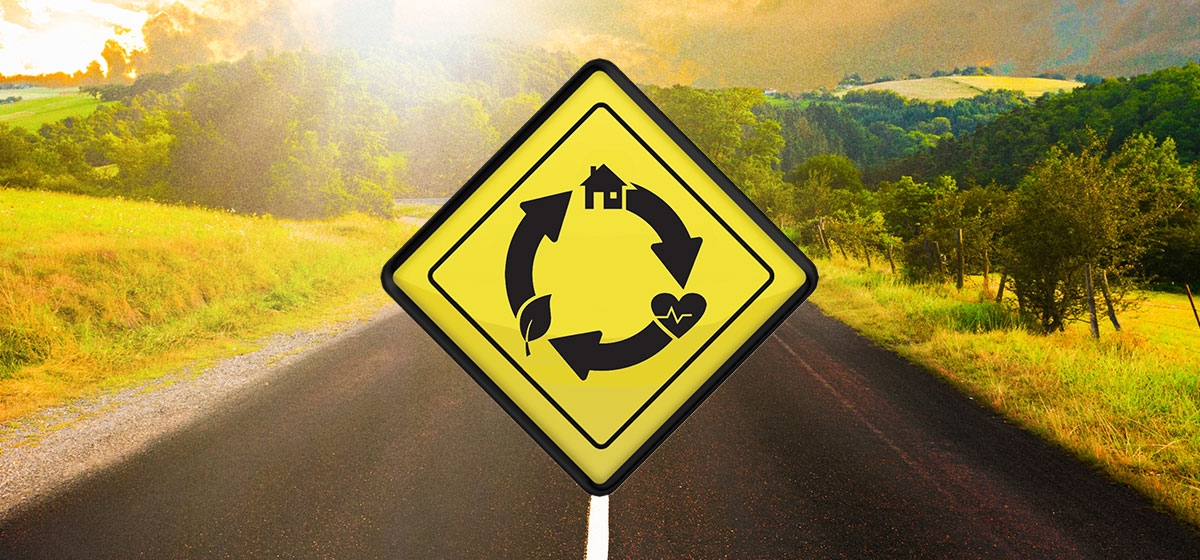 August 20, 2016
In a region conceived around the principles of sustainability, clean, healthy air is an undisputed staple. Southwestern Pennsylvania is not there yet. The air has markedly improved from the days when industry was the backbone of the economy. Yet, in the best of years, it's only good enough to warrant a healthy rating on one-third of the days, and the region still struggles to meet federal health-based air quality standards for several major pollutants.
The story is much the same for housing, energy use, health and other indicators of the region's place on the road to a sustainable future that values economic growth, environmental stewardship, quality of life and social equity as its guiding principles. Even for conditions greatly improved, achieving sustainability remains a work in progress, a soon-to-be-published report suggests.
Southwestern Pennsylvania's decades-long recovery from the sharp downsizing of its industrial economy has quietly positioned it for a sustainable future. The diversified economy that rose from industrial decline includes strengths in education, science, technology and medicine that place a premium on innovation and draw support from Pittsburgh's major research universities. It's the kind of innovation economy that metro regions from Chattanooga to Copenhagen are trying to nurture as they remake themselves around the concept of sustainability.
In the past decade, Pittsburgh has emerged a leader in green building. Employers and property owners have responded in increasing numbers to challenges to make their buildings and businesses more energy efficient. And a consortium of government, foundation, business and community leaders has rallied around sustainability, keeping its principles in the forefront of decisions that will set the course of the region's future.
The findings underscore the challenges of achieving a sustainable future that's a stark departure from the region's not-too-distant past while offering evidence that it is heading in that direction.
A new report commissioned by the nonprofit Sustainable Pittsburgh examines the region's progress across more than three dozen environmental, economic, social equity, quality of life and performance indicators of sustainability. The report, which is to be published this fall, was produced by the Pittsburgh Today regional indicators project with the help of local experts.
The findings underscore the challenges of achieving a sustainable future that's a stark departure from the region's not-too-distant past while offering evidence that it is heading in that direction.
Our place on the planet
Air quality has improved over the past decade and a half as the result of the thinning of the smoke-belching mills that had crowded the region's river valleys, tighter local and national regulations, advocacy efforts to improve compliance, technological advances and industry investment.
The number of days during the year when the region's air earns a "good" rating in the EPA Air Quality Index of five pollutants increased from to 20 in 2003 to 122 in 2015, while the number of unhealthy days has decreased. Annual levels of two widespread pollutants—groundlevel ozone and fine particulates, or PM2.5—have dropped as well.
Take, for example, PM2.5 levels measured in Liberty Borough near the U.S. Steel Clairton Coke Works in Allegheny County where monitors have long recorded some of the region's worst air. From 2003–05 to 2013–2015, the three-year annual average fell from 20.8 micrograms per cubic centimeters to 12.6. It's not an insignificant development. PM2.5 is linked to serious health conditions, such as heart and lung disease, adverse birth outcomes, cancer and premature death.
But better is not good enough to bring the region into attainment of EPA health-based standards for ozone, PM2.5 and sulfur dioxide. Even Liberty Borough's improved readings still violate the standard. The 122 "good" air quality days in 2015 still means the air gets a healthy rating for only one-third of the year. And Pittsburgh and the rest of southwestern Pennsylvania are often found on the wrong end of air quality rankings of U.S. cities and regions.
How we produce and consume energy critical to our economy and way of life has environmental consequences. Conservation, efficiency and use of carbon-free energy sources—particularly renewable sources—help mitigate the impacts of burning fossil fuels, a long-standing practice in the region that contributes to poor air quality and climate-changing greenhouse gases.
The report finds that total electricity production in the region has decreased slightly since 2003. At the same time, the percentage generated from carbon-free sources has slowly risen. Nearly all of the carbon-free production is from nuclear power. The percentage generated from renewable sources remains flat. In fact, if reliance on renewable energy is the goal, the region has its work cut out for it. Renewable sources account for less than one percent of the region's energy portfolio.
An economy for all
One of the key aspirations of sustainability is a healthy economy that is mindful of the natural environment and offers everyone the opportunity to avoid a life of financial hardship.
The affordability of housing is an important indicator. Since 2005, the average value of owner-occupied homes in the seven-county Pittsburgh Metropolitan Statistical Area has increased by 22 percent. During the same time, the average local fair market rent has risen 29 percent.
One measure of affordability is the share of their income that people pay for housing. The U.S. Department of Housing and Urban Development considers homeowners and renters whose housing costs consume more than 30 percent of their annual income to be cost burdened and at risk of not being able to afford other necessities, such as food, clothing and transportation.
The good news is that fewer homeowners and renters in the region are paying more than 30 percent of their income for housing than 10 years earlier. But among renters, the rate remains high: Nearly 46 percent spent 30 percent or more of their income on housing in 2014.
Vacant housing is a stubborn problem that is costly for taxpayers and neighboring homeowners, and an unsightly indicator of inefficient land use that runs counter to sustainability principles. Since 2005, the vacancy has risen to claim 10.3 percent of housing in the Pittsburgh MSA.
On one hand, trends in income are encouraging. Median household income in the Pittsburgh MSA rose 25 percent from 2005 through 2014. But the pace is slowing, income inequality is steadily rising and the regional poverty rate is higher than it was 10 years earlier.
Health and well-being
The vision of a sustainable future is one in which people enjoy a healthy and high-quality life.
The trend among southwestern Pennsylvania residents who rate their health as fair or poor is not encouraging. The rate has risen from 14.6 percent of the adult population to 16.6 percent since 2003.
More encouraging are infant mortality trends. Rates of infant deaths have decreased since 2003 in Allegheny County, where infant mortality has historically been high.
The sharpest decline is seen in African American infant mortality rates. But dramatic racial disparities remain. In 2012, for example, the rate of infant deaths experienced by African American families was nearly three times higher than that of white families.
The vision of a sustainable future is one in which people enjoy a healthy and high-quality life.
Our parks, playgrounds, trails, rivers and streams offer recreational opportunities that have implications for health, the quality of life and the attractiveness of the region. Southwestern Pennsylvanians give those amenities high marks for quality, according to the report, which cites a University of Pittsburgh quality-of-life survey. And all but 12 percent say they use them.
Social equity
Throughout the region, the burden of harmful conditions and hardship fall more heavily on some than on others.
For example, household income disparities in self-reported health are significant: 19 percent of residents with annual incomes under $25,000 rate their health as fair or poor compared with 6 percent of those earning $75,000–$99,999 and 5 percent of those earning more than $100,000.
Low-income households are the most likely to have housing costs consume more than 30 percent of their income and jeopardize their ability to pay for other basic necessities. More than 82 percent of Pittsburgh MSA renters earning less than $20,000 face such hardship.
Cities and boroughs along the region's rivers are among the municipalities with the highest exposure to harmful concentrations of air pollution. Many have endured decades of economic hardship and are home to a disproportionately high share of low-income families.
Wide disparity is seen in regional homeownership rates when the race and ethnicity of owners is considered. U.S. census data suggest that only 5.8 percent of the more than 697,000 homeowners in the region were African American, Asian, Hispanic or other minorities in 2010, although they represented 12.9 percent of the region's population.
Minorities held 11 percent of the jobs in the Pittsburgh MSA in 2013, when they represented 13.6 percent of the population.
African Americans in the region are the only minority workers with average incomes lower than their white co-workers in every industry sector, according to U.S. Census Bureau data. The Pitt quality-of-life survey reports 26 percent of African Americans in the City of Pittsburgh say they often or always have trouble affording basic necessities—something less than two percent of other races find to be a problem. African Americans in the region are more likely to skip a doctor visit because they can't afford it. And they are much more likely than residents of other races to report having been a victim of violent crime.
Such conditions suggest that of the challenges southwestern Pennsylvania faces on the road toward sustainability, none are greater than addressing the disparities that stand in the way of a just society.
[This is the third of a four-part series examining efforts to make Pittsburgh a sustainable region. Pittsburgh Quarterly and Sustainable Pittsburgh are collaborating to explore the obstacles and opportunites facing Pittsburgh.]