Regional Housing Trends
Photo by Paul McCarthy / Flickr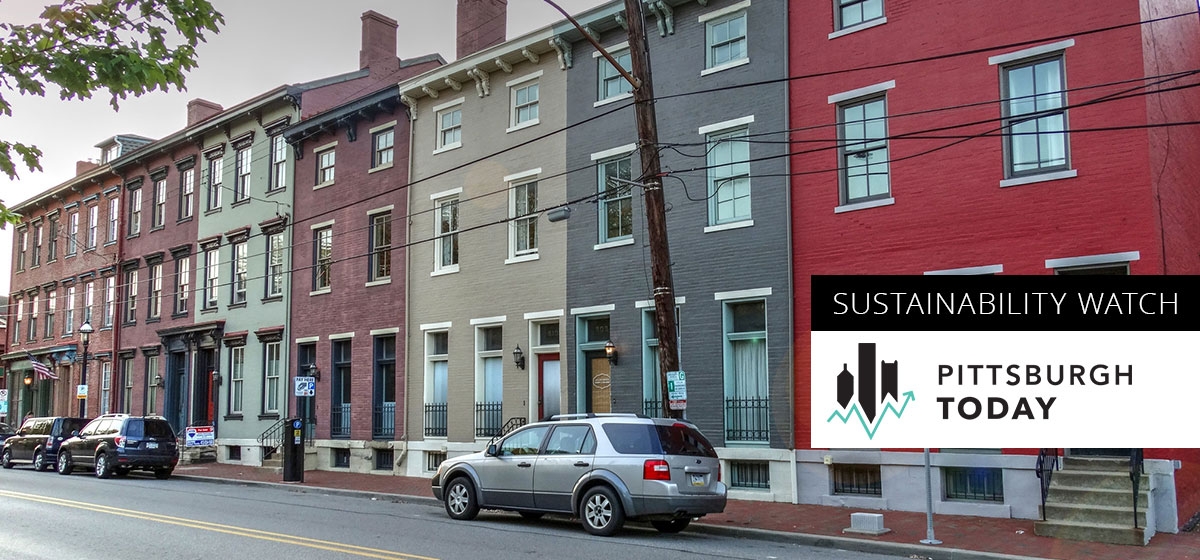 November 15, 2016
More southwestern Pennsylvanians have been able to find housing that fits their budgets in the past decade, despite steadily rising home values and rents. But there are stark disparities in the affordability of housing across income levels.

Although housing values and rent have experienced peaks and valleys over the last 10 years, both have increased overall.
The median value of owner-occupied housing in the Pittsburgh Metropolitan Statistical Area rose 22 percent from 2005 and 2014 to stand at $128,100, U.S. Census Bureau American Community Survey data suggest.
Rents rose at a similar rate. From 2005 through 2015, for example, the average local fair market rent for a two-bedroom apartment in the Pittsburgh Metropolitan Statistical Areas increased 23 percent to $827 a month across the Pittsburgh U.S. Housing and Urban Development Metro Fair Market Rent Area, which includes Allegheny, Beaver, Butler, Fayette, Washington and Westmoreland counties.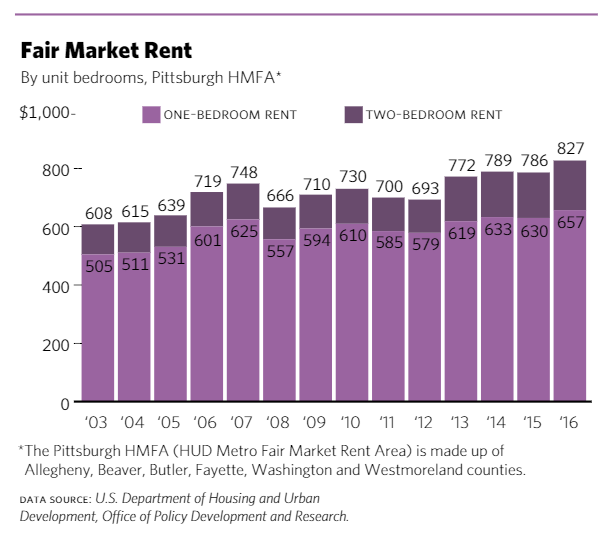 Affordability
One measure of affordability is the share of their income people pay for housing. HUD considers homeowners and renters with housing costs that consume more than 30 percent of their annual income to be cost burdened and at risk of not being able to afford other necessities, such as food, clothing, transportation and health care.
The good news is that a lower rate of homeowners and renters in the region are paying more than 30 percent of their income than in 2005.
Homeowners are less likely than renters to face such hardship. In 2014, housing costs took 30 percent of the income of nearly 19 percent of homeowners, down from 24.5 percent in 2005.
Fewer renters are also paying more than 30 percent of their income for housing, although the rate has fallen only slightly. And the rate of renters facing such a financial dilemma remains high. Nearly 46 percent of renters spent 30 percent or more of their income on housing in 2014.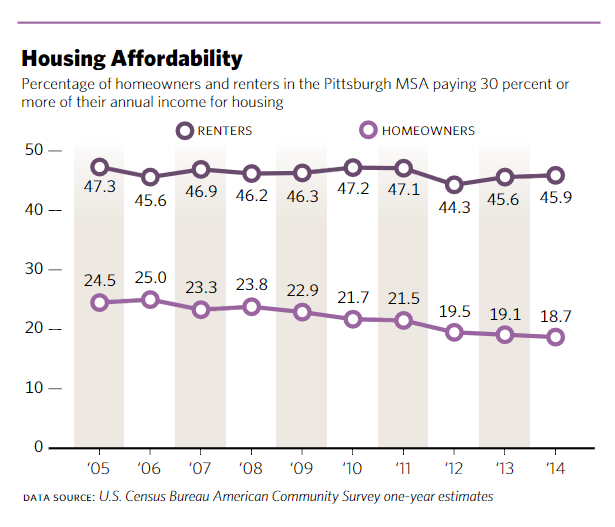 Income Matters
Housing costs are much more likely to be a hardship for lower-income residents, regardless of whether they own or rent their homes.
In southwestern Pennsylvania, the housing costs of nearly 75 percent of homeowners earning under $20,000 demanded 30 percent or more or their income in 2014. By comparison, fewer than 3 percent of residents earning $75,000 or more found themselves in such financial straits.
The rate of low-income renters paying a disproportionate share of their income on housing has decreased since 2005. Even so, 82 percent of renters earning less than $20,000 a year spent 30 percent or more of that money on housing in 2014 compared with only 2.5 percent of renters earning $75,000 or more.
This brief is a summary of a more detailed analysis published in the 2016 Sustainable Pittsburgh Southwestern Pennsylvania Sustainability Goals and Indicators Report.