Pittsburgh Renters Have Kept up Their Payments—So Far
Illustration via rawpixel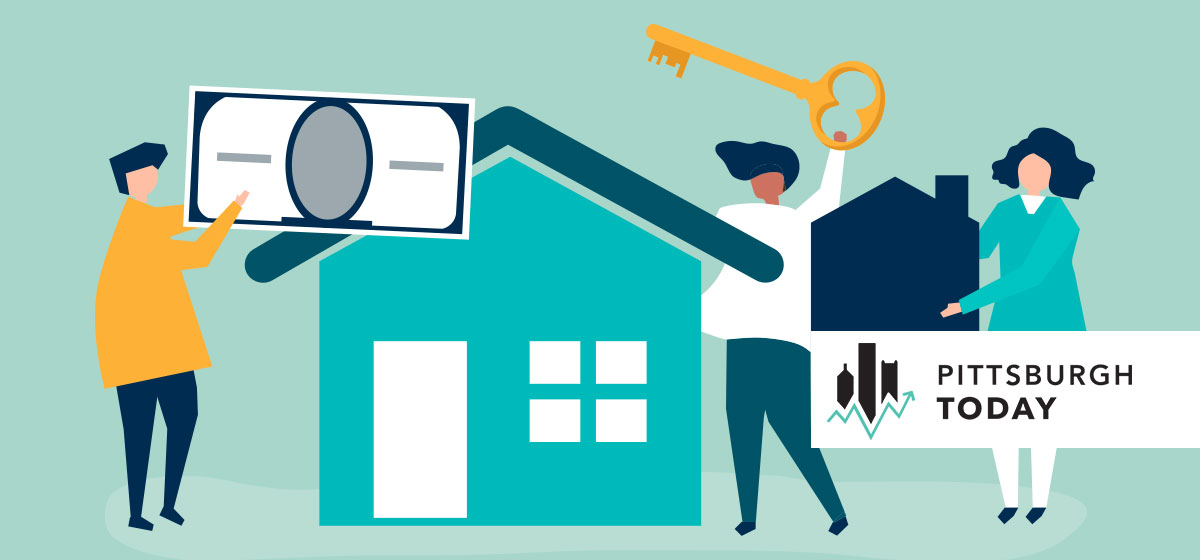 July 20, 2020
On a July Pittsburgh afternoon, temperatures soared into the 90s. Public pools were dry, closed by pandemic restrictions. But for mask-wearing residents trickling out of Eastside Bond, a high-end East Liberty apartment complex, their private outdoor pool offered relief. There are new rules: Masks when not swimming; stay six feet apart in and out of the water; and no large gatherings. Still, it is a welcome reminder of life before the coronavirus.

"A big reason why we and a lot of people move here is for the amenities," said 33-year-old Sarah Fang. "That's how we made friends and would hang out: by meeting at the pool or grilling outside or in the entertainment room. COVID changed all of that."
Eastside Bond monthly rents range from $1,504 or more for a studio to $3,823 for a two-bedroom apartment, according to the current listings on their website. Such high-end apartment rentals have been an oasis for the residential real estate industry as well, remaining calm and stable during the first half of this pandemic year.
But emergency relief programs, such as federal unemployment subsidies and a state eviction moratorium, are set to expire, raising concern that increasing numbers of unemployed and lower-income tenants won't be able to afford their rents as the pandemic continues.
Weathering the storm
So far, residential real estate hasn't seen significant harm. Home sales, after a March–April slump, are surging in the region. For the week that ended July 7, Pittsburgh had the highest year-over-year increase in home-buying activity among the 40 largest U.S. metro areas, according to the American Enterprise Institute, which tracks how many people are locking in interest rates on mortgages.
Rentals, while not as dramatically positive, are holding their own as tenants have shown few signs during the early months of the pandemic of encountering hardships severe enough to prevent them from paying their rent.
About 35 percent of Allegheny County residents rent their apartments or houses. In the city of Pittsburgh, 53 percent of residents rent.
"We haven't seen worse than usual problems with paying rent, so far," said Phyllis Chamberlain, executive director of Housing Alliance of Pennsylvania.
About 77 percent of apartment households in the United States made a full or partial rent payment for July 2020 rent, according to data from the National Multifamily Housing Council. That is down only slightly from the nearly 80 percent of households who made their July rent payment last year.
"I don't think that people think the world's coming to an end," said Todd Reidbord, president and chief executive officer of Walnut Capital, which owns several high-end apartment buildings in Pittsburgh's East End neighborhoods. "I wouldn't say that it's business as usual, but it's not significantly different than in years past in terms of renting apartments."
What he has noticed recently is less movement among tenants. "We're seeing a higher rate of people staying in the apartments they're currently in; a higher percentage of people renewing."
How long the pandemic lasts and how badly it will damage the economy will be key factors in determining how well the rental market will weather the storm. But each is uncertain.
Trouble on the horizon
Meanwhile, unemployment remains high, hovering at rates rarely experienced in the country. And a significant share of the residential rental market may be living on borrowed time.
"The unemployment that's happening is focused more on the people who are part of the renter's market than the buyer's market," said Randall Walsh, professor of economics at University of Pittsburgh.
In May, the seven-county Pittsburgh Metropolitan Statistical Area posted a 13.7 percent seasonally adjusted unemployment rate—up from the 4.1 percent rate reported one year earlier. The number of unemployed workers jumped from 49,900 to 162,600.
Just as troubling is evidence that suggests the personal finances of a large swath of renters were fragile even before the pandemic arrived. In Allegheny County, the median household income is $58,383. But among renters, it is only $33,224, according to data from National Low-Income Housing Coalition. And about 46 percent of renters in Allegheny County spend 30 percent or more of their household income on rent, according to U.S Census Bureau data.
"There are too many households that are paying too high a percentage of their income for rent," Chamberlain said. "That means that people don't have enough to meet their basic needs. Because of COVID-19, if people are unemployed, or they've had their work hours reduced, that's just going to exacerbate the problem."
Government pandemic relief programs have helped renters meet their monthly rent payments, so far. In March, every American received a $1,200 federal stimulus check. And the federal CARES Act created the Pandemic Unemployment Compensation program, which adds $600 a week to the benefit checks unemployed workers in Pennsylvania receive.
"It's important to realize what that $600 means for someone who makes the minimum wage," said Gale Schwartz, associate director of policy and strategic initiatives at Housing Alliance of Pennsylvania. "It's a big portion of your household budget, especially if it's more than you were earning beforehand. It could be crippling to lose that."
But that is set to happen soon. The federal unemployment compensation program is due to expire July 31. And Congress so far has resisted issuing another round of stimulus checks to American households.
Even with the government pandemic relief available during the past three months, there have been reports of people using their credit cards to pay rent, which, Chamberlain said, "is not a long-term strategy."
A lengthy economic downturn risks triggering a wave of evictions, which the region and nation have largely avoided. In Pennsylvania, evictions for nonpayment of rent have been put on hold since mid-March by order of Gov. Tom Wolf. The moratorium is set to expire August 31.
Landlords have challenged the moratorium arguing that not being able to enforce leases makes it difficult to pay their taxes, insurance, maintenance and other bills. A lawsuit brought by the Pennsylvania Residential Owners Association awaits a ruling from the state Supreme Court.
Without help, an estimated 28 million renters in the United States are at risk of eviction, according to a recent report from Amherst, a national real estate data and analytics firm.
Temporary relief is on the way in Pennsylvania. Allegheny County expects to receive $22.5 million from the state's CARES Act allocation to help tenants pay rent for up to six months. It applies to those who were unemployed after March 1 as a result of the pandemic, or those who saw their annual income drop by at least 30 percent due to the pandemic. Income limits also apply.
Such relief could help further delay what Chamberlain fears is an impending eviction crisis. "When you're behind, it's really hard to catch up. Some people just need a little assistance to pay rent. Then, they can get back on their feet versus not having assistance and having the problem get worse."
Many renters don't have much of a financial cushion to fall back on. Fewer than one in three renters in the United States have enough money set aside for a three-month emergency, according to 2018 data from the Urban Institute.