Pandemic Heats Up Housing Market
Suburban interest grows as buyers want more space, less density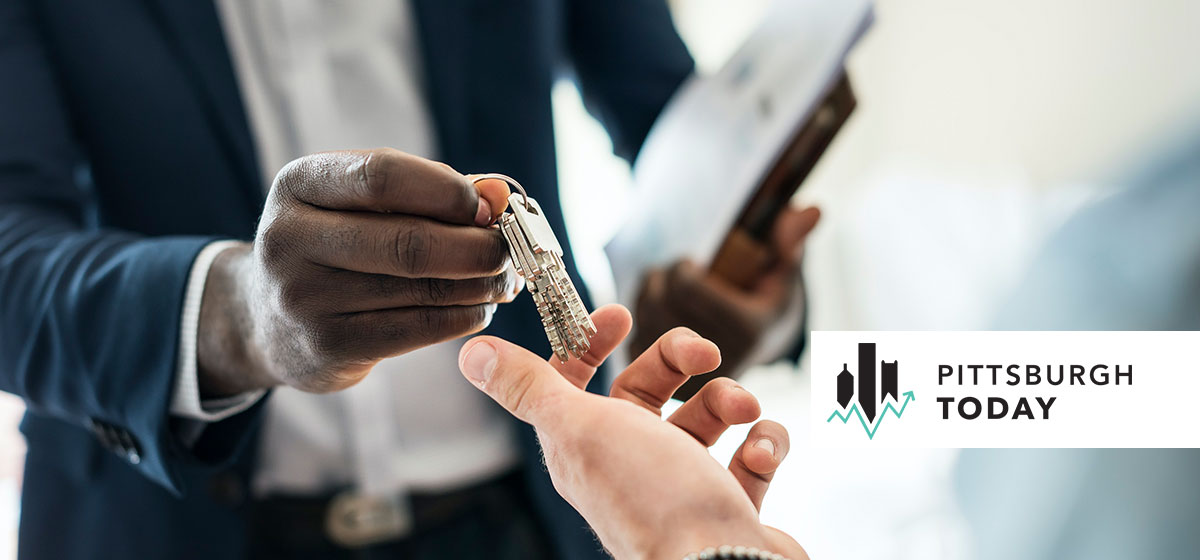 June 22, 2020
The COVID-19 pandemic disrupted business as usual in the residential real estate industry as it swept through the Pittsburgh region in March. It shut the doors on open houses, cancelled showings and stifled home inspections. But it failed to curb demand.

A Howard Hanna real estate agent helped a seller stage a home via Facetime and listed the property allowing only sight unseen offers until the county moved into the yellow phase. The seller received two sight unseen offers while the county was still in the red phase and accepted one.
Sellers in Aspinwall decided to put their home on the market in favor of buying another that gave them a home office and an education room for their four children, who they were home schooling during the pandemic. They sold their home on the first day after considering multiple offers.
The pandemic led buyers who were living in New York City to realize they could work from anywhere. They wanted to move back to Pittsburgh to be near family and bought a house here, again, sight unseen.
There's a sunny outlook for residential real estate in southwestern Pennsylvania amid the pandemic. Mortgage rates are near historic lows. And nearly two months of stay-at-home orders and other social distancing restriction have heightened already pent-up demand while local housing inventory remains low, creating a seller's market.
"We're anticipating a summer of people coming out of their houses and really wanting to create a home that makes more sense for them—for their kids to learn at home or having two people work from home," said Kelly Hanna Riley, vice president of residential sale at Howard Hanna Real Estate Services. "Before the pandemic, no one thought about those things.
"The real estate industry is going to have such a surge because of this. I think we have a real pent-up demand right now with buyers who are ready to buy houses."
Real estate agents are seeing greater demand for more outdoor space and indoor offices. They recount stories of millennial renters cramped in their luxury apartment in the city, dreaming of a house in the suburbs with a pool. But whether these anecdotes are a blip on the region's timeline or indications of a substantial shift away from the city to the suburbs remain to be seen. In part, the answer to the question will depend on how deeply the regional economy is hurt by the pandemic and how Pittsburgh's recovery unfolds compared to other parts of the county.
Off and running
"The year started in Pittsburgh really strong in the housing market," said Randall Walsh, professor of economics at University of Pittsburgh.
American Enterprise Institute, a public policy think tank, publishes bi-weekly numbers on how many households in the 40 largest metropolitan areas in the country are locking in interest rates on a mortgage, which is a strong indicator of their intention to buy.
Pittsburgh's buying activity was up 69 percent over the first eight weeks of the year. And it grew more strongly, year-over-year, than any of the major metro areas in the country. In March and April, Pittsburgh collapsed on that measure, dropping 62 percent year-over-year, which mirrored much of the nation.
But in May and June, southwestern Pennsylvania bounced back, its home-buying activity jumping 64 percent compared to the same months last year. For the week that ended on June 12th, Pittsburgh had the 11th highest year-over-year change out of the 40 largest metro areas in the United States, according to data from American Enterprise Institute's Housing Market Nowcast.
The AEI report noted that the turnaround "seems mostly driven by first-time homebuyers jumping into the market. These borrowers are younger, more technologically savvy and open to virtual tours."
Local housing prices also climbed in the first quarter of the year. Prices in the seven-county Pittsburgh Metropolitan Statistical Area appreciated at a rate of 5.5 percent compared to the first quarter 2019, according to data from the Federal Housing Agency. And the local appreciation rate is greater than the 4.9 percent average rate among the 15 Pittsburgh Today benchmark regions.
"One of the stories that you're hearing around the country around is that supply of houses contracted faster than demand contracted," said Walsh. "People who were going to put their houses on the market didn't put their houses on the market and people who were going to buy didn't buy. But the supply contraction was greater than the demand contraction."
Supply and demand
"Before the pandemic, our listing inventory was low and continues to be low," Riley said.
The City of Pittsburgh and Allegheny County "remain popular," according to Riley, but the pandemic may have prompted buyers to think beyond the city limits. Butler County, for example, is a hot market with buyers attracted to the availability of bigger lots that allow for more outdoor space and the potential for new construction, she said.
"We see a lot of new-construction builders coming out, confident that there is a pent-up demand. We're seeing millennials wanting to move out of fancy apartment buildings Downtown who want stretch their legs and buy homes with a little space. These are some key things right now that we weren't necessarily seeing before the pandemic."
Buyers wading into the market are finding low mortgage rates. The average rate on a 30-year, fixed-rate mortgage was 3.21 percent for the week that ended June 11. That was down 0.61 percent from a year ago, according to the mortgage company Freddie Mac.
"We're getting a lot more renters calling in and wanting to get into houses," Riley said. "And that group hasn't really minded the virtual tour. They've been ones who will move forward and buy a house. We've seen a real surge in people moving out of those rental markets and coming to buy in the suburbs and wanting to set roots in the suburbs."
Whether the city's housing boom thrives could rest on how Pittsburgh handles the pandemic and its aftermath, Walsh said. "People are talking about maybe I don't want to live in a dense location anymore. If we make it through as one of the less-impacted cities, it's going to do two things: It's going to help our economy recover more quickly and get open more quickly, and it could lead to increased demand from other parts of the country because people view it as a pandemic-safe location."
History lessons
The financial crisis of 2008 is a weak historical reference point for what's happening in the housing market during the pandemic. The bursting of a housing bubble fueled the economic turmoil the nation endured during the Great Recession. But COVID-19 found a stable housing market when it arrived.
And the federal government has acted to try to safeguard against defaults and limit access to credit to prevent a housing crisis. "The CARES Act gave anyone with a federally backed mortgage the right to have a one-year forbearance on defaults," Walsh said. "That's preventing defaults from happening. The [Federal Reserve Board] has said it's going to buy unlimited numbers of mortgage-backed securities and that will keep access to credit low. That [high] credit access was one of the keys to the Great Recession and also what happened in the Great Depression. This would prevent that."
The aftermath of natural disasters provides more of a hint at what's to come for the future of residential real estate, where events often amount to just a blip in a long-range trend.
Walsh has studied how housing markets respond to wildfires out west in a wildlife-urban interface or WUI, such as a suburb of Denver up in the mountains. "A really big wildfire will come through and it'll drop housing prices in that area by as much as 10 percent. That drop is totally gone in a year and a half. Totally. 100 percent gone. While these things can be really salient in the short run, we tend to have really short memories."
Hot summer ahead
Riley is confident a hot summer of homebuying, despite the lingering pandemic. "I think we're going to see the best summer and fall market we've had in a very long time. Mainly, people just wanting more space, people wanting to have a bigger footprint at home for all the family that is home, people are really looking to have a life-work balance at home that I think could be really refreshing for everyone. It's a silver lining that comes out of tragedy."
But Walsh isn't ready to predict the end of city living, even if the desire to move beyond the city boundaries for a basketball court or backyard pool is increasing. "Over the last 20 years, we've seen a reversal of the hollowing out of our city centers. I think it would be unfortunate if we see that trend reversed. A vibrant center city is a very valuable thing in a metro area. It'll be interesting to see if it's a trend, and whether that it's a trend that lasts."