Protecting Our Streams
DEP says no big deal if Trump administration rescinds waters of the United States rule; Advocacy groups disagree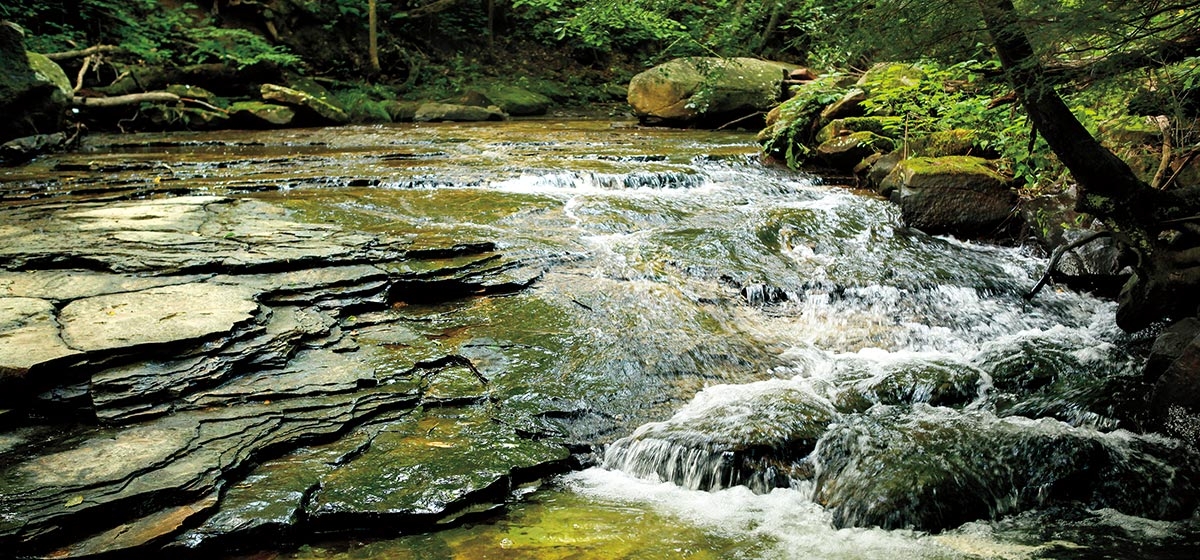 February 20, 2018
Determining where water begins and ends seems a matter of physical properties, of whether two hydrogen molecules are bonded to oxygen, and how much of it exists. Where is it located, and will people eventually drink it? Swim in it? Fish in it? This molecule, essential to life, has become another point of political polarization.

Lawmakers have grappled for decades with defining which waters matter under the law, and which don't. A bright spotlight now shines on the debate as the Trump administration amplifies the conversation by rolling back numerous Obama-era environmental initiatives.
Citing states' rights and ease of doing business, the Trump administration last summer moved to squash the 2015 Clean Water Rule that expanded what's governed as "waters of the United States" under the landmark 1972 Clean Water Act.
In Pennsylvania, the Trump administration's move to rescind the rule pleases farmers, builders, coal miners and other industry leaders who feared the federal government could absorb small ponds and ditches under its jurisdiction and slow development with unwieldy permit requirements.
Exactly how the Clean Water Rule would have actually affected Pennsylvanians' water protection is a matter of debate. Pennsylvania Department of Environmental Protection (DEP) officials hold steadfast to the argument that state laws are stronger than anything the Clean Water Rule could impose. But environmentalists and watchdogs doubt the enforcement ability of the DEP, weakened by budget cuts over the years. Meanwhile, despite DEP's claims that nothing would change, Pennsylvania opponents of the rule continue to vociferously object. One big player, the Pennsylvania Farm Bureau, encouraged its members to publicly comment on the federal Environmental Protection Agency's reversal and joined in on the national hashtag campaign "#DitchtheRule."
The Clean Water Rule, often just referred to as the Waters of the U.S. rule, or simply WOTUS, added smaller streams and wetlands that the administration deemed vital to larger drinking water sources, thus expanding the jurisdiction of the Clean Water Act.
According to the EPA, one in three Americans gets drinking water from sources that depend on the headwaters of smaller, sometimes seasonal streams. (More than 10,000 miles of smaller and seasonal streams in Pennsylvania flow into major sources of drinking water.)
"The biological processes that really help clean our water naturally are particularly concentrated in these smaller headwaters areas," said Daniel Bain, University of Pittsburgh assistant professor of geology and environmental science, whose expertise is hydrology.
The 2015 Obama-era Clean Water Rule never actually went into effect. The National Association of Manufacturers sued, and the Sixth Circuit Court of Appeals—the federal court that hears appeals from Kentucky, Michigan, Ohio and Tennessee—granted a national stay on the rule.
In January, the U.S. Supreme Court returned the decision to the district courts.
One month into his term, President Trump issued an executive order to review the 2015 rule, and by June, the EPA and the U.S. Army Corps of Engineers moved to rescind it. The agencies are currently reviewing public comments. Despite the Supreme Court ruling, the EPA has issued a two-year delay on any implementation.
In February 2017, President Trump issued an executive order to review the 2015 rule, and by June, the EPA and the U.S. Army Corps of Engineers moved to rescind it.
Although already-converted cropland and certain ditches would be exempt from the rule, the Pennsylvania Farm Bureau maintains strong opposition. The organization's communications director, Mark O'Neill, stated that members "didn't see this as regulating water; it was about regulating land."
Members of another outspoken group, the Pennsylvania Builders Association, are concerned the rule could slow the rate of development.
"It already takes $100,000 to bring a parcel of land to point of development," said the association's CEO, Daniel Durden, citing a statistic that U.S. Supreme Court Justice Antonin Scalia argued in his opinion on the 2006 case, Rapanos v.United States. "That's from acquisition to when you want to start digging. Engineering studies, permits… time is literally money to the builder and homeowner."
Current and retired Pennsylvania DEP officials say the state already has strong water-protection laws, so a new federal rule would make no difference.
"Basically our jurisdiction in Pennsylvania over Waters of the Commonwealth expands beyond the federal jurisdiction of waters of the United States," Ramez Ziadeh, DEP's acting executive deputy for programs.
Waters of the Commonwealth are defined by the Pennsylvania code of regulations as "rivers, streams, creeks, rivulets, impoundments, ditches, watercourses, storm sewers, lakes, dammed water, wetlands, ponds, springs and other bodies or channels of conveyance of surface and underground water, or parts thereof, whether natural or artificial, within or on the boundaries of this Commonwealth."
"The bottom line is WOTUS doesn't make any difference in PA because we're already doing more than that," said retired agency official David Hess, who served as DEP secretary from 2001 to 2003 and as deputy secretary from 1995 to 2001.
Others remain skeptical. Despite the state's strong laws, environmental advocates still question whether the state enforcement body is strong enough.
A January DEP report declared 19,900 miles of the state's rivers and streams to be impaired.
"You have to look no further than the current state budget fight to see how fragile our environmental protections at the state level are," said Stephanie Wein, clean water and conservation advocate for PennEnvironment, in an October interview. "All the more case to have a Clean Water Rule."
On Oct. 30, months after the deadline, state legislators passed a revenue package to close a roughly $2 billion shortfall in the state's nearly $32 billion budget. They did so by expanding gambling and transferring $300 million from special funds. It's unclear how much will be drawn from funds devoted to state environmental programs.
"What has been a big deal for PA is obviously the continuing budget cuts over the last decade," said Hess, citing a trend since the late 1990s. The DEP was created in 1995. "[There's been] a 40 percent cut in the general fund dollars support to the agency, which primarily that's how water quality programs were funded. That cuts into the enforcement of processing permits and enforcing permits for water quality issues."
'We do the best we can'
Asked whether the DEP is able to adequately enforce protection of all waters spelled out in "Waters of the Commonwealth," Ziadeh said, "It's no secret we've endured some big budget cuts, but we do the best we can with the resources we have. That's beyond our control too. You'll have to speak to the legislators about that."
Asked how many violations have been issued and cleared recently under the state's Clean Streams Law, Neil Shader, DEP press secretary, said he and Ziadeh weren't sure.
"We typically don't track violation of any sort with a tally," Shader said. "We could find out, but that would require going through different programs and different regions to collect all of those. I'll see if we have any sort of estimate on that."
He passed the inquiry to the DEP's community relations coordinator, John Repetz, who responded via email that the "numbers are not readily available. On our public webpage, there are several reports that might be useful to your research."
A search of the webpage revealed that the DEP has enforced 1,874 of the 2,473 violations it issued to permitted facilities in the Southwest region under its "Clean Water Program" since Jan. 1, 2012. The region encompasses Allegheny, Armstrong, Beaver, Cambria, Fayette, Greene, Indiana, Somerset, Washington and Westmoreland counties.
Lauren Fraley, DEP's community relations coordinator for the Southwest region, said she couldn't answer as to how many total "Clean Water Program" permits were issued for the region. Fraley said because permits are issued for numerous program categories pertaining to the state's Clean Streams Law—for example, permits for oil and gas drilling or construction—a more accurate number was not available. "We just don't collect data in that manner."
Environmental advocates in Pennsylvania lament not having the extra layer of protection the Clean Water Rule might have offered. They suggested a case about one of these small waterways could be filed in federal court rather than with the state's Environmental Hearing Board.
"For the DEP to say that [the federal Clean Water Rule] is not necessary is kind of annoying, from my perspective, because it means they don't have to be held federally accountable," said Veronica Coptis, executive director for the Center for Coalfield Justice. Last summer, her organization won a case when the state Environmental Hearing Board voted unanimously to reject a permit that Consol Energy sought to mine beneath a stream in Ryerson Station State Park in Greene County.
Coptis said concerns in Greene and Washington counties include small streams being drained due to underground mining as well as poor water quality caused by coal waste—costs that add up to more than any other state in the nation, she said. She believes the Clean Water Rule is important because it allows communities to go to both state and federal courts.
"As much as the judicial branch is supposed to be uninfluenced by politics, it still is," she said. "It gives communities different options to have enforcement they deserve for their right to clean water."
But coal industry leaders in Southwestern Pennsylvania say they're already aggressively regulated on both the state and federal level.
"If anything, the vague terms in WOTUS could unnecessarily expand the scope of jurisdictional waters, creating confusion among agencies and causing permitting delays," wrote Rachel Gleason, Pennsylvania Coal Alliance spokesperson, in an emailed statement.
Whether regulated on a federal or state level, what happens upstream matters, say hydrologists. As people continue to move away from cities traditionally built along large rivers, and move nearer to smaller headwaters, the questions of how to best prevent contamination becomes more urgent. Mistakes made upstream cost real dollars—in special water treatment protocols and loss of clean water—for those living downstream.
"In terms of thinking about how to deal with messes, releases, spills, the cheapest way to deal with those things is to put a lot of money into preventing contamination," Pitt hydrology expert, Bain said, acknowledging that planning for the future is key.
Of Pennsylvania's three main basins— the Delaware, Ohio and Susquehanna— Bain said the Ohio River water basin is the most polluted by industry. Coal waste, and in the last decade Marcellus shale drilling wastewater, has polluted streams and rivers feeding into the Ohio, he said.
"When you don't think about it in terms of watersheds, it's easy to lose sight of 'Well it might [cost] a little bit more for me. But a lot of people downstream will save a lot of money,' " he said. "It's a balance. It's part of democracy. Science can give you answers, but a lot of these problems boil down to human problems."
Now that the public comment period on rescinding the Clean Water Rule is closed, it's up to President Trump's EPA to finalize its move. Concurrently, stakeholders whose minds are on the nation's, and Pennsylvania's, headwaters—from President Trump down to the farmers, builders, and environmental advocates—must now look to the district courts for any decisions on how the rule could be implemented. But, with the EPA's delay, nothing can happen for at least two years.