Pittsburgh Tomorrow Podcast: Michael McQuade, VP for Research at CMU
Lay the groundwork for continuing change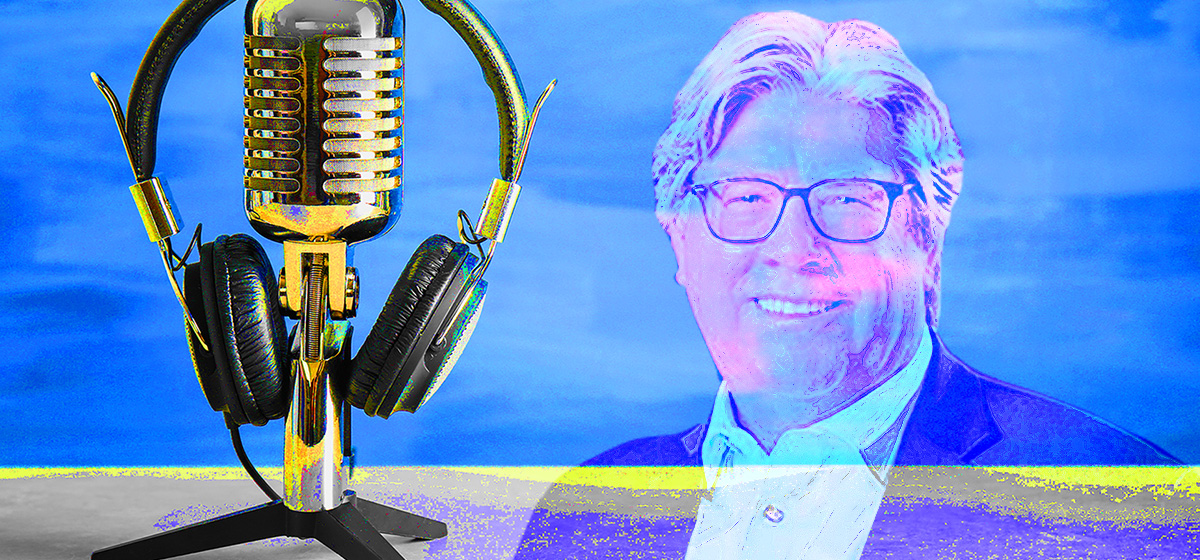 June 3, 2020
We began recording the voices of Pittsburgh Tomorrow in January through early March as a new decade fueled excitement about the future of our community. We delayed publishing the interviews, however, during the pandemic shutdowns. Now, it is too soon to know how the virus, it's economic aftermath and the recent protests and riots will alter the macro trends shaping Pittsburgh's future. The world has changed in ways still unknown, but the issues facing Pittsburgh remain, still awaiting our need to address and solve them. Please join us weekly to discover the bold, imaginative and transformative ideas that will build Pittsburgh Tomorrow.

View the episode archive here. Read Michael McQuade's full bio here.
"What astonishes me all the time, because I've been in a lot of different places, is this uncommon characteristic of Pittsburgh, that we simply roll up our sleeves and go to work. And I think people discount that." —Michael McQuade
Donald Bonk: Hello and welcome to Pittsburgh Tomorrow. I'm Donald Bonk. I'm passionate about the future. Let's take a journey there. You'll hear from Pittsburgh's most compelling leaders, thinkers and creators. Through their imaginations and voices, we'll explore the decades to come.
We're here at Carnegie Mellon University and the office of Michael McQuade, the vice president for research at Carnegie Mellon. It's a little bit rainy out today, but we're excited to have him here with us.
Michael McQuade: Great. Nice to see you. Thanks for being here.
Bonk: Yes. So we're doing this Pittsburgh Tomorrow series, trying to get the voices of the future and people that are intimately involved in creating it. You're one of those folks. So can you give us a quick backstory about you so we know a little bit about you to start?
McQuade: Sure. Great. I'm a Pittsburgh guy. Grew up in Penn Hills, came to Carnegie Mellon, got all three degrees from here. That was as an elementary particle physics Ph.D. student. And when I concluded that, I was absolutely convinced I would be an academic. But I wanted to go spend one year in the private sector just to know what I would be missing. And 35 plus years later, here I am. So I spent more than 25 years in the health care business. I grew up at 3M and diagnostic imaging x ray systems. I went to Kodak; I went back to 3M. And then about a dozen years ago, I made a switch to go to United Technologies. I was the chief technology officer of a company that was half aerospace and defense, and the other half was buildings and building systems, and I had the great honor of helping to lead that major engineering company with all the cool stuff that it was doing.
Bonk: So it couldn't be a better background in preparation for what you do now. Can you give us just a quick overview of what the vice president for research does at Carnegie Mellon?
McQuade: I tell people that I have sort of four roles really quickly. So one, it's a great research university. We do half a billion dollars worth of sponsored and gift research one way or another in the university. And there's a whole backroom operation that makes that work. So people who do contracts and regulatory compliance and making sure that IRBs are done and all that sort of thing. I have responsibility for that organization of terrific people.
The second is the biggest thing, which is how do I get the brilliant people at this university to know what people outside the university need or want. That means connecting with government sponsors. That means connecting with the private sector to make sure that voice is heard here so that people can know how to continue.
Bonk: Iterating the goal or the problem.
McQuade: Right. And then there's the opposite side of that, which is how do people in Washington know what's here? How do people in the private sector know what's here?
Bonk: And get that story out?
McQuade: Right. It's matchmaking. It's conversing. It's making sure that everybody knows everybody. That's the biggest part of my job.
The third thing is I do a fair amount of policy advocacy. What is the role of a university? What's the role of government regulations in enhancing that or hampering that? All the things that you would think of to make sure we…
Bonk: Get the speedbumps out of the way?
McQuade: Exactly. Exactly.
And then I think the biggest thing is just how do we create value from the work that we do here? How do we create an opportunity for faculty members to make a difference or other researchers? Whether that difference is because somebody decides that at the end of the day, the best thing to do is to open source technology or somebody wants to start a company or somebody wants to license something. So that's the four things.
Bonk: OK. Now, that's great. And that puts things in place for people to understand these big questions we have about Pittsburgh's future. So what, in your opinion, would make Pittsburgh the best city in the world or one of the best or the ideal city kind of ala Plato's Republic?
McQuade: Just a couple of things. To give you a perspective of having been here and then left and come back, let me tell you what the constants are. What astonishes me all the time, because I've been in a lot of different places, is this uncommon characteristic of Pittsburgh, that we simply roll up our sleeves and go to work. And I think people discount that.
We talk about this great tech transition. We think of the impact of everything CMU's done and everything Pitt's done. And at the at the science and technology level, those are enormously important; bringing AI, bringing robotics, all those things, transforming the future. But none of those work in Pittsburgh without this attitude of Pittsburgh that we will do what needs to be done.
And having lived through the collapse of the Pittsburgh heavy industrial industries and to be where we are today—none of that happens unless you have a city that bands together as a city and makes that happen.
Bonk: So it's partly culture and will?
McQuade: It's partly culture. It's partly will. And then I would say at a proud level, whatever you want to call it: There is the fact that we have a great research university here. And so there's a lot of stuff in the literature these days about what it takes to be an innovative city and what it's going to take to bring innovation from the coasts into the center of the country. And Pittsburgh is the example of that. One of the reasons for that is because of what CMU brings. And frankly, what Pitt also brings.
Bonk: These twin research universities.
McQuade: Exactly. You have to build on those research universities.
Bonk: Now that's really helpful to understand. The next question we'd like to dive into is this moonshot idea. And we've asked it to of a number of folks in the community. If you had one big transformational moonshot idea, what might it be? And then secondly, how does that change the narrative of Pittsburgh?
McQuade: Yeah. So I'm actually not a big moonshot fan. OK. So there was a moon shot and we got to the moon and we got people back home and people will identify the defining characteristic of that is the President making a speech. I would say that there are very few moonshots that proactively actually happen. We tend to write the history of moonshots after the fact, right? So I'm not sure that it's a good way to think what's the next big thing that's going to completely transform Pittsburgh.
I think the question is, what do we need to put in place to allow continuous transformation? What do we need to put in place to say, you know, today it's autonomous vehicles and tomorrow it's going to be biology X and the next day after that, it's going to be enhanced learning. It's a series of things that I think if you try and say, here is the next big thing, you'll constrain your thinking and you run the risk of that thing doesn't work. And now you're left high and dry.
Where a mentality that says, it's not a thousand flowers blooming right. It is a mentality that says, I have to take big bets, but I have to take more than one. And I think what I would focus more on, is what enables that: universities we talked about, the investment in the startup community here, the availability of venture capital and more than anything else, the availability of people with experience in the startup community—people who know how to lead, who have failed and succeeded whether here or somewhere else, but the ability to do that in the Pittsburgh environment.
Bonk: That's really helpful. Yeah, it makes enormous sense. The last question: I try to put a time block around it. 1990 is as far as 2050, 30 years into the future. Are there are three kind of more granular, practical steps that you think Pittsburgh, whether at the university or, you know, as a community can take to just move things forward?
McQuade: Right. Let me give you three things but in sort of an increasing level of difficulty, if you will. First of all, I think more investment money has to be available. I can talk about that from a research point of view, but I think that's our job. That's our job to find sponsors and funding streams. That's one side. But I think the investment capital for turning those ideas into legitimate businesses that can call Pittsburgh home. We need to do work there. And I think that's going to be an issue forever because of the size of Pittsburgh. So that's number one.
I think the second is to tread on or capitalize on Pittsburgh's willingness to be forever what I would call a laboratory city. It's a city that is willing to try things. So we in the, let's say, software community—we're enamored of agile software and we're enamored of things like "dev sec ops" and the way we do modern software, which is try it, get it out there, let users experiment with it and if it doesn't work, fix it and do that right. We need to think of Pittsburgh as that way.
And we can think about the way Pittsburgh has approached autonomous vehicles. We didn't say, put all our money down, here's the solution on autonomous vehicles. We have five different companies driving vehicles around with different approaches that we're learning on all levels. And we're learning about what it's going to mean when artificial intelligence changes health care. And we're learning what it means to think about the ethics policy around technology and what the implication of that is for work.
It kind of goes back to my no moonshot mentality, which is constantly be reexamining what we're doing and thinking through things. So investment, laboratory city, and then now if you push me to the wall, I will simply say that AI (artificial intelligence) writ large. I can tell you 10 other things at CMU. But AI writ large to me is going to infuse everything that happens in society. It's going to change how you interact with your local government. It's going to change your health care. It's going to change everything. And I think that's not just the next five years or 10 years. That's the next 30 years that's going to help define not only the future of Pittsburgh, but the economics of who we are…
Bonk: …And as a planet, in some ways. That's really helpful. Any last things you'd like to add about your thoughts on the future of Pittsburgh or your own role here in the city?
McQuade: First of all, we are absolutely delighted to be back. I'm struck by what's the same and what's not and the what's the same is what makes Pittsburgh so unique. It's a million different neighborhoods of a million different people who know how to shake hands and fight together. That has not changed. I love that about Pittsburgh. The second thing I would say is that as we have work to do. We have work to do to make sure that the technology that we all develop has the opportunity to provide value to everybody. And so all of these softer questions, if you will, around equity and opportunity, disruption and opportunity—there's a beauty about a place like CMU. They need to be front and center with the conversation. So I'm delighted to be at a place that can think about all those things.
Bonk: Well, we couldn't thank you enough and more for thinking deeply and thoughtfully, not only today, but for 35 years about these big questions. And really appreciate you joining us for Pittsburgh Tomorrow. Thank you so much.
McQuade: Thank you.