Closing the Word Gap: The Words We Inherit
Pittsburgh Tomorrow Podcast: Anthony Hamlet, Superintendent, Pittsburgh Public Schools
Photo courtesy of Pittsburgh Public Schools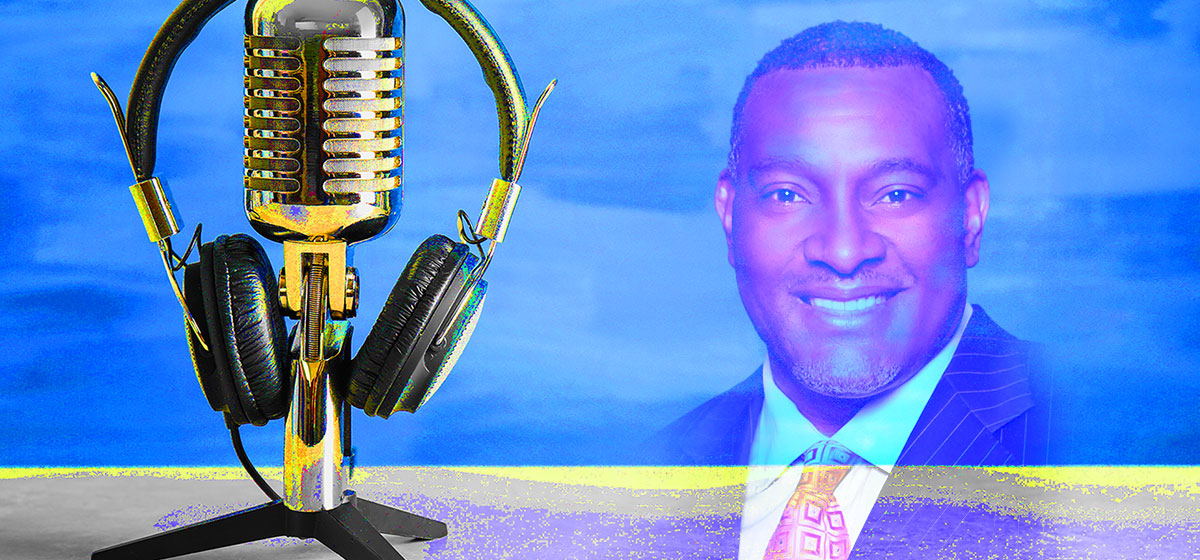 January 6, 2021
Donald Bonk interviews Anthony Hamlet, superintendent of Pittsburgh Public Schools, as part of the Pittsburgh Tomorrow podcast series. This interview was conducted before COVID-19. The transcript is abridged and edited for clarity.

View the episode archive here. View Anthony Hamlet's profile here.
"We need to increase internships and externships, and also expose our kids early to exploratory job opportunities. If you don't know what's out there, you have got to be exposed to it." – Anthony Hamlet, superintendent of Pittsburgh Public Schools
Donald Bonk: Thank you for joining us today. Can we get started by learning a little bit about your background?
Anthony Hamlet: Thank you for having me here. My background is about 26 years in public education. I started off as a substitute teacher and moved up through the ranks, becoming a teacher, dean of students, assistant principal, principal at five different schools, then executive director of school turnaround at the area office for Palm Beach (Florida) County Schools before coming to Pittsburgh. I've been superintendent here for four years.
Bonk: As part of the Pittsburgh Tomorrow project, we're asking participants, "What do you think would make Pittsburgh the best or most ideal city in the world?"
Hamlet: In order to have a great city, you must have a great educational system. So, making our educational system a premier educational system, not just locally, not just nationally, but globally, and realizing that we need to work in this global economy right now.
My key is to have our students be able compete with other students from around the world for the jobs of the future. So investing in public education as an economic lever as well, to eradicate the poverty barrier. As we educate students, they'll go out and get jobs and then begin to break the cycle of poverty in the community. It is highly competitive. We're not just competing against ourselves in the nation anymore; we are competing globally.
Everyone, regardless of zip code or where they live, should have the same quality of education as anyone has in any other zip code.
Bonk: What would be your moonshot idea to transform Pittsburgh?
Hamlet: One of the things that we need to do is to provide universal pre-K and education for children from 0 to 3.
Bonk: Currently, those aren't students that would be in your system.
Hamlet: No, they would not. They don't hit our system. And if they get the privilege of doing it, they hit it at preschool; sometimes it's at four or five.
Bonk: If tomorrow we had the funding and all the things in place, what would you provide to children ages 0 to 3 in the city of Pittsburgh?
Hamlet: I would provide daily childcare around education. If you go to some zip codes in affluent areas, you know that they are getting the intellectual stimulation that they need. Having conversations, they hear a various number of words. They come to kindergarten ready to learn because they have the vocabulary that they should have, hearing about 500,000 words, as opposed to kids in poverty, who don't have as much support at home. They need additional support. They come to school maybe having heard about 25,000 words. There's a word deficit.
We have to overcome those deficits. Of course, research says that those youngest ages are when their brains can absorb and their minds are pliable. That's when we can catch them and ingrain the education that they need to be successful.
Bonk: Your job is getting kids from 4 to 17 or 18, but there is a couple of years where this deficit in words appears. Can people make that deficit up?
Hamlet: As you get older, it is hard to make it up. But understand that we get kids that are way behind—4 or 5 years behind—and they still go back into the same environment without support. We teach them during the day, but they still don't get the support these other kids get at home.
Bonk: Thinking about the next two or three decades, are there other practical ideas around the future of Pittsburgh that you want to add?
Hamlet: We want to innovate things that are going on in the space for schools and reimagine how we deliver education in the Pittsburgh Public Schools. One of the things that we can do is to have more robust partnerships not only with non-profits, but also with the industry sector, because those industries are what we will be getting our children ready for when they graduate. We need the expertise, but also we need their vision.
Bonk: Rather than being in an educational silo and then they have to go to work, you want them to think about how they're going to make a living and maybe become an entrepreneur, too. It's not just as an employee because maybe they could be catalyzed to run their own business.
Hamlet: We need to increase internships and externships, and also expose our kids early to exploratory job opportunities. If you don't know what's out there, you have got to be exposed to it.
Again, it goes back to having family support and some not having support, having a vision and understanding of what's out there, having conversations with kids, and giving them those experiences. That's what we want to do.
Bonk: You really want to a future-focused approach—instead of a time horizon of a week or a month, having a time horizon of two years or five years or more. With some kids, their parents are constantly saying, "That's the college you're going to go to."
Hamlet: Correct. It's already ingrained in their mind from birth, what college they're going to. We want to make sure that everybody has that same type of conversation and inspiration earlier in life so that they know the opportunities are out there.
Bonk: It's a part of having the employer community collaborate with the schools, and then the students can have a personal vision about what they can become in the future.
Hamlet: We call that a student success plan. Starting early. Where do you want to go? We have programming and a vision to start that by at least third grade. We're are talking about age 7 or 8, depending on when they started school.
Bonk: Any other ideas that you'd like to share?
Hamlet: A big thing we need to do is to begin to look at STEAM (Science, Technology, Engineering, Arts and Math) and STEM (Science, Technology, Engineering and Math) education and how that looks great, not just in pockets, but systemically. Going away from the traditional model of having our academics separated—math here, social studies one class and science another.
We need to begin to integrate project-based learning and make our education more relevant to kids so they'll be more engaged but also make it relevant to their current context. And financial literacy. But also realizing that you've got to have skills. For example, if you want to be a carpenter, you need to know algebra and geometry, but also how to work with your hands. That's project-based learning.
I want this to be my first and last superintendent job. I want to stay here for a while, at least 10 to 15 years. I want to make a difference. Research says that if you have leadership and a sustained vision in place over time, you will see change begin to happen. I want to make sure that happens for the children of the City of Pittsburgh and their families, and carry it through.
Bonk: You want to be a prominent part of Pittsburgh's future.
Hamlet: I want to be the number one champion for education Pre-K though 12. That's right.