Pittsburgh Quarterly Presents "The List" 2019
Our panel of dining experts choose their top 20 favorite restaurants, all uniquely local.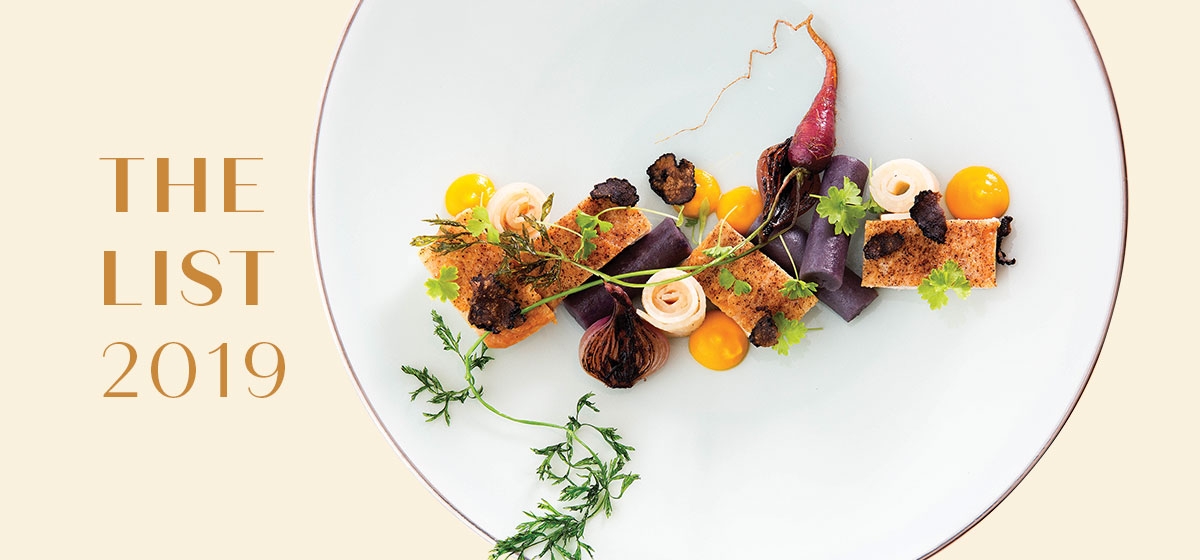 March 17, 2019
Pittsburgh Quarterly's Restaurant review Board is pleased to present our list of favorite restaurants. The list was generated based on our preferences for memorable dishes, fresh ingredients, professional service, appropriate atmosphere and, most important, consistently delicious food. Through regular meetings, spirited conversations and intense reviews which detail our anonymous dining experiences, we voted to generate the list presented below.
Our mission is to elevate and support our region's restaurant scene. We have watched Pittsburgh's reputation as a shot-and-beer town transform to one that's equally known for craft cocktails and microbreweries. The famous Primanti's sandwich piled high with coleslaw and french fries perseveres alongside culinary creations from sophisticated venues featuring whole animal butchery, in-house meat curing and farm-to-table trends. Local restaurant groups such as big Burrito (with three places on our list as we eagerly await a new one in Fox Chapel) have raised our tastes and expectations with rock-solid concepts that have been keeping us coming back for more. With the introduction of seven innovative restaurants over close to 25 years, and the careful training of chefs and staff who are scattered throughout our region's restaurants, big Burrito deserves credit for its lead role in transforming the local scene. More recently, the Richard DeShantz Restaurant Group (with two newly opened restaurants on our list) continues to raise the bar with unique concepts generating demand and enthusiasm for more adventurous dining. These corporate leaders along with the many storied chefs featured in our selections below have put our region's dining on the national stage.
With a firm commitment to our mission and great pride, we present, in alphabetical order, our list of 20 restaurants.
Pittsburgh's top restaurants
Bar Marco gets our attention for consistently delicious innovative dishes and exciting craft cocktails. A menu feature allows you to participate in creating your own drink by specifying a choice of spirit and a flavor profile. The bartender then creates your cocktail from your stated preferences. The minimalist, straightforward menu displays Italian underpinnings and changes frequently. The dining area is small and laid-back, and the food shines. Some favorites include pork tonnato (tender pieces of pork bathed in a creamy tuna sauce), crisp yet creamy arancini, gemelli with chilis, ricotta gnudi with chorizo and kale and smoked brisket. Sunday brunch is excellent, boasting interesting choices such as squash salad, baked eggs with eggplant and apple pancakes. There is a no tipping policy, with hospitality included in the prices. A 10-seat communal table in the intimate downstairs wine room is available if you wish to book a five-course menu with wine-pairing ($120-pp). And a cool rotating art gallery can serve as a private event space above the restaurant for larger groups. 2216 Penn Avenue, Strip District. 412.471.1900. Dinner only: Tuesday–Saturday. Brunch: Saturday and Sunday. Closed Monday. www.barmarcopgh.com
Café Zinho, operated for over 20 years by legendary Pittsburgh chef Tony Pais, consistently produces Portuguese favorites in a warm living room setting, with funky homespun decor. Having received awards and recognitions too extensive to mention throughout his illustrious and lengthy career, Chef Pais still works in the kitchen sporting his signature baseball cap and warm smile. He keeps this neighborhood classic firing on all cylinders and few have had the longevity in, or impact on, the city's culinary scene. With the help of Dounia Touil, his right hand and chef de cuisine, he continues to wow with dishes such as classic mariscada (a Portuguese shellfish stew); clams bulhao pato (clams in a garlicky, white wine, cilantro infused broth); crisp sardines nestled in a bed of beans and greens; and whole roasted branzino. Along with the classics, delicious and innovative specials such as Dover sole with banana sauce and coconut milk cayenne chocolate cake sometimes grace the menu. Don't miss the homemade cornbread. This BYOB, cash-only establishment makes Pittsburgh foodies particularly proud. 238 Spahr Street, Shadyside. 412.363.1500. Dinner only: Tuesday–Saturday. Closed Sunday and Monday.
Casbah combines Mediterranean flavors with a skilled use of local ingredients to produce a reliable, enduring menu. At its opening over two decades ago, Casbah was a maverick with its seductive interior, fabulous food and diverse cocktail program. Today it's a long-time favorite (and the most frequented spot of our Review Board) as it has managed to withstand increasing competition while continuing to deliver top-notch food, without the need to re-invent itself. The tented patio dining area brings the outside in and the cozy bar is a spirited meeting spot. Favorites include the tuna tartare, the arugula salad with crimini mushrooms and goat cheese, the short rib ravioli and the double cut pork chop. The menu remains consistent and familiar, while rotating through the seasons. Service is dependable even on busy occasions such as Mother's Day. Many successful chefs have gone through this kitchen under the watchful eye of Bill Fuller (the head chef of the big Burrito Restaurant Group). 229 South Highland Avenue, Shadyside. 412.661.5656. Dinner: Monday–Sunday. Lunch: Monday–Friday. Weekend brunch. www.casbahpgh.com
Cure has reopened after renovations with exciting a la carte and tasting menus. While continuing to feature its charcuterie platter with house-made salumi, recent dishes include porcini tagliatelle, a roasted half chicken (with Middle Eastern accompaniments such as tzatziki and falafel), as well as changing preparations of steak and fish. With his menu, chef/owner Justin Severino continues to demonstrate his skill at whole-animal butchery. Supporting local farms and showcasing their seasonal ingredients, the Mediterranean-inspired menu is delicious and innovative. Twice receiving recognition as Food and Wine's Peoples Best New Chef as well as being a four-time James Beard award nominee for Best Chef- Mid- Atlantic, Chef Severino knows how to create a buzz. He often collaborates with other nationally known chefs, hosting them for various restaurant events. Last fall, he hosted a hog butchering event. Check out the website for upcoming events. 5336 Butler Street, Lawrenceville. 412.252.2595. Dinner only: Wednesday–Sunday. Closed Monday and Tuesday. www.curepittsburgh.com
Eleven represents the most refined concept of the big Burrito Restaurant Group, offering trustworthy service in a contemporary setting. Chef Eli Wahl is one of our region's most highly regarded chefs who never fails to impress. Low-key fine dining is achieved with coveted booth seating, which gives a sense of comfort and privacy, breaking the dining room into intimate groups. The menu offers impeccable, seasonally inspired dishes, while supporting our local farmers (such as Elysian Fields and Who Cooks for You Farms) and artisan cheese-makers. Whether you are in the mood for chicken, fish, meat or pasta, you will experience outstanding preparation. The Eleven Burger, made of braised veal, is one of our favorite Pittsburgh burgers. Bread and desserts are baked in-house and are truly a special treat. A well-conceived cocktail menu and bar snacks such as crispy calamari with tangy sauce, cheese plates, mussels, oysters and Brussels sprouts with ricotta make happy hour (Mon.–Fri. 4–7 p.m., with $7 cocktails) a lively option. Go also to enjoy the delicious prix fixe Sunday brunch. 1150 Smallman Street, Strip District. 412.201.5656. Dinner: Monday–Sunday. Lunch: Monday–Friday. Sunday brunch. www.elevenck.com
Fish nor Fowl allows you to step outside of your comfort zone to experience eclectic food combinations that defy definition. The menu has been simplified recently and is now broken down into small plates, garden plates (or sides) and large plates, allowing diners to design their meal. John Wabeck has curated the wine and cocktail list relying on his notable palate, resulting in some delicious and creative options. With small plates, such as caviar and potatoes and savoy cabbage rolls stuffed with blood sausage, and garden plates, including wild mushroom risotto with soft duck egg and artichokes combined with eggplant and golden raisins, you will be delighted with tastes and ingredients you won't find on other menus. The large plates of halibut collar, 40-day aged steak, Mangalista pork schnitzel and recently added cod and clam chowder with bacon are all hits. The Richard DeShantz Restaurant Group continues to add variety and panache to our vibrant dining scene. 5523 Penn Avenue, Garfield. 412.460.4644. Dinner only: Thursday–Monday. Closed Tuesday and Wednesday. www.fishnorfowlpgh.com
Gaucho Parilla Argentina produces wood-fired meat mixed with rosemary scents that waft in the air as you stop at this hip and casual spot at the corner of Penn Avenue and the 16th Street Bridge in the Strip District. Caramelization and other fine points of proper grilling are expertly achieved, and an array of Argentinian sauces mix and match with everything to provide extra zing to your taste. Steak platters and steak sandwiches are carnivore heaven, while grilled vegetable, shrimp and the El Gaucho salad are also outstanding. Patrons snake around the building during peak lunch and dinner times, but the engaging staff makes the wait fun. Once your order is taken, grab your seat inside or on the adjacent porch (weather permitting). The Bodega (an underground space) offers reservations for groups and private parties. Take your favorite bottle of red wine and dive into this Argentinian menu. 1601 Penn Avenue, Strip District. 412.709.6622. Lunch and dinner: Tuesday–Saturday. Closed Sunday and Monday. www.eat-gaucho.com
Hyeholde, a grand old house converted to a restaurant in the 1930s offers a truly romantic evening. During wintertime, crackling fires, wall tapestries and creaky wooden floors create a feeling of elegance and charm alongside a hearty menu executed with attention to detail. In the summer months, an outdoor patio surrounded by beautiful gardens is also a spectacular dining venue. The property has four acres of gardens and winding stone paths. Some ingredients are grown on the property; a honey-producing beehive is the most recent addition. Sherry bisque is a Hyeholde tradition and year-round staple. Come to enjoy favorites of the wild such as pan-seared trout and rosemary-hazelnut-encrusted elk in a magical castle setting. This stately spot, which is still owned and operated by Barbara Kryskill McKenna, the daughter of the original owner and builder, is a favorite for weddings and other special celebrations. A chef's table option allows you to enjoy an inspired menu at a private table in the kitchen. 1516 Coraopolis Heights Road, Moon. 412.264.3116.Dinner only: Monday–Saturday. Closed Sunday. www.hyeholde.com
Il Pizzaiolo (Mt. Lebanon location only) delivers wood-fired pizza and freshly made pasta created with quality ingredients carefully sourced from Italy. The intimate wine bar features the full menu along with excellent Italian wines, a cozy fireplace and oversized leather chairs, which encourage interaction and conversation. A quaint garden area offers seating during good weather. The Margherita DOC pizza, a simple preparation made with famous San Marzano DOP tomatoes and buffalo mozzarella, is a hands-down favorite. Abundant antipasto platters are piled high with quality meats, cheeses, artichokes, olives and vegetables. Classics such as rigatoni Bolognese, pasta e fagioli and eggplant parmesan are well executed. This lovely, neighborhood gathering spot in the South Hills accommodates diners of all ages with youthful, energetic service. 703 Washington Road, Mt. Lebanon. 412.344.4123. Lunch and dinner: Monday–Sunday. www.ilpizzaiolo.com
Lautrec provides the region's premier fine dining experience. Travel to Nemacolin Woodlands resort (located 70 miles outside of Pittsburgh, in Farmington) and plan to spend the night to fully enjoy this ultimate culinary excursion. This is one of only 30 restaurants in the world to hold AAA's Five Diamond designation along with Forbes Travel Guide's Five Star Restaurant designation for over 10 years. Chef Kristin Butterworth leads a team of chefs, gardeners, bakers and cheese makers to produce prix fixe ($115-pp; $200-pp with wine pairing) and tasting menus ($155-pp; $275-pp with wine pairing) that change with the season. Butterworth is known for her passion for the farm-to-table movement and her menu highlights local flavors sourced from over a dozen local farmers and purveyors, resulting in well-conceived dishes. Begin your evening with the Champagne and caviar cart and end it with fabulous desserts such as the lemon posset (lemon infused local cream with blueberry granita and white chocolate pearls). Lautrec provides western Pennsylvania's best professional service in its utmost elegant setting. 1001 Lafayette Drive, Farmington. 855.420.8113. Dinner only: Tuesday–Saturday. Closed Sunday and Monday. www.nemocolin.com/dining/lautrec
Legume is the only restaurant in the region selected as a 2018 semifinalist in the James Beard Outstanding Restaurant category. This is Pittsburgh's crown jewel of farm to table cooking. Executive Chef/Owner Trevett Hooper has been a leader in sourcing his meats primarily from western Pennsylvania, venturing further for uncommon items such as pheasant, duck, antelope, goose and veal. He has also studied European and American canning and preservation techniques, which allow him to keep the seasons' bounty alive through the year. The daily menu evolves as the seasons change. Moving from asparagus and rhubarb, to tomatoes, corn, peppers and cherries, and on to squash and pears and greens, root vegetables and preserved veggies from seasons past—the ever-changing menu warrants frequent visits. The "things to share" such as smoked bluefish or mackerel pate and chicken liver mousse are worth a trip. The simple décor, unpretentious and seasoned service and delicious food make this casual spot a gem. 214 N. Craig Street, Oakland. 412.621.2700. Dinner only: Monday–Saturday. Closed Sunday. www.legumebistro.com
LeoGreta cooks homestyle Italian cuisine in a relaxed setting. Owner/chef Greg Alauzen hits the mark in his quaint Carnegie establishment. Providing simple, fresh Italian food with an occasional French inspiration, you can enjoy hearty lunches and homemade dinners. Fresh pasta, creative sauces, delicious greens and beans, and a killer fennel salad are only a few of the outstanding items on the menu. A long time in coming for an immensely talented chef, his new venue provides a heartening place to pull up a chair and nosh on Italian comfort food at its finest. 301 West Main Street, Carnegie. 412.489.6382. Lunch and dinner: Tuesday–Sunday. Closed Monday. www.leogreta.com
Morcilla is another Justin Severino creation that has been recently renovated and the acoustics and warmth of the space are much improved. Executive Chef Nate Hobart offers a deep Spanish menu with many interesting choices. There are signature charcuteries and the traditional pintxos (small snacks) that are easily shared. In fact, there are so many intriguing small plates, it is often hard to save room for the big plates. Fried artichokes, roasted cauliflower, octopus a la plancha, and ox-tail montadito are among our favorite small-plate selections. Hams and sausages are expertly crafted. Desserts, especially the churros and chocolate pudding, are exceptional. Check out the four-course family-style dinner that is offered for $45/per person. 3519 Butler Street, Lawrenceville. 412.652.9924. Dinner only: Wednesday–Monday. Closed Tuesday. www.morcillapittsburgh.com
Poulet Bleu welcomes you with its cozy feel and charming space. The blue -and-white floor and the attractive wallpaper create an intimate, upscale bistro feel. This star of the Richard DeShantz Restaurant Group offers decadent oysters Rockefeller, trout almondine, roasted chicken and steak frites. Classic French starters, such as onion soup, mussels and escargot, shine. Desserts prepared in-house by pastry chef James Wroblewski including chocolate soufflé, crème brulee and pavlova are delicious and properly executed. The staff is helpful and professional. Chef de cuisine Ryan Hart is visible in the open kitchen enthusiastically creating fragrant dishes. During warmer weather, the charming outdoor patio is a great place for indulging in this traditional French cuisine without a reservation. Bar seating also serves a full menu for walk-ins. 3519 Butler Street, Lawrenceville. 412.325.3435. Dinner only: Tuesday–Saturday. Closed Sunday and Monday. www.pouletbleupgh.com
Senti boasts sleek and sophisticated, white tablecloth ambience. Traditional Italian cuisine with a classy, upscale twist and thoughtful service coalesce for a chic yet approachable experience. Ladies who lunch highlight Senti as a dependable favorite. Straightforward preparations such as grilled salmon and spaghetti pomodoro are crowd pleasers. Dishes are created from traditional recipes which showcase the subtle flavors of Italy. Getting to know Franco Braccia, the gracious owner, can result in specially designed kitchen preparations. The wine bar/lounge boasts state-of-the-art, automated wine dispensers featuring superb Italian wines with affordable, measured pours. The purchase of a pre-paid card allows customers to help themselves to wine at their leisure. Wine dinners, pasta classes and other special events are periodically available. The ambiance and layout of the space is also conducive to hosting private events. 3473 Butler Street, Lawrenceville. 412.586.4347. Lunch and dinner: Tuesday–Saturday. Dinner only: Sunday. Closed Monday. www.sentirestaurant.com
Superior Motors showcases Executive Chef/Owner Kevin Sousa's eclectic style and commitment to community. His seasonal ingredients (often sourced from a local community-run garden), re-interpretations of food traditions and techniques, and mentoring to the profession have resulted in a transformative kitchen. Located across from Andrew Carnegie's first and still operating steel mill in the heart of Braddock and drawing on the neighborhood for servers and kitchen staff, this operation has a community-driven agenda, which achieves wonderful results. It is a joy to watch the enthusiastic servers and kitchen staff learning a new trade. The menu is imaginative and ever-changing, featuring exotic ingredients with unique presentations. You might find interesting combinations such as duck with beet, orange, mustard and cabbage or halibut with gnocchi and escargot. Recent accolades include Food and Wine's top 10 Restaurants and recognition in Time's "100-World's Greatest Places." 1211 Braddock Avenue, Braddock. 412.271.1022. Dinner only: Wednesday–Sunday. Closed Monday and Tuesday. www.superiormotors15104.com
Twisted Frenchman offers diners classic French cuisine with a twist. Chef Andrew Garbarino has created a warm and inviting space and lavish kitchens through his significant renovation of the Royal York Auction Gallery building in East Liberty. The elegant dining room offers comfortable seating with ample space between tables, and the décor projects soothing blue tones. His specialty is modern French tasting menus ranging from four to 21 courses. The four-course tasting menu ($65-pp) is available nightly while the 21-course menu ($225-pp) requires at least two weeks' notice and is served at the Chef's table. A custom number of courses can also be arranged in advance. A typical menu may offer a first course selection of seasonal soup, beet salad, house-made pate or vegetables with grains and the second course could feature octopus, foie gras, risotto or a treat such as pork belly combined with scallop. A protein (monkfish, lamb, chicken, beef and duck were recently on the menu) makes up the third course followed by a dessert selection. Chef Garbarino aspires to be awarded a Michelin star, and we would love to see him succeed. 5925 Baum Boulevard, East Liberty. 412.665.2880. Dinner only: Tuesday–Sunday. Closed Monday. www.thetwistedfrenchman.com
Umi, with the legendary Chef Shu at the helm, produces delicate and refined sushi and other Japanese classics. Splurge for the multi-course (7-$90; 11-$130) omakase menu featuring Mr. Shu's freshest creations of the day. The menu continues to offer favorites such as rock shrimp tempura, shrimp gyoza and the best black cod with miso. A wide selection of maki and premium sushi and sashimi are also available. The restaurant closes when Mr. Shu is on vacation, and reservations are still hard to come by after nearly 20 years. Walk-ins are possible at both the sushi bar and the tatami-style low tables (with cut outs for your legs), with reserved regular table seating in short supply. Umi is another exceptional concept from the big Burrito Restaurant Group. 5849 Ellsworth Avenue, Shadyside. 412.362.6198. Dinner only: Tuesday–Saturday. Closed Sunday and Monday. www.bigburrito.com/umi
Union Standard, located Downtown in the historic Union Trust Building, is the first solo restaurant of acclaimed chef Derek Stevens. Serving as Eleven's executive chef for over 10 years and working at Casbah, Hyeholde and the Duquesne Club prior to that, Chef Stevens has the bona fides to make Union Standard a Pittsburgh notable. The open kitchen and wood-fired rotisserie create a relaxed and informal atmosphere. The large square raw bar encourages conviviality and the delicious oysters and smoked trout deviled eggs offered there make it a nice cocktail stop. Great menu options include steamed littleneck clams with corn and bacon in the broth, the best steak tartare in the city, roasted shishito peppers with cheese curds, cauliflower schnitzel, and delicious grilled strip and ribeye steaks. A lunchtime favorite is the Gerber Farms chicken pot pie. The upper level of the restaurant accommodates private dining events. 524 William Penn Place, Downtown. 412.281.0738. Dinner only: Monday–Saturday. Lunch: Monday–Friday. Brunch: Saturday and Sunday. www.unionstandardpgh.com
Whitfield is not your typical hotel restaurant. The reinvention of this old YMCA building into an active bar with a funky vibe and unique dining room offers a simple, but original menu making this the coolest spot in town for breakfast, lunch or dinner. The menu offers an easy-to-share charcuterie platter with pickled vegetables. The Laurel Highlands smoked trout with melted leeks, the pork shank with cranberry and kumquat relish and the spicy green salad are menu highlights. Meat is butchered in-house and the bacon and hamburgers are noteworthy. A vegetarian tasting menu is also offered. Desserts, such as mint chocolate chip cake and passionfruit bombe, are made in house by Whitfield's award-winning pastry chefs. The private "no-no room" with seating up to 12 makes an enjoyable dining location and offers a chef's tasting menu, while the minimalist bar with a hip crowd is a fun stop after dinner or for bar snacks. 120 S. Whitfield, East Liberty. 412.626.3090. Dinner: Sunday–Saturday. Lunch: Monday–Friday. Breakfast: Sunday–Saturday. Brunch: Saturday and Sunday. www.whitfieldpgh.com