Pair Trendy Hawaiian Poke Bowls with Alsace Gewurztraminer and Craft Beers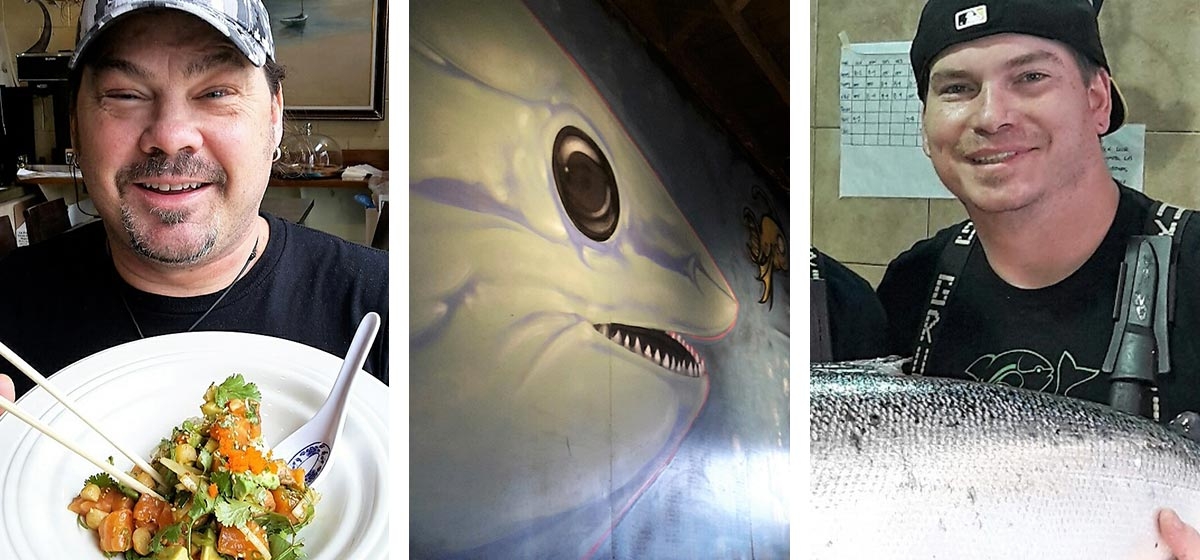 July 31, 2017
If you haven't heard of poke bowls, don't worry. You will. Just ask Angela Earley, a partner in Penn Avenue Fish Company in Pittsburgh's Strip District.
"Recently regular customers have come in saying how much they enjoyed poke bowls in L.A.," she notes. "Some even told us we should open a poke only restaurant."
But what are poke bowls? And why all the sudden excitement over pairing them with wine and craft beers?
It starts simply enough with poke bowls' humble origins. Hawaiian fishmongers look to use all parts of the fresh catch in appetizing, inexpensive ways. So tender, raw parts cut from the heads and tails of fatty fish such as ahi tuna are mixed with rice and then covered with a sweet and spicy sauce. Crowning, crunchy tidbits include macadamia nuts, scallions, avocado slices, wasabi peas, radishes, pickled onions, pickled ginger and fresh herbs.
Eventually the tasty poke (pronounced "poh-kay") bowls spread to the U.S. West and East coasts and went upscale. Choice cuts of fish including salmon and hamachi—yellowtail amberjack—serve as the protein and noodles often replace the rice. Because of the dish's diverse flavors and textures, sommeliers and cicerones love experimenting by pairing poke bowls with crisp, fruity white wines and craft beers. Now the poke trend is moving inexorably mainstream across the land.
At Penn Avenue Fish Company, Earley and fellow fish mongers Chef Henry Dewey and Tim Reynolds offer poke bowls made to order. They like to make an artistic presentation while maintaining poke's fun, uncomplicated spirit as a fish and rice dish meant for casual enjoyment.
"The key is starting with a great sauce to tie it all together," Chef Dewey notes.
While the exact recipe remains in house, he likes to begin with a rich, Asian brown sauce "kind of like a Peking Duck sauce." He adds a bit of Sambal Oelek Asian chili sauce "to give a kick." Then the chef adds Ketjap Manis—Indonesian sweet soy sauce—for balance.
For protein, Dewey recommends using chunks of Scottish Faroe Island Salmon for the firm texture, delicious flavor and fatty oils. The fish handles the sauce effortlessly. Dewey also offers a poke bowl with firm tofu as protein for vegetarians.
Final toppings include macadamia nuts, sesame seeds, avocado slices and plenty of cilantro. A seasoned, sticky rice serves as the base.
For wine, Dewey recommends Domaine Zind-Humbrecht's Gewurztraminer from Alsace. The wine has just the right amount of bold flavor and freshness to complement, rather than overwhelm the dish.
"Man, Humbrecht is a genius, and I've loved his wines forever," Dewey says enthusiastically. "He captures all the fruit's aromas and ripeness, but the wine has great, refreshing balance."
In the vineyards, Olivier Humbrecht, MW, follows a biodynamic approach that uses homeopathic treatments on the vines rather than synthetic chemicals. So his vineyards have rich soils teeming with flora and fauna that force vines to sink deep roots to mineral rocks below. The resulting wines have a fresh purity and balance that enthralls chefs and amateurs the world over. For a delightful introduction try the 2014 Domaine Zind-Humbrecht, Gewurztraminer, Turckheim, available nationally at around $23.
Back at Penn Avenue Fish Company, fellow fishmonger Tim Reynolds prefers craft beer with the poke bowl.
"That touch of heat in the dish goes well with a session style India Pale Ale without a lot of alcohol," he says.
He recommends beers from craft brewer Helltown Brewery, located in the Western Pennsylvania town of Mount Pleasant. The Helltown Hot Frenzy I.P.A. has 5.5% A.B.V. with hop-forward aromas and a refreshingly fruity yet bitter taste. The recipe includes Columbus, Citra, and Nugget hops.
"Good, crisp Pilsners and German style lagers also work well too with the poke bowl," Reynolds adds. He recommends Penn Brewery's Penn Gold, a "Munich Helles" style lager. The pale, gold color has ample malty, sweet flavors and just enough hops for lovely, delicious balance.
Chef Dewey also encourages customers to have fun while making Poke bowls at home.
"There are plenty of recipes online," he notes. "Just go with fresh fish and imagination, and you won't go wrong."