On a Pedestal: Fallingwater, Allegheny Conference, Natural Areas Association, Healthcare Truce
Illustration by Maura Losch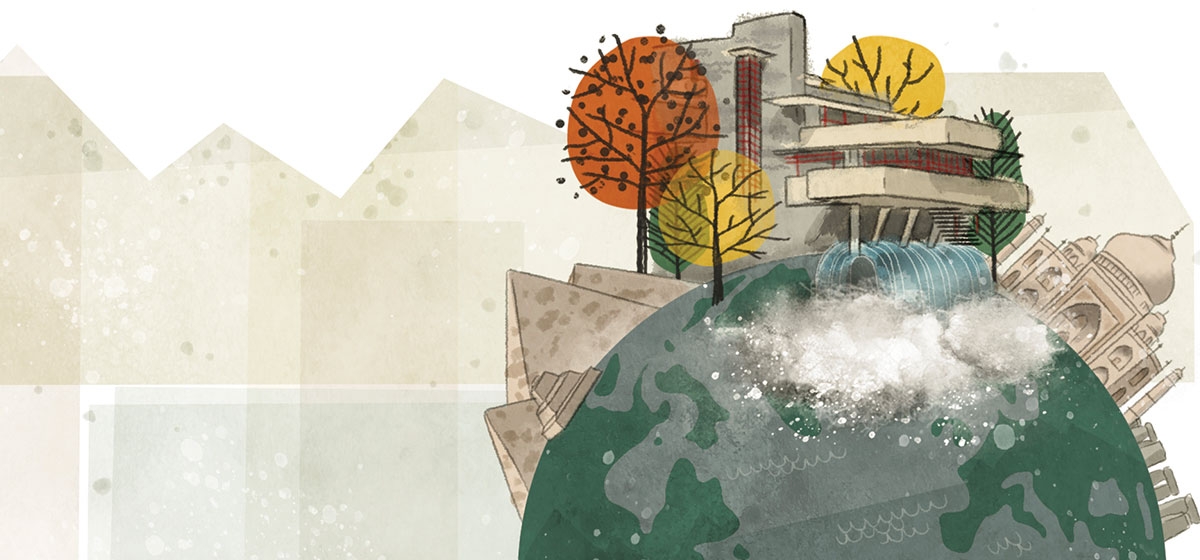 October 16, 2019
Now, a world treasure: Fallingwater has gone global. Thanks to efforts from the Western Pa. Conservancy, Frank Lloyd Wright's masterpiece of modern architecture nestled in the verdant Laurel Highlands has been added to the United Nations Educational, Scientific and Cultural Organization World Heritage List. It's recognition that in our backyard is a treasure considered in the same league as the Taj Mahal, Stonehenge, the Great Wall of China and the Pyramids of Giza.

A Birthday of Note
Southwestern Pennsylvania has been through a lot during the 75 years the Allegheny Conference on Community Development has existed: a roaring post-war economy ruled by steel, sweeping urban renaissance, devastating industrial collapse, a stunning revival against all odds driven by an economy rescued by technology, education, energy and health care. The conference has been in the thick of it throughout.
It was conceived as a catalyst for private and public sector partnerships to improve the economic prospects and quality of life of the region by Pittsburgh financier Richard King Mellon and other business and community leaders. One of its first orders of business was to persuade city officials to enact smoke-controls that were ahead of their time to relieve the air of soot that turned day to night and discouraged new investment. Its fingerprints are found on flood control measures, and on the creation of the Port Authority of Allegheny County from 40 fragmented transit operations and on the Regional Asset District sales tax that today supports our libraries, museums and other public treasures. Most important, the conference has been a key part of the collaborative spirit among disparate interests that has become a hallmark of the region and the best hope that southwestern Pennsylvania will survive and thrive in the next 75 years.
The Thin Green Line
The Natural Areas Association flies under everyone's radar, except that of the scientists, land trusts and others who work to restore and protect our natural areas and ecosystems. The Ligonier-based national profit is their portal to knowledge about a complex, rapidly changing field. It created an infrastructure for exploring solutions to pressing issues that includes a peer-reviewed science journal and a network of professionals who share ideas and identify best practices. In October, some 400 of its members from across the United States will gather in Pittsburgh for their annual conference. Not the stuff of headlines. But such collaboration, brainstorming, swapping of notes is more critical today than ever before.
For many in the field, their budgets are tight and resources are sparse. And everyone involved in managing natural areas today faces diverse, ever-mounting challenges. Invasive species are on the move and the impacts of climate change are only beginning to reveal themselves. In such a field, at such a time, finding ways to work smarter is a necessity. The Natural Areas Association does that. And we all have a stake in the outcome. What natural area professionals know better than anyone is that future generations will be able to know and enjoy only what we leave them.
Truce, At Last
The feud between the region's healthcare giants ended in June with a 10-year truce that will continue to give Highmark-insured patients in-network access to UPMC doctors and hospitals. More than 1 million patients are affected by the agreement reached by UPMC and Highmark, the leading institutions of a western Pennsylvania healthcare network that is the envy of many other regions for the breadth and quality of the care it offers and the innovation it fosters.
It took years of headlines, attorneys and consent decrees to reach a deal. The long impasse raised the prospect of having to change doctors. It bred confusion. It sowed nagging uncertainty among patients. But UPMC and Highmark found it in them to step back from the acrimonious battle. And in doing so, they've opened the door to reconciliation and a renewed focus on the well-being of the people they're in business to serve—the men, women and children of western Pennsylvania who trust them with their health.