NFL Week Two: Quarterbacks Under Siege
Rebecca Mehling / Pittsburgh Steelers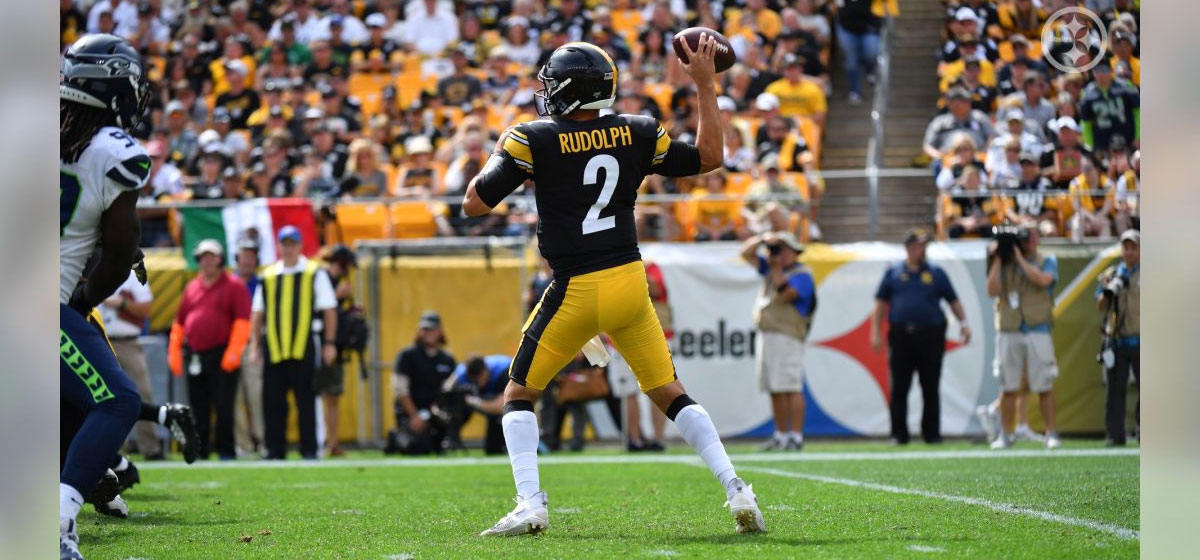 September 17, 2019
There are a number of variables that play into the Super Bowl equation. You have to win the close games—a win's a win whether by 30 points or by 3. You have to be lucky—moments that happen in the blink of an eye can decide the fate of entire football games. Above all, you have to be healthy.

Through two weeks of the NFL season, five teams have already been forced to exercise their contingency plan at quarterback. The Colts, Jaguars, Jets, and most recently the Saints and Steelers will be rolling with their backup options for the foreseeable future.
As frustrating as it is for teams and their fans, it must be equally so for the league's front office. Sub-par quarterback play produces a sub-optimal product, and they've done everything within reason to protect that position. The powers that be certainly didn't foresee a primetime Monday night matchup featuring the Browns' Baker Mayfield vs. Jets' backup Trevor Siemian.
It's a problem without a solution, and with 15 weeks of regular season remaining, one that's not going away anytime soon. Let's take a closer look at what the implications are around the league.
Steeler's Corner
The Mason Rudolph era appears to be underway, or at least a three-month trial era. Quarterback Ben Roethlisberger has been lost for the season, and with him the confidence of a playoff appearance. As one era gets underway, it's fair to speculate whether others are coming to an end. Roethlisberger will be 38 when training camp opens next spring, and coming off major surgery. Meanwhile, head coach Mike Tomlin must navigate extremely rough waters in order to stay off the hot seat. The team extended his contract this summer through 2021; that agreement will be put to the test this year.
The defense came out looking re-energized this week against Seattle, notably in the first half. T.J Watt's Pro Bowl talent was on display early and often, while rookie Devin Bush racked up seven tackles. The wind seemed to come out of the sails a bit in the second half, unable to contain QB Russell Wilson in clutch moments down the stretch. Safety Terrell Edmunds fell victim to an unlucky pass interference call on 3rd and 20, and followed that up by allowing a game-winning 28-yard touchdown three plays later.
The offense was a different story. QB Mason Rudolph's two second half touchdowns are encouraging, although one of them did result from a Devin Bush fumble recovery on Seattle's three yard line. Donte Moncrief apparently has not learned how to catch a football in the last week, as Rudolph's lone interception sailed through his hands and into a defender's arms. The offensive line held up their end of the bargain in pass protection, but cannot seem to open up the run game. James Conner has the looks of a hotrod that keeps ramming into the garage door—the run lanes simply have not been there.
More than ever, a formidable run game will be needed to keep the pressure off Rudolph the rest of the way. Through two weeks, Conner and company sit at the bottom of the barrel in the league with a paltry 112 rushing yards. If the Steelers aren't able to get going on the ground, we may all be in for a long season.
Baltimore catching fire in AFC North
While the Steelers have been searching for answers, the Ravens appear to have found one in QB Lamar Jackson. The 2nd year QB out of Louisville has been electric to start the season, complemented by a defense holding opponents to a league best 293 yards a game. Sitting at 2-0 with Pittsburgh on the ropes, is it too early to project Baltimore running away with the division?
Let's not carve anything in stone quite yet. If Ravens head coach John Harbaugh continues to let Lamar Jackson run 16 times as he did against Arizona, they too may be looking to their backup QB before long. With the Browns and Bengals still trying to find their footing, this division is more wide open than it appears early on. For the Steelers to keep pace, Rudolph needs a win under his belt in San Francisco.
NFC South ripe for the picking
If the importance of the quarterback wasn't already apparent enough, consider the New Orleans Saints. After averaging 32 points and almost 400 total yards a game in 2018, backup Teddy Bridgewater's offense was only able to muster three field goals in their blowout loss to the Rams. With both Atlanta and Tampa Bay in the win column this weekend, the Saints are going to have to find a way to tread water during QB Drew Brees' projected six-week absence following thumb surgery. The Falcons have to be the new favorite moving forward, although their run game continues to look abysmal.
Kiss of death for the Jets in the AFC East?
After QB Sam Darnold's strange mono diagnosis last week, things are a bit turbulent in New York. Enter backup QB Trevor Siemian, who hasn't taken a regular season snap since 2017. While it wasn't likely the Jets would challenge for the division this year, they were at least expected to give New England a run for their money. They'll get back on track when Darnold returns, but there's no definitive timeline as of this writing. Wouldn't you know it, Tom Brady and company await in Foxboro this Sunday. Perfect timing!
AFC South is Houston's to lose
Head coach Bill O'Brien must be feeling pretty good about his teams' odds right now. Through two weeks, two divisional opponents are down to their backup options. QB Gardner Minshew is a nice story in Jacksonville, but this is mostly a lost year for the Jaguars at this point. Houston shouldn't get too complacent—they too could find themselves on the aforementioned quarterback list if Deshaun Watson continues to be sacked at this alarming pace (10 times through two games).
Fantasy Forecast
There were a ton of impressive performances in week two. After starting 2018 without a touchdown for 7 games, Julio Jones is on a torrid stretch of 11 in as many games. RB Dalvin Cook has also put together a couple solid showings this year at a clip of almost 7 yards a carry.
There are also major implications from these quarterback situations moving forward. New Orleans, Pittsburgh, and NY Jets pass-catchers get downgraded, while the Jets can be mostly avoided until Darnold returns. Here are a few other notes from week 2:
Buy: Kansas City Wide Receivers
WR Tyreek Hill will return at some point, and Sammy Watkins received double-digit targets in week 2. Despite the volume, it was WRs Demarcus Robinson and rookie Mecole Hardman who capitalized on the extra opportunities. Each turned in top-20 WR performances on only 6 targets each—if you need some plug-and-play guys as bye weeks approach, you could do worse than anyone in the Chiefs red-hot offense.
Sell: Tennessee Offense
RB Derrick Henry will continue to see a steady dose of carries, and TE Delanie Walker could very well wind up leading the team in receiving at this rate. Outside of those two, it may be time to cut bait. 38 yards on 8 targets is not going to cut it for WR Corey Davis. He's absolutely due for a slump busting game soon, but his reliability will be near impossible to predict on a week-to-week basis with QB Marcus Mariota at the helm. Although he's outpaced Davis thus far, the same goes for rookie AJ Brown. Tennessee will grind out some wins this year, but this is not an offense that will be proficient through the air. This has the looks of a team that will likely be drafting a new quarterback come April—stay away.
Hold: New Orleans Offense
The vultures may appear to be circling for players like RB Alvin Kamara and WR Michael Thomas, but don't be over-reactionary. Head coach Sean Payton will find ways to get the ball into the hands of his playmakers and, unlike Pittsburgh, their QB should be back before November. Unless you get a trade offer you can't refuse, stay the course—they won't put up the typical eye-popping stats, but they'll remain playable until Brees returns.