New & Noteworthy: Alta Via
Italian with notes of California wine country 

Photo courtesy of Alta Via.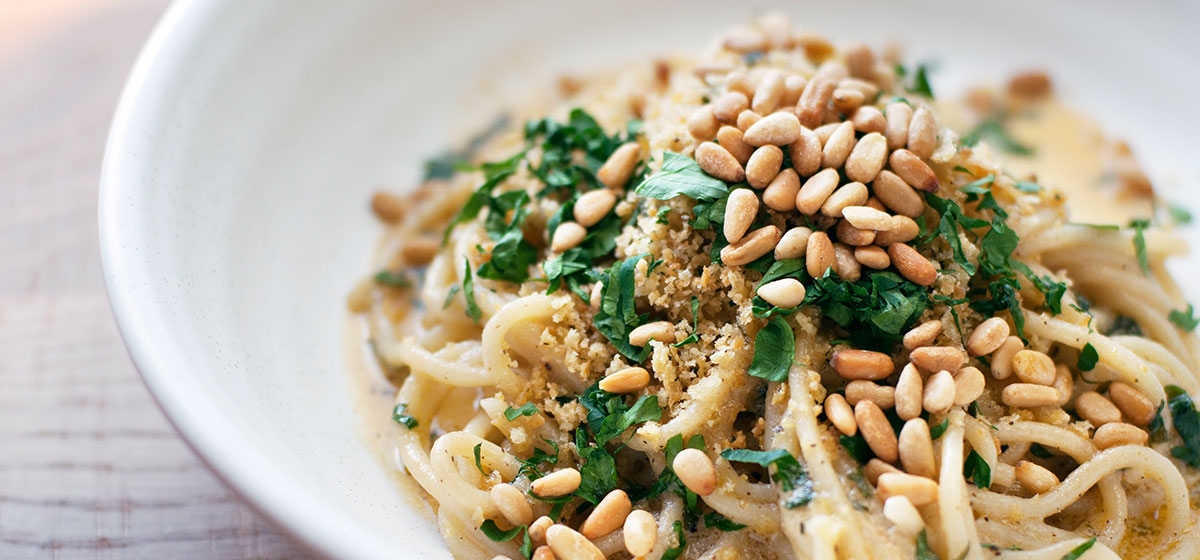 June 24, 2019
Alta Via, named for a footpath through the Dolomite Mountains in northern Italy, is big Burrito's first new concept in 15 years. The food is a unique fusion of the fresh, clean vegetable plates and wood-fired entrees one might experience in the California wine country with classic Italian cooking such as homemade pasta and gelato.
---
---
The big Burrito restaurant group has a reputation for consistently delicious food across its other restaurants, Casbah, Eleven, Umi, Soba, Kaya and Mad Mex. Executive Chef Bill Fuller passes his expertise to corporate chefs along with access to the finest ingredients. Leading the Alta Via kitchen is Chef Ben Sloan. He has been with big Burrito for 15 years, operating mostly at Kaya in the Strip District. With its fun and boisterous vibe, people are clamoring to experience this new concept.
The décor creates a casual and inviting space with a warm glow. Although the rooms maintain the basic layout from Donato's, the restaurant that formerly occupied the space, every surface has been changed for the Alta Via experience. The interior is soft with satin finished wood tables and corresponding dinnerware in tan and grey/blue with gloss white serving pieces. Edison bulbs add sparkle to seed glass wall panels and textured drinkware. A combination of saddle leather-like banquets and comfortable upholstered chairs are available in the dining room, which seats about 90 guests.
The bar area is first-come first-served and accommodates up to 40 people. Seating options include a square bar surrounded by stools, as well as a few booths and small high-top tables along the outer walls. The booth seating is especially comfortable. Ordering food in the bar area is strongly encouraged. From the bar you can expect classic cocktails, Italian and American wines and various Pennsylvania drafts and bottled beers. Drinks are interesting and full of flavor, and the wine list is approachable. There is Prosecco on tap, along with several local beers. The grapefruit margarita and the Italian mule are standout cocktails.
One of the delights of Italian cuisine is its informality—the impressive bountiful way that appetizers and vegetable courses are served with ease and elegance. Alta Via allows for this communal feasting with its impressive array of both. After those first sips of wine and the arrival of the warm ricotta, or the burrata topped with herbs and pine nuts over toast, you are experiencing the abundance and the aura of Italian cuisine. Next, you could share the wood-fired artichokes and eggplant laced with olive oil and mint. The entire menu lends itself to indulging in a communal and effortless way. Try half portions of the pasta and move on to shared mains such as the succulent fire roasted swordfish on a bed of parsley risotto with pea shoots.
California influences include a beautiful bread presentation showcasing focaccia on a wood cutting board with small containers of coarse white/black salt, soft butter and a tiny pitcher of extra virgin olive oil to round out the theme. The tuna tartare with lemon aioli, the fried calamari and the fluke with honey crisp apples, horseradish and blood orange oil blend California wine country flavors. Wood-fired essence shines in the mushrooms and the heartier main courses, such as the pork chop with creamy polenta and crispy prosciutto.
Pasta is made in house. Some of the shapes are uncommon. All are cooked to perfection. There is spaghetti and rigatoni. You'll also find mafaldine, a ribbon-shaped noodle with wavy edges and alla chitarra, which is made from flat sheets of pasta pressed through thin wires to make spaghetti with a square cross section. The short rib pappardelle smacks of a deconstructed version of the Casbah short rib ravioli. The spaghetti sauced with an unusual combination of lemon, prosecco, sea urchin butter, pine nuts and breadcrumbs is full of flavor. An off-menu ramp pasta made with guanciale, egg and fresh peas is a crowd-pleaser. The pasta courses are ample and rich. Half portions coupled with the vegetable offerings make a lovely meal.
As this emerging restaurant continues to create its menu, here are a couple of tweaks to consider. The beet salad with raw guanciale didn't work. Raw guanciale is bland and gratuitously fatty and even if fried and crispy might not be the best complement for beets. The beets themselves were cold and delicious, but their dressing lacked acidity. The pasta Cacio e Pepe can be gummy and bland if not properly executed. To alleviate escalating noise levels, perhaps the music should be turned down as the volume of the conversation increases. With big Burrito in charge, it is likely these small kinks will be quickly resolved.
The nightly specials will keep the experience varied and the repeat customers coming back for more. Alta Via is a first-class neighborhood restaurant and a polished addition to the big Burrito portfolio.
Alta Via: 46 Fox Chapel Road. 412.408.3816. www.altaviapgh.com. Open 7 days for dinner, 4 p.m.–10 p.m. Lunch and brunch service coming soon.