New and Noteworthy: LeoGreta, Fish nor Fowl
PQ panel picks two new restaurants worth a visit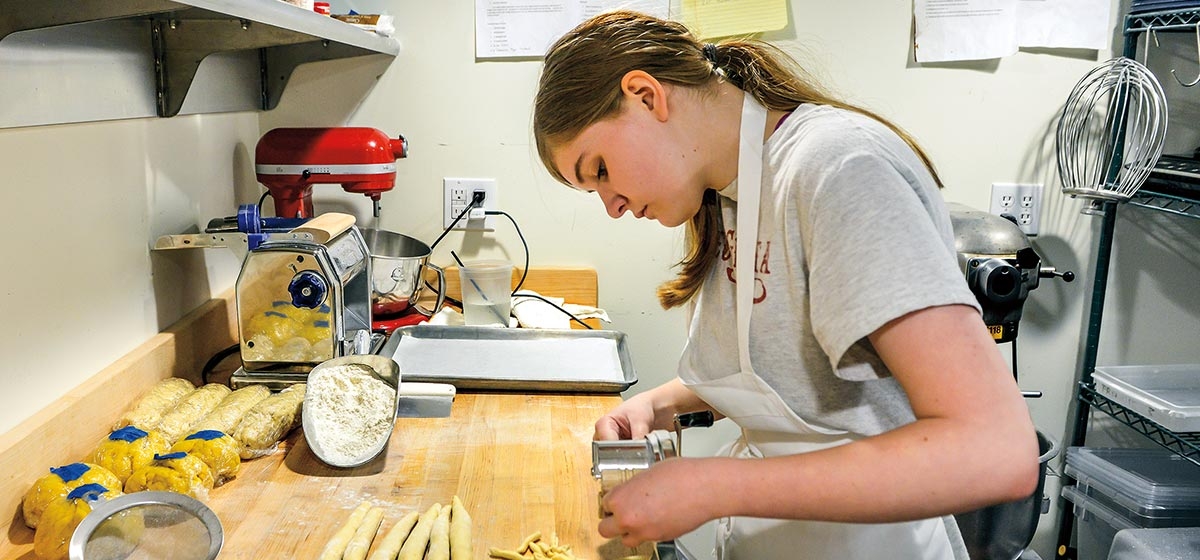 January 14, 2019
Longtime Pittsburgh chef Greg Alauzen has opened his own restaurant in Carnegie paying homage to his parents, Leon and Greta with his homemade Italian cuisine. His enthusiasm as chef/owner is palpable. Firmly at the helm in the kitchen; he takes time to visit his guests. His menu is straightforward featuring Italian classics made from scratch. The 38-seat lunch and dinner establishment is crowded and bustling, yet homey and inviting. The uncomplicated ambience perfectly complements the straightforward food. Service has hit its stride with friendly and knowledgeable staff.
---
---
Greg is a native Pittsburgher, a graduate of the Culinary Institute of America in New York, and many of us know him from his early days at the Steelhead Grille, Eleven and Cioppino. His attention to detail and love of the art of cooking have been evident throughout his career. LeoGreta gives him his first platform to do things entirely his way. His apparent plan is to keep it simple. A quote on the wall states: "If you have a family that loves you, a few good friends, food on the table and a roof over your head; you are richer than you think." This sentiment, harkening back to a less complicated time, sets the tone.
Simple starters such as burrata cheese with roasted red peppers, white bean dip and house-made terrine are on the menu. Fresh salads are made from seasonal and local ingredients. In the summer this meant salads featuring corn, tomato and cucumbers. For winter we expect kale, apples and goat cheese. The salads are uncomplicated—like something you would make at home, but the colors are bright and the fresh flavors shine. Classics such as Caesar salad and frisee with lardons are also available.
Home-made is the other buzzword here. Sausage, pork terrine, pasta, and pastry dough, dishes and their components are made from scratch. Through the use of proper cooking techniques, mastery is achieved. Greens and beans with sausage feature perfectly cooked navy beans and make a wonderful side dish or lunch main course. The home-made gnocchi is light as a feather and is finished with a touch of fragrant tomato sauce and a caramelized sprinkling of cheese. The cavatelli, whether featured with house-made sausage or in seasonal specials, surpasses other versions available in the city. For example, the summer seasonal cavatelli with creamed corn sauce, topped with wisps of goat cheese and herbs, was a favorite. While we expect that the specials will undergo changes to reflect seasonal ingredients, many would love to see the creamed corn cavatelli become a menu staple.
Dessert is an important part of the experience here. Individual coconut cream pies and fresh fruit crostada showcase flaky, homemade pastry. The panna cotta with raw local honey has been enthusiastically received and is generous enough for two to share. The cheesecake and flourless chocolate cake are also winners.
The delightful warm feel and the prospect of seasonal specials will keep us coming back to this neighborhood establishment in the months ahead. Replacing the sandwich portion of the dinner menu with some substantial dinner items, even if only as specials, could take the restaurant up a notch. We look forward to watching LeoGreta grow.
LeoGreta: 301 W. Main Street, Carnegie. 412.489.6382. Open for Lunch and Dinner. Closed Monday. Reservations recommended. Ample neighborhood parking. www.restaurantji.com/pa/carnegie/leogreta-/
Fish nor Fowl
Neither fish nor fowl—"something or someone which is not easily categorized." The eclectic menu of this innovative new restaurant fits this definition, providing many exciting options to explore while defying categorization. Using flavors and techniques from around the globe this restaurant concept is hard to define, but it shines with delicious, elegant, well-presented and appropriately portioned cuisine. Fish nor Fowl joins the illustrious list of Chef Richard DeShantz's restaurants (Butcher and the Rye, Meat & Potatoes, Tako, Pork & Beans and Poulet Bleu), all of which have created enthusiasm and notoriety for Pittsburgh's dining scene.
---