New & Noteworthy: Siempre Algo
Bringing new vitality and cuisine to the North Side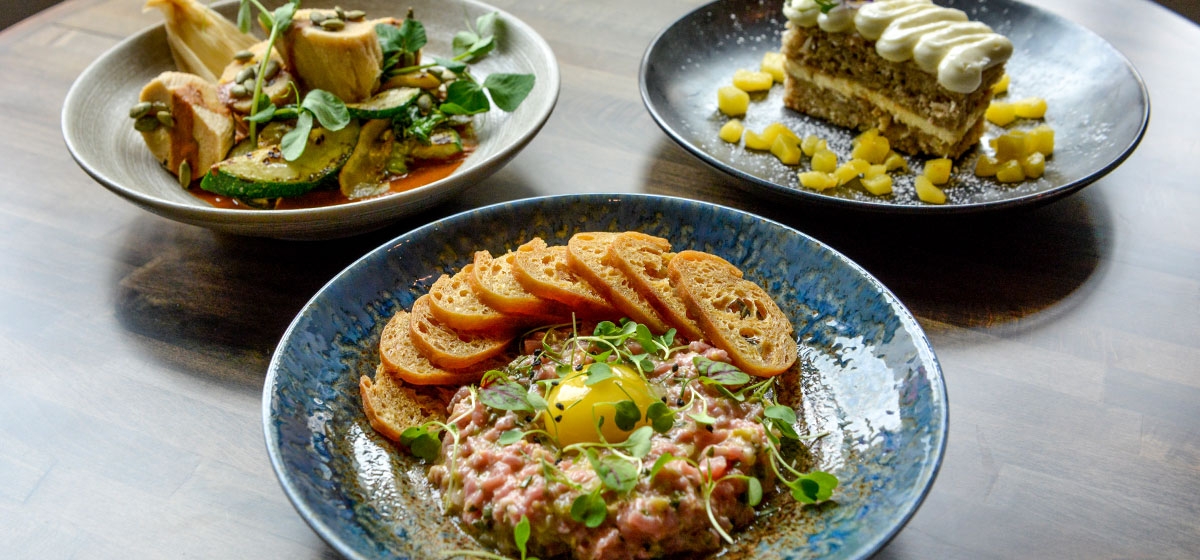 June 17, 2019
Siempre Algo is the main attraction on a developing block on the North Side's East Ohio Street. In a historic building with a pressed tin ceiling and sporting an open kitchen underscored with an accenting geometric pattern, this funky establishment exudes warmth. At Siempre Algo (Spanish for "Always Something") there is "always something" sublime and new from the garden, or an inspiring recipe or innovative technique. These positives can bump up against the lament of the same name when the inevitable obstacles arise in a bustling kitchen.
---
---
Chef/owner Brian Hammond learned this phrase's double meaning during his early career in San Diego, where he fell in love with food and cooking. He then spent many years in Chicago cooking at celebrity chef Rick Bayless' Frontera Grille and Topolobampo. Most recently Hammond was part owner/operator of Echo (a now-closed large farm-to-table restaurant in Cranberry). His current vision is to cook contemporary seasonal cuisine. The menu, including the cocktails, will be updated regularly. Comfort food will appear in the fall/winter months, replaced with light, refreshing fare for spring/summer.
A complimentary glass of cava (a dry sparkling Catalonian wine) graces your table upon arrival. Service is prompt, appropriate and accommodating. Sharing plates, serving utensils and silverware replacements are provided upon request without fuss. Ice cold water is constantly replenished and served in sparkling clear glasses. Friendly front-of-the-house staff enjoy describing the many improvements the owners made to the building and the various roles played by the hard-working kitchen team. The restaurant exudes a casual urban vibe. The bar area serves food at the counter and high-top tables.
Cocktails are a mixture of classic and styled. Try the house-made lemony and refreshing Boyd and Bumble or the Early and Often, a mildly sweet, yet strong, deep ruby-colored vodka drink which is decorated with a floating slice of blood orange. Enticing and reasonably priced wine selections are available by the glass. The Louis Bernard rosé, La Posta malbec, Nicholas Potel pinot noir and chardonnay selections are highly recommended. A by-the-bottle wine list is available upon request.
The snack portion of the menu is fun and unique, and the portions are well-suited for sharing. House-made sourdough pretzels with sea salt come with an option to add chicken liver pâté providing a delightfully decadent salted treat. Roasted spiced cauliflower with caramelized onions and tahini offers a hearty and satisfying mix of flavors. Deviled eggs blended with foie gras and enhanced with mustard and paprika are rich and flavorful, but the mustard overshadows the foie gras. The ceviche could use some more zing, although the crunchy, salty tortilla chips are a great vehicle for serving the raw fish. The airy and deeply roasted baba ganoush is served with crudités and pita. The baba is delicious and could be further heightened if served with crunchy toasted pita.
The mid-course section of the menu contains an assortment of salads and heavier appetizer items. Golden beet salad with goat cheese and fennel is made with a simple light dressing. Savory crispy pork belly is complemented by the sweet flavor of roasted apples. On a recent visit a divine beef tartare replaced the pork belly and paired delightfully with the bitter green salad.
Larger entrée portions such as bone-in pork chop with charred radicchio, ribeye with celery root puree, roasted chicken with brandied chicken liver pudding and Arctic char with eggplant sauce were well prepared and packed with flavors. The duo of duck with a tender and juicy interior and a slightly crunchy skin was complemented by a deconstructed side of cassoulet ingredients. Beef cheeks arrived succulent and cooked to perfection. Seared Maine scallops with crispy parsnip, avocado puree and mussels yielded exciting and distinctive flavors. For the vegetarian diner, the distinctive chili and tomato flavors popped in the roasted vegetable tamales, although a more generous serving of the flavorful vegetables would have created a more substantial dish. The monkfish unfortunately missed the mark due to a sauce overwhelmed by garlic and salt.
Desserts of chocolate mousse and chocolate cake are rich and deep with flavor. However, the crust of the blood orange galette proved a bit too salty and soggy and distracted from the bold flavor of the blood oranges. A full selection of teas accompanied by a sleek contemporary teapot of hot water rounded out dessert.
Seimpre Algo is a delightful addition to Pittsburgh's North Side. Its changing menu warrants repeat visits. With minor adjustments to an already solid menu, this neighborhood spot has the potential to enter the ranks of Pittsburgh's best restaurants.
Siempre Algo: 414 E. Ohio Street. 412.652.9968. Tuesday–Saturday, Dinner only. siemprealgopgh.com